Situated just south of Lake Ontario in New York state, the Finger Lakes American Viticultural Area (AVA) is named for the long, slender lakes created over successive waves of glacial activity beginning over one hundred-thousand years ago. Glaciers carved out the lakes as they moved south and filled them with water as they retreated.
Eleven lakes fall within the Finger Lakes wine region. Seneca Lake is located in the center of the AVA, and with a depth of 632 feet is the deepest of the lakes. Cayuga Lake lies to the east and is the next deepest. To the west of Seneca Lake is Keuka Lake, which is roughly wishbone shaped, and beyond is Canandaigua Lake. The majority of vineyards are planted around these central Finger Lakes.
Two sub-AVAs have been designated within the larger Finger Lakes AVA and surround the lakes after which they are named. Cayuga Lake AVA was designated in 1988 and Seneca Lake AVA in 2003.
Not only are the lakes a dominant natural feature of the area, they moderate the climate around them. According to the Finger Lakes Wine Alliance:
The massive bodies of water, visible from our vineyards, have a profound effect on the grapes. During the winter, cold air drains naturally from the sloping vineyards to the lakes. In spring, cool air bathes the vines, delaying the start of the growing season so that the tender shoots are not injured by late frosts. In the fall, the sun-warmed lakes prevent early frosts and extend the growing season.
Winters are snowy and can be harsh. The growing season is relatively short with considerable humidity. Cool-weather varieties do the best in the Finger Lakes AVA. The most-planted vinifera grapes of the region are Riesling, Chardonnay, Cabernet Franc, Pinot Noir, Gewürztraminer, Merlot and Pinot Gris. French-American hybrid varieties and native varieties are planted as well.
We recently participated in a virtual tasting of six Finger Lakes Rieslings (#FLXWineVT on Twitter). We, along with others, had the opportunity to taste and chat about the wines. The tasting samples were provided by the Finger Lakes Wine Alliance. Here is what we tasted.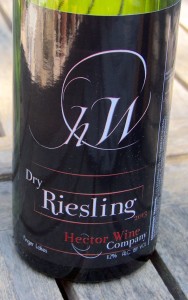 2013 Hector Wine Company Dry Riesling — light yellow in the glass with delicate aromas of citrus and petrol. Juicy citrus flavors combine with a hint of melon and tart pineapple. This wine is refreshing, juicy and finishes with a squeeze of citrus pith. ABV 12.1%
A lovely combination of fresh juicy flavors with a clean finish and very moderate ABV. The fermentation was cool and slow, in stainless steel, with 5 months of lees contact prior to bottling. This wine has summer written all over it. Sip it on the patio then have a glass with a watermelon and feta cheese salad for dinner.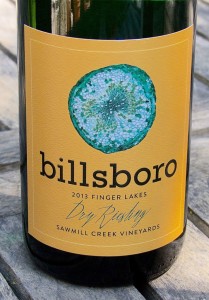 2013 Billsboro Winery Dry Riesling — very pale yellow in the glass with delicate floral aromas. Pineapple flavors combine with interesting minerality resulting in a pleasing tropical flavor. Clean, lingering finish. ABV 11.5%
Think of practically any hors d'oeuvre and this wine would be a good match. Grilled shrimp, soft white cheese or jalapeño poppers would pair nicely with this clean, flavorful wine.
Interestingly both the Hector Wine Company Dry Riesling and the Billsboro Winery Dry Riesling are sourced from Sawmill Creek Vineyards. The two were harvested just a day apart but are unique expressions of the same vineyard.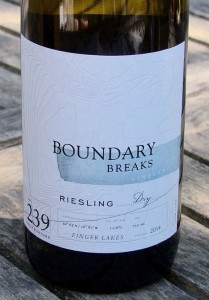 2014 Boundary Breaks #239 Dry Riesling — light yellow in the glass. Lovely white flower and pear aromas are followed by a combination of ripe melon and pineapple resulting in tropical flavors with hints of white flowers. Juicy acidity combines with these complex flavors to produce a clean finish that leaves you salivating for more. ABV 12.8%
This wine showed amazing complexity on the first night we tasted it, but became even more complex over the next two evenings. A remarkable wine, my favorite of the group.
Boundary Breaks does only Riesling. They have planted four Riesling clones, Geisenheim clones 110, 98 and 239 and clone 90 from Neustadt. This Riesling is a single clone wine produced from clone #239.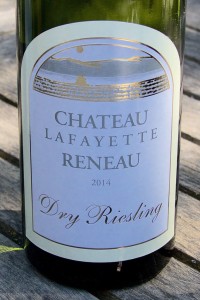 2014 Chateau LaFayette Reneau Dry Riesling — very light yellow in the glass with delicate floral and pear aromas. Complex tropical fruit flavors combine with stone fruit flavors that finish with tart acidity and citrus pith. ABV 12.5%
Very complex flavors, and Pete's favorite wine of the group. This wine makes me long for filet of sole cooked in butter and capers; just about any white fish in a buttery sauce would probably be amazing.
2013 Wagner Vineyards Fathom 107 — light yellow in the glass with aromas that are a bit tropical with a hint of petrol. Tropical fruit flavors combine with a bit of woodsy earth, nice acidity and a citrus pith finish. ABV 12%
The flavors of this wine seemed to integrate more fully over the couple of days we had this bottle open. I liked it more on the third day than on the first. This wine is a blend of 65% Riesling and 35% Gewürztraminer. Coincidently it was produced to celebrate the winery's  35th anniversary.
Fathom 107 refers to the depth of Seneca Lake as measured in fathoms. Seems fitting given that the depth of the lake so influences the climate around it.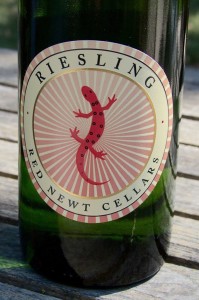 2013 Red Newt Cellars Circle Riesling — light yellow in the glass with petrol aromas follow by sweet stone fruit, honeysuckle and minerals. Distinctly sweet, but with a clean finish, this wine has loads of flavor and a bit more weight in the mouth. Just delicious. ABV 10.2%
With residual sugar of 3.3%, it is discernibly sweet but not overly so, and properly balanced with acidity. Any spicy dish would be amazing with this wine, but it is so easy to enjoy that food is really not necessary. This wine was the favorite of our wine friend who also tasted these wines with us.
And then there's that wonderful label…love the newt.
All six of these wines are produced from vineyards located along the eastern shore of Seneca Lake, as noted above, the deepest of the Finger Lakes. The climate along this shore of the lake is the warmest in the region. The lake influence combines with warm afternoon sunshine to produce what locals call the banana belt. Riesling is clearly very happy growing here.
We thoroughly enjoyed this group of Finger Lakes Rieslings. Thanks to the winemakers for taking time to discuss your wines and to the Finger Lakes Wine Alliance for organizing the tasting and wine samples.
In August we will be attending the 2015 Wine Bloggers' Conference (#WBC15) in Corning, New York where we will have the opportunity to visit several Finger Lakes wineries and taste wines from many more area wineries. I expect it to be a wonderful compliment to reading about the region and its wineries. There is nothing like seeing the sights, walking the vineyards and smelling the soil to help you understand a wine region.
Cheers!