It's amazing how the world can, at the same time, seem so large and then amazingly small. As we looked at the duration of our flights between California and South Africa prior to our trip last year (20 hours 45 minutes, not including layover time) the world seemed very large to me. Then, a Twitter exchange followed by an email connected us with a wine farm in South Africa. Suddenly the world seemed much smaller.
Aaldering Vineyards and Wines is an Estate winery located in Devon Valley, a ward within the Stellenbosch district is South Africa. It's history is relatively recent compared to some wine farms in South Africa, having been established in 2004 with the purchase of 24 hectares. Aaldering's first vintage was 2007, which they released in 2010.
As of June 2014 Aaldering has attained Estate Wine registration status – meaning the estate's vineyards are registered as a unit for the production of estate wine the South African wine industry's Wine and Spirits Board and all production and bottling takes place on the estate.
The Wine and Spirits Board established South Africa's Wine of Origin certification requirements in 1973 to assure quality, the origin of grapes and the grape variety. Every bottle of wine certified under the Wine of Origin (or W.O.) requirements will bear a W.O. seal which guarantees the origin, variety and vintage.
Because place matters, Areas of Origin or production units are defined by single vineyard, estate, ward, district and region. All Areas of Origin are, of course, defined by law with attention to soil, climate and ecological factors likely to influence the production of wine.
In 1998 a voluntary environmental sustainability initiative was begun within the South African wine industry. The Integrated Production of Wine (IPW) complies with international environmental sustainability guidelines, and audits participating farms or wine cellars.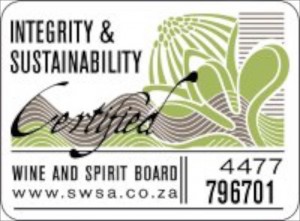 With the 2010 vintage harvest, a new seal indicating compliance with both WO and IPW was introduced. You will see the Integrity and Sustainability Certified seal on wines produced in accordance with both certification programs.
Aaldering Vineyard and Wine's production is certified by both WO and IPW. In addition, according the Aaldering website:
"We're proud to be part of the elite 'Enviro Wines' group. This puts us amongst the top-class of IPW (Integrated Production of Wine) accredited wine producers. The cellar that scores exceptionally high on sustainability on both Farm and Winery practices are invited to join the elite group, to date only 10 wineries in South Africa are awarded this status."
Devon Valley is known largely, though not exclusively, for red wine production. Aaldering vineyard soils consist of Hutton and Clovelly soil types which are derived from granite. The 24 hectare estate is planted to Chardonnay, Sauvignon Blanc, Cabernet Sauvignon, Merlot, Shiraz and of course Pinotage.
With that background on Aaldering Vineyards and Wines,  let's explore their wine.  Thanks to the magic of Twitter and email, the wine delivery guy arrived on our doorstep with three bottles as tasting samples.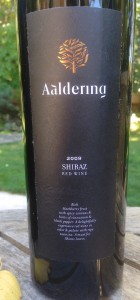 2009 Aaldering Shiraz — dark ruby in the glass with smoky aromas. Dark fruit flavors of blackberries, currents and ripe blueberries are supported by moderate, fairly smooth tannins. This wine has plenty of texture, nice acidity and a moderately long finish. It has abundant ripe fruit flavor without being over ripe. ABV 13.5%
This wine makes me want to light the grill, cook a rib-eye steak medium-rare, add a baked potato with butter and sour cream and pour myself another glass of this Shiraz. My mouth is watering.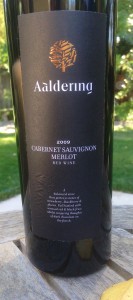 2009 Aaldering Cabernet Sauvignon Merlot — dark ruby in the glass with delicate aromas of jalapeño and black pepper. The flavors are vaguely vegetal along with red raspberries, plums and blackberries. Black pepper and cedar spices are present in the background along with slightly grippy tannins. There is plenty of structure, great acidity and depth of flavor. ABV 14.5%
Cabernet and Merlot play well together, and this 65% Cabernet Sauvignon 35% Merlot blend is a perfect example of that cooperation. This delicious wine would be perfect for a braised beef roast with potatoes, carrots and parsnips. I would add red wine to the braise, but not this red wine because I would rather drink it than cook with it!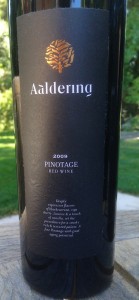 2009 Aaldering Pinotage — dark ruby in the glass with generous aromas of ripe plums and caramel. Ripe dark fruit flavors of plums and black cherries combine with juicy acidity and moderate tannins. In spite of the structure and rich flavors this wine is not heavy bodied. Flavors continue to develop with time in the glass. Take your time this wine. ABV 15%
Dark. Ripe. Generous. This wine would be delicious with lamb stew, herbed spätzle and wilted greens. We tasted Pinotage several times during our trip to South Africa and found it is made in a range of styles from lighter to more robust. This wine leans toward the robust style we enjoyed.  We will definitely continue our exploration of South African Pinotage.
All of these wines aged for  24 months in 30% to 40% new French oak, so oak flavors compliment rather than over power the fruit flavors in the wine.
Aaldering Vineyard and Wines is a South African winery to watch. This family-owned wine farm has chosen to produce estate wines in an environmentally responsible manner, with delicious result. Since their first release in 2010 of the 2007 vintage, volume has grown from 40,000 bottles to their maximum capacity of 120,000 bottles with the 2014 vintage.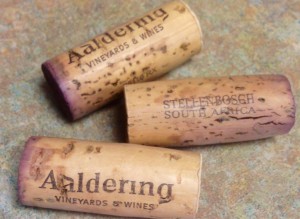 Also located on the wine farm are three luxury lodges. We noticed many South African wine farms also offer lodging. Just imagine a glass of Pinotage, views of the vineyards and the mountains beyond.  I can't imagine anything more relaxing than spending a few nights among the vines on a working wine farm in South Africa!
Happily, Aaldering Vineyard and Wines has distribution in the U.S., so you can taste their wines without the 20-hour flight. We thank them for the tasting samples. Tasting notes are our own.
Cheers!