If it's week three of Protocol Wine Studio's November #WineStudio discussion, The Importance of Being a Willamette Valley Chardonnay, then it must be Omero Cellars. We enjoyed two Willamette Valley Chardonnays from Omero Cellars during last Tuesday evening's online chat with current winemaker Chad Stock.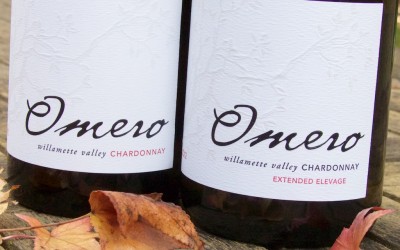 Omero Cellars' 26-acre vineyard is located in the Ribbon Ridge AVA, which is tucked into the northwest corner of the Chehalem Mountains AVA. This map to give you an idea where the AVAs are located.
The family-owned winery was founded in 2009 and is committed to farming using minimal intervention without irrigation. Encouraging biodiversity on their land is important goal. They even use their growing flock of sheep to keep the cover crops under control in some of the steeper vineyard blocks.
Vineyard expression, rather than a consistent flavor profile year-to-year is the goal of the winemaking at Omero Cellars. Chad is looking to develop the flavors each vineyard gives him with every vintage.
2012 was the first Chardonnay vintage produced by Omero Cellars. We received both wines as tasting samples. Let's see what the vintage produced.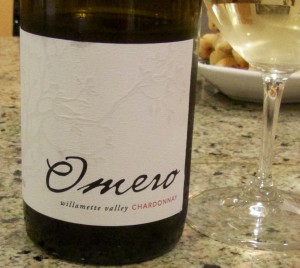 2012 Omero Cellars Willamette Valley Chardonnay — pale yellow in the glass with only delicate stony aromas. Green apples, crisp pears and citrus flavors combine with underlying flavors of slate and minerals, providing complexity. Just a hint of cedar peeks out over time. The finish is crisp and flavors linger. ABV 13.1%. $38. Total case production: 275.
This subtle wine is deceptively flavorful. Give it time in the glass and enjoy its evolution. It is a joy to experience. It will leave you smacking your lips.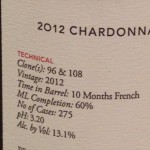 The Chardonnay is sourced 80% from Durant vineyard in the Dundee Hills AVA and 20% from the Hyland Estate in the McMinnville AVA.
This wine underwent partial (60%) malolactic fermentation and spent 10 months in French oak. Both treatments add complexity without trampling the Chardonnay fruit flavors.
For those with inquiring minds (and  for wine geeks everywhere), the back label of both these Chardonnays list all of the technical data for the wine. What a good idea.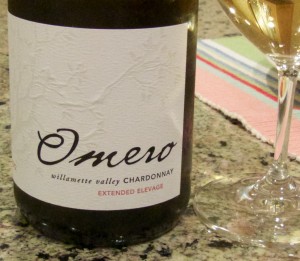 2012 Omero Cellars Extended Elevage Willamette Valley Chardonnay — medium yellow in the glass with rich aromas of wood spice and apples. Flavors of grapefruit, toast and a pop of cedar explode in your mouth and are followed by a crisp, long finish. This wine is a bit round in the mouth, but maintains crisp acidity. ABV 12.5%. $58. Only 75 cases produced.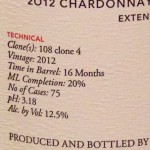 The Extended Elevage is 100% Hyland Estate from the McMinnville AVA. Chad is a fan of clone 108, which is included in both of these Chardonnays.
As Extended Elevage would indicate, this wine spent 16 months aging in barrel with only 20% malolactic fermentation completion. This is a bigger, richer wine that is begging to be paired with food.
Speaking of food, we paired both of these Chardonnays with chicken diable, glazed carrots and smashed red potatoes. The chicken diable (from Dorie Greenspan's Around My French Table) is prepared with a cream sauce flavored with sautéed shallots, white wine, garlic, Dijon mustard and Worcestershire sauce. The acidity in both of these Chardonnays was just perfect with the richness of the sauce and we found all of the flavors to be complimentary.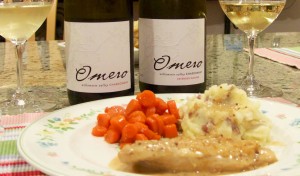 While we thought both of these Chardonnays tasted great now, Chad believes both will age well. He suggested holding them between two and ten years for optimal flavor development. Now there's an experiment begging to be undertaken.
In addition to Chardonnay, Omero Cellars produces Pinot Noir from their own estate vineyard as well as vineyards located in several AVAs within the Willamette Valley; they produce a Pinot Noir that is a blend of the same Pinot Noir clone planted on 4 vineyard sites; they also make Pinot Gris and a rosé of Pinot Noir. Many of these wines are produced in very limited quantities.
With the 2014 vintage, Omero Cellars moved into a new production facility, a facility all their own, located in Carlton, Oregon. It includes two enormous cement tanks which will be used in the production of their Pinot Noir.
But that's not all that is new at Omero Cellars. They've been making Pétillant Natural, a sparkling wine they fondly call "Pet Nat". Then there is Gamay, which Chad believes can be even better than Pinot Noir in the Willamette Valley.
So, you get the idea. The folks at Omero Cellars are coloring outside the lines and having fun doing so. They are making wines that interest and excite them, and that will also appeal to the adventurous wine drinker. Aren't we lucky?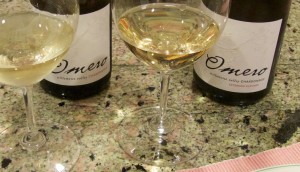 Thanks to Omero Cellars for sending the wine samples and to Chad for spending time chatting with us. The conversation left me ready to organize a visit to Carlton to check out their new facility and taste the rest of their wines.
As usual, the folks at Protocol Wine Studio have done an amazing job putting together a great tasting. Thank you.
This week we conclude the series of Willamette Valley Chardonnay tastings. Once again we will gather on Tuesday evening at 6 PST. You can join the conversation by following #WineStudio on Twitter. Here are the details from the Protocol Wine Studio website:
Week 4: 25 November – Anatomy of a Vineyard: Oracle and the Chablis-like Westrey Chardonnay
Westrey Wine Company Amy Wesselman, David Autrey (@WestreyWineCo) and special guest Elaine Brown (@Hawk_Wakawaka)
2012 Reserve
Cheers!