What a spectacular day! The weather was much too warm for early April, but perfect for an outing to the Richmond side of San Francisco Bay. Can't say I had ever been to Richmond before, just driven through the city on the way to somewhere else. So, when I noticed the Rhone Rangers celebration was to be held in part at Craneway Conference Center and Pavilion at Ford Point, Richmond I was curious.
The San Francisco Bay Area Weekend Celebration of American Rhone Wines, held April 5 and 6, began Saturday evening with a walk-around tasting, winemaker dinner and live auction at the General's Residence Fort Mason, San Francisco.
The Sunday events, the Seminar Series early in the day, and the Grand Tasting in the afternoon were held at the Craneway Conference Center and Craneway Pavilion respectively. We attended the Grand Tasting in the afternoon.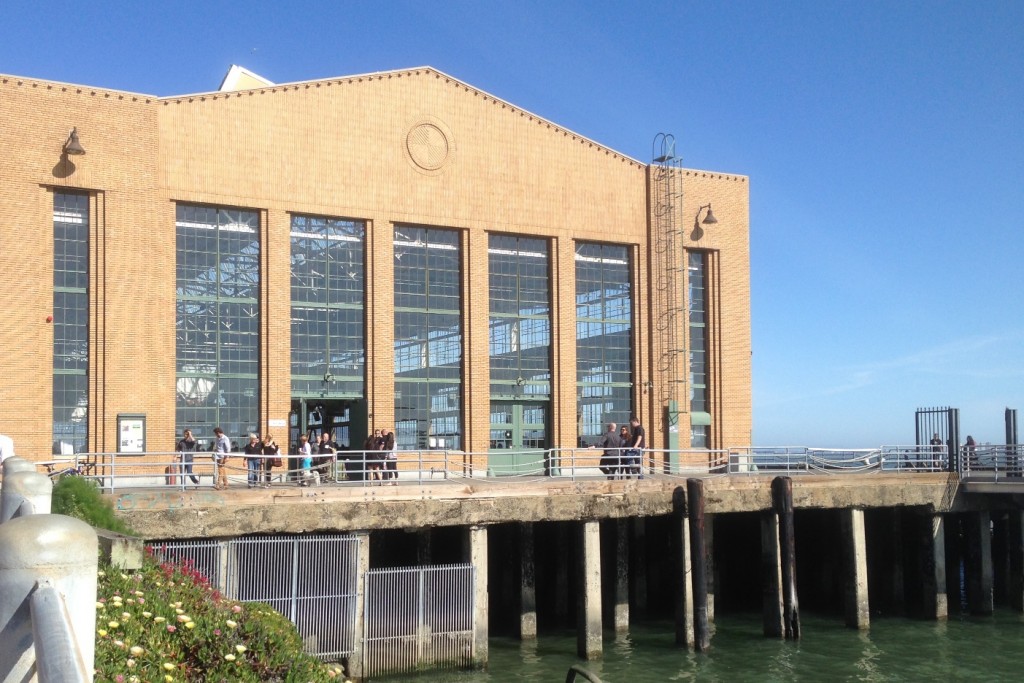 The Rhone Rangers organization exists to promote Rhone varietal wines produced in the US. Member wineries now number almost 200 and are making wine in California, Oregon, Washington, Idaho, Michigan and Virginia. Major red varieties include Syrah, Grenache, Mourvedre, Petite Sirah. Viognier, Roussanne, Marsanne and Grenade Blanc are just a few of the white varieties.
We found lots to like at this tasting, 89 wineries were listed in the program! I tackled white wines and Rosé almost exclusively, Pete concentrated on the red varieties. Here are a few of the wines that stood out to us. It is by no means an exhaustive list, and truth be told, most of what we tasted was pretty darn good. Many on this list are smaller producers.
EdenVale Winery 2009 Viognier ($18) — floral aromas and flavors, stone fruit flavors with bright acidity. Love the flavors and the price. Medford, Oregon.
Holly's Hill Vineyards 2012 Roussanne ($20) — minerals and citrus, a bit of weight in the mouth.  Sierra foothills.
Holly's Hill Vineyards 2013 Viognier ($20) — less floral more minerals and citrus than some others I tasted. Nice weight in the mouth. All of Holly's Hill white wines spend a bit of time in neutral oak.
Lagier Meredith Vineyard 2012 Chester's Anvil Gretna Green ($30) — stone fruit, a hint of citrus blossom, juicy acidity. This wine is mainly Roussanne with just a bit of Viognier. The Chester's Anvil is a label Lagier Meredith produce with their neighbors, Pott Wine. Napa Valley.
Lagier Meredith Vineyard 2013 Rosé ($20) — lots of berry aromas followed by red fruit and berry flavors, light but flavorful. Mt. Veeder, Napa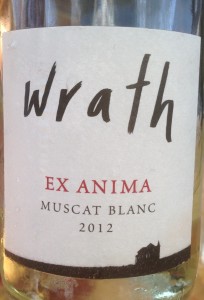 Wrath 2012 Ex Anima Muscat Blanc — the palest of yellows in the glass with oodles of orange blossom aromas and flavors along with minerals, a surprising lack of sweetness and good acidity.
I tried this wine on a lark, just because it was white, and was blown away. Most Muscat is sweet, syrupy and lacking in acidity; mostly not what I want to drink. This wine is not one of those Muscats, it's fermented to dryness and lovely. It was the most surprising thing I tasted. (I didn't ask the price, it was not listed on the program. Santa Lucia Highlands, I believe.)
Skinner Vineyards & Winery 2012 Picpoul Blanc ($24) — amazing tropical fruit aromas caught my attention right away. Flavors of pears, citrus and minerals combine with good acidity for a clean finish. Delicious, flavorful and refreshing. El Dorado County.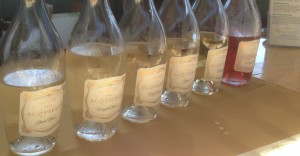 Acquiesce 2012 Picpoul Blanc ($22) — citrus blossom aromatics and flavors with minerality, citrus flavors and bright acidity. Lots of flavor and a good weight in the mouth.
This uncommon variety worth looking for. The winery is located in Lodi within the Mokelumne River AVA. All estate fruit.
Acquiesce 2012 Grenache Blanc ($22) — minerals and stone fruit flavors, but the minerality really predominates to me. Very interesting flavors, great acidity. Lovely.
Acquiesce 2012 Grenache Rosé ($20) — floral and berry aromas followed by raspberry and blackberry flavors. Its all about berries with good acidity. Refreshing, and I think it would be a good food wine.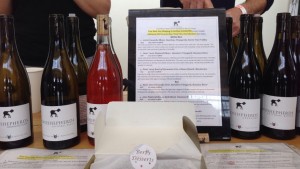 Two Shepherds 2012 Grenache Blanc ($25) — tart, citrusy, juicy, some minerality. Not a simple wine, but easy to like. One you will want to spend time with. Saarloos Vineyard, Santa Ynez.
Two Shepherds 2012 Rosé of Grenache Gris ($24) — transparent ruby in the glass with nice berry and dark fruit aromas, flavors are a bit more restrained than the other Rosés on this list (different varieties), but no less interesting. Definite fruit and mineral flavors along with a bit of tannin. Love this wine. Gibson Ranch, Mendocino.
Two Shepherds 2012 Grenache Saralee's Vineyard ($38) — was outstanding. The nose hit me with the scent of deep red roses, a scent I often get with Grenache. This carried over to the flavor along with light red fruit. Their style is to make a little lighter bodied wines than many of the others I tasted which made them stand out.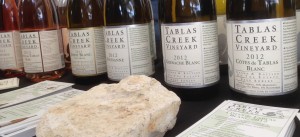 Tablas Creek Vineyard brought a large line-up of white wines and two Rosés. All are excellent with interesting, nuanced flavors. Look for these wines. There were a lot of wines to taste through, and the staff were very informative and pleasant.
Chacewater 2013 Rosé — plenty of berry flavors and aromas along with citrusy flavors make this wine bright and flavorful. Add food or not. Their vineyard is located in Nevada City (Sierra foothills) and is certified organic.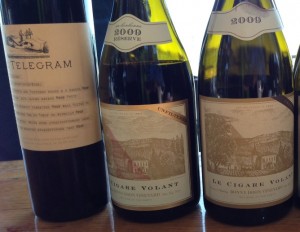 Bonny Doon 2009 Le Cigare Volant "Normale" ($38) — was well balanced with nice fruit and smooth integrated tannins. As a comparison, the Bonny Doon 2009 Le Cigare Volant Reserve  ($75) was also being poured. It was similar but richer and earthier. The Reserve spends time on the lees (in glass demijohns) soaking up flavor and texture. Usually I prefer the "Normale" but today I preferred the Reserve. Both are blends of Syrah, Grenache, Mourvèdre and Cinsault.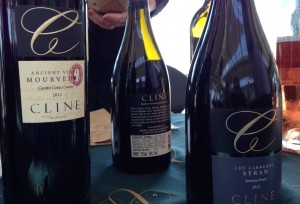 Cline Cellars brought an affordable and flavorful lineup of wines. The Cline Cellars 2012 Cashmere (a blend of Granache, Mourvedre and Petite Sirah), 2012 Ancient Vines Mourvedre, and 2012 Los Carneros Syrah were all very good. Priced at $21, $20 and $30 respectively, they won't break the bank.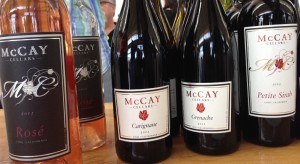 McCay Cellars 2012 Rosé ($18) — lovely red fruit flavors and interesting minerality. Yet another flavorful Rosé, this time made from Cinsault.
In addition to the Rosé, McCay was pouring their Grenache ($32), Syrah ($32), Carignan ($32) all 2011 vintage, and their 2012 Petite Sirah ($24). All are very well made showing great flavor, well integrated tannins and restrained use of oak. Michael McCay's winemaking style includes indigenous yeast fermentation in many of his wines along with minimal oak influence. Very nice group of wines.
Just a few more general notes on the red wines: Fields Family Wines also poured a group of nice wines made with a more restrained use of oak. The Fields Family Grenache ($22) was especially nice. As always, the Ridge Vineyards group of wines was very good.
As the weather warms, I am always looking for interesting white wines. Picpoul Blanc and Grenache Blanc will get particular attention from me this summer.
Rosé is amazingly variable depending upon the grape(s) used to produce it. Grenache tends to be more floral, strawberry-flavored, Syrah a bit more blackberry flavored — to me. The Two Shepherds Rosé of Grenache Gris just must be tasted.
This year's edition of the Rhone Rangers Celebration of American Rhone Wines was a complete success from my point of view. Pete and I both thought the wines we tasted were really outstanding this year. A thoroughly enjoyable sampling of a range of varieties, winemaking styles and vineyard locations. That's one of the really wonderful things about wine, the variety is endless.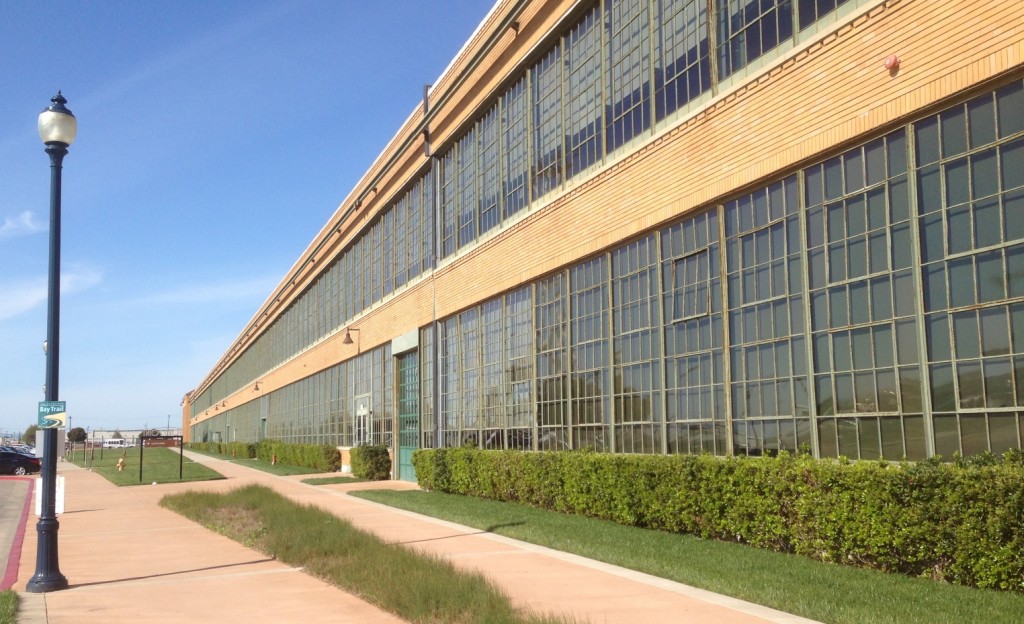 The location was spectacular. This former Ford assembly plant, which opened in 1931, is a treasure; I'm so glad it has been saved and renovated (also happy not to be the one who washes all of those windows!)
Rhone Rangers organizers did a fine job of providing connections using public transportation to the venue. We were able to drive part way, take BART and then make the final connection by complementary shuttle bus. It all worked well. Connections from San Francisco were available by private ferry. The day was picture-perfect, the ride on the ferry must have been spectacular.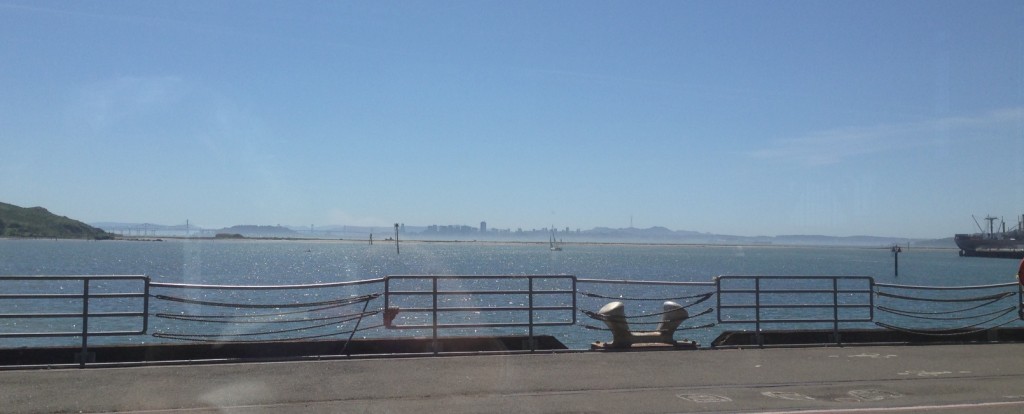 With tasting tables well spaced around Craneway Pavilion, and with perhaps fewer tasters this year than last, the tasting was very enjoyable. Especially early in the Trade Tasting it was possible to spend a bit of time asking questions of the wineries.
I only had one negative experience with snotty staff pouring wine. I gave the table two chances, returning later in the tasting, and they struck out both times. I walked away from the table.
On the other hand the staff at nearly all other tables were stellar. Bonny Doon Vineyards, Tablas Creek, Fields Family, McCay Cellars, Acquiesce and Two Shepherds went out of their way to engage with tasters. That is the positive note I will take with me.
Cheers!