We recently had the opportunity to taste six wines from four wineries located in the Boise area. One of the regular tasters at the Thursday night wine tastings we attend at a local wineshop regularly visits the Boise area; her brother and sister-in-law live there. During a recent trip they did a bit of wine tasting and brought back the selection of wines we tasted. It was a great introduction to the wines of the area.
In spite of the fact that wine grapes were planted in Idaho well before either of Idaho's better-known winemaking neighbors, Washington and Oregon, winemaking in Idaho is just beginning to hit its stride. Idaho appears to have all the necessary prerequisites for quality winemaking: good dirt, good climate and talented winemakers. On top of that, Idaho has lots of land with plenty of room for growth.
According to the Idaho Wine Commission, wine grapes were first planted in the state in 1864 in Lewiston, Idaho. In 1872 grapes were planted in the Clearwater Valley east of Lewiston where German and French immigrant winemakers produced wines that received recognition at expositions around the country.
But Prohibition came early to Idaho, in 1916. By 1920, Prohibition was the law of the land with ratification of the Eighteenth Amendment to the US Constitution and implementation of the Volstead Act. Both brought wine production in Idaho to a screeching halt.
Even though Prohibition was repealed in 1933, it wasn't until 1970 that vineyards were again being planted for winemaking. The focus of plantings in this second wave of viticulture was the southwest portion of Idaho, in the Snake River Valley.
This concentration of vineyards in the western portion of the Snake River Valley led to the authorization of the Snake River Valley AVA in 2007. The AVA is comprised of over 8,000 square miles and follows the Snake River from Twin Falls to Hells Canyon. Portions of the AVA reach into southeastern Oregon.
Vineyards are planted at elevations from just over 1500 to 3000 feet above sea level within the AVA, but the valley is surrounded by mountains, some as tall as 7000 feet above sea level. Higher elevation means freeing-cold winters and a shorter, but intense, growing season with very warm, even hot, summer temperatures. Along with the summer heat comes significant diurnal temperature variations of 30 – 40ºF. Winemakers love big temperature swings from day to night; it allows grapes to fully ripen, yet maintain good acidity.
Idaho's growing wine industry is evidenced by petitions for two additional AVAs  which are pending with the Alcohol and Tobacco Tax and Trade Bureau. The Lewis-Clark Valley AVA would include the cities of Lewiston and Clarkson in the area that was Idaho's first home to viticulture. The second petition is for Eagle Foothills AVA in the foothills north of Eagle, Idaho. If approved, the Eagle Foothills AVA would be a sub-AVA of the Snake River Valley AVA.
Well, good dirt also makes winemakers very happy and Idaho has plenty of that too. Four million years ago the area designated as the Snake River Valley AVA was covered by Lake Idaho. Volcanic activity and massive flooding have also occurred in the area. Left behind in the dry lake bed is a collection of diverse soil types including, "predominantly sand, mud silts, loess, and volcanic detritus on top of sedimentary bedrock" according to Appellation America.
Just a quick word about water and then we will move on to the wines. The Snake River Valley receives very little in the form of rain, only about 12 inches per year. It sits very far inland from the West Coast and is separated from Pacific storms by several mountain ranges that act as barriers to precipitation. What little precipitation the area receives usually accumulates during the winter months. This means vines must struggle in a dry environment, always a good thing as it tends to produce a smaller crop with concentrated flavors; of course winemakers may control that struggle with irrigation.
Now, on to the wines.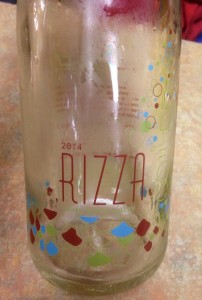 2014 Coiled Wines Rizza — light yellow in the glass with abundant small to medium-sized bubbles. Sweet red apple aromas are followed by similar flavors of juicy, sweet red apples. The finish is long on flavor and a bit sweet. ABV 13%. $28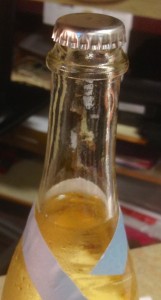 Because this wine does not spend time aging on the lees, the primary flavors are all fruit. It is fresh and lively and reminds me somewhat of Prosecco. It is closed with a crown cap which means it's easy to open, making it a perfect choice for a picnic or brunch or to enjoy before dinner.
According to Coiled Wines winemaker, Leslie Preston, this is the first sparkling wine made in Idaho "in the method of Champagne." The base wine, 100% Riesling, was fermented to dryness. Then the base wine was sweetened and put into bottles. Each bottle then received a dose of yeast and was capped.
With the addition of sugar and yeast, the magic of the second fermentation in the bottle begins. This fermentation produces alcohol and carbon dioxide which is trapped in the bottle and forced into the wine creating all of those lovely bubbles.
The second fermentation was complete in 7 weeks, the yeast sediment was settled and disgorged, then the bottles were capped. Each of the 4000 bottles was handled one by one. It's a labor of love. As the winemaker puts it, "I have put it all out there on this wine. It is my personal love letter to Riesling. I hope you enjoy it in good company and good health!"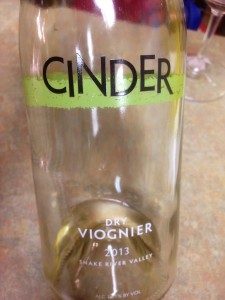 2013 Cinder Wines Dry Viognier — light yellow in the glass with aromas of pears and dry stones. Similar pear flavors along with a hint of pineapple and stony minerality combine with a roundness in the mouth. Aromatic and flavorful with pleasant mineral qualities. ABV 14.1%. $18
Winemaker Melanie Krause admits to a "love affair with Snake River Valley Viognier." In addition to using Viognier is white blends, she produces Viognier in both an off-dry and dry-style varietal wine. Krause harvests the Viognier for this dry Viognier a couple of weeks earlier than she does for her off-dry Viognier. Whole clusters were gently pressed followed by a cool 3-week fermentation. The wine was bottled in January for maximum retention of aromas.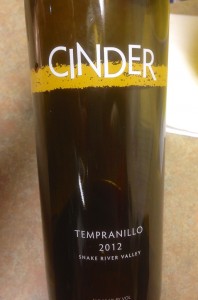 2012 Cinder Wines Tempranillo — medium ruby in the glass with aromas of smoke and red fruit. Flavors of blueberries and black raspberries combine with hints of smoke and caramel along with smooth tannins. ABV 13.9%. $29
This Tempranillo is a lighter style than most, and not all tasters appreciated it. I liked it quite a lot however. It gained complexity in aroma and flavor with time in the glass.
A small portion of this wine was fermented using native yeast and the final blend includes 10% Mourvèdre. 21-month aging took place in second and third-fill French and American Oak.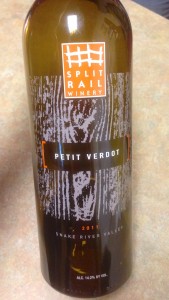 2011 Split Rail Winery Petit Verdot — very dark ruby in the glass with dark fruit and smoky aromas. Flavors of very ripe, rich dark fruit, tar and vanilla combine with a bit of sweetness and ample tannins. ABV 14.2%. $28.
This wine has plenty of flavor from both fruit and wood aging. Pair it with a grilled rib-eye. It can stand up to the smoky flavors and fattiness of a grilled steak. Only 120 cases produced.
Petit Verdot is most often used as a blending grape. This early budding and late ripening variety lends color, flavor and structure and is often a component of Bordeaux blends. PV has an enthusiastic following as a varietal wine though, and its flavors are generally not described as petite (or petit).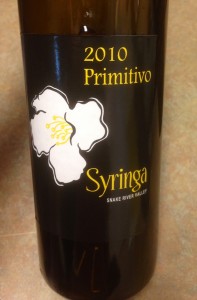 2012 Syringa Winery Primitivo — garnet color in the glass with dark fruit aromas. Tart red fruit and blackberry flavors, black tea, a bit of sweet vanilla combine with fairly smooth tannins. The finish is a bit sweet with dark fruit and is medium in length. ABV 14.2%. $25.
Whether you call it Zinfandel, Tribidrag or Primitivo this variety always produces generous fruit flavors and this wine is no exception.
The winery takes its name from the Idaho state flower, the Syringa, which appears on the bottle.
2012 Split Rail Winery Claret — medium ruby in the glass with dark fruit aromas that are just a bit herbaceous. Rich, complex, ripe dark fruit flavors combine with smooth tannins and a touch of sweetness. A touch of earth comes out in the finish which is moderately long. $29. Only 65 cases produced.
Cabernet Sauvignon, Cabernet Franc and Merlot are blended together to produce flavors you will find very familiar. There is a fair amount of wood influence in this wine and when we took a vote for favorite wine of the evening, this Claret took the prize. I may have been the only one who raised her hand for another wine. Variety is the spice of life!
Each one of these wineries has an interesting story to tell about how the families came to make wine in Idaho and how they chose the names of their wineries. They are all small, family owned and operated wineries. I encourage you to visit their websites. You will also learn more about the complex and interesting geology of the region as well. Yes, I'll say it again, winemakers love dirt and this AVA seems to have more than its fair share of interesting dirt!
All four wineries have tasting rooms in Garden City not far from Boise. Located in what is coming to be called Garden City's Wine District, Cinder and Coiled are in the 44th Street Wineries complex and Split Rail and Syringa are located just a short walk away at District 44 Wineries and Tasting Room.
Total production of these wineries is relatively small, and demand is growing. Some wines sell out quickly. There were other wines that Leslie, Paul and Robin wanted to share with us but were unable to purchase because they were unavailable. Current vineyard plantings in Idaho total about 1300 acres, with 51 wineries sharing that harvest. Total annual production is only about 200,000 cases.
We enjoyed this introduction to the wines of Idaho and thank Leslie, Paul and Robin for their time and "research". It's always fun to taste wine from lesser-know regions and then watch and continue to taste the wines as the region develops. This kind of tasting also presents interesting ideas for wine travel…just a thought.
Cheers!