Chobe National Park is enormous, about 11,000 sq kilometers in area. It, along with the Chobe Forest Reserve occupy the northeastern corner of Botswana. We explored but a tiny portion of the National Park, mostly along the banks of the Chobe River between Ngoma and Serondela, but also traveled through areas of the park distant from the river.
The Chobe River originates in Angola where it is called the Kwando River. Its name changes to Linyanti as it enters Botswana and then changes to Chobe at Ngoma.
This permanent water source is an animal magnet. As smaller, temporary water sources throughout the park begin to evaporate during the dry season, animals must make the trek to the Chobe River for water. This concentrates a large number and variety of animals in the area along the river as the dry season proceeds, between May and November.
As expected, the area near the Chobe River is the greenest. This flood plain is covered with grasses and very few trees, though there were many woolly caper bushes along the river. The open area was great for game viewing and it was here that we saw a very large herd of elephants out in the distance moving toward the river. We also saw large numbers of hippo, zebra, antelope, lion and and giraffe.
Everywhere else we visited was dusty and dry. The single track, unpaved roads took us through mostly sandy soil, mostly light brown in color but in some areas it was a beautiful rusty red.
The areas surrounding the roads to and from the river were covered with shrubs and trees. Though the grass was dry the trees and shrubs were mostly still green.  Here the animals were frustratingly difficult to see and even more difficult to photograph. With a bit of patience and careful placement of the safari vehicle by our driver, we managed to photograph many, but often it was best to just put down my camera and watch the animals. I can only guess how many animals we drove right by, never seeing them.
There is a relatively large number of elephants in Chobe National Park. Evidence of their numbers and their fondness for striping the bark off the mopani trees was reflected in the large number of very tall, dead trees. They stood in bare, stark contrast to the smaller mopani trees that look more like shrubs than trees. Everywhere we drove in the wooded areas we saw large dead trees and trees that had been knocked over by elephants.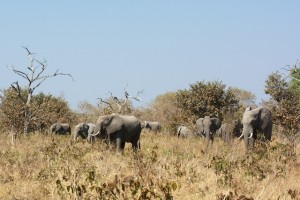 Mixed in among the mopani trees were African teak, raintree, and the occasional sausage tree, more correctly called Kigelia, but so named for the shape of its large seed pod. Some forested areas were still very green and others had taken on a golden-rusty color that made me think of fall.
On more than one occasion we were able to stop and watch as family of elephants fed in one of these shrubby areas. Once as we sat very still, with our camera shutters clicking away, we watched as the family moved around our vehicle and continued feeding on the other side of the road. It was so amazing.
Another highlight of our Chobe safari was observing a pack of African wild dogs (also called spotted dog, painted dog or painted wolf.) These pack animals are endangered in Africa, but we were fortunate to come upon a group shortly after (thankfully) they had killed a warthog. We were able to watch them finish finish their meal and laze around for a bit before moving on. Pete was thrilled with the sighting, as they were one of the animals he most hoped to see.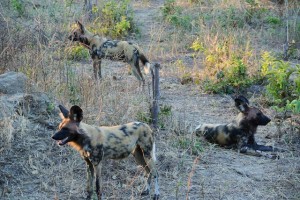 Birds are most numerous in Chobe National Park during the rainy season, when they are nesting and breeding, but we saw many birds during the two days we toured Chobe in July (and we didn't have to endure the mosquitoes.)
On the first day of game drives we went out for a morning game drive and returned at lunchtime to Baobab Safari Lodge. After lunch we headed out again and returned to Baobab after enjoying sundowners along the Chobe River.
This more western end of the park along the Chobe River was not too heavily traveled, and we saw only a few other safari vehicles during the day. I felt as if we had the park all to ourselves.
On the second day we left early in the morning for an all day game drive. Our drive was punctuated morning and afternoon by the usual 'tea and pee' which allowed us time to stretch our legs, catch up with what others in the other vehicle had seen and snack on the savory cookies prepared or us by the kitchen staff. We enjoyed a delicious lunch at Serondela Picnic Site which the kitchen staff had also packed for us.
We returned to Baobab Lodge just in time for a very special sundowners along the Chobe River near the lodge. The next morning we would leave for the next safari camp in the Okavango Delta. The staff at the lodge were stellar and provided us with one spectacular day after another.
It was a long day in the park, and though we were unsuccessful in achieving our main goal of spotting leopards, it was great to be able to enjoy the sights, sounds and smells of the park all day. The terrain was varied throughout the day and all of it was beautiful.
Chobe National Park is more heavily used near Serondela, and eastward, where we saw many African families camping, picnicking and enjoying 'self-drive' tours of the park. It was so nice to see that Africans are enjoying their National Parks just as we do in the US. I can't help but think this is the only thing that will protect remaining African wildlife.
Slideshows of our two days of safari in Chobe National Park are at the end of this post. Within the Day 1 slide show are two videos. The first is of two young male giraffes 'necking', where they swing their heads and hit each other in the side with their horns. This sparring is common among males (and female giraffes) to establish dominance. Just watching them makes my neck ache.
The second video is a short clip of several wild dogs playing as we watched them. They all had full bellies and looked pretty relaxed.
Please enjoy.
Cheers!