It's no secret that wine and cheese can be a yummy combination. Charles Communications Associates and LoCa (The Wines of Lodi, CA) brilliantly combined a tasting of both recently, and we were fortunate to participate in the tasting and discussion.
We all joined together via Brandlive, a live video conferencing tool, to discuss, tweet and enjoy the Lodi wine and cheese pairings. Our hosts, Camron King Executive Director of the Lodi Winegrape Commission, Jeremy Trettevik of Jeremy Wine Co., & Cindy Della Monica of Cheese Central in downtown Lodi kept the conversation lively.
We received the four wines and four cheese samples with pairing suggestions and background information on all. Here's what we tasted.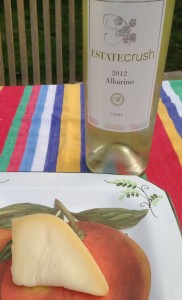 2012 Estate Crush Albariño – this aromatic white was all melons and honeysuckle. Citrus flavors of Meyer lemon along with a stony minerality and a bit of citrus pith on the finish combine with bracing acidity for a refreshing and delicious glass of wine. The finish is fairly long. A very nice example of Albariño. This wine makes me long for warm weather. $18.
Estate Crush is a custom crush facility located in downtown Lodi. They make wine for wineries, individuals and for themselves. They also have a tasting room in downtown Lodi  that features the wines made in their facility.
Central Lechera Gallega Tetilla – Galicia, Spain. This soft cow's milk cheese, is finished with a salt rub or brine soak. It is aged only 2 weeks before release and is soft, creamy and sweet. The flavors are fresh, delicate and buttery. The center is softer than the rind, providing a pleasing contrast in texture. Yes, the rind is edible on this cheese.
Great pairing. The floral and citrus flavors of the Albariño harmonize nicely with the creamy, buttery flavors of the Tetilla cheese. It figures these two Galician natives would play well together.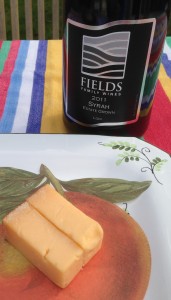 2011 Fields Family Wines Estate Syrah – a hint of smoke and dark fruit aromas combine with flavors of dark plums, smoke and a bit of bacon fat and earth. Tannins are well integrated and the finish is moderately long. Flavors are true to the variety. This wine evolves with time in the glass, delicious. Drink this wine with a wide range of food, or with nothing at all. ABV 14.2%.
The details of this wine's production are really interesting. The vineyard is certified organic, likely the first in Lodi. The exact age of the vineyard isn't known, probably about 26 years. Fruit was harvested with several passes through the vineyard at 23.8º to 25.8º Brix. Both initial fermentation and malolactic fermentation were non-inoculated. Aging in 25% new oak for 16 months. All of this care and attention to detail for $22.
Fields Family Wines has a tasting room in downtown Lodi, just across the street from Cheese Central on School Street, and at their winery on Woodbridge Road.
Westland Old Amsterdam – pale orange in color, flavors are tart, nutty and toasty. The texture is firm with crunchy crystalline bits which add an interesting texture. These amino acid nuggets indicate a long, careful aging of this cow's milk cheese. This cheese has a paper rind, so don't eat the rind on this cheese.
The tart distinctive flavors of the Old Amsterdam cheese were not lost in the flavors of the Fields Family Syrah. The flavors of both played off each other nicely.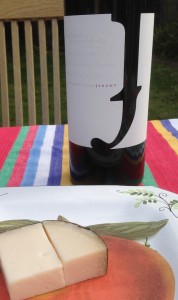 2011 Jeremy Wine Co Old Vine Zinfandel Costa Vineyard – dried fruit and asphalt aromas give way to flavors of tart red fruit, raspberries and luscious Zinfandel flavors. Black pepper, moderate tannins and juicy acidity combine with fruit flavors for a moderate to long finish. Not a shy wine, pair it with flavorful braised dishes or grilled meat. $28.
Jeremy told us he and his wife Choral had to audition with the Costa family in order to obtain fruit from their vineyard. After tasting through Jeremy's wines and talking winemaking philosophy the family was convinced he is as passionate about wine making as they are about growing the grapes.
The one "fence row" of Zinfandel that is the source for this wine is own-rooted, planted 60 years ago from cuttings of 112 year old vines. That's a lot of history. What a great story.
The Jeremy Wine Co. tasting room is downtown Lodi on W. Pine Street less than a block off School Street.
Cypress Grove Midnight Moon – this pale yellow Gouda is firm and rich, not as tart as the prior Gouda. It has subtle goat's milk flavors and a crunchy texture thanks once again to those crystalline bits that are a result of aging.
This cheese is made in Holland for Cypress Grove. The 12 month aging, or affinage, is completed at the Cypress Grove creamery in Arcata, California. The flavors were bold enough to be a good partner for the Zinfandel, and it was delicious with the Fields Family Syrah as well.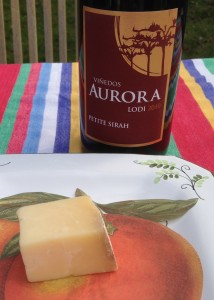 2010 Viñedos Aurora Petite Sirah – true to the variety, this wine is inky dark in the glass. Aromas of very ripe dark fruit with floral back notes combine with flavors of rich, ripe dark fruit and earth. Chewy tannins and ripe flavors cry out for steak — a grilled ribeye would do nicely. $22.
Fiscalini Farms Bandage-Wrapped Cheddar – very firm, pale yellow cheese with tart, nutty, aged flavors. This cheddar does not shy away from the big flavors of the Viñedos Aurora Petite Sirah.
Though the texture is firm, the cheese is a bit crumbly. Cindy explained this is due to the cheddaring process used to make this cheese, a process which also allows it to age 12-14 years easily. Read more about the cheddaring process here. The 60-pound wheels are wrapped in cheese cloth during aging, which is the origin of the description "bandage-wrapped". Just in case you were wondering.
The Tetilla cheese was the most delicately flavored cheese in this group and paired best with the Albariño. Mix and match all of the red wines with any of the other cheeses and you will have great pairings. Flavor combinations were unique and all very pleasing.
In addition to reminding us how delicious Lodi wines can be, this tasting was a great reminder that there are many shops, tasting rooms, restaurants and a fabulous cheese shop all located in downtown Lodi. All are within just a few blocks of each other. You will find all of the tasting rooms indicated on this map of downtown Lodi, and as mentioned above, Cheese Central is located just across the street from the Fields Family tasting room on School Street.
Cindy and her staff will sample cheese with you and help you make a selection to match your Lodi wines. We spent a day last fall shopping and tasting in downtown Lodi and had a great time. Check it out!
Thank you to Charles Communications and LoCa for sponsoring the tasting and providing the tasting samples.
Cheers!