Earth Day and Organic Prosecco, what a brilliant pairing! What's even more brilliant is how flavorful and fresh Mionetto Prosecco DOC Treviso tastes. Sparkling wines are among my very favorites, so to be able to enjoy a glass of bubbly made with organic grapes on Earth Day literally made my day. Thanks to Creative Palate Communications for the idea and the tasting sample.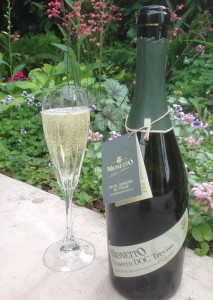 Mionetto Prosecco DOC Treviso — delicate yellow in the glass, fine bubbles and smoothly effervescent. Delicately floral aromas of honeysuckle are followed by flavors of ripe yellow apples with only a hint of sweetness. The finish is clean with lingering apple flavors.
Prosecco is produced in northeastern Italy in 5 provinces within the Veneto region and in 4 provinces within the neighboring Friuli Venezia Giulia region. Regulation requires that Prosecco be made from at least 85% of the indigenous white variety called Glera with the remaining 15% comprised of Verdiso, Perera, Bianchetta, Glera Lugna, Pinot Nero or Chardonnay. It must be made as a white wine.
The Mionetto Prosecco DOC Treviso is produced with 100% Glera grapes that are certified organic. No synthetic chemicals or fertilizers were used in the growing of these grapes. The grapes are grown in a certified organic vineyard in the small town of Vazzola in the hills of Treviso.
The wine was made using the Charmat method, where the second fermentation is completed in pressurized, temperature controlled tanks rather than in the bottle. Because the second fermentation takes place under pressure, the CO2 produced is forced into the wine producing bubbles. This method  preserves the fresh, floral and fruit flavors of the delicate Glera grape.
Prosecco does not have the yeasty aromas and flavors characteristic of Champagne or other sparkling wine made using the méthode champenoise. It does not spend time aging on the lees. That really is the beauty of Prosecco, preserving the fresh, lively and fruit flavor of the Glera grape. In order to maintain this freshness Mionetto bottles their organic Prosecco continuously throughout the year, not just once a year as is common with many Prosecco producers.
The fresh floral and fruit flavors of Mionetto Prosecco DOC Treviso make it easy to like and easy to sip. As Pete and I were sipping it and making our tasting notes Pete remarked, "Wow, I can't believe I have finished that glass already!" I have to second that! It is perfect before a meal or on a warm afternoon. I especially appreciate that the ABV is only 11%.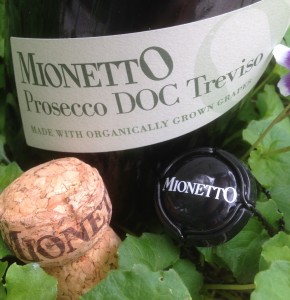 Thanks again to Creative Palate Communications and Mionetto Prosecco for providing the sample. Mionetto Prosecco DOC Treviso is available nationwide and retails for about $16. Reasonably priced and delicious. Happy Earth Day!
Cheers!