We recently sat in on a saké and cheese pairing hosted by Charles Communications Associates. The online tasting featured saké made in Forest Grove, Oregon by SakéOne as well as saké imported from Japan by SakéOne. Each of the four sakés was paired with a different cheese provided by Marin French Cheese Company, Laura Chenel and Rogue Creamery. As we discovered during the tasting, saké makes a great partner for cheese.
Jesse Pugach, Advanced Saké Professional & Saké Specialist at Southern Wines & Spirits, and Liza Kaplansky of Laura Chenel/Marin French Cheese Company in Northern California hosted the discussion. With saké samples from SakéOne received and chilled, and cheese samples plated, we were ready to taste and talk saké and cheese. Here are the combinations we tasted with a description of each and then what we thought of the pairing.
Momokawa Organic Junmai Ginjo — nearly colorless in the glass with delicate aromas of ripe, sweet pears and white flowers. Vanilla and floral flavors follow with a bit of lemon zest and medium weight in the mouth. The finish is clean and crisp. ABV 14.5%. SRP: $14. Serve chilled.
This saké is produced from organic rice grown in California that has been milled to 60%, producing a saké with increased aromatics. It is produced by SakéOne in Forest Grove, Oregon.
Marin French Petite Breakfast Brie —  the texture is a bit spongy, as opposed to creamy and almost liquid like an aged brie. It has a sweet aroma with tart and creamy flavors along with a bit of sweetness and saltiness on the finish. This cheese just melts in your mouth. Delicious. I would enjoy eating this cheese for breakfast or any time of the day.
Marin French Petite Breakfast Brie is the first cheese made by Marin French Cheese after it was established in 1865. At the time there was an egg shortage in San Francisco and this cheese was produced to fill that void on breakfast menus. That's how the cheese got its name.
It's a fresh brie, meaning that unlike most brie it is not aged. You will not find the usual skin on this cow's milk cheese because it is fresh. The small wheels simply undergo brining and drying before distribution. It is produced in small 4 oz wheels, hence petite in its name.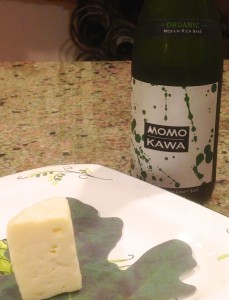 The pairing: delicate saké flavors combine with delicate cheese flavors and neither overpowers the other. The floral flavors of the saké are enhanced with the pairing as is the salty finish of the cheese.
This combination would be best for those who don't appreciate strong cheese flavors or those with little experience tasting saké. Both are delicate.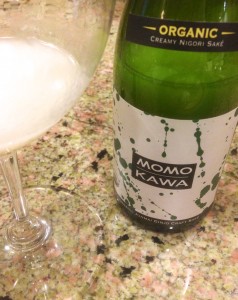 Momokawa Organic Nigori — milky white in the glass with clean, tart fermented aromas. The flavors are very neutral, just a bit of pear but with more texture, weight and sweetness. The finish lingers. ABV 16%. SRP: $14. Serve chilled and shake well before pouring.
The cloudy, milky color and granular texture of the saké is unique to Nigori saké (Nigori translates to cloudy). As part of the brewing process after fermentation, saké is pressed to remove rice solids from the liquid. With Nigori saké, a coarser mesh is used which allows more of the rice particles to remain with the liquid. That accounts for the tiny particles that adhere to the glass and for the increased sweetness of this saké produced by SakéOne.
The color and texture were a bit off-putting at first. This sake showed much better to our taste when paired with cheese than it did on its own. It may be a bit of an acquired taste.
Laura Chenel's Chévre — this white, creamy, tart goat cheese is only slightly crumbly and has the delicate earthy flavors I associate with goat cheese. This cheese has a fair amount of moisture in it, giving it a richer, rounder mouthfeel and flavor than some goat cheeses. It is creamy and firm at the same time. It has all of the flavors I love in goat cheese. Once again, this is a fresh cheese, so no rind has developed on the cheese.
This is the cheese that started it all for Laura Chenel. In 1979 she was the first to sell artisanal goat cheese in the US. It was Alice Waters, who first served Laura Chenel's goat cheese (sliced and breaded before being baked) on a salad at her restaurant, Chez Panisse in Berkeley, and introduced the food world to this delicious domestic goat cheese. Now we take it for granted, but back in the 1970s it was something of a rarity.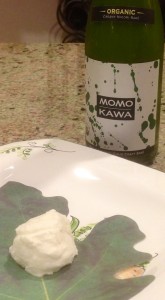 The pairing: textures are highlighted in this pairing. The firm texture of the goat cheese minimizes the textural uniqueness of the saké in this pairing. The wonderful earthy flavor and creaminess of the Chévre lends complexity to the flavors of the saké and contrasts nicely with its sweetness.
Hint: Liza suggested adding a dusting of grated lime zest over the Chévre to heighten the flavors of both the cheese and the saké.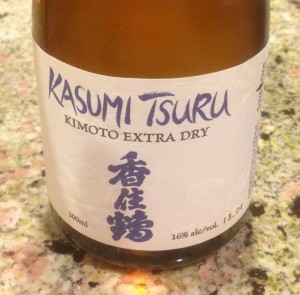 Kasumi Tsuru Kimoto Extra Dry — colorless in the glass with delicate aromas of toasted almonds. Flavors are a bit earthy and mushroomy with a mouth filling roundness. As this saké warms in the glass the mushroom aromas and flavors develop fully. The finish is very clean and crisp with bracing acidity that is tongue tingling. This saké grabs your attention. ABV 16%. SRP: $27. Can be served cold, warm, or hot.
Kimoto saké has more richness, more umami and more depth of flavor due to the  lengthy production process. Kimoto is an ancient style of brewing saké. Most modern brewers add lactic acid to the fermenting rice. Kimoto is produced without the addition of lactic acid, by manually breaking up the rice to produce lactic acid naturally. Only a handful of breweries still use this ancient method which produces the distinctive aromas and complex flavors in this saké which is produced in Hyogo prefecture in Japan.
Laura Chenel's Ash-rinded Buchette — this cheese ages from the outside and the texture of the cheese changes accordingly. It is soft and gooey toward the outside and firmer in the center. This cheese has strong earthy and stinky aromas (but in the best way possible). The flavors are pungent, tart and complex but also a bit sweet. It is a much more flavorful version of fresh goat cheese. It may not be the best choice for the goat cheese novice, but it is really delicious. I love the textural differences between the center and the outside of this cheese. This was my favorite cheese of the group.
With this cheese we move from the first cheese produced by Laura Chenel to her most recent production. Laura Chenel began producing this cheese in June of this year and it is an aged goat cheese. The exterior of the cheese is coated with vegetable ash (and edible, it's delicious) which is a traditional coating for aged goat cheeses in France. The vegetable ash helps to balance the acidity and rich flavors that develop as a goat cheese ages.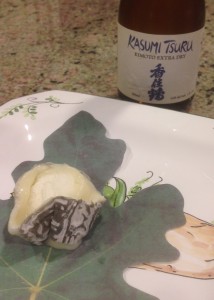 The pairing: brilliant. The earthy flavors of the saké and the aged flavors of the goat cheese play off each other nicely. Both have bold flavors. The acidity of the saké is great with the creamy texture of the cheese. This was my favorite pairing of the group.
Your cheese-loving friends will go crazy for this pairing.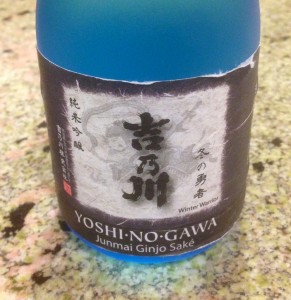 Yoshinogawa Winter Warrior Junmai Ginjo — colorless in the glass and very aromatic. Ripe melon and tart pineapple aromas are followed by anise, melon and pineapple flavors. This saké is a bit lighter in the mouth, has just a hint of sweetness and great acidity. ABV 14%.  SRP: $27. Serve chilled.
Yoshinogawa is one of the oldest saké breweries in the world, it's history reaches back nearly 500 years. This saké was produced in Japan as a collaboration between SakéOne and Yoshinogawa with American food and palates in mind, so that it would pair with bigger flavors. It is completely different than the dry, tight style of saké Yoshinogawa usually produces in Niigata prefecture.
Rogue Oregon Blue —this creamy blue veined cheese has pungent, earthy aromas. The flavors are bold, earthy and creamy with sharp blue cheese flavors. The texture of this cheese is smooth and is very typical of quality blue cheese. Delicious.
Produced in southern Oregon by Rogue Creamery, this creamery was established by Tom Vella who also established Vella Cheese Company in Sonoma. Rogue Creamery is know for its production of blue cheese and is producing very highly regarded blue cheese according to Liza.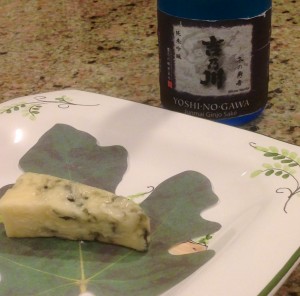 The pairing: highlights the contrast of sweet to salty/earthy, a classic pairing. Think blue cheese with honey comb or blue cheese with Sauternes. Did I already pick a favorite? Well, I loved this combo too.
Anyone who enjoys blue cheese and dessert wines will appreciate this combination.
The takeaways:
This tasting highlighted the potential for pairing food and saké. Cheese, because of the earthy flavors developed as a result of aging are natural partners for saké. The acidity of saké cuts through the creaminess of soft cheeses. Jesse and Liza suggest that saké pairs best with soft cheeses which tend to be creamier and have less acidity than hard, longer-aged cheeses. This sets up a nice contrast between the acidity of the saké and the fatty creaminess of the cheese.
In terms of pairings consider pairing similarly delicate flavors or contrasting sweet and salty/earthy flavors. The saké should be sweeter than the cheese or the saké will taste bitter. Apply the same considerations you would in pairing sweet wine with cheese.
This holiday season provides the perfect opportunity to introduce your friends to the delightful combination of saké and cheese. If you're having a party, you can organize the saké and the cheese pairings. If you are going to a party take a saké and cheese pairing you enjoy. It's simple, easy and your friends will thank you.
Thanks to Charles Communications Associates for organizing and inviting us to this online tasting. Thanks also to SakéOne for providing the saké samples and to Marin French Cheese Company and Rogue River Blue Cheese for providing the cheese samples. I know it can be a challenge to package cheese for shipping. All of the samples we received arrived in good condition.
Finally, thanks to Jesse and Liza for sharing your knowledge and enthusiasm of saké and cheese with us. What a great combination.
Cheers!