Those of us who are regular tasters at the Thursday night wine tasting at Fine Wines of Stockton know one of George's great loves is Sauternes and cherries. Not just any cherries mind you. They must be cherries that are not overly sweet, just a touch of tartness is what's desired to counter the sweetness of the Sauternes.
Rainier or Queen (Royal) Anne are the cherries to look for. They are yellow and red in color with light colored flesh. They have soft skins with fairly firm flesh. I usually find them in the Farmes Market as Rainier here. I have purchased them in the grocery store as well but always find the cherries from Farmer's Market are always much more flavorful.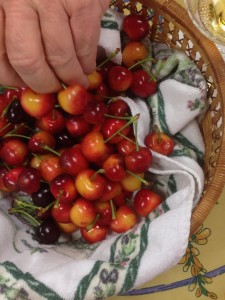 We have tried both Rainier and Bing cherries with Sauternes at prior tastings and have agreed with George that the Bing cherries are too sweet to make a good match for Sauternes. So, if you love Bing cherries, as I do, just go by some and eat them on their own. If you are lucky enough to find Rainier cherries, save them to try with a bottle of Sauternes. You will find the combination surprisingly good.
In our area, Rainier cherries are not the first to ripen. I usually see several types of red cherries in the Farmer's Market before the Rainier cherries appear. We also have the good fortune to have regular Thursday night tasters that have access to a Rainier cherry orchard, so when the cherries are ready George schedules the tasting. Generally it is early to mid-June.
For the tasting this year George very generously pulled three bottles of Sauternes from his cellar. The shelves at Fine Wines of Stockton are bare of Sauternes at the moment, as their shipment is somewhere between France and Stockton. George and Gail usually stock a few Sauternes in the shop and they always sell quickly.
"Great wines made in the cellar", that's how George describes Sauternes. Some magic must happen in the vineyard too for the greatness of Sauternes to express itself. Really, quite a lot must happen before Sauternes can be made in the cellar. Semillion is the main grape variety used to produce Sauternes along with smaller amounts of Sauvignon Blanc. Muscadelle and a bit of Sauvignon Gris in some areas used as blending grapes as well .
All varieties are susceptible to the fungus Botrytis cinerea, aka botrytis. Botrytis is the key to Sauturnes along with the perfect weather conditions to work its magic. When the mornings are foggy and damp followed by warm, sunny and dry afternoons botrytis extract water from the grapes causing desiccation. The grapes almost become raisins on the vine.
If mornings are not foggy enough for botrytis to develop, it cannot work its magic. If morning are cool and foggy but so are the afternoons, it is likely grapes just develop grey rot and spoil. When Botrytis works its magic to product just the perfect amount of desiccation, it is referred to as noble rot. Doesn't sound very appetizing, but the wine certainly is delicious.
Not every year is not a good one for Sauternes production. About 5 years in 7 are good and only 2 years out of 10 are perfect. One of the reasons Sauternes are so expensive.
As you can imagine the yield in the vineyard of botrysized grapes is very small. The grapes are no longer large, plump and heavy with water and juice. The raisined grapes are little bundles of concentrated sugar and acid with very concentrated flavors. Not only that, grapes are harvested by making multiple passes through the vineyard, selecting just the grapes at the right stage for Sauternes production.
It is no simple task to manage the fermentation of Sauternes. The botrytis fungus can interfere with the yeast responsible for the fermentation process, so it is the job of the winemaker to make sure all of the organisms play well together to produce a wine with an adequate level of alcohol.
Finally, Sauternes are wood aged, generally from 18 to 36 months. It's a long, expensive process that is not possible every vintage. Sauternes producer must be some of the most tenacious winemakers in the world.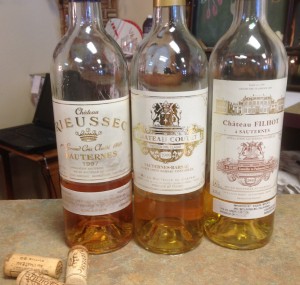 The three Sauternes George presented were from the 2003, 1999 and 1977 vintages. Even before we began tasting, it was so interesting to see the difference in color of the wine in this group. With age Sauternes changes from medium golden to amber in color.
2003 Château Filhot Sauternes — very dark yellow in the glass with aromas of pineapple and delicate minty hints in the background. Pineapple and apricot flavors combine with significant sweetness and a very round feeling in the mouth. Along with sweetness there was tongue-tingling acidity.
This combination of sweetness with great acidity is what makes Sauternes so wonderful. Without that clean, crisp acidity the sweetness would be overwhelming.
1999 Château Coutet Sauternes-Barsac — light amber in the glass with hints of pineapple and a bit of spice. Sweet pineapple flavors combine with spices and earth. This wine is not as round in the mouth as the Château Filhot. It has good weight, but less roundness and great acidity. Somehow it is more angular and muscular.
The flavors in this wine still taste youthful. It is closer in flavor profile to the Château Filhot than the Château Rieussec.
1997 Château Rieussec Sauternes — light amber in the glass with aromas of very ripe melon flesh and seeds. Complex flavors of spice, apricots and ripe melon combine with with great acidity for a clean finish.
The aromas and flavors in this wine taste aged, that is the melon flavors are closer to over ripe melon than barely ripe melon, aromas and flavors I associate with those flavors that develop over time in the bottle. These are flavors I love in an aged white wine.
If you prefer brighter pineapple, apricot flavors consume Sauternes when they are young. They are delicious, I love those flavors. But, I love the complex older flavors Sauternes develop with time in the bottle even more. Whenever I drink a bottle of Sauternes young, I can't help but wonder what it might have become, then I just sit back and lose myself in the fresh sweet flavors.
If you haven't already done so, be certain to try Sauternes. You will quickly discover their charm. Wonderfully round in the mouth with rich pineapple and apricot flavors, Sauternes are not just any other sweet wine. All of those complex flavors and sweetness is balance with tong-tingling acidity for a clean finish. This is what makes Sauternes so special to me.
They are a special occasion wine (one to drink for a special occasion or one that makes any occasion special!), and admittedly very expensive, but worth the cost to further your wine education. Get together with some friends and split the cost of a bottle among you. Try Sauternes when they're young and then see if you can put your hands on some older vintages. You will be amazed at the change in flavors.
Thank you George (and Gail) for sharing your liquid gold with us!
Cheers!