Summertime for us often means simpler meals, but not simpler wines. Rather than preparing an oven roasted or braised dish, we might grill chicken or pork in our backyard. Sometimes we simply prepare a charcuterie board, add cheese, bread and a variety of accompaniments. Then, we sit in the quiet of our backyard and enjoy the evening.
During the summer months we often find ourselves looking for lighter-bodied wines to pair with our meals. We drink white wines much more often when the weather is warm. Even though we prefer to pull that cork (for obvious reasons), we are not opposed to screw-cap wines. The closure is not important, it's the flavor of the wine that matters to us.
We recently enjoyed a trio of wines from Argentinian producer
Bodega Trivento y Viñedos
. The wines were new to us and we were eager to see how they would pair with summer fare. We received the wines as
tasting samples
.
Bodega Trivento was founded in 1996. With over 3100 acres of vines in eight vineyard locations within the Mendoza wine region, Trivento takes full advantage of the varying contour, soil types and microclimates the region has to offer.
Pairing 1
2013 Trivento Reserve Torrontés — light yellow in the glass with generous aromas of white flowers. Citrusy flavors combine with white flowers and tropical fruit flavors. The finish is juicy thanks to nice acidity and a bit of citrus pith flavor. The aromas and flavors in this wine remind me of the scent in our yard when our citrus trees are in bloom.  SRP $11. Screw-cap closure.
This 100% Torrontés is the epitome of a summer sipper: floral, refreshing, and flavorful when chilled. It's exactly what I want to reach for on a warm afternoon. Food is optional.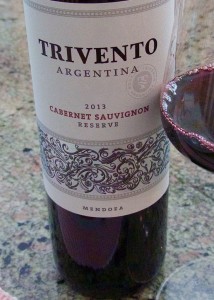 2013 Trivento Reserve Cabernet Sauvignon — medium ruby in the glass with blackberry and blueberry aromas. Blackberry flavors predominate with just a hint of earthiness and medium weight in the mouth. Tannins are relatively smooth and the finish medium in length.  SRP $11. Cork closure.
In a word, this Cabernet is fruity. The flavors of wood aging play only a supporting role in the flavor profile of this wine. (The wine received only 6 months wood aging in French oak.) It is this dark fruit flavor and the smooth tannins that make this Cab a good choice for a warm evening.
Uco Valley and Luján de Cuyo vineyards are the source for this 100% Cabernet Sauvignon. The vineyard locations, at over 2800 feet above sea level, mean that warm days are complimented by cool nights during the growing season. This diurnal temperature variation tends to produce ripe grapes with naturally high acidity. That can translate to a very well-balanced wine in the glass.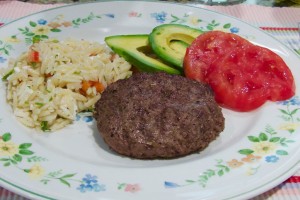 We paired this duo of Trivento wines with a simple summer supper of orzo salad, sliced tomatoes and avocados and grilled lamb burgers. What a flavorful combination.
I admit to sipping the Trivento Torrontés while preparing the salad and the lamb burgers. The flavors of this wine were as enjoyable on their own as they were with our dinner.
We opened the Trivento Cabernet Sauvignon to enjoy with dinner. The dark fruit flavors paired perfectly with the grilled flavors of the lamb. We continued sipping this delightful Cabernet as the evening cooled.
Pairing 2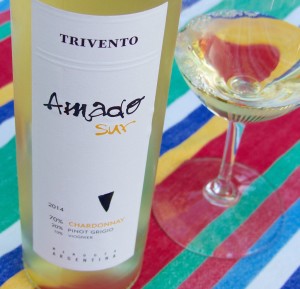 2014 Trivento Amado Sur — light yellow in the glass with grapefruit aromas characteristic of many Chardonnays. Citrus, green apple and delicate floral flavors combine with subtle minerality. The finish is crisp, clean and moderately long.  SRP $15. Screw-cap closure.
Bright, flavorful, complex. The fruit for this Chardonnay blend (70% Chardonnay, 20% Pinot Gris, 10%Viognier) was hand harvested and each variety vinified separately. Skillful blending produced a food-friendly wine with complexity and balance.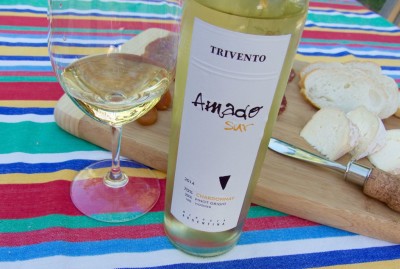 On another evening we paired the Trivento Amado Sur Chardonnay with a salami and cheese board, all of which we enjoyed in the shade of our back yard. We chose Cowgirl Creamery Red Hawk cheese which is creamy in texture and has a pungent flavor. We added two kinds of salami: Finochiono, which is fatty, salty and anise flavored, along with Soppressata which we love for its spiciness. Walnuts and dried apricots from the farmers market along with sweet french bread completed our pairing.
So, how did the Trivento Amado Sur Chardonnay pair with our cheese board? Deliciously! The Chardonnay stood toe-to-toe with the pungent flavors of the cheese and the spiciness of the salami, with plenty of acidity to cut through the fatty goodness of both.
We sipped, nibbled and enjoyed the evening as the temperature dropped. It was one of those lovely summer evenings when the neighborhood was quiet, hummingbirds chattered in the trees and blue jays hopped through the flower beds looking for their evening meal. Simple pleasures.
We thank Creative Palate Communications for sending us the tasting samples and for introducing us to these delicious wines. Look for them. They are reasonably priced, flavorful, well-balanced wines that are distributed nationally. Perfect, really, for any number of summer occasions – including a quiet evening at home.
Cheers!