Are you in need of a wine carrier for yourself or for someone else as a gift? I have a suggestion for you.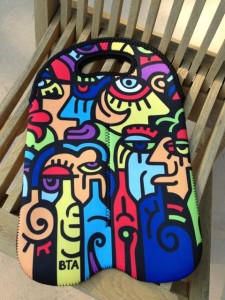 We recently received this brightly colored two bottle wine carrier to review. The artwork is by Billy The Artist, internationally recognized pop artist known for his eclectic style. The bright puzzle-like images are printed on both sides of the carrier. The pattern is reproduced on both sides in exact alignment on the carrier we received. The black zig zag stitching is done with heavy weight thread and is securely sewn through both layers of neoprene. Both the top edge and the handle opening are finished with black stretch fabric and securely sewn in the same zig zag pattern.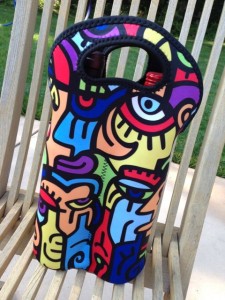 I recently used the carrier to take wines to an event. Both bottles fit snuggly into the carrier (though sparkling wine bottles would not). The carrier felt sturdy when I lifted it by the handles and the neoprene provides significant cushioning. No more worrying about bottles colliding.
Several individuals commented on the bright colors and the artwork. One called it "Picasso-like".  All were impressed with the quality. Where did you get it they wanted to know.
This double wine bottle holder, as well as a single bottle wine bag, and the rest of Billy The Artist's urban gifts and clothing line are available at retailers nationally and online. Visit www.planetrandomdesign.com for a store locator and additional information. I have no experience ordering from the Planet Random website.
The double wine bottle holder — measures 9.5" x 15", SRP $25
Also available in the same fabric and print:
Single wine bottle holder — measures 5" x 15",  SRP $20
Lunch bag — 12" wide x 10"high, SRP $25
We received only the double wine holder for review.
Cheers!