Germany is certainly better known for its white wines, Riesling in particular, than it is for its red wines. But Germany's cool growing conditions can result in red wines with lively flavors that are food friendly and have very modest alcohol. Chill them during summer and enjoy them at room temperature in winter. Today we're sipping two such wines that make the case for German Spätburgunder. We received these wines as tasting samples.
Accord to Wines of Germany about twice as much white wine is made in Germany as is red wine and that makes sense given Germany is a cool-climate region. But red wine production is increasing and with climate change that may continue. Spätburgunder is the most-planted red variety, with Dornfelder and Portugieser quite a ways back.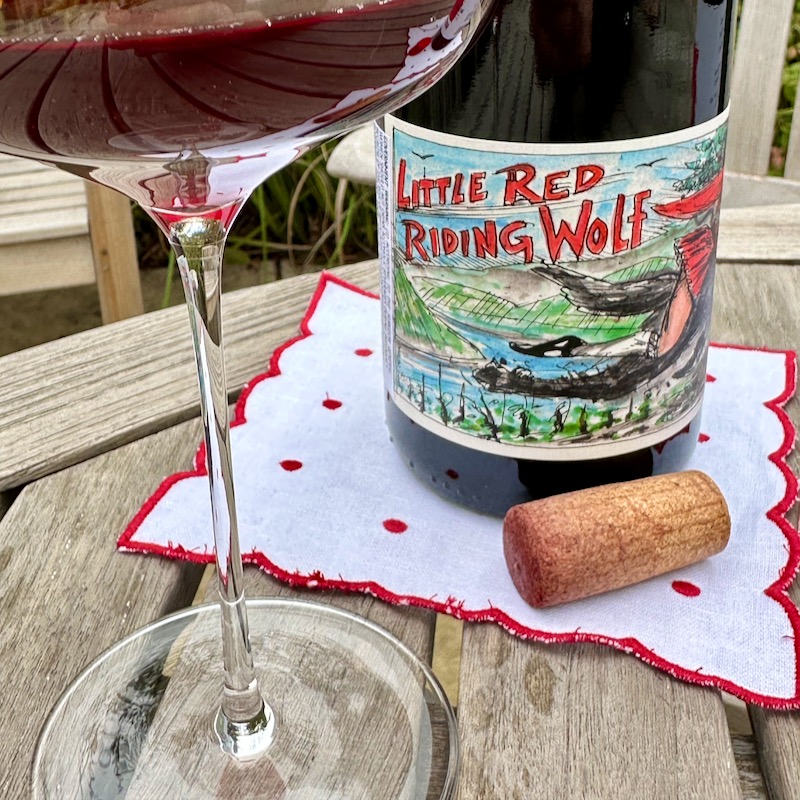 Staffelter Hof – Jan Matthias Klein 'Little Red Riding Wolf' Pinot Noir, Landwein der Mosel — translucent ruby-garnet with mixed berry aromas, smoke, black pepper and earth. Flavors include include raspberries, blackberries and earth with a lingering funky quality. Acidity gives the wine a sensation of effervescence on the palate and the tannins are fine and drying in a barely medium body. 12% abv. SRP $27
This wine is unfined, unfiltered and has no added sulfur. According to the importer, Bowler, the farming is organic and the wine is vegan. 100% Pinot Noir was aged for 18 months in 1000L fuder. It has a wild, natural quality to it without being unpleasant. I couldn't find a vintage date on the wine bottle, but the importer has both the 2020 and 2021 vintages listed and the tech sheets are essentially the same.
If you want a story to go along with your wine, Staffelter Hof provides one – make that two. Staffelter Hof was established as a winemaking abbey in 862. After the Napoleonic Code became official in 1804, the land in Kröv was purchased by Peter Schneiders in 1805. Seven generations later the winery is still in the same family; Jan Matthias Klein is the winemaker having taken over from his father, Gerd Klein, in 2005. The story about how this wine got its name and cool label is also interesting and tied to the abbey's history.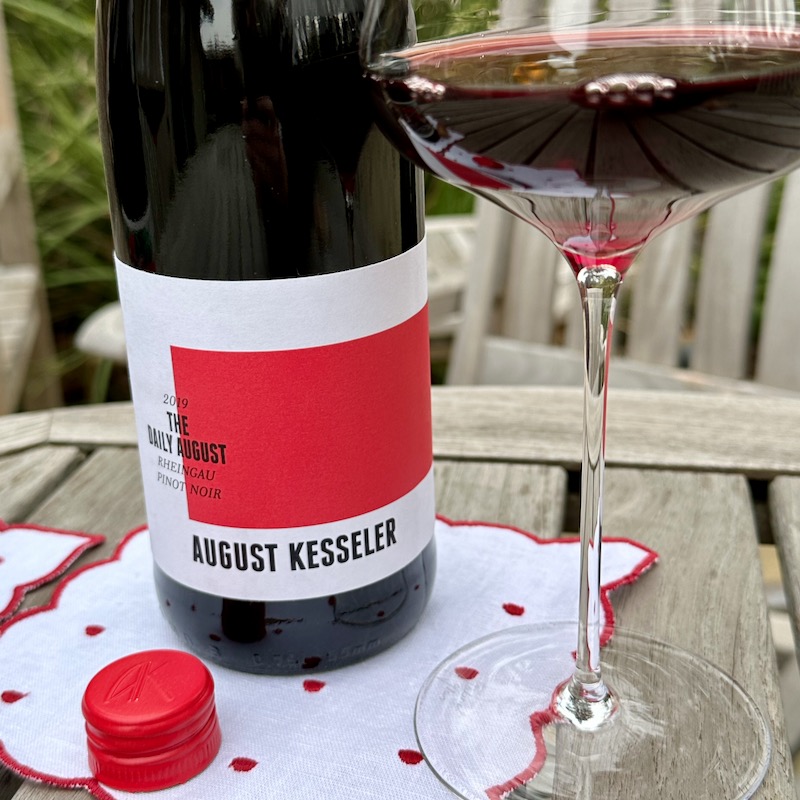 2019 August Kesseler The Daily August Pinot Noir, Rheingau — translucent ruby with aromas of red fruit, berry bramble and earth. Flavors include cranberries, ripe cherries and pomegranates supported by lively acidity. Tannins are smooth and drying in a barely medium body. 13.5% abv. SRP $25
This Pinot was fermented in stainless steel and aged in barriques. Interestingly, the aging took place in a cellar dating back to 1792. August Kesseler's parents established the winery in 1929, so it's quite a bit younger than that impressive wine cellar. Mainly bulk wines were being made at the time August assumed responsibility for the enterprise at the young age of 19. According to the importer, Vineyard Brands, August Kesseler is responsible for making his estate a flagship winery of the Rheingau region.
What I love about cool-climate red wines is the combination of red fruit flavors and texture from tannins in a lighter body. I find them to be an excellent dining companion for roasted chicken, white fish, smoked salmon, pasta and cheeses.
The second thing I like about them is they are so good to sip on their own without overwhelming my palate. Often I prefer to enjoy a wine without food and a light red suits my taste.
An added bonus is the lower alcohol. I'm always looking to decrease my alcohol consumption without quitting wine entirely. Call it Spätburgunder or call it Pinot Noir, both of these wines achieve my wine goals.
Thanks to Wines of Germany USA for organizing our tasting.