Bordeaux is best known for its dry red wines, but Bordeaux is also home to delicious dry white wines. With temperatures soaring this summer, here and in much of the Northern Hemisphere, a crisp white wine is just what I want in my wine glass. We recently tasted three dry white Bordeaux wines, sent to us as tasting samples, that were especially refreshing on a warm afternoon and perfect with a summer meal.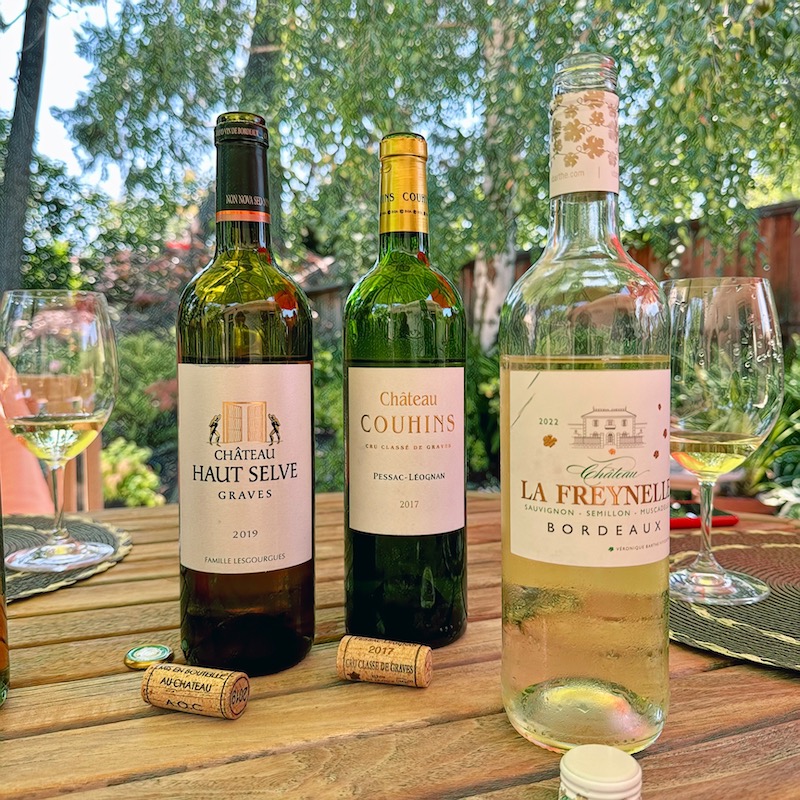 According to Vins de Bordeaux only 8% of Bordeaux vineyards are planted to white grape varieties. Sauvignon Blanc, Sémillon and Muscadelle are the main white grapes used to make dry white Bordeaux blends and two main styles are made: fresh and fruity wines made using stainless steel and richer, more complex wines aged at least partially in oak barrels. The endless terroirs in Bordeaux along with the many blending and aging decisions made by winemakers result in dry white wines wines of great diversity.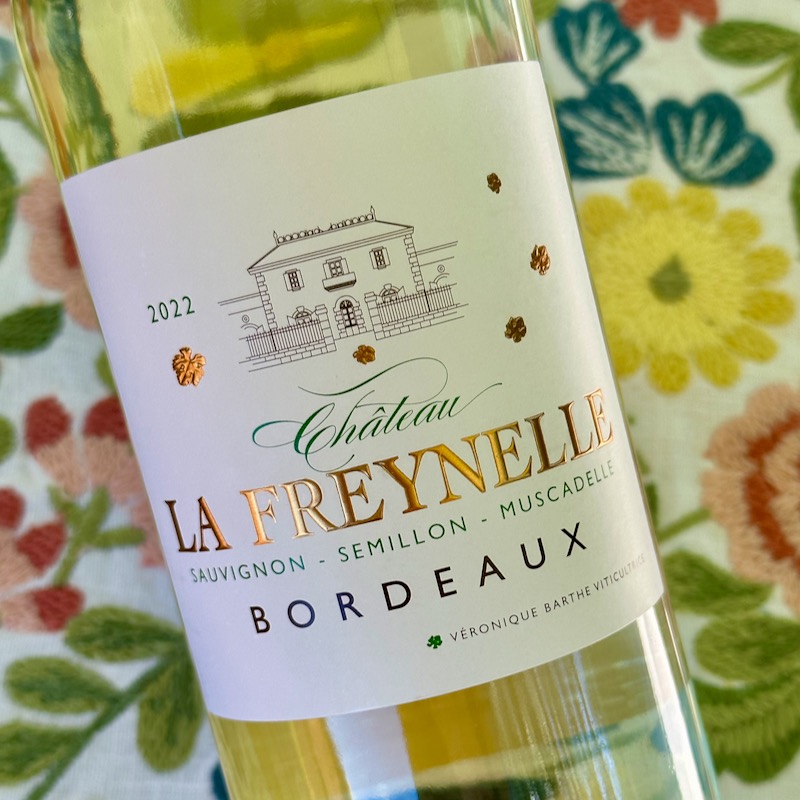 2022 Château La Freynelle, Bordeaux Blanc — pale yellow with generous aromas of guava and citrus blossoms. Citrus flavors are lemony with a bit of cut grass and roundness in the mouth. Acidity is juicy and soft at the same time. 13.5% abv.
Flavors are reminiscent of lemon chiffon pie, but without the sweetness, and is both light on its feet and a bit round in the mouth making it very easy sipping. Sip this wine before dinner or pair it with a salad. The blend is 60% Sauvignon Blanc, 30% Semillon, 10% Muscadelle and it went through partial malolactic fermentation with stainless steel aging.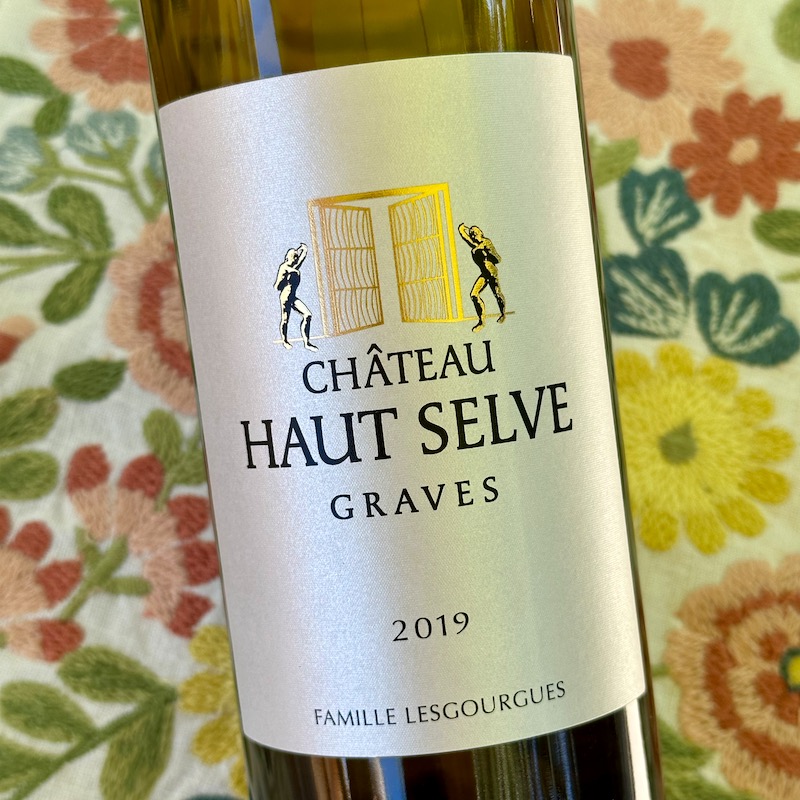 2019 Château Haut Selve, Graves Blanc — yellow-green with aromas of dried hay, wet stone and lemon-lime. Flavors blend dried hay, citrus, earth, and wet stone with a bit of texture all supported by abundant, juicy acidity. 13.5% abv.
The combination of flavors is delicious and the wine has ample acidity with a bit of texture. Pair this wine with a meal: sautéed scallops and bok choi, Italian sausage and farro salad, grilled shrimp. The blend is 60% Sauvignon Blanc, 30% Sémillon, 10% Sauvignon Gris aged in French oak for 6 months.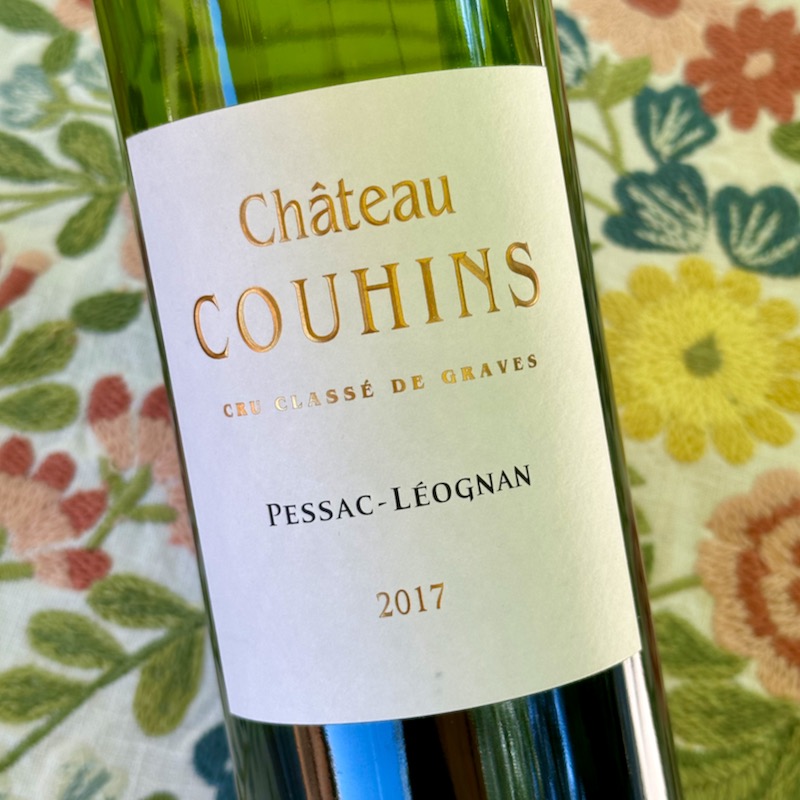 2017 Château Couhins, Pessac-Léognan Blanc — light yellow with aromas of oat hay and dusty gravel. Flavors include oat hay, guava, citrus and cut grass supported by abundant, juicy acidity. 13.5% abv.
The flavors of Sauvignon Blanc are up front is this wine and the 2017 vintage is still very fresh and bright. This is another food wine that will pair with grilled vegetable dishes, grilled pork or pesto vegetable pasta or salad. The blend is 98% Sauvignon Blanc, 2% Sauvignon Gris and the wine was aged in oak barrels with lees stirring.
The range of flavors in this trio of white Bordeaux wines is quite wide, but what they all have in common is balance and abundant acidity making them refreshing and food friendly. If you're looking for blended wines based on Sauvignon Blanc, look for white Bordeaux. And they age well, if that's important to you.
Thanks to Gregory+Vine for organizing our tasting.
Cheers!