Unoaked Chardonnay is fairly common, but the same cannot be said for unoaked Cabernet Sauvignon. Cabernet is almost always made by fermenting and aging the wine in oak barrels of various types and ages. Winery owner and beverage specialist Ron Rubin is clearly not following the crowd with his line of UN-Oaked wines; Pam's UN-Oaked Cabernet Sauvignon recently joined Pam's UN-Oaked Chardonnay. We received both wines as tasting samples.
Ron Rubin realized his dream of owing a winery in 2011 when he purchased River Road Family Vineyards and Winery in Sonoma's Green Valley of Russian River Valley where he established Ron Rubin Winery. Rubin's entrepreneurial spirit was nurtured by his family's wholesale liquor business in Illinois. In 1990 he establish New Age Beverages, licensed Clearly Canadian Sparkling Water in the Southeastern United States and eventually purchased Republic of Tea. The brands currently listed on the Ron Rubin Winery website include: Ron Rubin Wines, River Road Vineyards and Republic of Tea.
Ron Rubin's commitment to community is evident on the winery website as well: sustainability certifications (SIP Certified and California Sustainable Winegrowing Alliance), Certified B Corporation status and the Ron Rubin Winery TRAINED FOR "SAVING LIVES" program that brings ZOLL AED PLUS (Automated External Defibrillator) units to wineries. This later effort is particularly personal for Rubin.
As seriously as Ron Rubin takes his commitment to community and winemaking, you can't help but notice his sense of fun in the Pam's UN-Oaked line of wines (as well as his desire to make wines his wife, Pam, enjoys – "Happy Wife Happy Life" says it all!) The wine bottles' back labels tell the story in Pam's words: her preference for unoaked wines with a bit of sweetness. She's not alone. Many consumers enjoy fruit-forward wines with a touch of sweetness. These are fresh wines meant to be consumed shortly after being purchased – the way most wine consumers enjoy wines. Their screw-cap closures make them easy to open.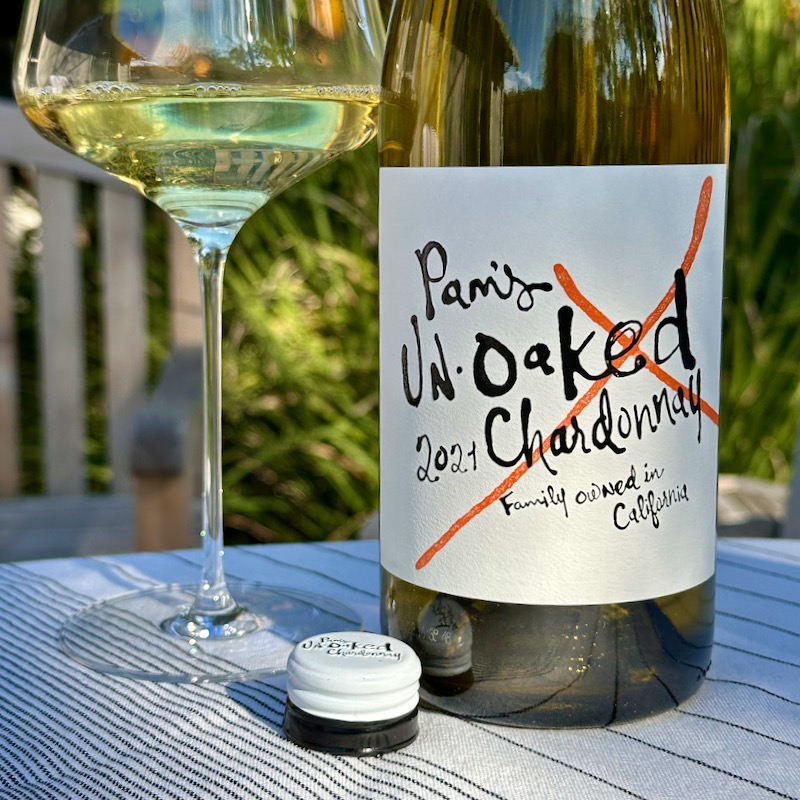 2021 Pam's UN-Oaked Chardonnay, California — pale yellow with generous aromas of ripe melons and white flowers. Melon and pear flavors are generous and finish with sweet fruit flavors and adequate acidity. 12.5% abv. SRP $14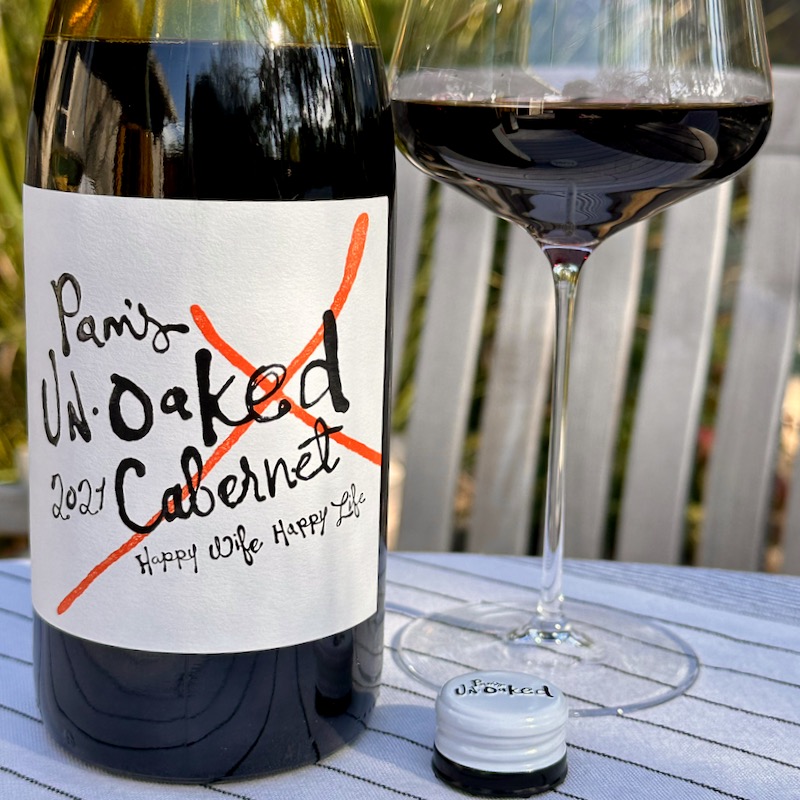 2021 Pam's UN-Oaked Cabernet Sauvignon, California — medium ruby with generous aromas of ripe mixed berries. Flavors include juicy boysenberries, ripe cherries and blackberries. Fruit flavors are noticeably sweet with smooth tannins and good acidity. 12.5% abv. SRP $16
Because of their slight sweetness, these wines will appeal to Moscato lovers; a splash of sparkling water and an ice cube might also be refreshing on a warm evening. The bit of sweetness in the Cabernet Sauvignon makes it a good match for grilled meats seasoned with sweet sauces.
Thanks to Creative Palate Communications for organizing our tasting.
Cheers!