A Chardonnay blend or Nerello Mascalese are perfect springtime sips as the weather is warming, but still unsettled. Can't decide between a spring salad and a roasted vegetable and farro salad? Still enjoying roasted chicken and not quite ready to fire up the grill? Let us introduce you to Castello Pomino and Duca di Salaparuta, a taste of Tuscany and Sicily, respectively, that will take you from one season to the next. We received both wines as tasting samples.
Tuscan Chardonnay
When I think of Tuscany, Chardonnay doesn't automatically come to mind. The Sangiovese wines of Brunello di Montalcino and Chianti are the first I think of, along with Super Tuscan blends. According to Italian Wine Central, Sangiovese is the predominant grape variety (66%) and more than 85% of the wines are red. But it's fun to taste something unexpected, right?
Pomino DOC was established in 1983 and is relatively small with only 170 acres of vineyards (2019). White, red, sparkling wines (made in the traditional method) and dessert wines may be made here.
Authorized white grape varieties include Chardonnay, Pinot Bianco, Pinot Grigio, Sauvignon Blanc and Trebbiano. Bianco must be minimum 70% Chardonnay, Pinot Bianco, and/or Pinot Grigio plus other allowed white varieties. Chardonnay or Sauvignon must be at least 85% of the named grape.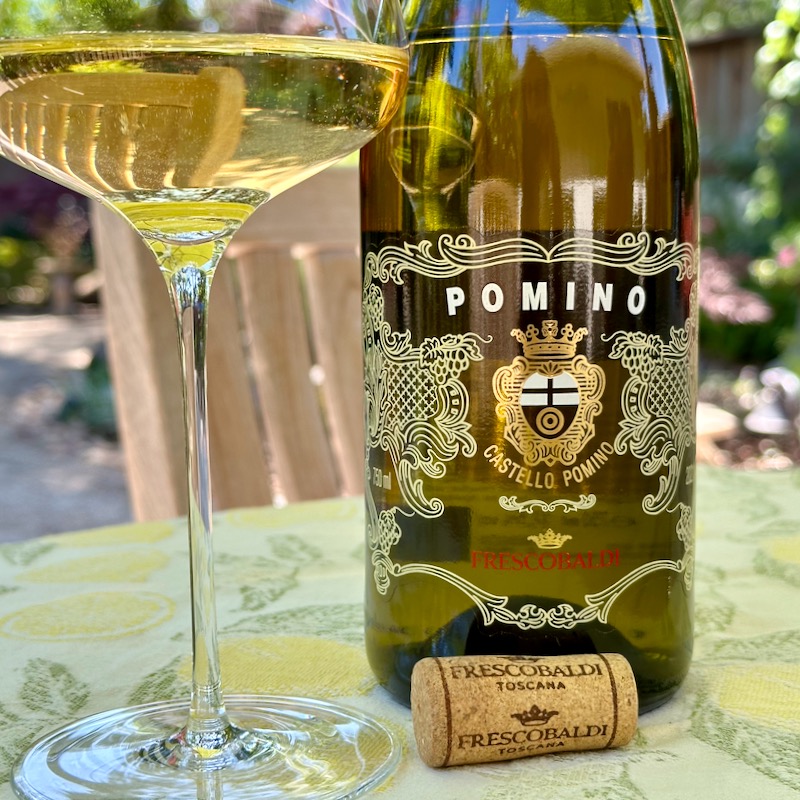 2021 Marchesi de' Frescobaldi Castello Pomino, Pomino Bianco DOC — medium yellow with generous aromas of ripe pears, flowers and ripe melons. Flavors include citrus, pears, stone fruit and white flowers all supported by bright acidity. 12.5% abv. Under $20.
The fruit flavors are complex and balanced with lively acidity. The blend is a "prevalence of Chardonnay and Pinot Blanc, with a small proportion of complementary varieties" per the technical sheet. Grapes are grown at an elevation reaching nearly 2300 feet above sea level and fermented in stainless steel with a small amount in French oak barriques. Pasta primavera would be a delicious pairing with this wine.
Castello Pomino is part of the large and historic Tuscan producer Marchesi de' Frescobaldi's family of wines. Frescobaldi's winemaking history goes back 700 years in Tuscany!
Sicilian Nerello Mascalese
If you are not familiar with Nerello Mascalese you are missing out. Nerello is a delicious introduction to Sicilian red wines and it's so versatile. One sip of this delightful wine took me back to Sicily and Mount Etna, where it is the signature red grape of the Etna DOC.
Etna DOC was established in 1968 and encompasses nearly 2925 acres of vineyards (as of 2022) around the northern, eastern and southern base of Mount Etna, which is still an active volcano! White, red, rosé and sparkling wines (made in the traditional method) may be made. Carricante is the major white grape variety, accompanied by Catarratto. Nerello Mascalese is the major red variety along with small amounts of Nerello Cappuccio (known locally Nerello Mantellato).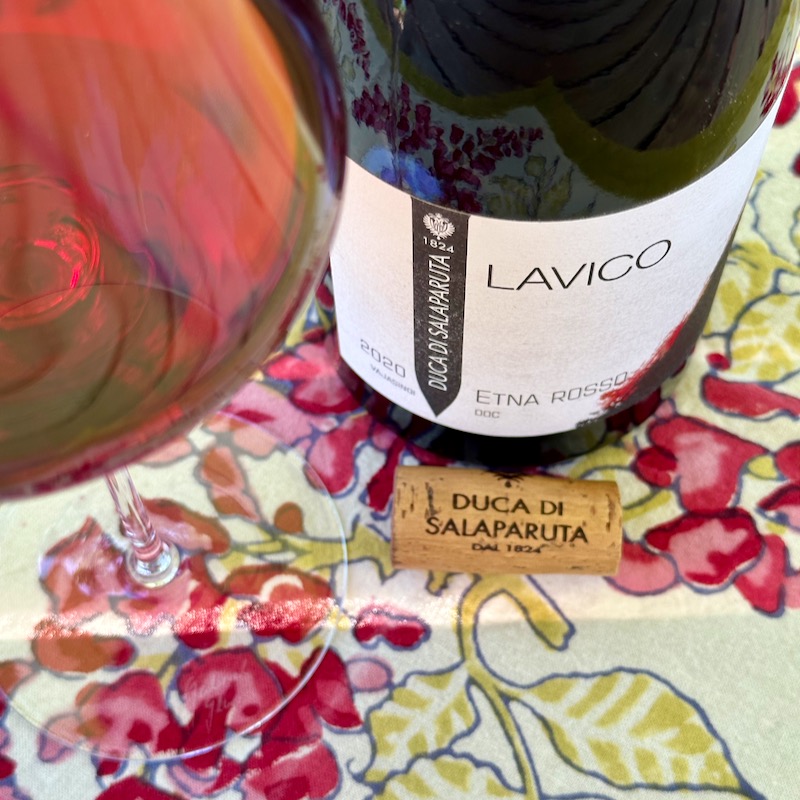 2020 Duca di Salaparuta Lavico, Etna Rosso DOC — translucent ruby with aromas of dried cherries, smoke, wet slate and alfalfa hay. Flavors follow with dark cherries, pomegranates, a bit of smoke and alfalfa. Tannins are fine and drying in a barely medium body. Lively acidity lifts the fruit flavors. 13% abv. About $25.
The gorgeous translucent color is the first quality that will draw you in, followed by the aromas and complex flavors. The combination of red fruit, slate, alfalfa, fine tannins in a relatively light body is absolute perfection and why I love this variety so much. Later in the summer, enjoy this wine slightly chilled. It will be a knock out on its own or with most any meal.
100% Nerello Mascalese is grown on the Vajasindi Estate at elevations between 1900 and 2600 feet above sea level in the municipality of Castiglione di Sicilia on the northeast slopes of Mount Etna. The wine was aged in both concrete tanks and French oak barrels for 12 months.
The Duca di Salaparuta wine group includes three brands: Duca di Salaparuta, Cantine Florio (Marsala) and Corvo.
Thanks to Colangelo & Partners for organizing our tasting.
Cheers!