New Zealand may produce only 1% of the world's wines, but that small volume of wine is very well known among wine enthusiasts; especially its zesty Sauvignon Blanc. According to New Zealand Wine, Sauvignon Blanc represents 72% of New Zealand's wine production and 85% of its wine exports. It is made in a range of styles using both stainless steel and oak vessels of various ages.
Today we are tasting a Sauvignon Blanc, which we received as a tasting sample, made in a straight-forward style using cool fermentation in stainless steel. It is the style of Sauvignon Blanc I most closely associate with New Zealand. Kono Sauvignon Blanc also has a bit of residual sugar, which I do not associate with New Zealand SB, and an important back story you should know.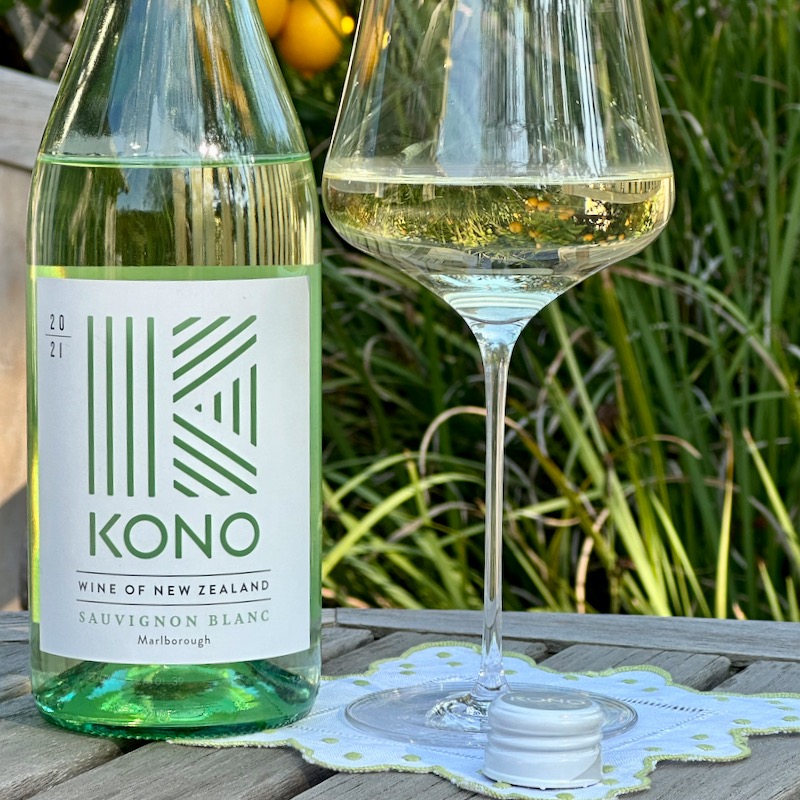 2021 Kono Sauvignon Blanc, Marlborough — pale yellow with generous aromas of cut grass, jalapeño pepper and citrus zest. Flavors include roasted jalapeño, guava, oat hay and citrus zest supported by good acidity. 3.5% residual sugar keeps the flavors from being too tart and lends a bit of body. 13% abv. Average price $14
The thing that made me curious to taste Kono Sauvignon Blanc is that it's a Māori-owned producer. Kono wines is part of a larger organization, Kono NZ LP, which "is a vertically integrated, family -owned Māori food and beverage producer — an artisan producer, and exporter of award-winning wine, cider craft been, seafood and fruit and natural fruit bars" according to its website. Kono NZ is an associated business of Wakatū Incorporation.
A recent article in Wine Enthusiast details the progress being made to include Māori winemakers and culture in New Zealand's wine business. The informative article also provides more perspective on Kono's place in New Zealand's wine industry:
One of the country's more prominent Māori wine businesses is Kono, a food and beverage company that's owned by Wakatū Incorporation. That business is, in turn, collectively owned by more than 4,000 Māori families that are descended from the traditional landowners of Te Tauihu in Nelson. Formed in 1977, just two years after the Waitangi Tribunal, Kono's name refers to the Māori tradition of offering a basket of food to guests. The brand makes wines under the Kono and Tohu labels. The company's 500-year business plan centers the Te Ao Māori worldview.
In case you don't already know, this week, January 30 to February 7, is New Zealand Wine Week. Throughout the week New Zealand Wine is hosting a series of short webinars to educate wine enthusiasts about New Zealand wines. Topics include sustainability, unusual grape varieties and New Zealand wine regions, among others. You will find the details on the New Zealand Wine website.
Thanks to O'Donnell Lane for organizing our tasting.
Cheers!