It has been five years since we last visited Arizona's Willcox wine region in the southeastern part of the state. We have missed the wide open spaces with cloud-filled skies that go on for miles. We've missed hiking in the mountains that surround the Sulphur Springs Valley. We missed relaxing among the mesquite trees and birdwatching at our favorite B&B. And we've missed the casual, unpretentious wine scene in Willcox. In May we spent a week in Willcox doing all the things we love: hiking, taking photographs, soaking in the surroundings at Dos Cabezas Retreat B&B, wine tasting and connecting with friends.
Dos Cabezas Retreat B&B
We discovered Dos Cabezas Retreat B&B before our last visit in 2018. If you're looking for comfortable accommodations with delicious meals and two of the best hosts you could hope for, then you'll love Dos Cabezas. Sam and Dorothy Laage have been busy making improvements to the historic adobe buildings since our last visit; it seems they never sit still. They are a great resource for hiking and birdwatching in the area and are very familiar with, and enthusiastic supporters of, Willcox wineries.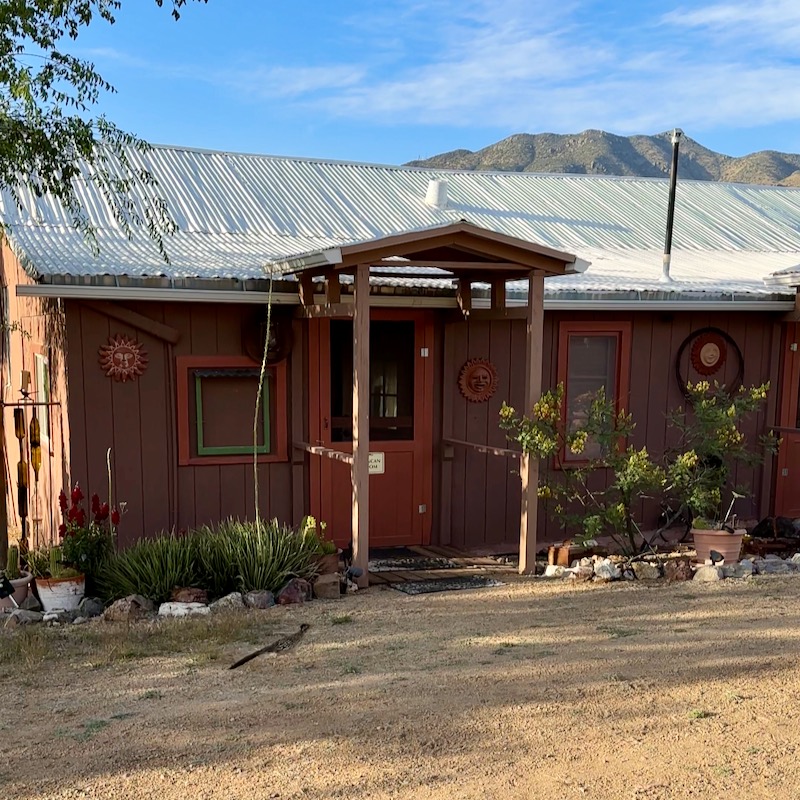 What we love about staying at Dos Cabezas are the views of the mountains, the sunsets, peace and quiet and watching (and trying to photograph) the many birds that also visit Dos Cabezas. There are only two rooms, which are cozy and comfortable, so there are no crowds here. Dinners (by prior arrangement) prepared by Sam and paired with Willcox wine by Dorothy are always a highlight. They really are a dynamic duo.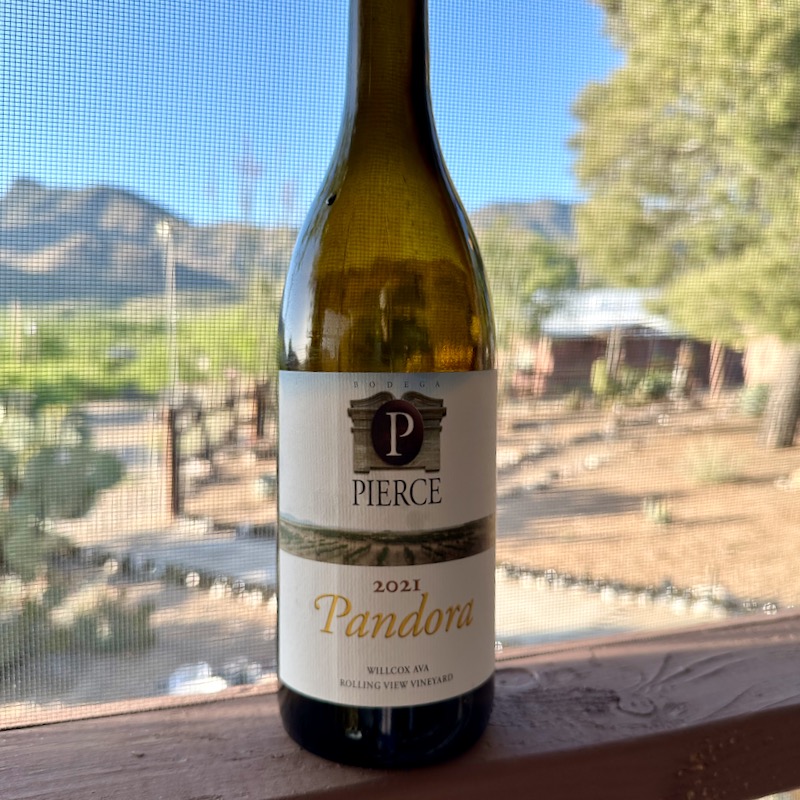 Dos Cabezas is about 15 miles southeast of Willcox in the ghost town of Dos Cabezas. It is located off Highway 86 just 20 miles from Chiricahua National Monument, 40 minutes from Ft. Bowie National Historic Site (part of the roadway is gravel) and 50 minutes from Cochise Stronghold, across the Sulphur Springs Valley. All have excellent hiking and only Cochise Stronghold charges a use fee. And Dos Cabezas is about 20 minutes from many of the wineries.
Willcox, Arizona
Willcox was founded in 1880 along the Southern Pacific Railroad tracks and city offices are now located in the former railroad depot. The Chiricahua Apache Indians inhabited the Sulphur Springs Valley and beyond before they were killed or relocated. Cochise, the famous leader of the Apache, died in 1874 (and is probably buried at Cochise Stronghold.) The other famous Apache leader, Geronimo, described as the last Apache holdout, died in 1909. He is buried in the Apache cemetery at Fort Sill, Oklahoma.
The historic part of Willcox along the railroad tracks includes a park, the Rex Allen Museum, and historic buildings that now are home to tasting rooms. Just around the corner is the Chiricahua Regional Museum, which is worth a visit.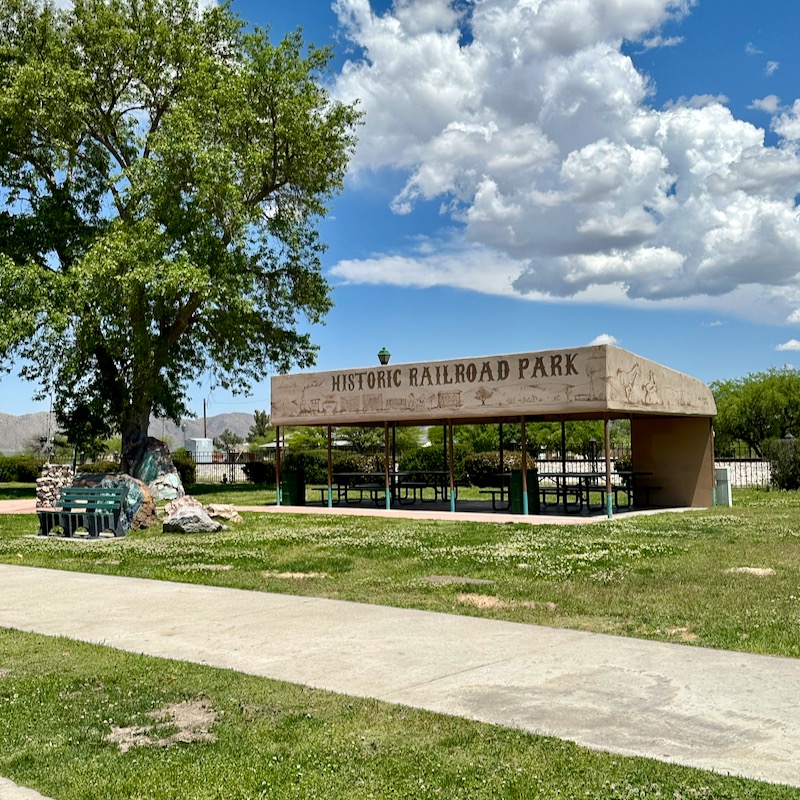 Downtown dining choices include barbecue and Mexican food (La Unica is our favorite.) And we heard Katy's Hot Dogs is good.
Katy's is located next to the Willcox Laundry. We highly recommend Willcox Laundry for its cleanliness and Wi-Fi (important when your phone service is AT&T and coverage is spotty to say the least). If you need a haircut, Orlando's across the street looks cute. We often enjoyed an iced latte at Dos Cabezas Coffee Co. in the afternoon on the front porch (also great Wi-Fi). Look for the giant COFFEE sign just down the street on Haskell Avenue.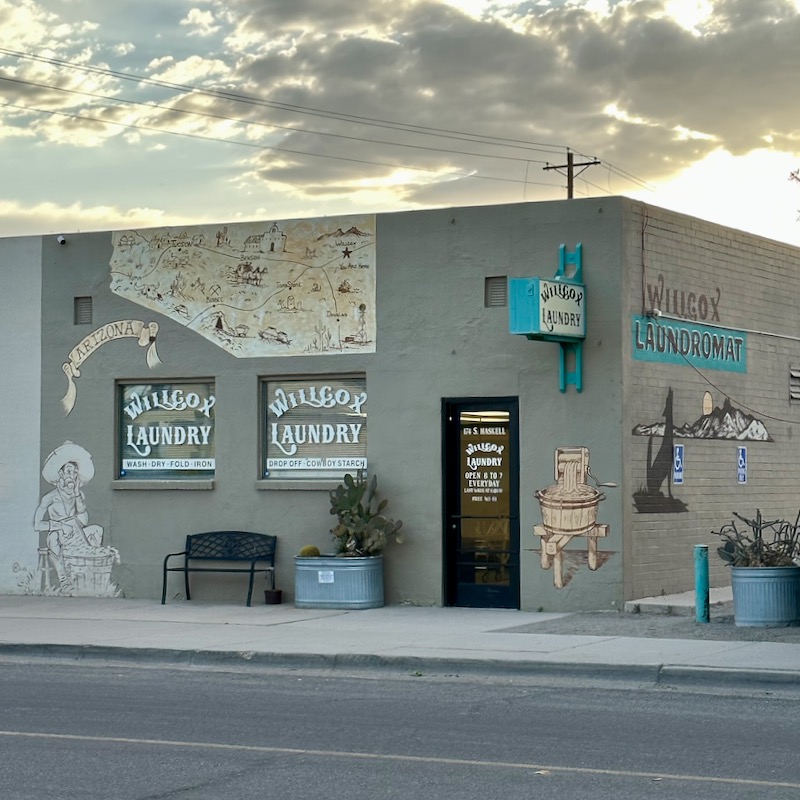 Hiking
Chiricahua National Monument
The Chiricahua National Monument is not to be missed if you love hiking and birding. The best birding is along Bonita Creek and parts of Natural Bridge Trail according to Sam and Dorothy. Our favorite hike is the Echo Canyon Loop. It's not too long (3.3 miles) and is very scenic. The rock formation are gorgeous as are views into the Sulphur Springs Valley.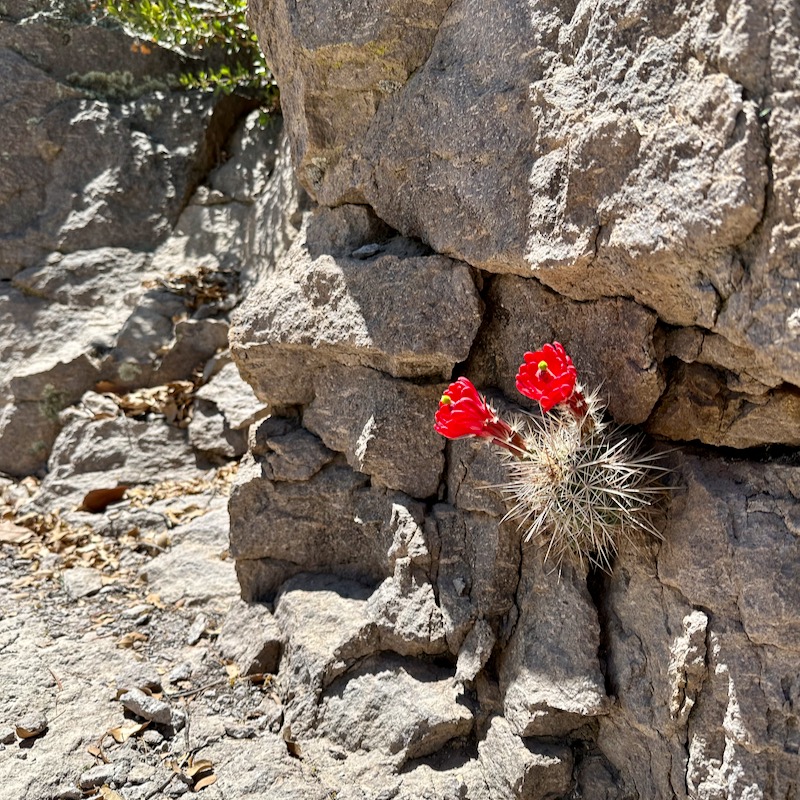 Speaking of views into the Sulfur Springs Valley, the Sugarloaf Mountain Trail takes you to the top of the mountain and provides stunning views into the valley as well.
The historic buildings at Faraway Ranch as you enter the National Monument are interesting to walk through. We were happy to see the same ranger here we met at Fort Bowie a few days earlier.
Fort Bowie National Historic Site
We love this hike back to the Fort Bowie ruins and visitor center because it is so scenic, is not heavily traveled and is so educational. Markers along the trail to the ruins tell the sad history of the fort and Apache Pass. We hiked back to the parking lot from the visitor center via the Overlook Ridge trail for the views. The only person we met on the hike was the ranger at the visitor center and we were the first visitors she'd seen that day.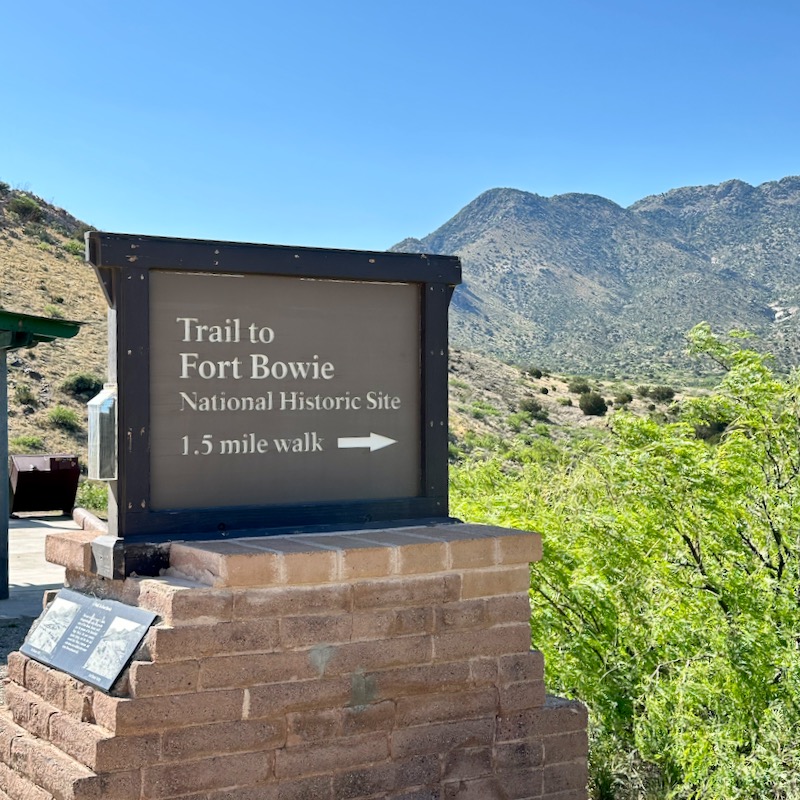 Cochise Stronghold
Cochise Stronghold is located in the Coronado National Forest in the Dragoon Mountains. The granite outcropping is very distinctive and so beautiful. Once again we had the trails to ourselves, except for a beautiful Sonoran Mountain Kingsnake. We hiked the Cochise Indian Trail to Stronghold Divide, about 6 miles out and back.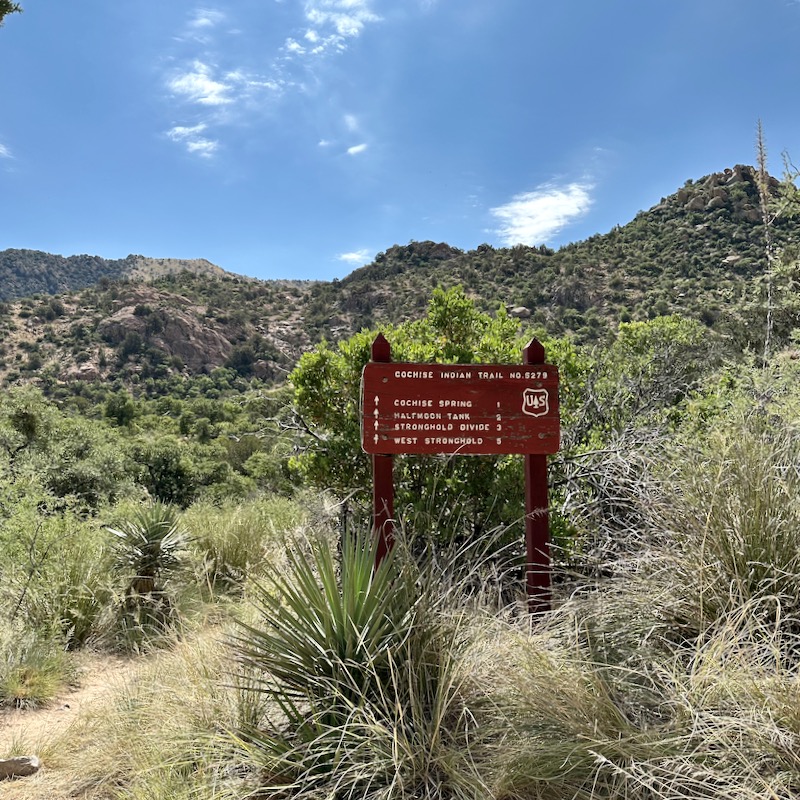 Wine Tasting
Your best resource for winery and tasting room locations, as well as general information about the area, is Wines of Willcox. Their map of winery locations with contact information is very useful to have ahead of time (you will find them at the wineries too). It will give you a good idea of just how spread out the Willcox wineries are. You will need to plan ahead because many of the wineries are not open every day.
A good place to begin your wine tasting is on Railroad Avenue across from Railroad Park in the historic part of Willcox. On the corner of Railroad Avenue and E. Maley St. is Birds & Barrels Vineyards. The Keeling Schaefer Vineyards tasting room is just a few doors down on Railroad Avenue.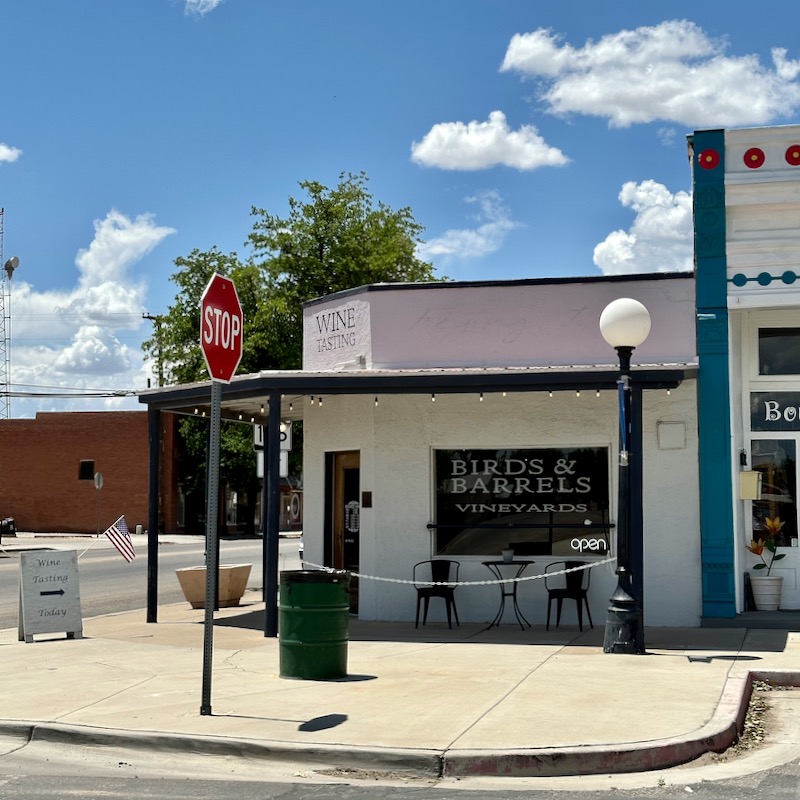 On the corner of Railroad Avenue and E. Stewart St. in the Willcox Commercial Building where three wineries share the space: Golden Rule Vineyards (be sure to also purchase pistachios grown on the farm), Strive Vineyards and Copper Horse Vineyard.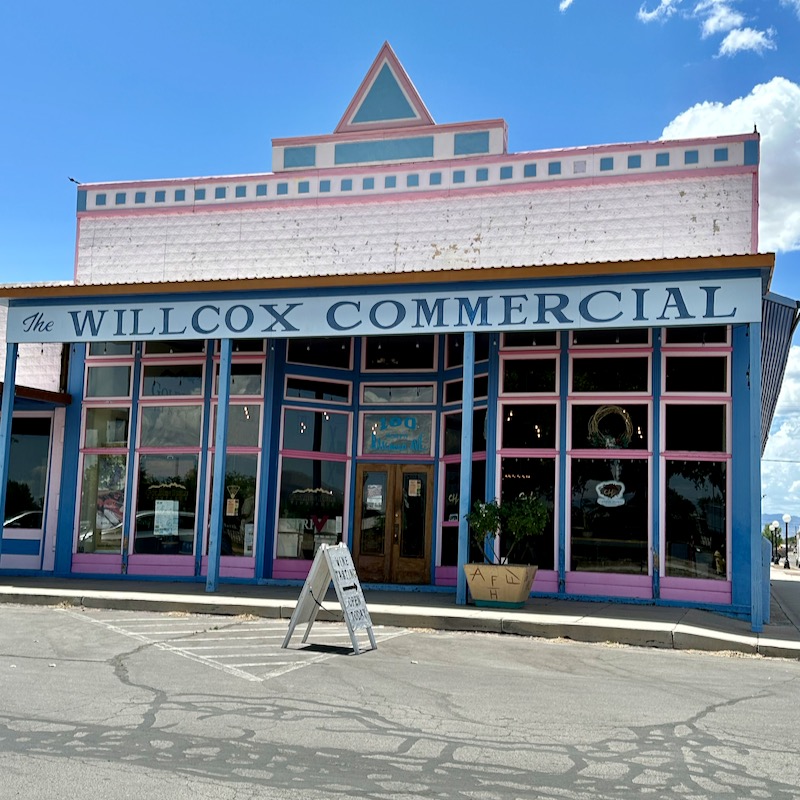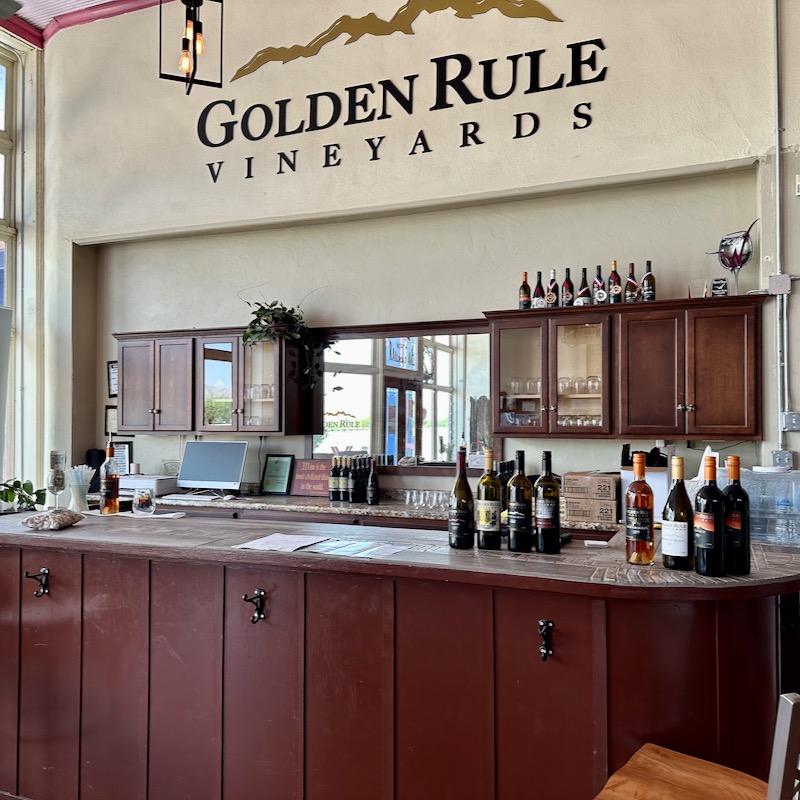 Just across the railroad tracks on N. Railview Ave you will find Aridus Wine Company's tasting room. The tasting room has comfortable seating inside and a couple of tables and chairs on the front porch. Aridus also has their winery in town, which is also a custom crush facility (tours upon prior arrangement), and a tasting room on the Scottsdale Wine Trail.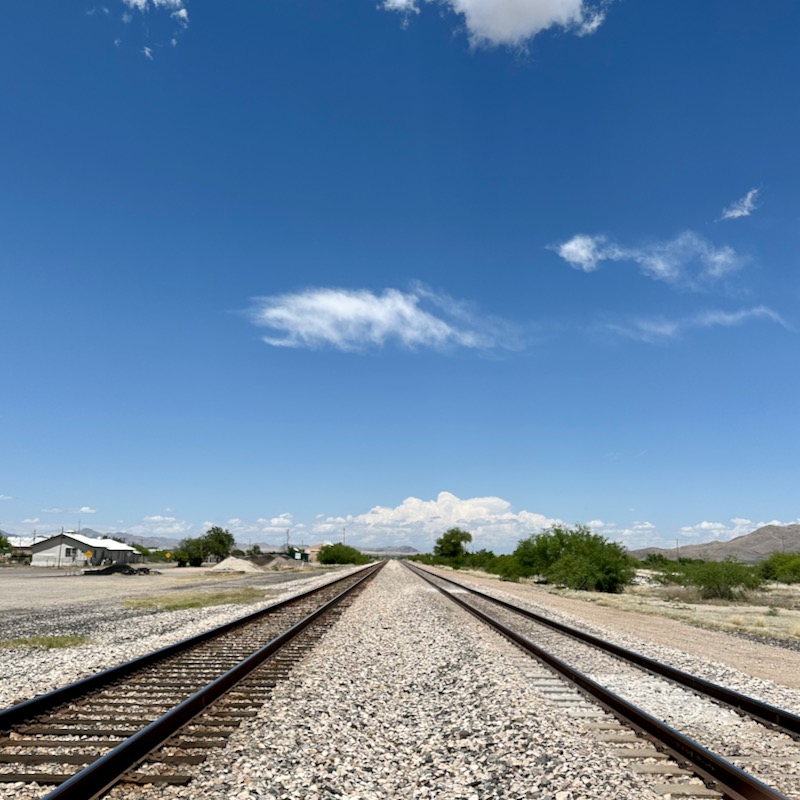 Don't pass up the opportunity to drive out to the vineyards and visit the tasting rooms there. It's a great opportunity to discover the diversity of the countryside and see where the vines grow.
We visited Birds & Barrels at their vineyards and tasting room on E. Arzberger Road and had a quick chat with owners Chad and Monica Preston. They farm 15 acres sustainably and with soil health in mind. They do not rip the land before planting so as to preserve the microbiome of the land. Monica told us they are in the vineyard almost every day, observing, to keep ahead of any problems. Like many in the Sulphur Springs Valley water is a concern for Chad and Monica. They have seen the water level in their well drop significantly in the past four years. Their annual case production is about 1900 cases.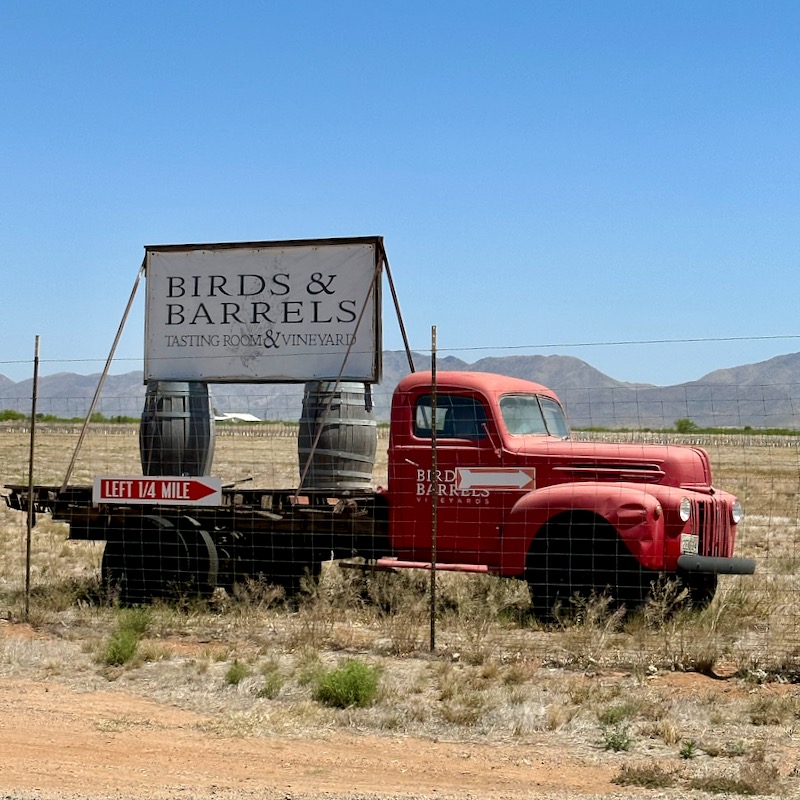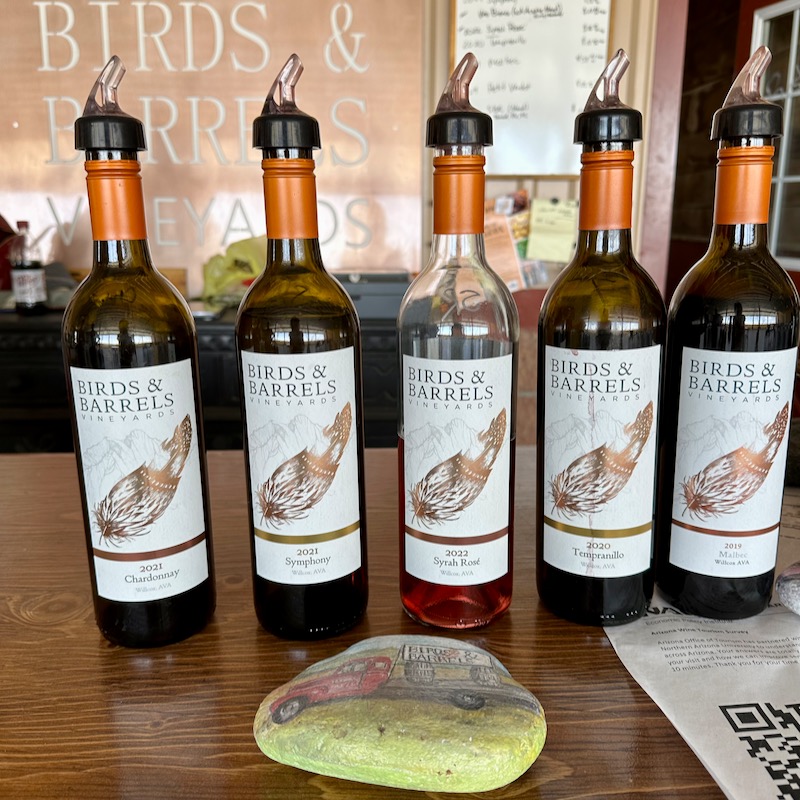 Bodega Pierce on E. Robbs Road was our next stop. The 80-acre property is planted to about 18 varieties; 27 acres are planted to vines. We tasted a very floral Malvasia Bianca and Muscat of Alexandria, rosé of Pinot Noir, Pinot Noir, Mourvedre, Merlot. All were lovely, balanced wines. Both Birds & Barrels and Bodega Pierce are located in the Willcox Bench area of Willcox characterized by gravelly, sometimes rocky, well draining soils.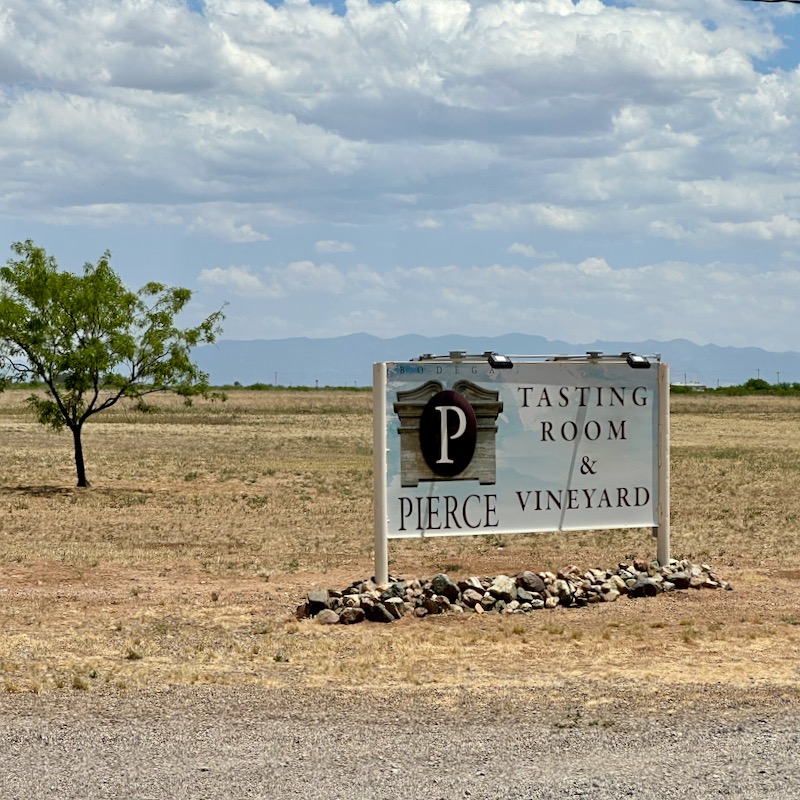 Our final stop was Golden Rule Vineyards out on N. Golden Rule Road in Cochise. It was a bit of a drive, and involved a dirt road, but the location along the Dragoon Mountains is so pretty. And the treat at the end of the drive was meeting proprietor Jim Graham. Ruth and Jim Graham own Golden Rule Vineyards and Cochise Groves Farming, Inc. Jim describes himself as "just a farmer" and professes to not know much about wine (I'm not buying it!). He certainly knows and enjoys farming though, and you could not hope to meet a nicer person.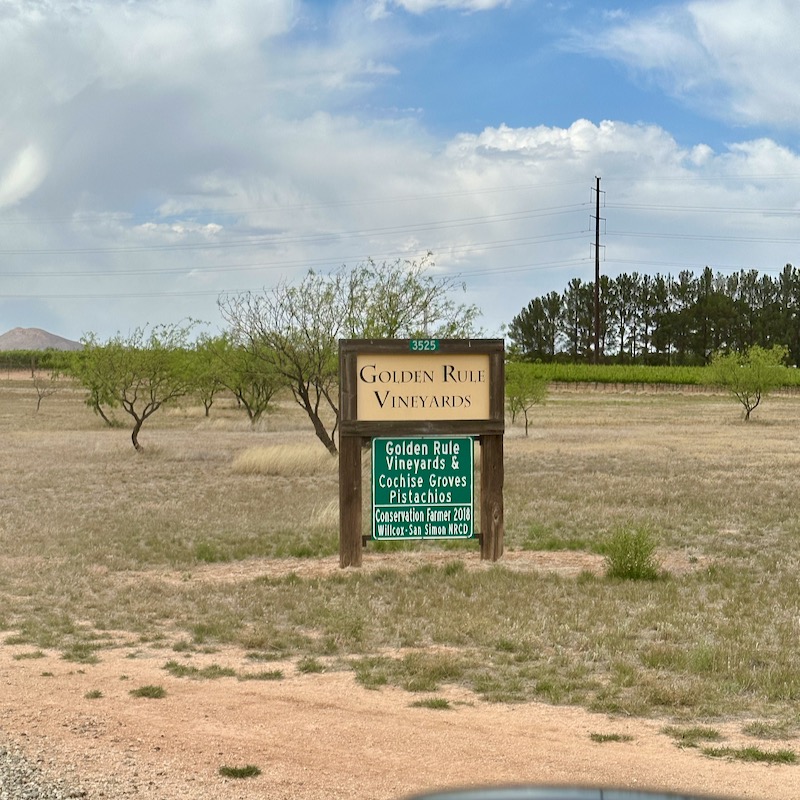 He told us he farms 21,000 pistachio trees and 21,000 vines (26 acres) at an elevation of 4300 feet above sea level. Pistachios were the first crop he planted and because they only bear a significant crop every-other-year he planted wine grapes. The soils along the mountains are a combination of granite and calcareous limestone — enough to make any vigneron's eyes light up. Jim sells three-quarters of the grapes he grows to other wineries and makes only a small amount of Golden Rule wine.
We tasted what Jim called their accidental white wine, a Grenache Blanc, that was lively and refreshing. Quite unexpectedly, 57 vines of about 3300 Grenache Noir vines planted ended up being Blanc and not Noir. A happy mistake, at least for the consumer.
The Cabernet Franc, always a favorite variety of mine, had fine tannins, red and dark fruit with a herbaceous note in the background. The Aglianico is dark and complex with drying tannins. The Eureka (a Super Tuscan blend) is one of their most popular wines and shows great complexity. Also look for the Commonwealth (Syrah and Petite Sirah), Cobre Loma (GSM), Black Listed (Bordeaux blend). Be sure to ask about the story behind the Black Listed name. Golden Rule takes its name from a nearby mine and the history of other local mines is commemorated in the names of Golden Rule's proprietary blends.
Our wine friend, JR, who seems to know everyone in the wine business in Arizona, organized our tastings. We first met JR at the Dos Cabezas WineWorks tasting room in Sonoita the second time we visited in 2013. What good luck for us, as we have remained friends ever since. We met up with JR in Sonoita during the second half of our trip to southern Arizona.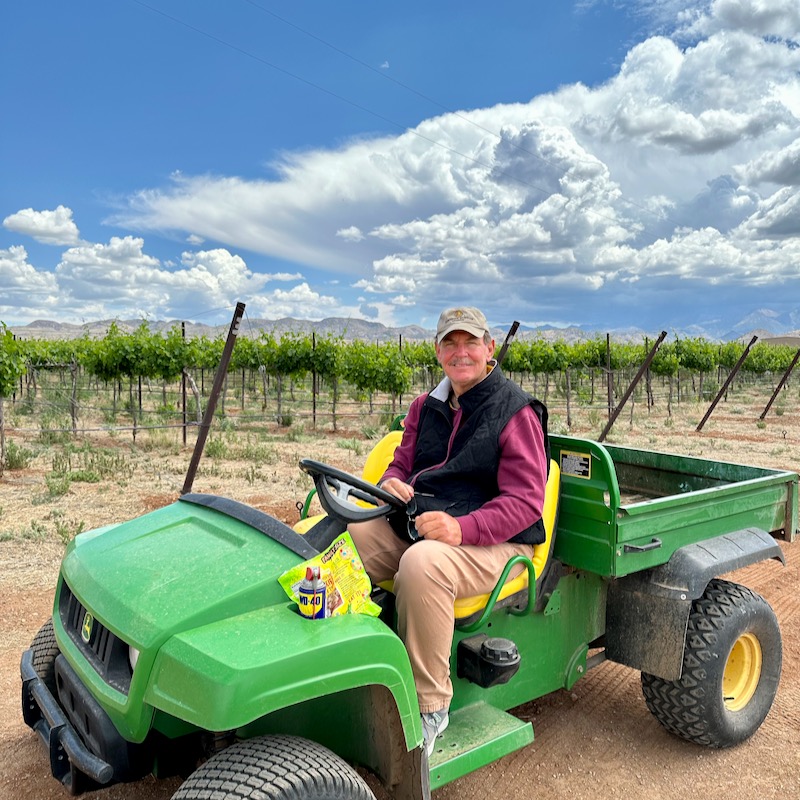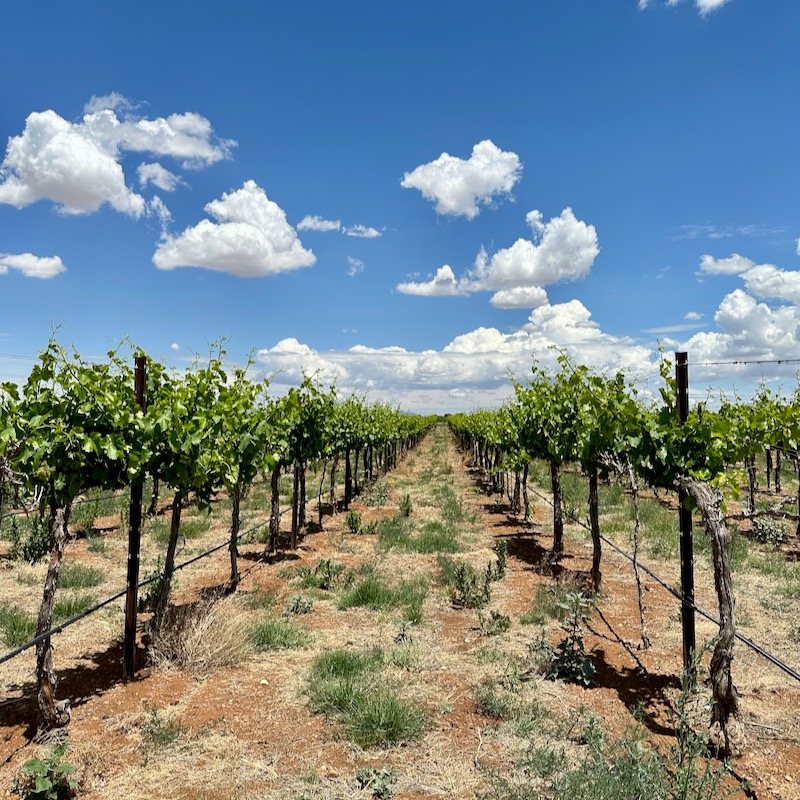 Literally on our way out of Willcox to Sonoita we stopped by LDV Winery's vineyards just to take a look. We first visited LDV Winery at the foot of the Chiricahua Mountains in 2013 and were curious to see how the vineyards had matured in ten years. The vines looked very vigorous and were flowering, so the vineyard was delicately fragrant.
Just about the time we drove up to the gate Curt Dunham, co-proprietor with his wife Peggy Fiandaca, came driving down the driveway. What a happy coincidence. We had a nice chat about the vineyards and got reacquainted. We enjoyed a winemaker's dinner at the LDV tasting room in Scottsdale a few years ago where Curt and Peggy were gracious hosts.
This corner of Arizona is so beautiful and there is so much to do here. It would take several days of dedicated wine tasting to visit all of the wineries. Willcox is a great place to unwind, enjoy the majestic views and get away from the crowds. And the wine is darn good.
Cheers!