Curt Dunham and Peggy Fiandaca have transformed their appreciation for good wine into Lawrence Dunham Vineyards. They could not have chosen a more scenic location than at the foot of the Chiricahua Mountains in southeastern Arizona.
They must be a brave and tenacious pair, however, the vineyard location is very remote. It is a scenic 45 minute drive from Willcox, Arizona, southeast along Hwy 186. We passed through Dos Cabezas, past the turn off to Fort Bowie National Historic Site and then Chiricahua National Monument. The mountains along this drive peak at over 9700 feet. Eventually, the highway makes a sharp right turn. We continued straight across Turkey Creek Road onto S Kuykendall Cutoff Road. At this point the road becomes gravel and we continued about a mile to the winery gate.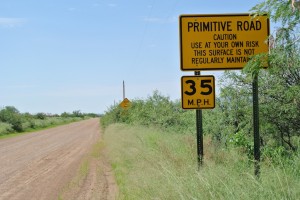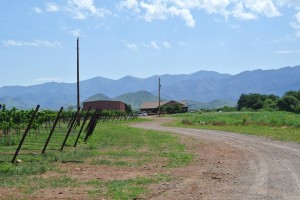 We let ourselves in, being careful to secure the gate behind us. We noticed the property was fenced with what looked like deer fencing, so didn't want to leave the gate open for uninvited guests.
The vineyards begin at the gate and continue along the left side of the road toward the winery building and house. To the right of the driveway is grassland, reaching down to Ash Creek. Soil testing is in progress to determine if this area is suitable for planting grapes, and with what variety. The elevation here is nearly 5000 feet.
We were met at the winery buildings by Daniel, a winery intern, and his wife Sandy who assists in the tasting room. Both have full-time careers in Phoenix, but spend time at the winery nurturing their love of wine and winemaking. Sandy took us on a walk through the vineyard and gave us a bit of background on the winery.
Curt and Peggy were drawn to the area by their friends Rod Keeling and Jan Schaefer (of Keeling Schaefer Vineyards just a few miles up the road) and purchased 40 acres in 2007 with the idea of developing about 20 acres. The property was scrub mesquite at the time, and has since been cleared. The vineyards have been planted in stages, beginning with Petite Sirah in 2008 followed by Grenache, Syrah and Viognier.

The soil is volcanic, very porous and requires lots of water according to Sandy. The vineyard location at the foot of the Chiricahua Mountains, tends to receive less annual rainfall than the Kansas Settlement area which is located to the northwest.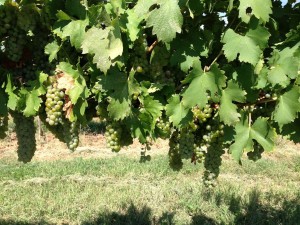 The weather is extreme. A dusting of snow is not unheard of during winter. Frost at bud-break, generally in April, is a concern every year. This year there was a freeze during bud-break, but the damage was minimal. The area received seven inches of rain in July, which has meant a lot of mowing this year. July is typically when the monsoon season begins and lasts for several months. Rainstorms can drop an inch or more of rain in a brief period and from time-to-time. Temperatures were in the low 90s during our visit in early August, which is usual, and the evenings generally cool significantly, into the 60s.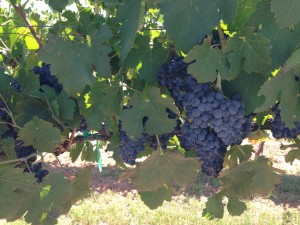 As we walked through the vineyards we heard what sounded like the calls of birds of prey. Sandy told us it was an electronic recording to keep seven species of birds away that like to make a meal of the grapes (some vineyard managers cover the grapevines with netting this time of year). Birds and grasshoppers can be especially pesky.
The first vintage for Lawrence Dunham was 2009, mostly from purchased grapes. 2011 brought a larger than expected harvest, and the need for additional stainless steel fermenters and wooden barrels "tout de suite". A good problem to have! It was also the first vintage that was all Estate grown.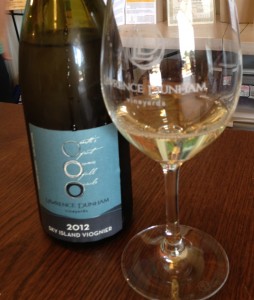 We tasted through the current releases. The 2012 Lawrence Dunham Vineyards Sky Island Viognier is all minerals and citrus. Acidity is good and the finish is clean. It is not the aromatic, very floral Viognier I expected. Sandy noted this vintage did get some oak aging.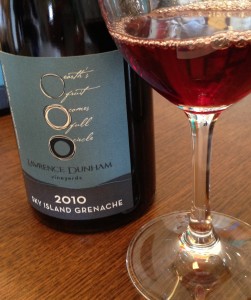 2010 Lawrence Dunham Vineyards Sky Island Grenache taste like pure fruit. The Grenache has a light weight in the mouth with red fruit flavors and good complexity. This wine spends 21 months in neutral oak and is comprised of 82% Grenache and 18% Petite Sirah.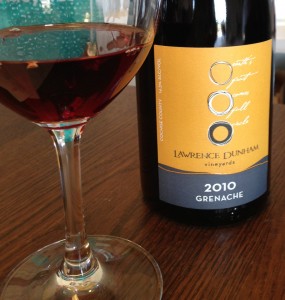 2010 Lawrence Dunham Vineyards Grenache is medium bodied, has red fruit and complex spice flavors with smooth tannins. It is aged 21 months in new French oak.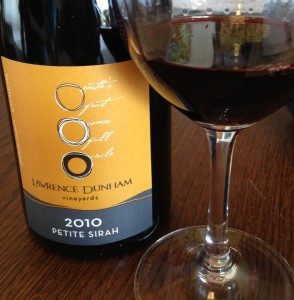 2010 Lawrence Dunham Vineyards Petite Sirah is dark in color and the flavors follow with dark fruit, spice and a heavier weight in the mouth. Aging is in a combination of new French oak and (mostly) neutral oak. It contains 18% Grenache.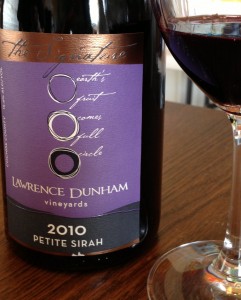 2010 Lawrence Dunham Vineyards The Signature Petite Sirah is inky dark in the glass, has a moderate weight in the mouth and lots of dark, ripe fruit and spice flavors. This is the biggest wine of the group, comprised of 100% Petite Sirah with 83% aged in new American oak for 22 months.
At Lawrence Dunham it's all about choice. You can choose a tiny bit of wood influence on your wine or quite a lot. It's up to you. Lawrence Dunham makes mostly varietal wines. There is only one blend among their current releases. Their varietal wines are flavorful, but not over ripe. ABV is in the 14.5% range. All drink well on their own and will be good partners for a variety of food.
Before leaving we toured around the private tasting area, which is hosting a few pieces of the TRUST Art & Design summer art show, and the winery building…it is immaculate.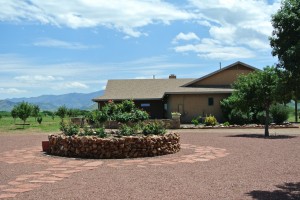 A commemorative rose garden was recently added and an orchard of assorted fruit trees has been planted. It's taking on the feel of a homestead.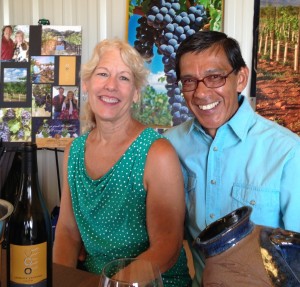 Thank you to Curt, with whom I communicated via e-mail to arrange our winery visit and tasting. Sandy and Daniel were great hosts. Thank you for sharing your enthusiasm and knowledge with us.
This southeastern corner of Arizona has a relatively young, but thriving wine industry. Tasting at Lawrence Dunham Vineyards is available by appointment. Check their website and sample their wines. The drive will be worth it.
Cheers!