Quite a bit has changed since 2017 when we first published a post about the Scottsdale Wine Trail. The wine trail is collection of Arizona winery tasting rooms located in Old Town and downtown Scottsdale. One winery has relocated on the trail, three new wineries have joined and one has left.
The tasting rooms are all located within about six blocks of each other. There are retail shops, art galleries, museums and restaurants along the way and the urban landscaping is very pretty. We find the wine trail very walkable even in warm weather, when we can always step inside an air conditioned shop along the way if we get too hot. The Scottsdale Wine Trail website has the trail map and contact information for all the wineries.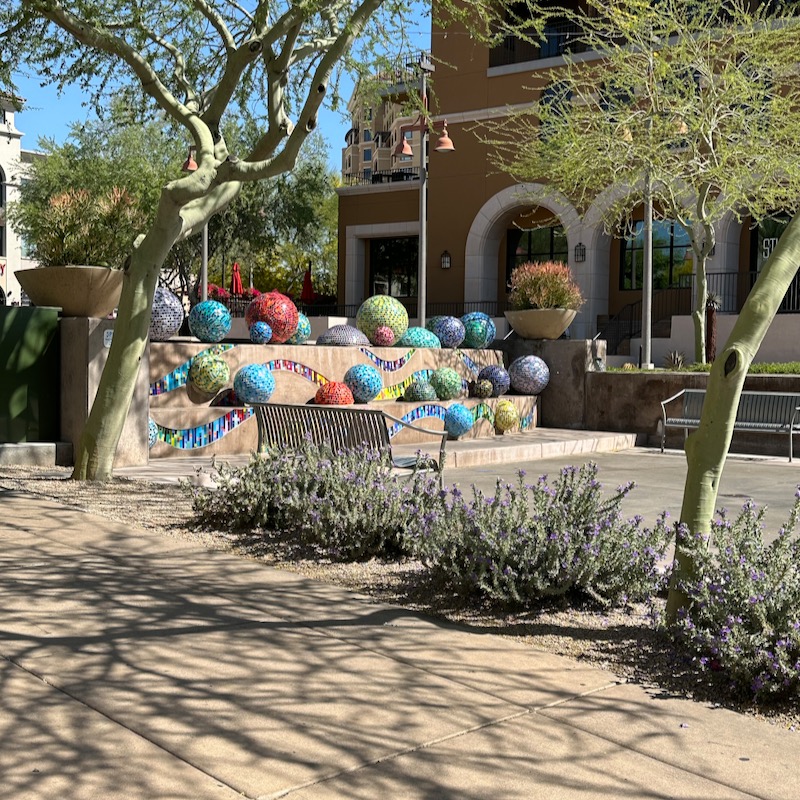 LDV Winery
The LDV Winery tasting room, located at 7134 E. Stetson Dr., B-110, has a prime location very near the Arizona Canal in Scottsdale (the prior location was quiet but a bit out of the way.) The tasting room has plenty of room inside for tasting when the weather is too warm or cold, and very comfortable patio seating for mild weather. The outdoor seating is one of the best places to people watch in downtown. The tasting room sits along a wide pedestrian walkway leading to a bridge over the Arizona Canal.
LDV wines are all estate grown in Curt Dunham and Peggy Fiandaca's vineyard in a remote corner of the Willcox AVA along the Chiricahua Mountains. Look for Viognier, Grenache, Petite Sirah and Rosé of Grenache.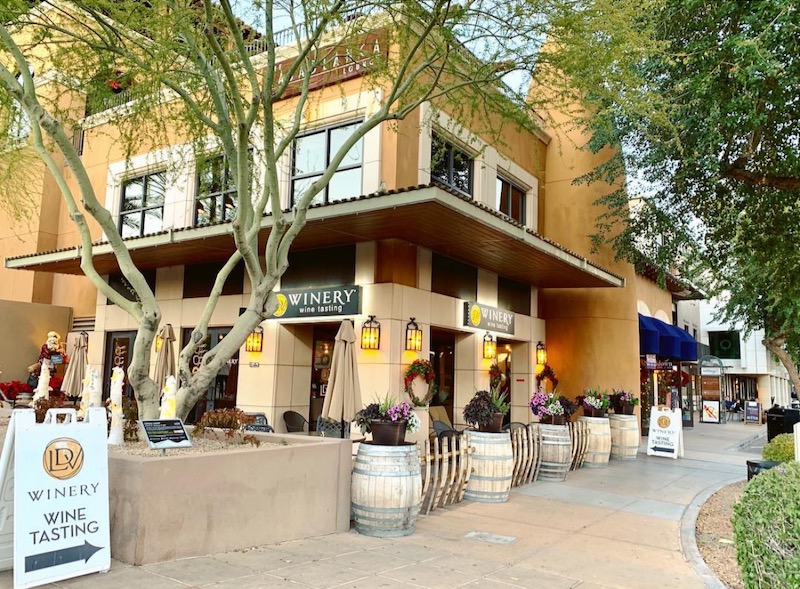 Merkin Vineyards
The Merkin Vineyards tasting room is located just across the street from LDV at 7133 E. Stetson Dr., Ste.#4. The tasting room has lots of indoor seating at tables and the bar. The tasting room has an energetic vibe (what else would you expect from Maynard James Keynan of Tool, A Perfect Circle and Puscifer?) and offers a menu that leads with pizza and pasta made in-house and finishes with house made gelati and sorbetti. The wine list includes white, rosé and red wines and is as extensive as the menu. Wines are sourced from estate vineyards in the Verde Valley and Willcox. There's a lot going on here.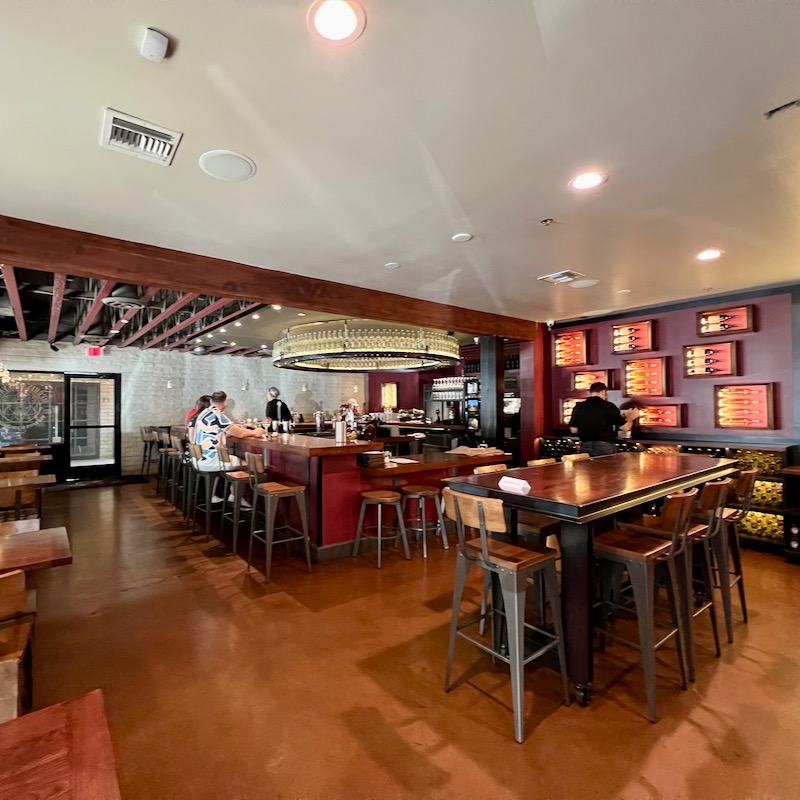 Salvatore Vineyards
The Salvatore Vineyards tasting room is located at 7064 E. 5th Avenue, a busy street that includes a variety of small retail shops. The tasting room is just opposite the bronze sculpture by Bob Parks that sits in the middle of a roundabout at 5th and N. Marshall Way. The tasting room has a long bar with comfortable seating, a few tables and sofa seating up front. The space is small but very welcoming. Look for both dry and sweet wines (Salvatore Vineyards are made to age and Passion Cellars are drink now) not to mention olive oil and balsamic vinegar.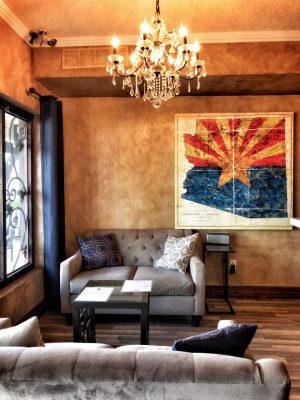 Arizona Stronghold Vineyards
The Arizona Stronghold tasting room is located at 4225 N. Marshall Way, Ste #2 not far from Salvatore Vineyards. Their location on the sunny side of the street makes the patio the perfect place for cool weather tasting. In warmer weather they have umbrellas, fans and misters to keep the patio cool, or there is plenty of cool seating inside. The wine list is pretty long, so there is something for every taste. Arizona Stronghold wines are crafted from the estate vineyard, Bonita Springs located in the Willcox AVA, as well as other well-established Arizona vineyards.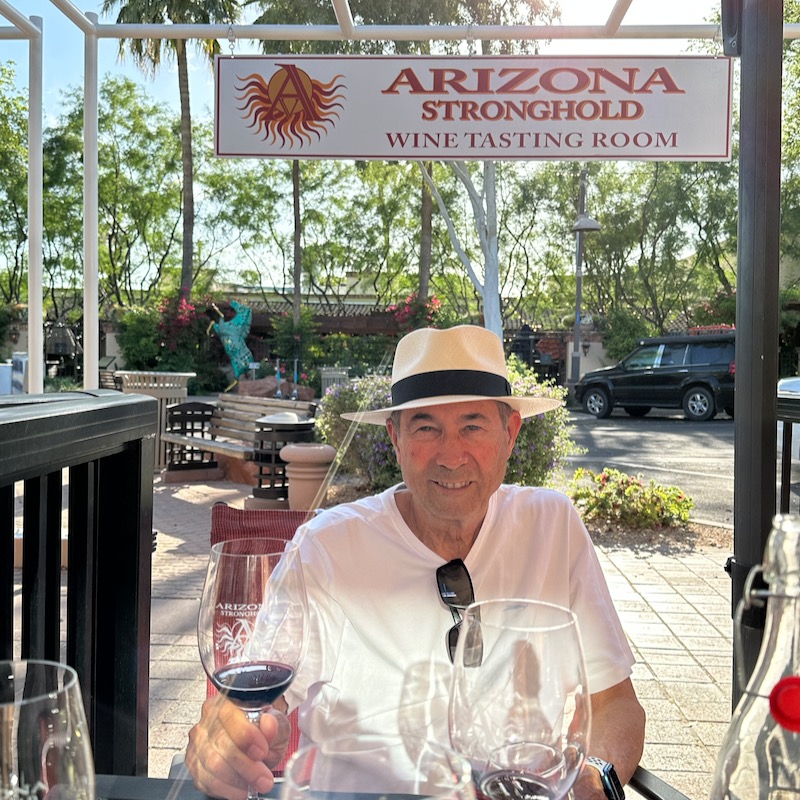 Carlson Creek Vineyard
The Carlson Creek tasting room is located at 4142 N. Marshall Way a bit further down N. Marshall way from Arizona Stronghold (it really is a wine trail) and across the street. The spacious tasting room has a big tasting bar, sofa seating and tables as well. There is a big tasting menu to accompany the large tasting room. Carlson Creek winery is a family operation based in the Willcox AVA. Estate vineyard acreage is growing fast and the family recently built new winemaking facility and tasting room at their vineyard on Robbs Road in Willcox.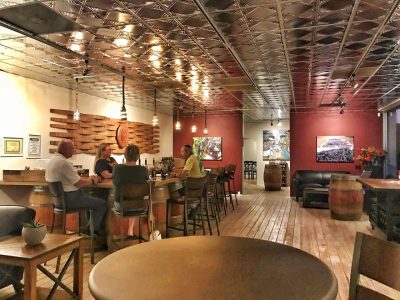 Aridus Wine Company
The Aridus tasting room is located at 7173 E. Main Street along a stretch of shops with an Old Town Scottsdale feel. Once you step inside the feel is very much that of a winery with tables set atop wine barrels. The space is very open and has a private tasting space behind the stand up bar. It's a fun place to taste on a sweltering afternoon when it's too warm to sit outside. Wines are sourced from the estate vineyard at the foot of the Chiricahua Mountains and other Arizona and New Mexico vineyards.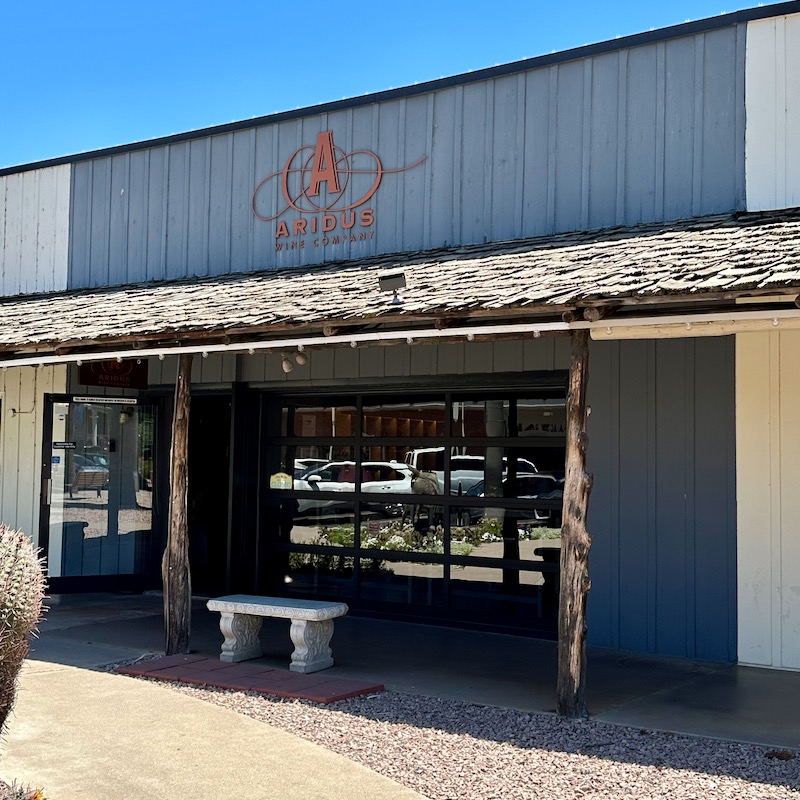 The Wine Collective of Scottsdale
The Wine Collective of Scottsdale offers a taste of a wide variety of Arizona wines. If you can't get to the wineries get to the Wine Collective of Scottsdale. The tasting room is located at 4020 N. Scottsdale Rd. #104 (the storefront is actually on First Street near Scottsdale Road) and it has a nice patio in addition to inside seating. I love the idea of curating wines from all over Arizona to taste in one place. Brilliant!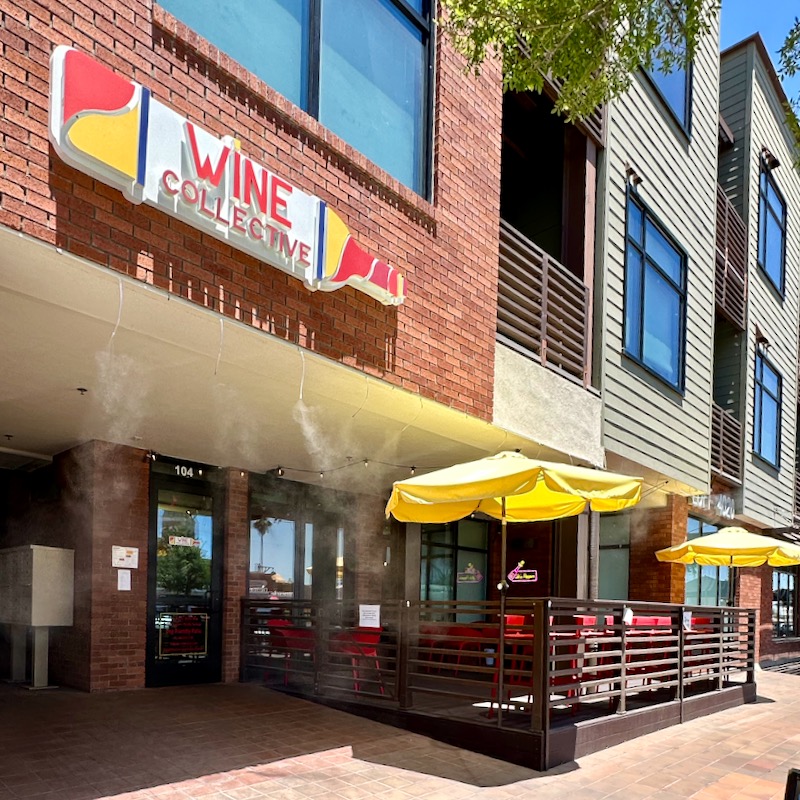 When we first discovered wine was made in Arizona we were surprised to say the least. We quickly learned Arizona is not all desert and cactus. Arizona now has three AVAs. Sonoita was the first to be designated in October 1984, followed by Willcox in September 2016 and Verde Valley in November 2021.
Sonoita and Willcox AVAs are located in the southern part of Arizona. The drive to Sonoita is a little less than three hours south of Scottsdale; Willcox is half an hour further. The Verde Valley is located north of Scottsdale about two hours.
It takes a dedicated wine enthusiast to visit wineries in Arizona because of the distances between wine regions and within them. We know this first hand and love exploring wine country, but having seven Arizona tasting rooms within walking distance of each other in Scottsdale is very convenient. And the Scottsdale Wine Trail is located close to where we stay when we visit. For those who come to Scottsdale for golf, football, baseball or art the Scottsdale Wine Trail is a great way to discover Arizona wine without the driving. Make a note!
Cheers!