Sonoita is Arizona's oldest AVA and was established in 1984. It was the first, but its neighboring and second Arizona AVA, Willcox, produces most of the grapes in Arizona. We first visited Sonoita/Elgin in 2011 and were surprised and charmed by the open grasslands. The high-elevation grasslands sit at about 4800 feet above sea level. The Santa Rita Mountains to the west and the Whetstone and Mustang Mountains to the north and east frame the rolling grasslands beautifully.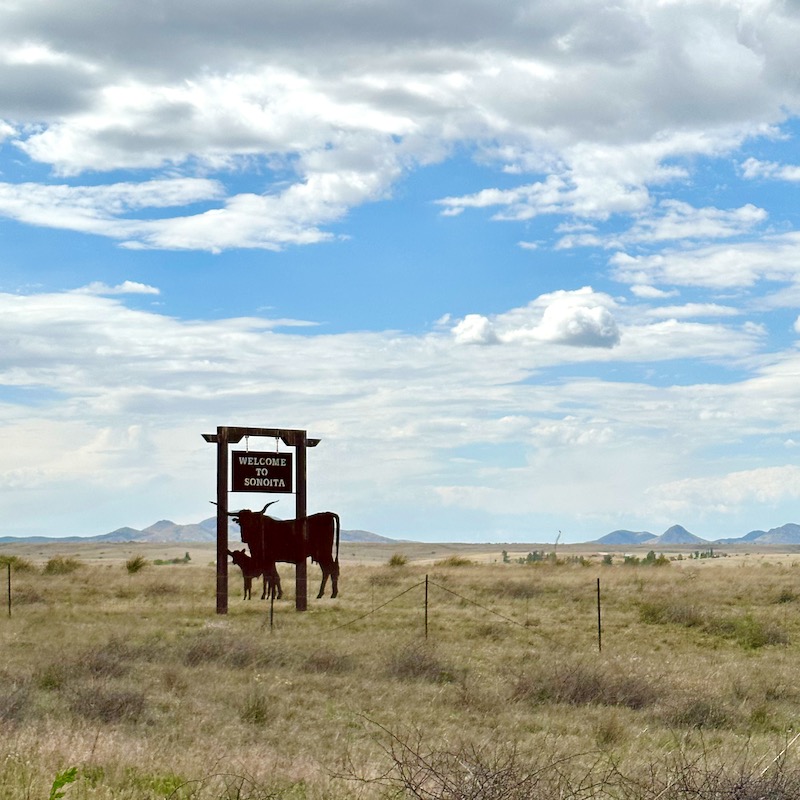 Sonoita and Elgin make sure you feel welcome when visiting!
Sonoita and Elgin were founded in 1882 along the tracks built by the Santa Fe Railroad. Before that the first inhabitants of the region were Hohokam, Yaqui and Apache peoples. They found year-round water in the Santa Cruz River, Sonoita Creek and Harshaw Creek. Later, Spanish explorers claimed the land then Franciscan monks and Jesuit priests established missions. As the Spanish Land Grants gradually broke up settlers moved in to graze cattle and engage in mining activities.
The Sonoita/Elgin Chamber of Commerce lists 19 wineries and provides a map and contact information for them. There is at least one additional winery, Vino Stache, that is not on the list.
Not unlike Willcox the combination of wineries and mountains that provide interesting hiking are an attractive combination to us. We like to head out in the morning to hike and wine taste in the afternoon. We recently spent several days in Sonoita and were able to enjoy a bit of both activities.
We discovered a great new restaurant at Dos Cabezas WineWorks, tasted at some of our favorite wineries and stopped by the newest winery in the Sonoita AVA. We enjoyed hiking close by at the Patagonia-Sonoita Creek Preserve and Borderlands Wildlife Preserve near Patagonia and on the northwest side of the Santa Rita Mountains at Madera Canyon and the Old Baldy trail up Mount Wrightson.
This part of Arizona is a birder's paradise. We encountered many birdwatchers, heard many birds, but once again an Elegant Trogon eluded us (there had been a sighting just before we arrived at the Old Baldy trailhead). We also saw several people photographing and looking for butterflies at a Madera Canyon picnic site.
Xanadu Ranch GetAway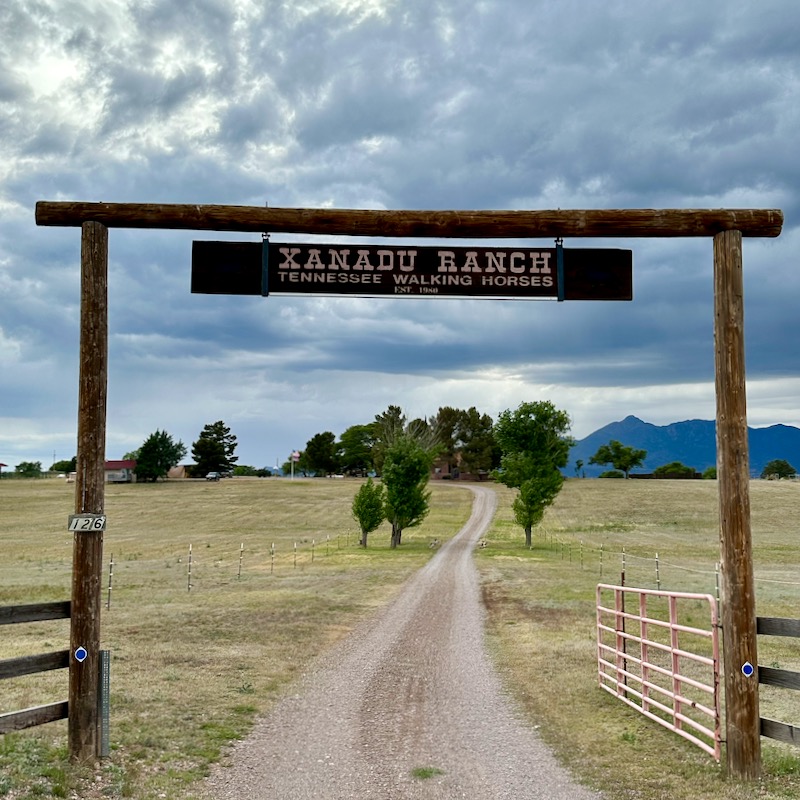 We were so happy to find Karen and Bernie just as we remember them and to find our favorite room the same. As with our stay in Willcox, we choose to stay at a small property. Xanadu is a 20-acre horse ranch in Sonoita with only five guest room and accommodations for horses, but you don't need to have a horse to stay there! We love it because it's quiet, out in the country and our favorite room in the Bunk House has a full kitchen and a patio with spectacular views of the Whetstone and Mustang Mountains.
Hiking
Patagonia is only 12 miles southwest of Sonoita on Highway 82. In addition to having excellent birding and hiking it is where we go to grocery shop when we're in Sonoita. It has a cute downtown arranged around a park with a historic railroad depot that is now home to the town hall.
Patagonia-Sonoita Creek Preserve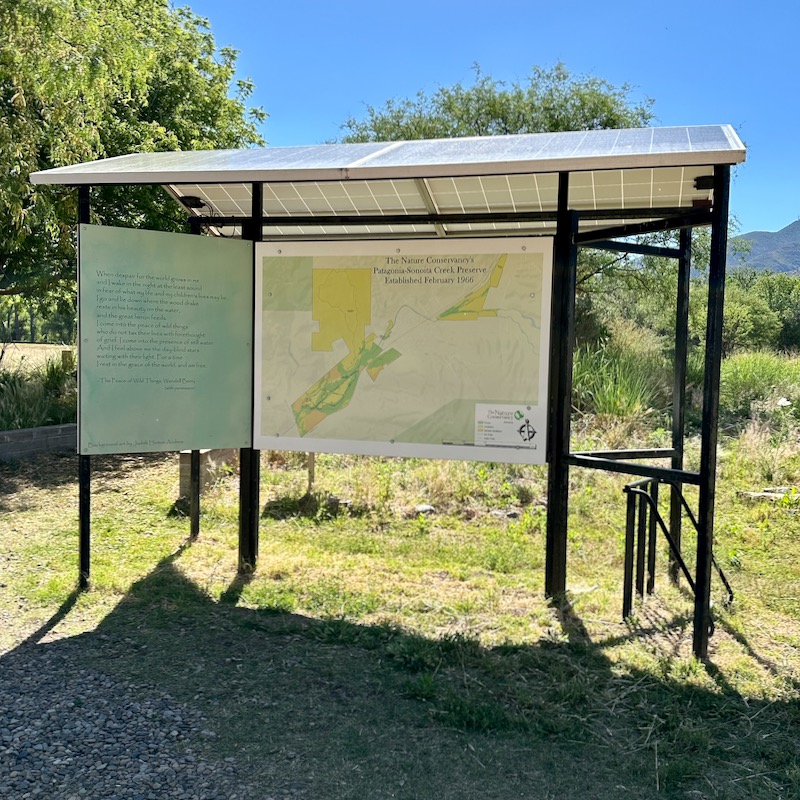 A network of trails follow an old railroad line and winds through forests, meadows and along Sonoita Creek. There are always lots of birds, and not too many birders. The visitor center has lots of information about the birds and animals that inhabit the area. It isn't open everyday, so check the hours before visiting.
Borderlands Wildlife Preserve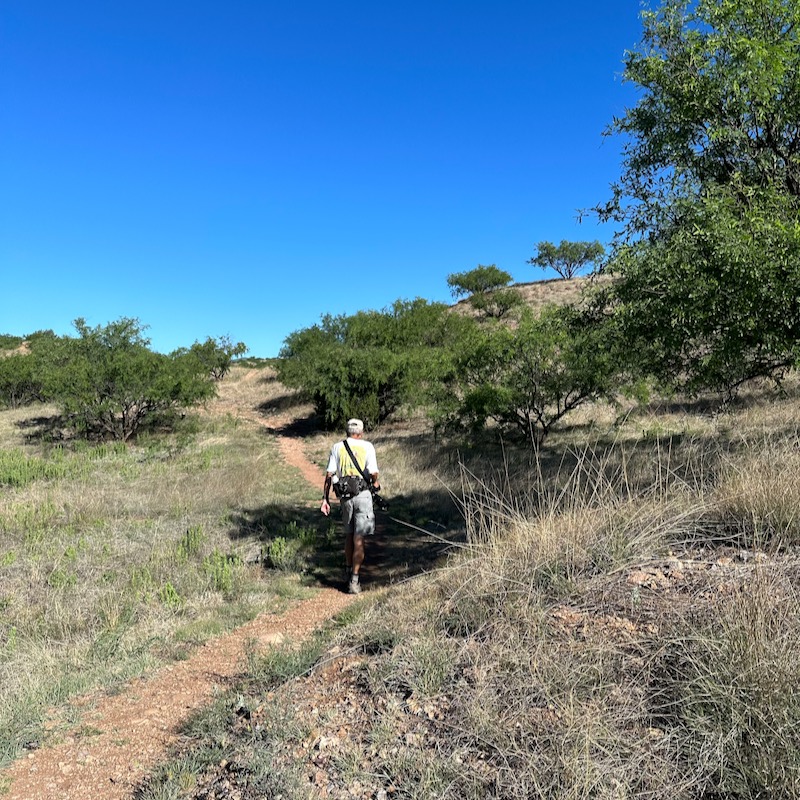 This preserve and tail system is new to us. It is located just north of Patagonia off Highway 82. The BWP connects a part of the Sonoita Creek Wildlife Corridor that was privately owned, and partially developed as a residential subdivision before it failed financially, with sections of the corridor in the Coronado National Forest. After the foreclosure, a large portion of the property was purchased by a group of concerned citizens wanting to protect the wild habitat. That land is now the Borderland Wildlife Preserve and safe from development. The Sonoita Creek Wildlife Corridor is an important connection between Arizona's Sky Islands.
The Smith Canyon Loop is very scenic and the trail was in excellent shape in May when we hiked it. The Cross Corridor Trail connects to the Arizona National Scenic Trail (Arizona Trail).
Old Baldy Trail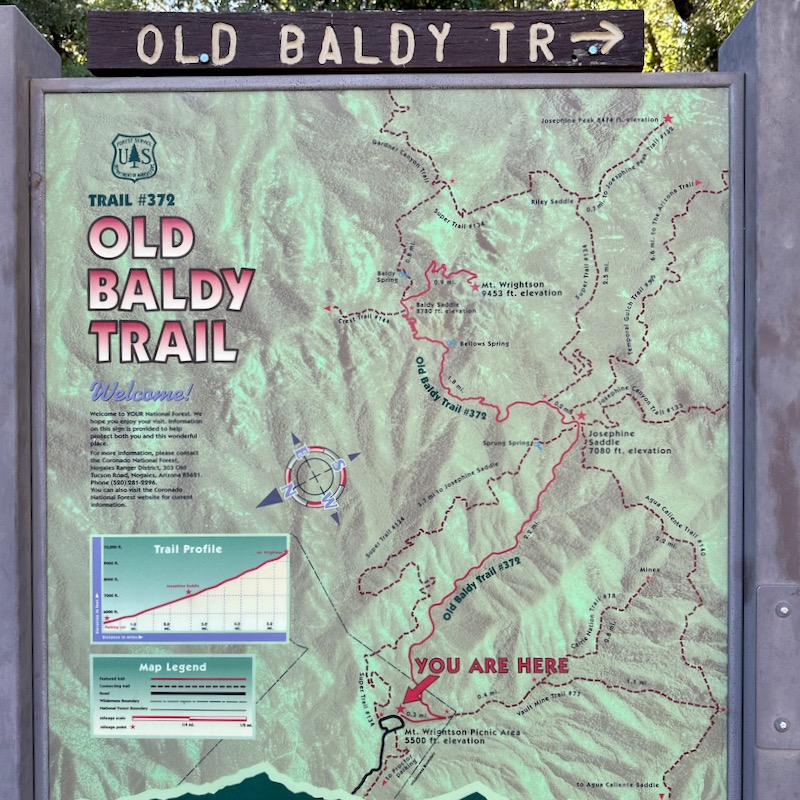 This trail, which goes all the way to the top of Mount Wrightson, is accessed from the Green Valley side of the Santa Rita Mountains in the Madera Canyon Recreation Area. We took the Old Baldy Trail up to Josephine's Saddle, elevation 7080 feet. The trail follows the right side of a canyon with some very rocky and steep parts. There was poison ivy, mostly off the trail along the way.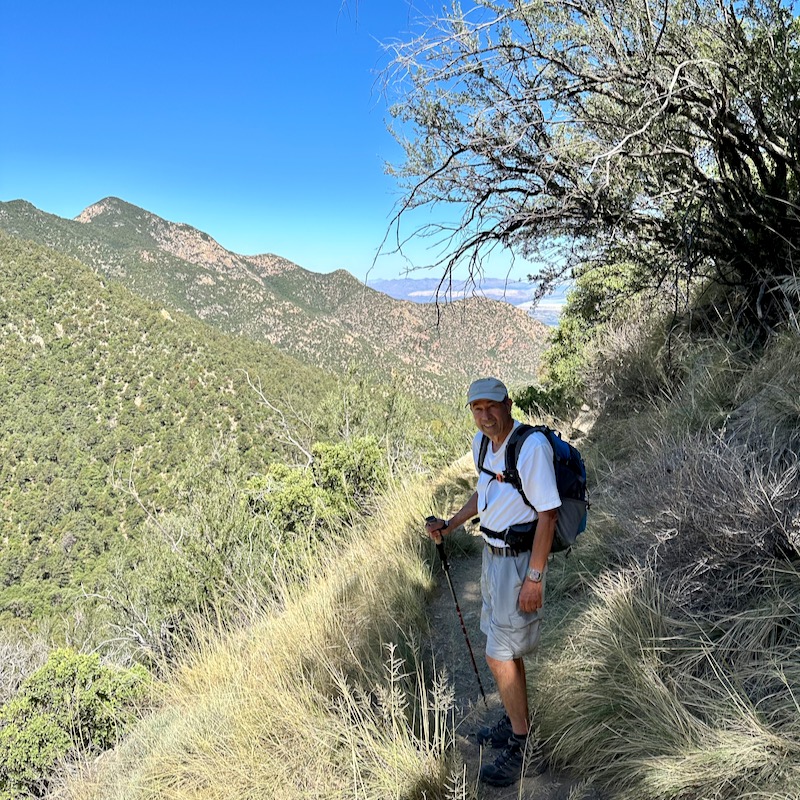 When we got to Josephine's Saddle, rather than retracing our steps we took the Super Trail back to the picnic area, which follows the other side of the canyon. A local hiker we met on the trail told us about the alternate route down, and we are glad we took her advice. It returns on the drier side of the canyon and is less rocky, though a longer return.
Wine Tasting in Sonoita & Elgin
Several of the wineries we visited have made noticeable expansions or improvements in their tasting rooms since our last visit. The tasting rooms were busy and we noticed small and large buses at several wineries.
Dos Cabezas WineWorks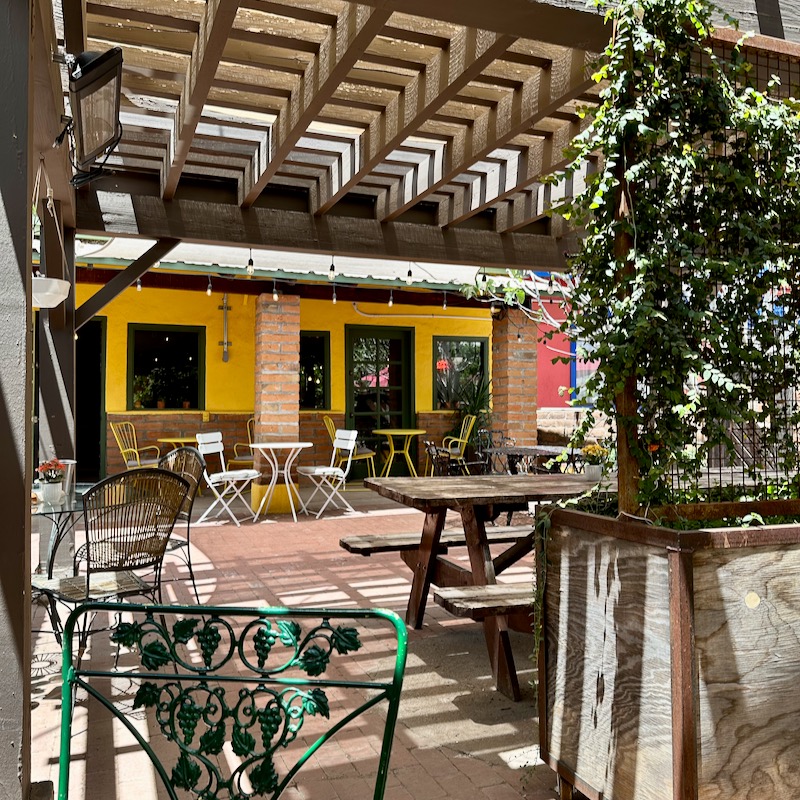 We barely recognized the Dos Cabezas tasting room as we drove up to it. The front of the building is now a screened porch with tables and a seating area. The tasting room looked familiar, but beyond the tasting room is outdoor and indoor seating for Pronghorn Pizza. What a pleasant place to sit outdoors and enjoy a pizza or two and a glass of Dos Cabezas wine.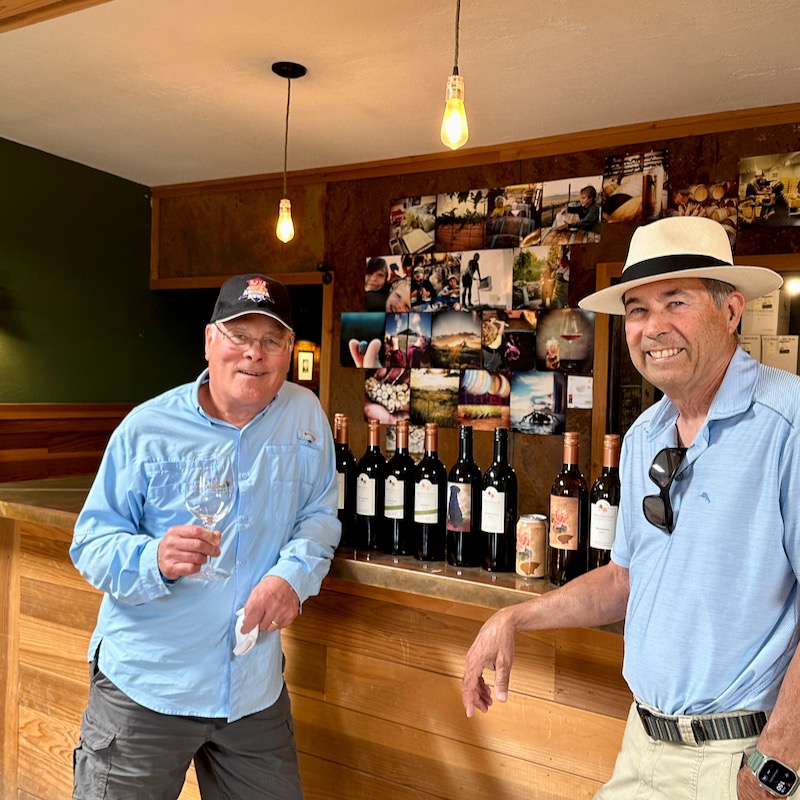 We met our friend JR for lunch at Pronghorn Pizza before an afternoon of wine tasting. Meeting JR here brought back memories of first meeting him here in 2013 when we came in to taste wine and he was working in the tasting room. His enthusiasm and knowledge of the Arizona wine scene impressed us at the time and continues to do so. We are so happy to have remained friends.
Los Milics Vineyards
Los Milics is the new kid on the block and is the dream come true of restauranteur Pavle Milic. Pavle and chef Charleen Badman (a 2019 James Beard Award winner) co-own FnB restaurant in Scottsdale, where we first discovered Arizona wine many years ago. Pavel began making wine under his Los Milics label at Dos Cabezas WineWorks in 2014.
The impressive new tasting room, built with several partners, is located on Upper Elgin Road and has a spectacular view of the Mustang Mountains. The setting with the mountains, vineyards and the ultra-modern tasting room is unlike any other in Sonoita/Elgin.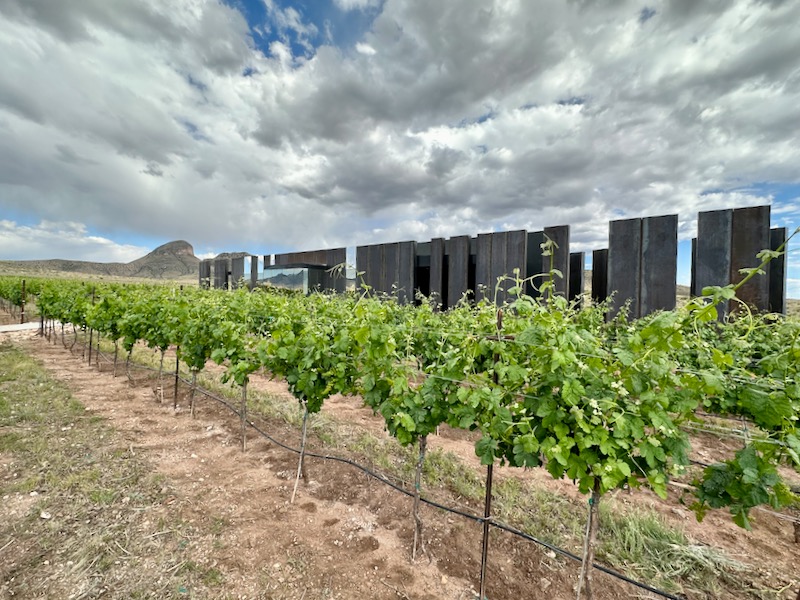 The large main tasting room features a wall of folding glass doors at one end that brings the vineyard and mountain views inside. Beyond the glass doors is a patio where we enjoyed our tasting outside. Five red wines were available on the tasting menu and four more were offered by the glass or bottle. In addition to wine, a menu of small plates is available. It's a beautiful spot for a leisurely tasting.
Flying Leap Vineyards & Distillery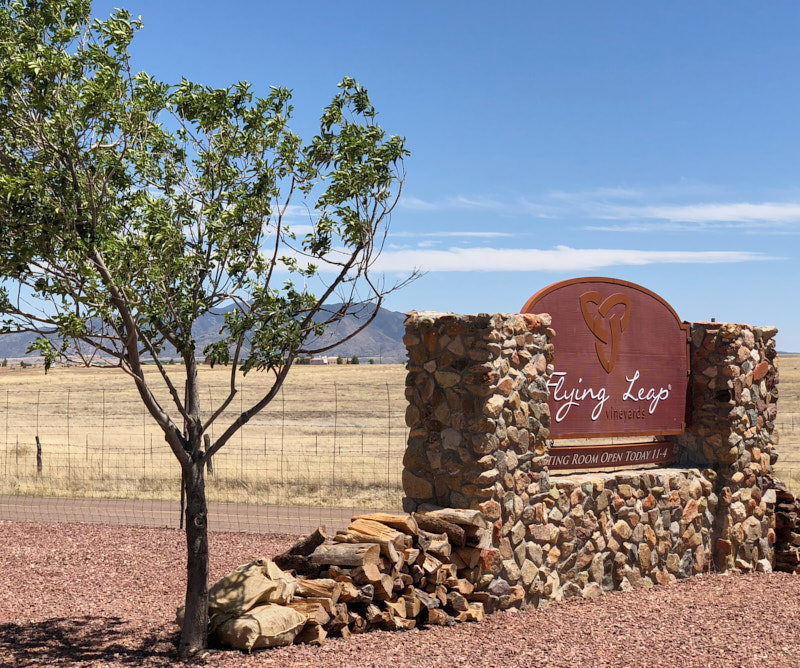 This winery has a lot going on. Not only do they make a wide range of wines sourced from their estate vineyards in Arizona, they have partners in two wine regions in Argentina. Flying Leap began as a winery but began distilling spirits in 2016. Co-founder Mark Beres is a man on a mission. He can talk to you about growing grapes, making wine, which grape varieties do best (and worst) in Arizona and he is Flying Leap's master distiller. Beyond wine, he has an interest in whiskey, brandy, grappa and sherry.
Callaghan Vineyards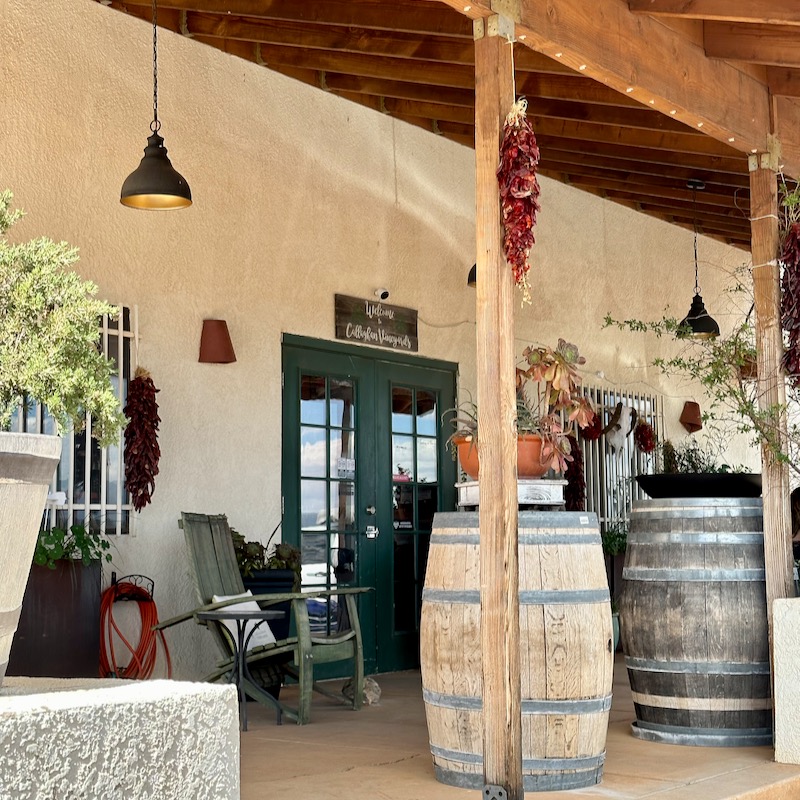 Callaghan Vineyards is the second oldest winery in Sonoita. Kent Callaghan and his parents planted their first vineyard in 1990. Their wines have consistently won wine awards over the years and have been served at the White House.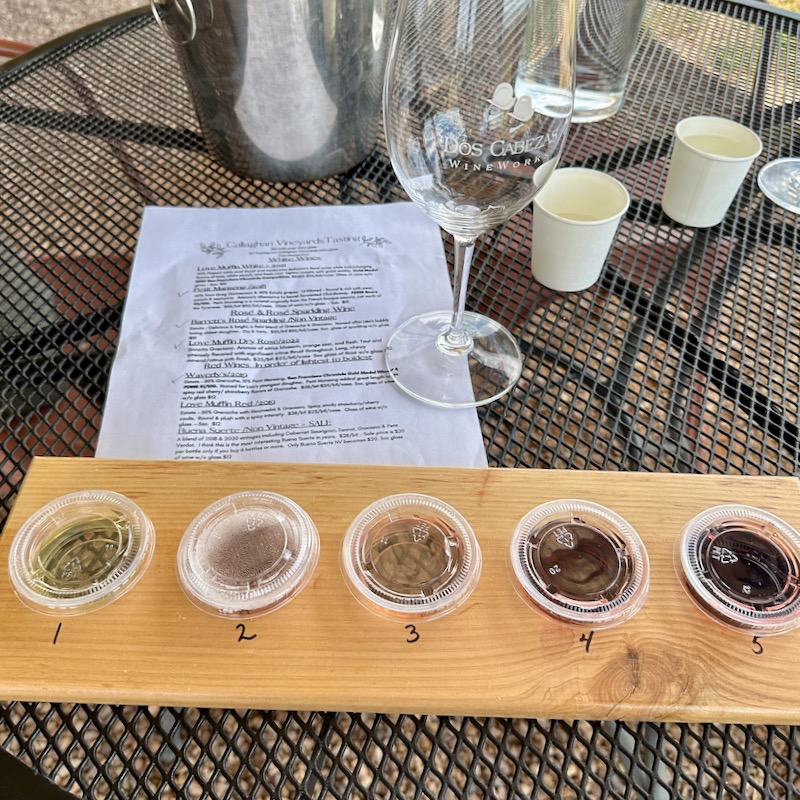 We were happy to see a large outdoor addition to the winery and tasting room. With the expansion outdoors, the way tastings are organized has changed. We had a choice of two flights and then the wines were brought to our table in small containers with lids placed in a wooden tray. The taster then opens each wine and tastes at their own pace. Tasting like this is not as informative as talking about each wine as its poured, but it does allow many more people to be served without being too crowded or hurried.
Deep Sky Vineyard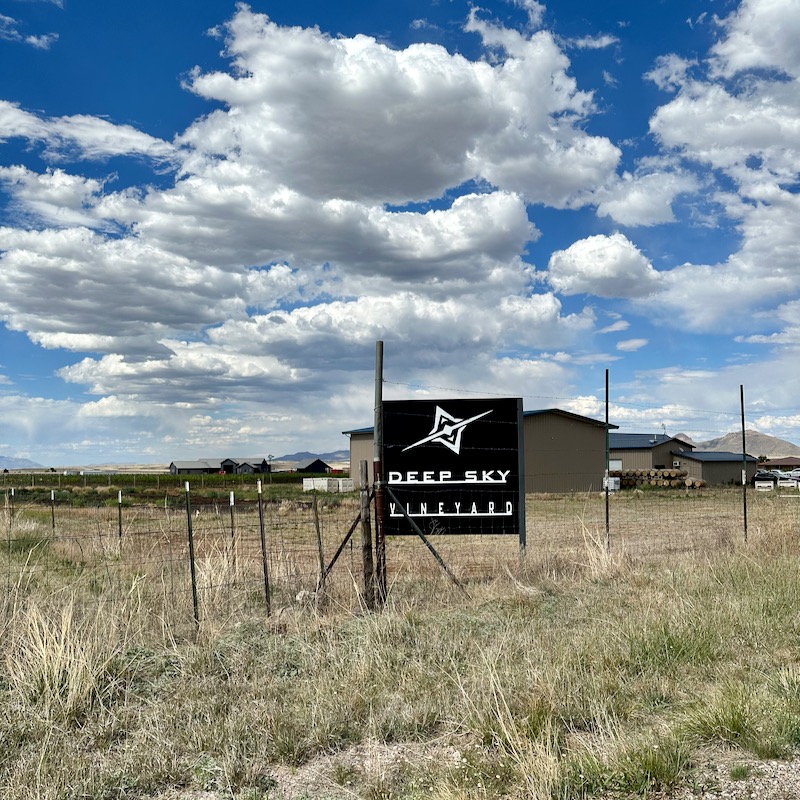 The Deep Sky Vineyard tasting room has ample inside seating and a large patio along the back of the tasting room that opens via a large window to the tasting room. Beyond the patio is the Elgin estate vineyard. Kim and Philip Asmundson's second Arizona vineyard is located in Willcox. The Asmundsons also make Malbec from their Asmundson Family Vineyard in Argentina's Uco Valley that is part of the Vines of Mendoza project. Deep Sky Vineyard wines are made by James Callahan, whose winery we visit next, and they are always fresh and balanced.
Rune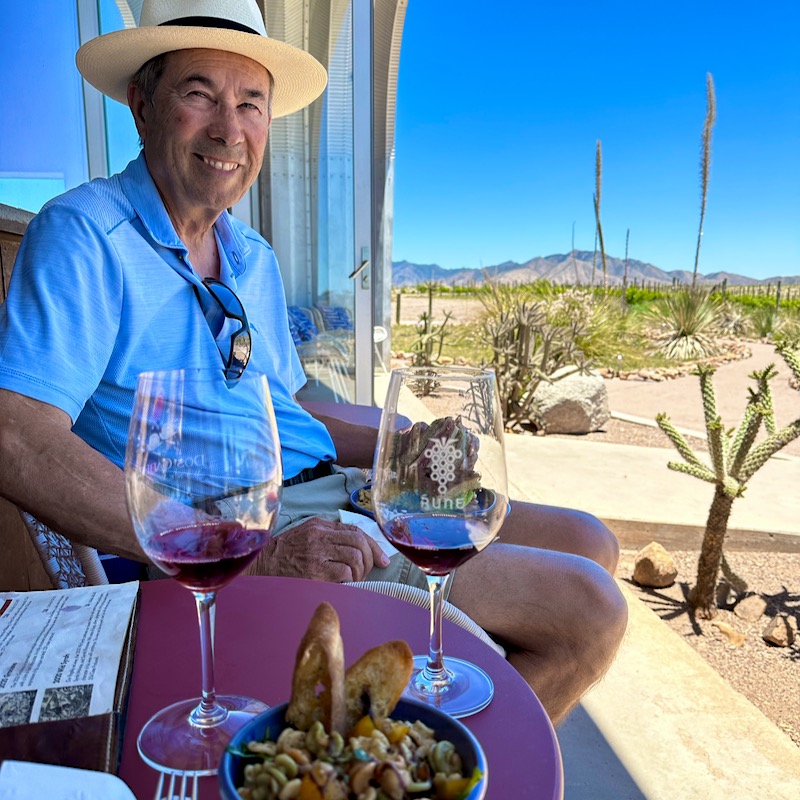 Since first visiting Rune I have though of them as "Rune with a view." When we first tasted here there was only outdoor tasting and it was spectacular. The tasting bar was shaded by large angular awnings and the views of the grasslands and mountains beyond provided serious competition for the compelling wines. We had never experienced wine tasting like this before. There were chairs scattered around encouraging visitors to sit a spell and take in the view.
This time we enjoyed our tasting on the front porch of the new (to us) indoor tasting room, which is described by them as "Arizona's only off-grid solar powered tasting room and vineyard", and our experience was spectacular once again. We still enjoyed that marvelous view with the addition of a menu of sandwiches and small bites. What a perfect place to have lunch with wine, which is exactly what we did. Rune wines are always interesting and delicious. They are fermented with natural yeasts and often are co-ferments.
We left Sonoita feeling like we had been busy but also had plenty of time to relax. We also have a list of things to do next time, and are already thinking about our next visit.
On our drive up to Scottsdale we took a detour through Tucson to have one more lunch with JR. He said we couldn't visit Tucson without having a Sonoran Hot Dog, so that's what we did. You gotta try one, or two!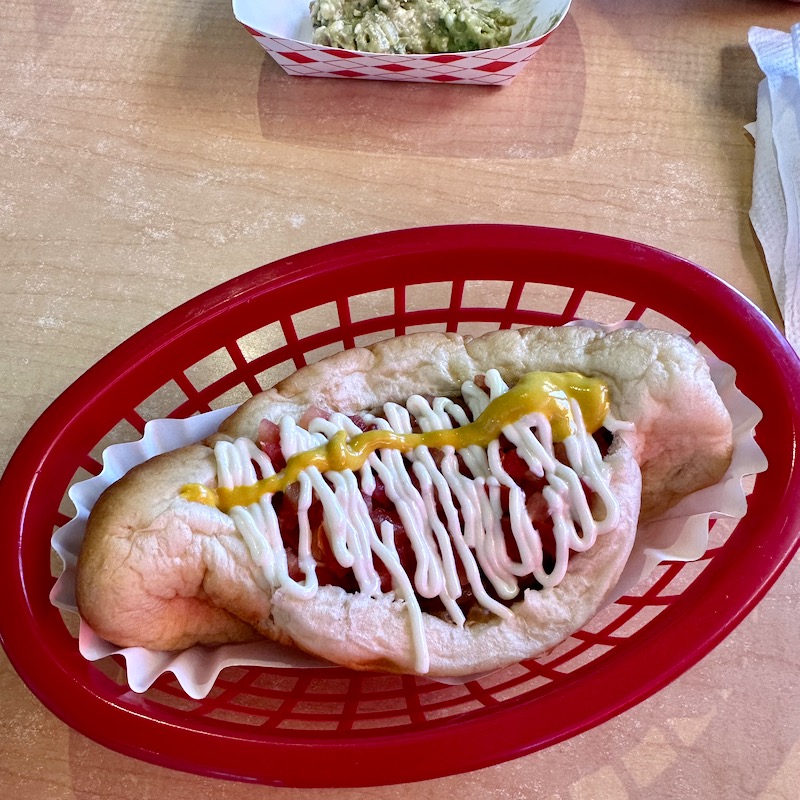 ***
Willcox and Sonoita/Elgin are such lovely parts of Arizona. Temperatures are generally cooler here than in Phoenix/Scottsdale due to the higher elevation. The pace here is slower and the calming effect of the wide open spaces cannot be overstated.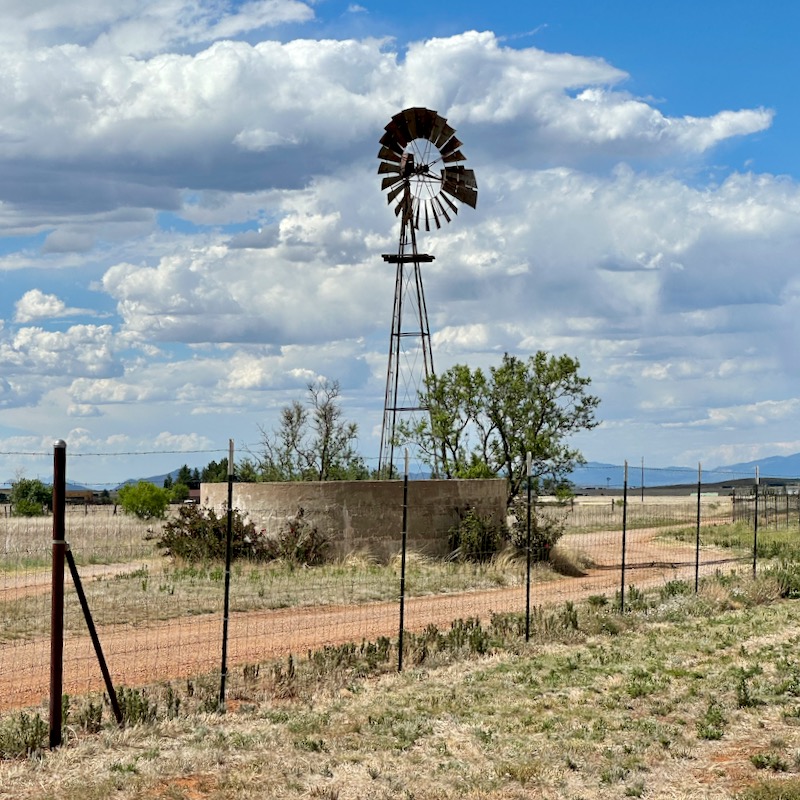 Due in part to the unpredictable, often extreme, weather during growing and harvest seasons you will find many blended wines in Arizona. But you will also find many excellent varietal wines. What wine lover wouldn't be charmed to taste an Aglianico or a Petit Manseng or two? We highly recommend a visit to both wine regions.
Cheers!