Sauvignon Blanc is having a bit of a moment. Demand is so strong that, according to a recent article in the San Francisco Chronicle, some California wineries can't keep up. The article goes on to note that Chardonnay is still the most popular white varietal wine by quite a bit, but the demand for a fresher style of white wine typical of Sauvignon Blanc in increasing. As luck would have it, we have just such a Sauvignon Blanc, which we received as a tasting sample, to share with you today.
Matanzas Creek Winery is a name most wine lovers will recognize. The winery was established by Sandra and Bill MacIver, in 1977. By the time the MacIvers sold their Bennett Valley winery to Jackson Family Wines in 2000, Matanzas Creek's reputation for quality Sauvignon Blanc, Merlot and Chardonnay was well established. Early winemakers include Merry Edwards and Dave Ramey.
Today, Marcia Torres Forno is the winemaker. Her Sonoma County Sauvignon Blanc is a blend of nine vineyard sites, all separately harvested and fermented before being tasted for blending. Sonoma County appellations represented include: Knights Valley, Alexander Valley, North Coast and Bennett Valley. The varietal composition is: 90% Sauvignon Blanc, 5% Sauvignon Musque clone, 5% Semillon. The wine was primarily fermented in stainless steel and spent 27 days in matured French oak.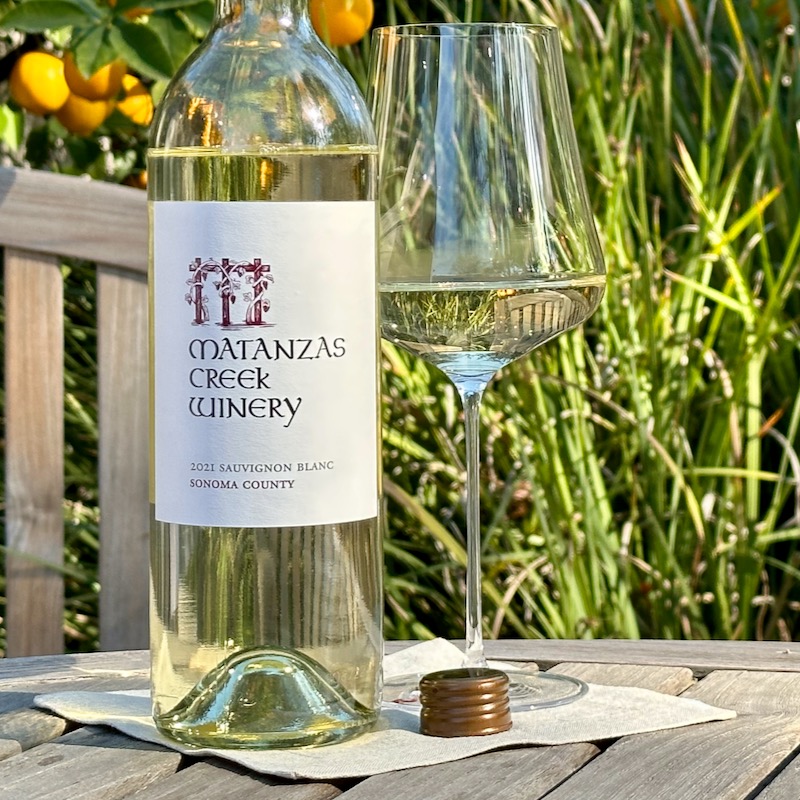 2021 Matanzas Creek Winery Sauvignon Blanc, Sonoma County — light yellow-green with generous aromas of guava and cut grass. Initial flavors are grassy, but stone fruit flavors build along with guava and remain on the finish with citrus pith. Racy acidity makes for a bright and refreshing glass of wine. Overall, the flavors are less herbaceous than the aromas suggest. 13.5% abv. SRP $24
The list of wineries under the Jackson Family Wines (JFW) umbrella is quite long. In California, JFW wineries are located in Napa, Sonoma, Menocino, Monterey and Santa Barbara. Wineries beyond California they're located in Oregon, Australia, Chile, France, Italy and South Africa.
Many may hold their breath when a small winery is purchased by a group as large as JFW, but with size can come the financial resources to fund a commitment to climate action and social corporate responsibility. In the case of Jackson Family Wines, that commitment is serious.
JFW's commitment is formalized in their Rooted for Good: Roadmap to 2030 program launched in August 2021. This comprehensive program includes: goals to reduce their carbon footprint, build a diverse and equal workplace, transition 100% of estate vineyards to regenerative farming and reinforce their commitment to water conservation and quality improvement.
As part of Rooted for Good, JFW has just announced its partnership with The Urban Grape on its Wine Studies Award for Students of Color. Learn more and apply on The Urban Grape website.
JFW is also a member of the International Wineries for Climate Action (IWCA), a group serious about climate change and reducing their own emissions by meeting verifiable standards.
Cheers!