White wine with bright, sunny flavors and rosé loaded with berry flavors pair as well with cozy sweaters as they do with a warm afternoon on the patio. We know this firsthand as we have just finished sipping two such wines from Esporão. As an added bonus both wines are an extremely good value. We received both wines as tasting samples.
The Alentejo wine region is located in the southeastern part of Portugal, inland from the coast. This large region is very warm and home to varied soils and terrain. Red wines predominate here, but this tasting is a caution not to overlook the smaller production of fresh, flavorful white wines and even smaller number of rosé wines.
Alentejano wines are generally blended wines — a Portuguese specialty. The region, and Esporão in particular, is committed to sustainability. Alentejo is the first wine region in Portugal to develop a region-wide sustainability standard. Part of Esporão's sustainability efforts include very lightweight wine bottles and recycled cardboard shipping containers. As an added bonus, Esporão is also committed to organic viticulture on a very large scale.
Both of these wines are made in stainless steel and fermented to dry (under 2 g/l residual sugar). In true Portuguese style both are blended wines.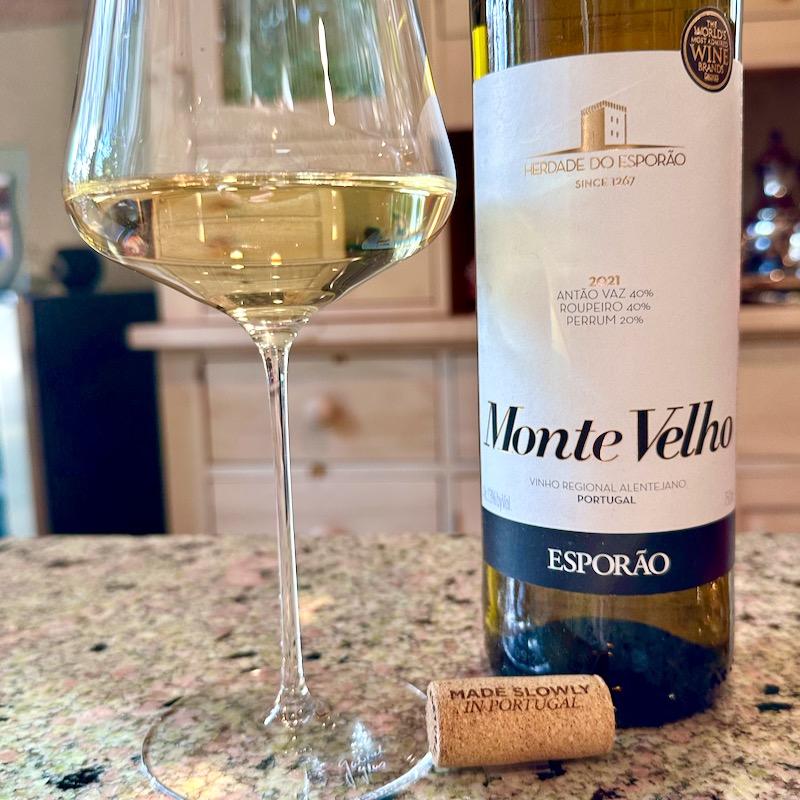 2021 Esporão Monte Velho Vinho Branco, Vinho Regional Alentejano — pale yellow with generous aromas of stone fruit and citrus with hints of white flowers. Flavors include white peaches, citrus zest and stony minerality. Lively acidity supports the bright flavors. 13% abv. SRP $12
The blend: Antão Vaz, Perrum, and Roupeiro.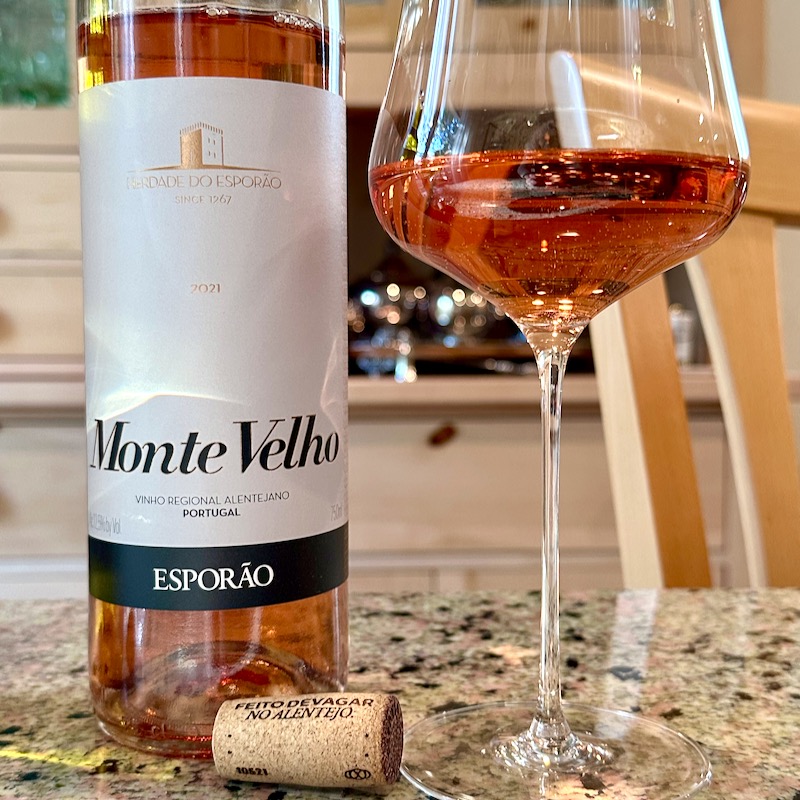 2021 Esporão Monte Velho Vinho Rosé, Vinho Regional Alentejano — pale salmon with aromas of crushed raspberries and blackberries. Flavors include blackberries, cherries and citrus zest. Juicy acidity keeps the flavor profile fresh and clean. 12.5% abv. SRP $12
The blend: Touriga Nacional, Aragonez, Syrah, Trincadeira and Tinta Caiada (all red varieties), plus Arinto, a white variety. Everybody in the pool!
We have tasted quite a few Esporão wines and become familiar with the winery's commitment to sustainability and organic viticulture through those wines. And the quality of Esporão wines has always impressed us. After we tasted these wines, Peter remarked, "I would buy both of these wines." When I told him the SRP of the wines he added, "I would definitely buy them."
Thanks to Creative Palate Communications for organizing our tasting.
Cheers!