Portugal's Alentejo wine region is a warm one. João Barroso, Director of Sustainability for Wines of Alentejo Sustainability Program (WASP), recently told a group of wine media and writers during a teleconference that the region routinely experiences some of the warmest temperatures in Europe. It is also prone to drought. These factors coupled with climate change prompted the region's wineries to develop a voluntary sustainability program that is the first adopted by a wine region in Portugal.
Evan Goldstein, MS led the conversation and filled in background information for us on the Alentejo region and each of the wines we tasted, which were provided as tasting samples.
Alentejo the Wine Region
The region takes its name from the Tejo River, the longest in the Iberian Peninsula, which originates in Spain and enters the Atlantic Ocean at Lisbon. Alentejo translates to behind the Tejo. This large inland region lies in the south of Portugal and occupies 30% of of the country's land mass.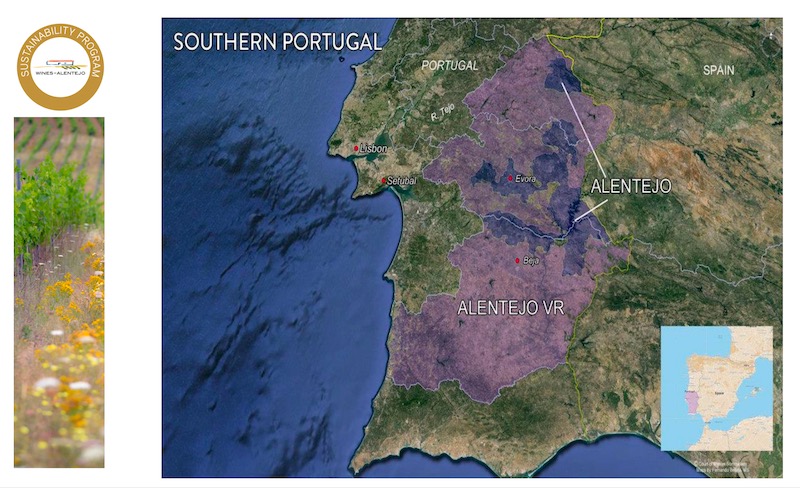 The interior Mediterranean climate is warm and dry with largely poor soils. As you might expect, wine production is 73% red, 25% white and only 2% rosé.
Winemaking dates back more than 4000 years in the region and has experienced significant growth in recent years growing to more than 200 wineries today from only 45 in 1995.
Wines of Alentejo Sustainability Program (WASP)
Alentejo is the only Portuguese wine region with a sustainability program in place. WASP was initiated in 2015 and is centered on economic development, social development and environmental protection.
In designing WASP João told us they looked to the new world, California and Chile specifically because of similar climates, as models for their sustainability program. Unique sustainability requirements are established for each of three categories of members: grape growers, winemakers and and for entities that both grow grapes and make wine.
The comprehensive program includes 18 chapters with 171 criteria of assessment, with 4 levels of status from pre-initial to developed status, and was introduced in two modes to allow members to understand and adapt to the program in a gradual way.
Each member is required to document their compliance with every criteria and WASP verifies the documentation through site visits. João expects third-party certification to become part of the process by the end of July 2020. To be certified sustainable a member must achieve 86% of the 171 criteria at the developed status.
WASP began in 2015 with 94 members and has reached 411 members as of the middle of 2020. While the total number of members is small relative to the total number of winegrowers (1800) and the number of wineries (260), the WASP-certified acreage represents 41% of the total planted acreage in Alentejo. All of the major wineries in the region are participating.
Over the past several years, WASP has won several awards for their sustainability efforts from European and Portuguese organizations.
A Taste of Alentejo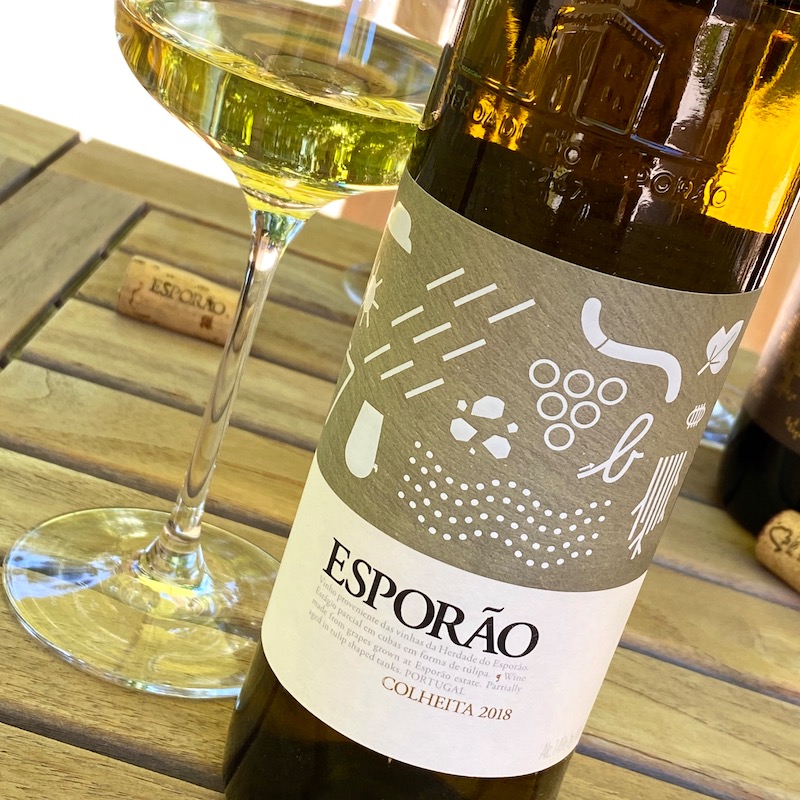 2018 Esporão Colheita Branco, Vinho Regional Alentejano — light yellow in the glass with aromas of citrus, melon and oat hay. Citrusy flavors follow along with honeysuckle, melon, cedar and dusty earth. The wine is a bit round with a very long finish and nice acidity. 14% abv. SRP $16
This is a lovely summertime wine is a traditional blend of Antão Vaz, Viosinho, Alvarinho (Albariño) and others. It was vinified in concrete tank with micro-oxygenation and spent four months on the lees. This wine is certified organic by Sativa.
The Esporão estate includes 1121 acres, 200 of which have been organic since 1988, in addition to 383 non-estate acres.
Sustainability note: Esporão has developed a vine nursery that tests hundreds of indigenous varieties to determine the best suited for the changing climate.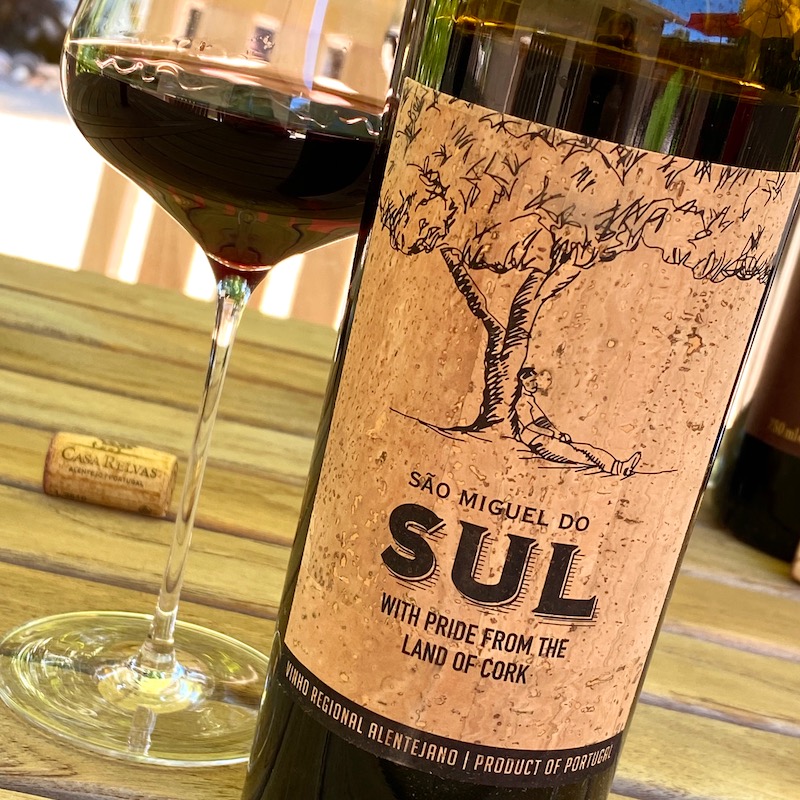 2018 Casa Relvas Herdade do São Miguel Sul Tinto, Vinho Regional Alentejano — light ruby color with a translucent rim. Flavors of red raspberries, blackberries and dusty earth are followed by generous flavors of red and dark berry fruit with excellent complexity, dusty earth and slightly grippy tannins. The body is barely medium with bright flavors and acidity. 14% abv. SRP $12
Evan described this wine as traditional in style and indicated that Portuguese wines are almost always blended wines. This bright, lively red wine is an absolute charmer that would be delicious served slightly chilled on a warm evening. It is a blend of 50% Aragonez (Tempranillo), 30% Alicante Bouschet, 15% Trincadeira, 5% Cabernet. It was fermented in stainless steel with malolactic fermentation in tank with staves. 10% was aged in 400L French oak for six months.
This relatively young winery, the vineyards were purchased in 1993 and the first vintage was 2003, is one of Portugal's most sustainably progressive wineries.
Sustainability note: in addition to their efforts in the vineyard and the winery, Casa Relvas sponsors higher-education opportunities for their workers' children.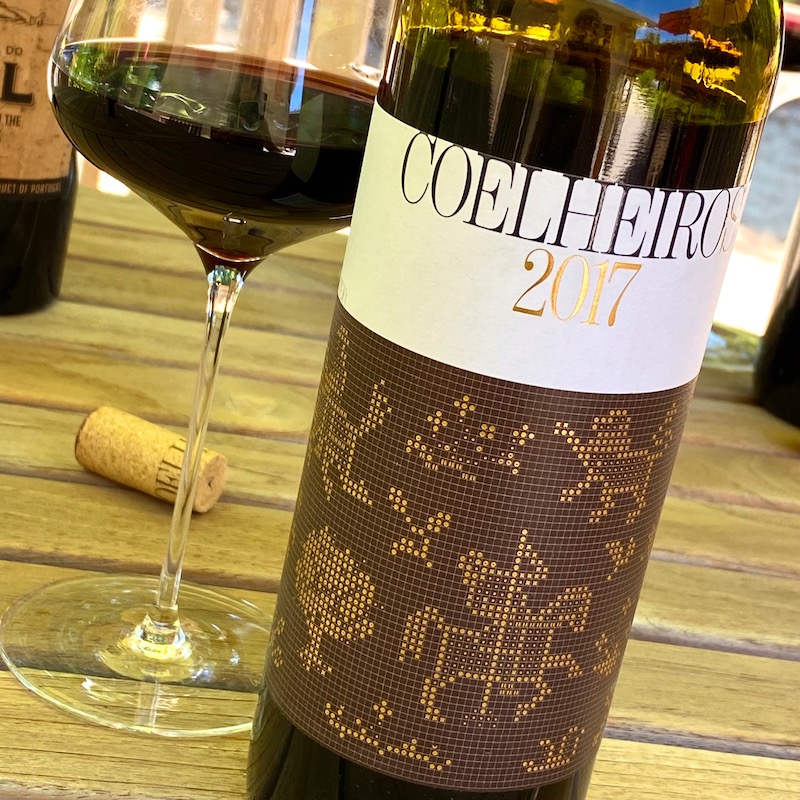 2017 Herdade de Coelheiros Tinto, Alentejo DOC — dark ruby in the glass with aromas of red and dark berries, alfalfa hay, dusty earth and cedar. Dark berry fruit flavors lead with alfalfa, earth and gauzy tannins in a medium body. Nice acidity lingers on the long finish. 14% abv. SRP $20
This wine is well balanced with plenty of flavor while not too ripe or too alcoholic. This, and the wine that follows, are more modern in style with more extraction and oak influence, but the blend here is absolutely traditional. Alicante Bouschet and Aragonez play well together in this 50/50 blend that was fermented in stainless steel and aged in oak barrels for 12 months.
Sustainability note: Herdade de Coelheiros covers over 1000 hectares of mixed agriculture that includes a variety of crops that allows for the study of biodiversity and identification of synergies that protect the vineyards from pests as well as climate change.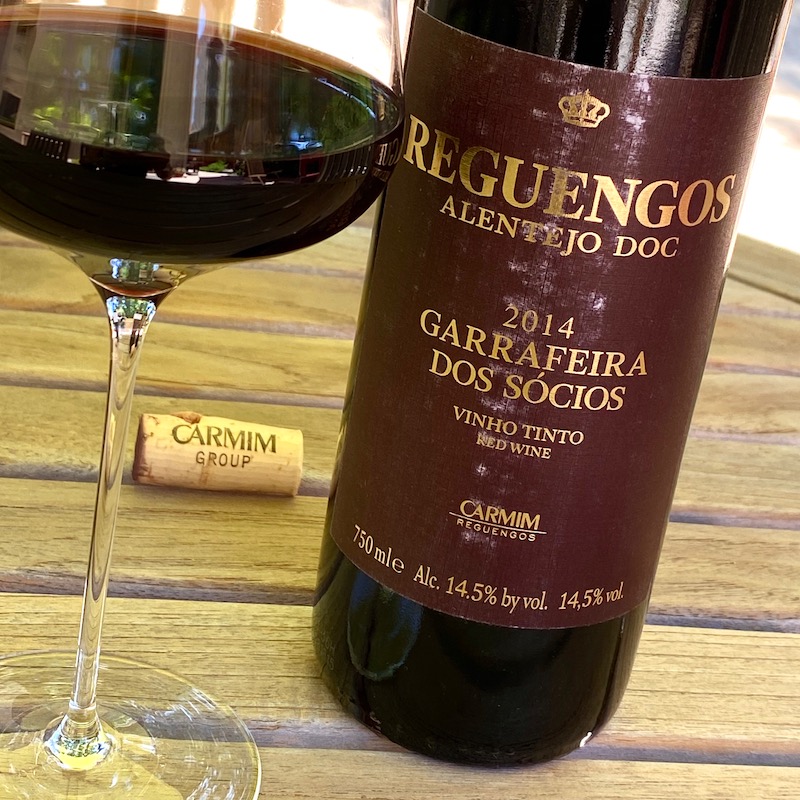 2014 CARMIM Reguengos Garrafeira dos Sócios Tinto, Alentejo DOC — dark ruby with garnet at the rim. Dark fruit, dusty earth and cedar aromas are followed by flavors of dark berries, plums and dried fig along with earth and leather. Tannins are grippy but well integrated in this medium-bodied wine. 14.5% abv. SRP $48
Alicante Bouschet (65%), Touriga Nacional (25%) and Trincadeira (15%) is a classic blend but with additional time spent in oak (30 months) and in bottle (12 months) required by the top-end Garrafeira designation. This wine is rich, ripe and complex with plenty of structure.
CARMIM (Cooperativa Agrícola de Reguengos de Monsaraz) was created in 1971 by a group of 60 grape growers and has grown to include 850 members making over 70 wines sourced from 8900 acres. Co-operatives in the Alentejo region have become known for excellent quality wines according to Evan.
Sustainability note: composting organic waste, the use of solar energy and the reduction of water used in the winemaking process have been points of focus for CARMIM.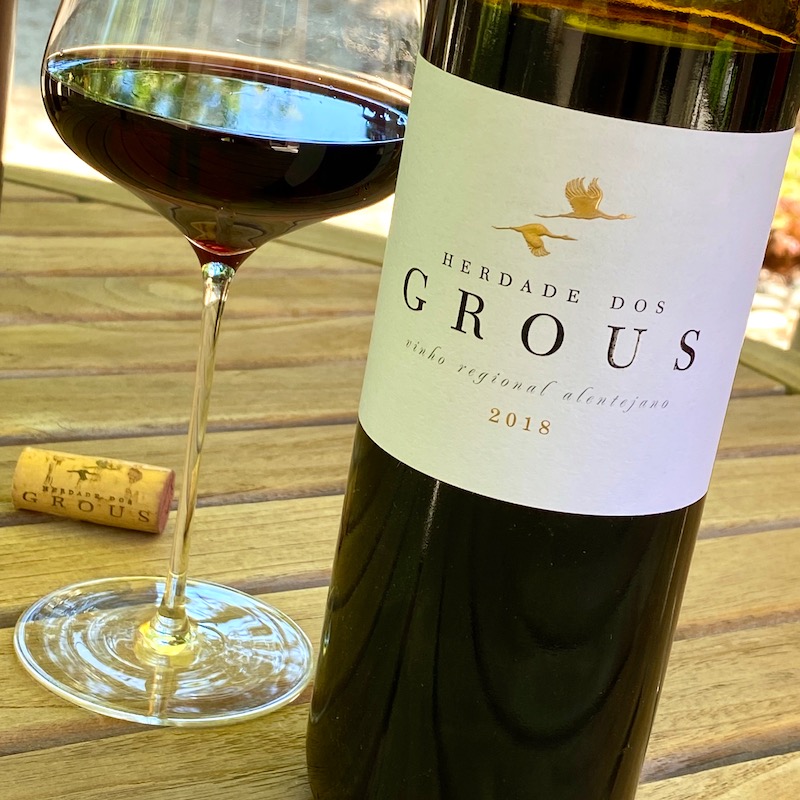 2018 Herdade dos Grous Tinto, Vinho Regional Alentejano — light ruby with a translucent rim. Tart raspberry fruit and earthy aromas are followed by red fruit flavors of ripe cranberries and raspberry compote with notes of alfalfa hay in the background. Tannins are gauzy and the body is medium. 13.5% abv. SRP $19
The combination of red fruit flavors is bright and lively in this blend of 35% Alicante Bouschet, 35% Aragonez, 20% Touriga Nacional and 10% Syrah. The wine was aged in 5000L French oak vats for 9 months followed by 18 months in bottle.
Syrah, according to Evan, is an international grape variety to watch for in the Alentejo. It is well suited to the dry, warm climate.
Sustainability note: ll packaging used by Grous is certified by Forest Stewardship Council® (FSC). They have reduced their use of inks in packaging and moved to lighter-weight wine bottles.
The Take Aways
In João Barroso's view the program has many more benefits than draw backs. The voluntary program is free of charge and includes workshops and consultation resources for members.
WASP certification has resulted in a significant reduction in the use of water in winemaking in the Alentejo, a particularly important change is this arid region that is getting even drier.
Energy is expensive in Portugal and the increased use of solar power in this very sunny part of the country has significantly reduced non-renewable energy use.
João has found the worldwide wine community to be extremely cooperative and willing share information. He has become part of a worldwide community working to solve problems that are relevant across borders and continents.
If sustainability is important to you, look for these wines from Alentejo that are certified sustainable, they should be widely available in the US. You will find a complete list of members on the Wines of Alentejo Sustainability Program website.
Thank you to Kate Morgan-Corcoran and Jane Kettlewell of Creative Palate Communication for organizing the tasting.
Cheers!