The Alentejo wine region is known for its delicious, fruit-forward red blends. White wines are made here as well, in smaller quantities, and rosés are made in even smaller amounts. We've had the opportunity to taste Alentejo wines several times and every time we have been impressed by the quality and price of Alentejo wines. They're delicious, food friendly and affordable. This group of wines, which we received as tasting samples, is no exception.
What You Need to Know About Alentejo
Portugal's Alentejo wine region takes its name from the Tagus River (Tejo in Portuguese.) Alentejo translates to behind the Tejo. The river, which originates in Spain and enters the Atlantic Ocean at Lisbon, is the longest in the Iberian Peninsula. This large, inland region lies east of the river next to Spain in the south of Portugal and occupies 30% of of the country's land mass.
Alentejo is mostly planted to grains, cork-oak trees, olive trees and agricultural crops other than grapes. Just over 54,000 acres are planted to vines. Winters are very cold, summers can be blazingly hot and rainfall is modest at best. As you might expect soils are varied over such a large area. The terrain is mostly flat with undulating hills. The northeast corner of the region near Portalegre is mountainous.
Alentejo posts some of Europe's highest temperatures and is also prone to drought. These factors coupled with climate change prompted the region's wineries to develop a voluntary sustainability program. Alentejo is the only Portuguese wine region with a sustainability program in place. WASP (Wines of Alentejo Sustainability Program) was initiated in 2015 and is centered on economic development, social development and environmental protection.
Following Portugal's long history of winemaking, blending is the norm for red and white wines. This allows the winemaker to craft balanced wines by blending varieties with plenty of flavor but less acidity with varieties that better maintain their acidity when ripe.
The Vine and Wine Commission of Alentejo (CVRA) was founded in 1989 and regulates wine production in Alentejo. Vineyard yield and allowed grape varieties and their proportions are most restrictive for DOC (Denominação de Origem Controlada) Alentejo classified wines. Eight distinct sub-regions have been identified within the DOC Alentejo classification: Borba, Évora, Granja/Amareleja, Portalegre, Moura, Redondo, Reguengos, Vidigueira. IG (Indicação Geogràfica) Alentejano (Vinho Regional Alentejano) wines may include a longer list of allowed grape varieties and vineyard yields are less restrictive.
Let's Taste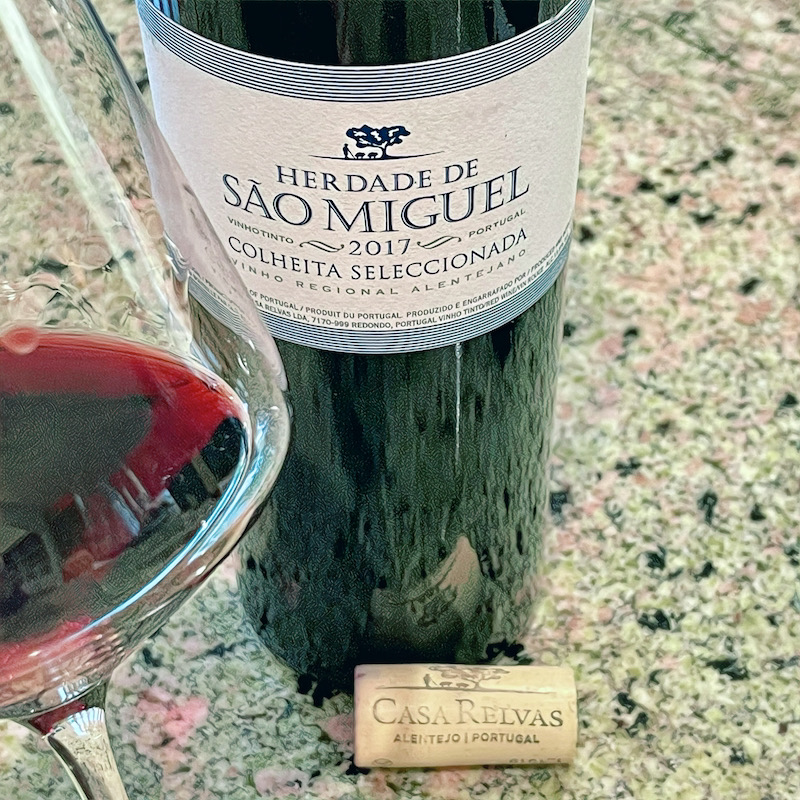 2017 Herdade de São Miguel Colheita Seleccionada Vinho Tinto, Vinho Regional Alentejano — medium ruby in the glass with flavors of dark berries, dried plums and blueberries. Flavors of blackberries and dried raspberries and cherries blend with dusty earth, and hints of licorice and leather. Tanning are gauzy in a medium body. 13.5% abv. SRP $15
This delightful blend, made by Casa Relvas, consists of 50% Alicante Bouschet, 30% Touriga Nacional, 10% Syrah, 10% Cabernet Sauvignon. Alcoholic fermentation took place in stainless steel and malolactic fermentation in stainless steel vats with French oak staves. 50% aged in 400L French oak barrels for four months.
Casa Relvas is a family-owned business with wineries and vineyards in two locations in Alentejo. The company's large production includes 12 labels and is focused on the export market.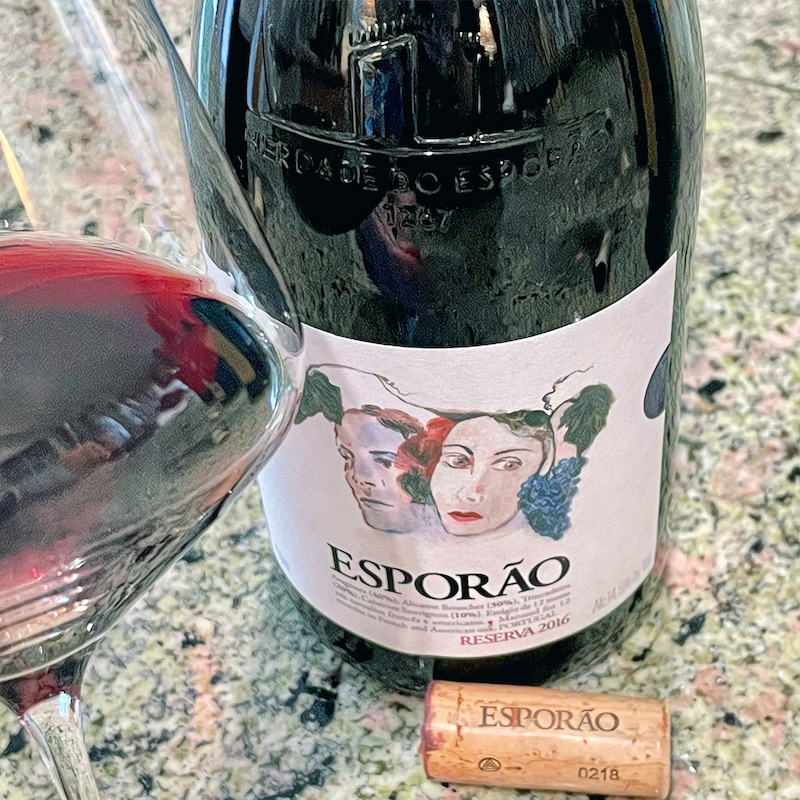 2016 Esporão Reserva Vinho Tinto, DOC Alentejo — dark ruby in the glass with aromas of dark berries, dusty earth and celery salt. Juicy flavors of raspberries and blackberries are layered with dusty earth and supported by bright acidity. Tannins are drying and well integrated. Medium bodied and easy sipping. 14.5% abv. $24
Winemakers Dave Baverstock and Sandra Alves artfully blended Aragonez (Tempranillo), Trincadeira, Cabernet Sauvignon and Alicante Bouschet. Each variety was harvested and fermented separately in stainless steel vats, concrete tanks and small marble basins. The wines aged for 12 months in 60% American oak and 40% French oak. The wine was bottled and aged for 8 months before release.
Esporão has a growing presence in Portugal beyond the Alentejo and is involved in olive oil production and tourism as well as winemaking.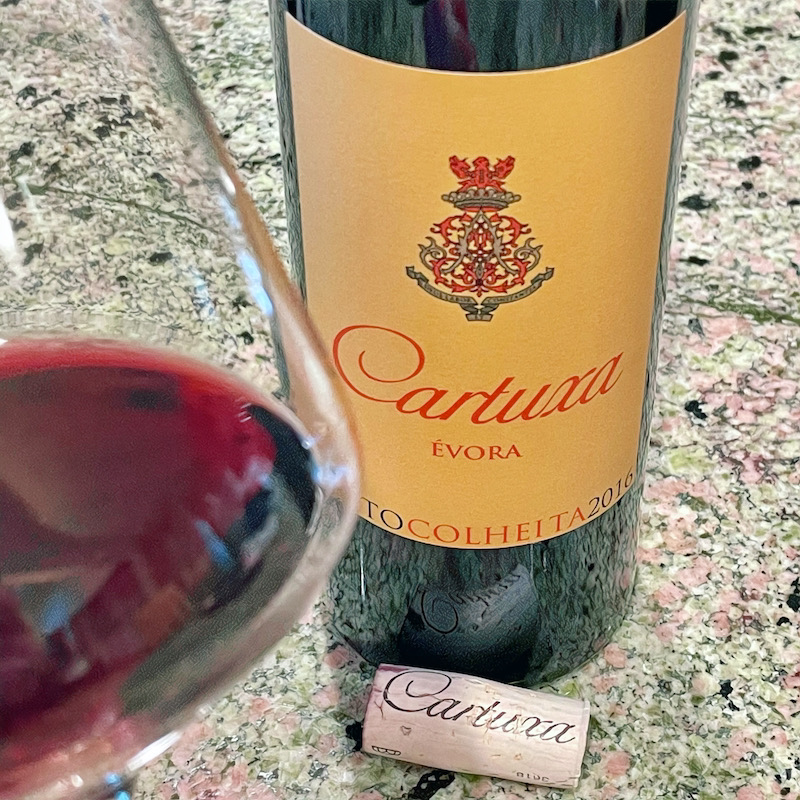 2016 Cartuxa Évora Colheita Tinto, DOC Alentejo — medium ruby in the glass with aromas of red berries, coffee beans and dusty earth. Flavors of raspberries and blueberries, dusty earth and alfalfa hay are supported by gauzy tannins and nice acidity. Extremely easy sipping. 14% abv. $25
This blend of 40% Aragonez, 40% Alicante Bouschet and 20% Trincadeira is sourced from vines over 30 years of age. Alcoholic fermentation took place in stainless steel with native yeast followed by aging in French oak for 12 months. The wine aged in bottle for nine months prior to release.
Adega Cartuxa has historic connections to both the Carthusians and the Jesuits and takes its name from a nearby Carthusian Monastery, Mosteiro da Cartuxa.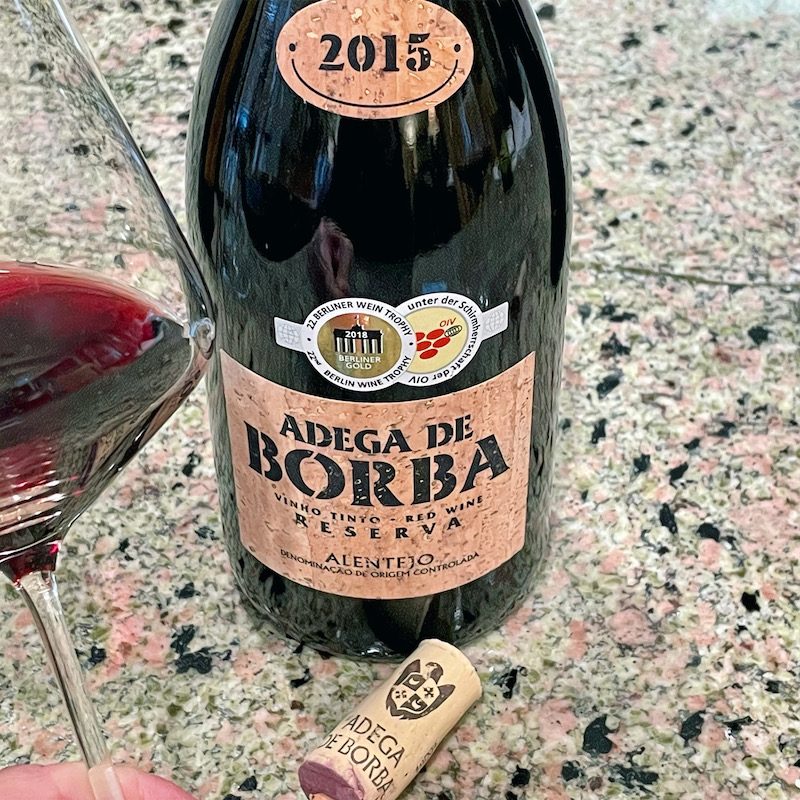 2015 Adega de Borba Reserva Vinho Tinto, DOC Alentejo — medium ruby in the glass with garnet at the rim. Aromas of dark berries, oat hay and cocoa lead to flavors of blackberries, oat hay, slate minerality, earth and hints of cedar. Tannins are gauzy in a medium body with nice acidity. Lovely blend of earthiness and fruit flavors. 13.5% abv. $18
A blend of Trincadeira, Alicante Bouschet, Aragonez and Castelão went through alcoholic fermentation in temperature-controlled tanks before undergoing malolactic fermentation in stainless steel. The wine then aged for 12 months in third and fourth-use French oak barrels and wooden barrels. The wine aged in bottle for six months before release.
Adega de Borba is a cooperative with 300 growers that cultivate 5000 acres of vines. The cooperative has the financial resources to invest in state of the art winemaking equipment to make high quality wine that many small growers would not be able to do in the Alentejo.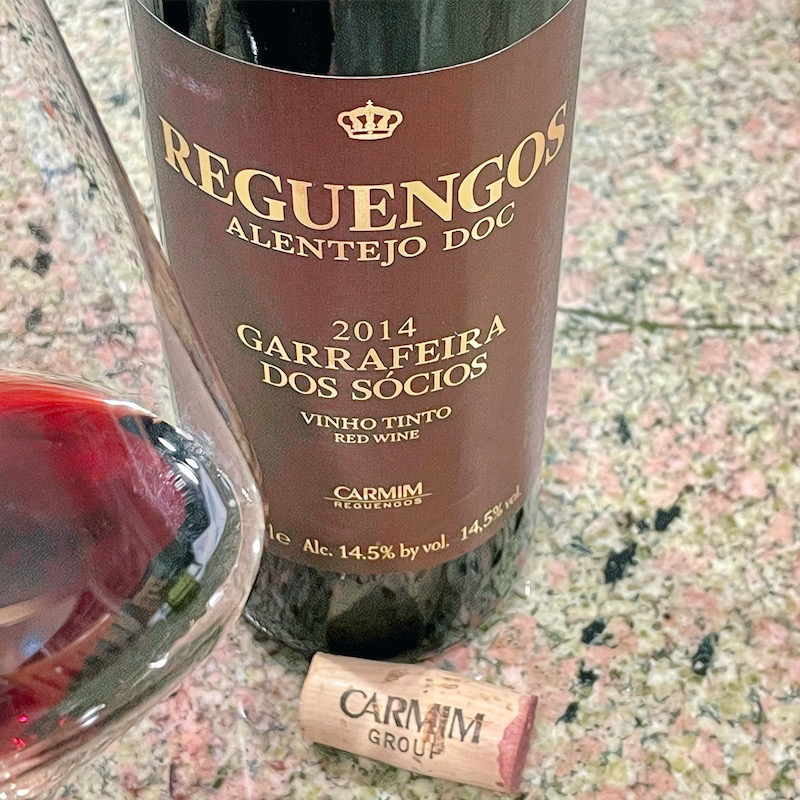 2014 Carmim Reguengos Garrafeira dos Sócios Vinho Tinto, DOC Alentejo — medium ruby in the glass with garnet at the rim. Dark berry and earth flavors predominate and are followed by flavors of blackberries, plums, earth, leather and grippy, drying tannins in a medium body with good acidity. $48
65% Alicante Bouschet, 20% Touriga Nacional and 15% Tinta Caiada was aged in new and used French and American oak. The wines aged for at least one year in bottle before release.
Carmim – Cooperativa Agrícola de Reguengos de Monsaraz – is a cooperative that was established in 1971 by a group of 60 growers. Membership has grown to 850 growers that farm nearly 9000 acres of grapes. The cooperative makes products including wine, olive oil and marc brandy.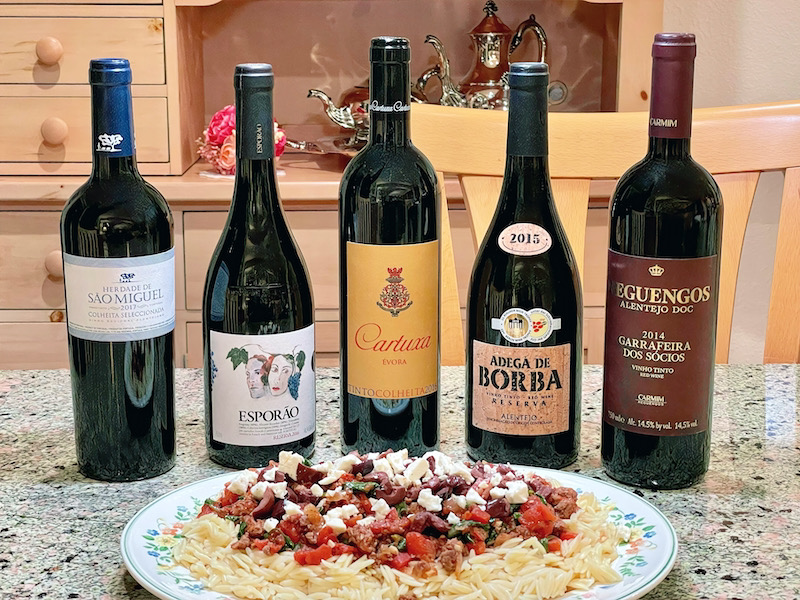 These are wines made to enjoy with a meal. Over several evenings we enjoyed these wines with Greek Lamb with Orzo from the recipe website Food52. The wines all have generous aromas and flavors that are layered without being too ripe or too alcoholic. The judicious use of oak in the aging process allows the bright fruit flavors of each wine to shine through. And these wines are priced for every day enjoyment. Portuguese wines in general, and Alentejo wines specifically, consistently offer excellent quality and very reasonable prices in our experience.
Thanks to Creative Palate Communications and Wines of Alentejo for transporting us to sunny Portugal.
Cheers!