If you are familiar with the wines made by Jordan Vineyard & Winery in Healdsburg, California then you need no excuse to enjoy their wines. You already know Jordan's focus is on two wines: Russian River Chardonnay and Alexander Valley Cabernet Sauvignon. You know Jordan doesn't follow trends; their focus has always been on elegance and balance.
In case you need an excuse to pour yourself a glass of Jordan Chardonnay or Cabernet Sauvignon, how about the winery's 50th anniversary? 2022 marks 50 years since the winery's founding by Tom and Sally Jordan in Alexander Valley. Jordan Vineyard & Winery very kindly sent us tasting samples of their current-release wines so we could join the celebration.
Over the years the people behind the wines at Jordan Vineyard & Winery have remained surprisingly constant. Jordan remains family owned. Beginning in 2005 John Jordan assumed day-to-day operations and began to acquire ownership from his parents. Jordan Winery has had only two winemakers in its 50-year history. Rob Davis joined the winery in 1976 and worked with the great André Tchelistcheff, who was consulting winemaker. After 43 growing seasons at Jordan, Rob Davis retired in 2019. Maggie Kruse was promoted to winemaker after having worked alongside Davis for 13 harvests.
Winemaking has benefited from that accumulated knowledge over the years, but the winemaking team hasn't stood still. They continued to experiment with vineyard sources and blends always remaining true to the Jordans' original focus on elegant wines. Estate vineyards have been planted and re-planted over the years due to disease and other issues; each planting becoming an opportunity to re-evaluate the sites and varieties planted. By 2015, Cabernet Sauvignon aging had moved from American oak to 100% French oak barrels and in 2019 Jordan Chardonnay was sealed with Origins by DIAM cork for the first time.
In 2018 all Jordan Chardonnay grower vineyards were certified sustainable by California Sustainable Winegrowing Alliance (CSWA). By 2019 all Jordan Cabernet growers were CSWA certified, as was Jordan Vineyard & Winery.
If you've ever visited Jordan you know hospitality is a big part of the wine experience. The tasting experiences are varied and the winery's location among rolling hills with gardens, farm animals and vineyards is beautiful and restful. Most of the 1,200-acre estate remains in its natural state.
This summer will be busier than usual with a series of 50th Anniversary Events. Social Impact Summer gatherings will take place in Denver, Nashville and Healdsburg. You will find all of the details for these special events on the Jordan Vineyard & Winery website along with all of the usual tasting opportunities.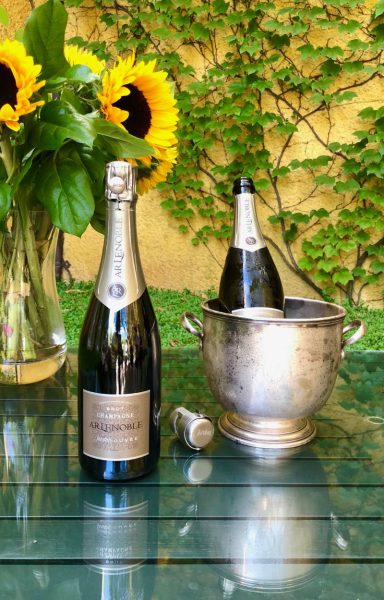 Before we finish with our tasting notes, there is one more addition Jordan has made that particularly pleases me: Jordan Cuvée by Champagne AR Lenoble. Introduced in 2017 this lovely, lively champagne is a partnership between the Jordan and Malassagne families. We never leave a Jordan visit without several bottles of Jordan Cuvée to accompany Jordan Chardonnay and Cabernet Sauvignon.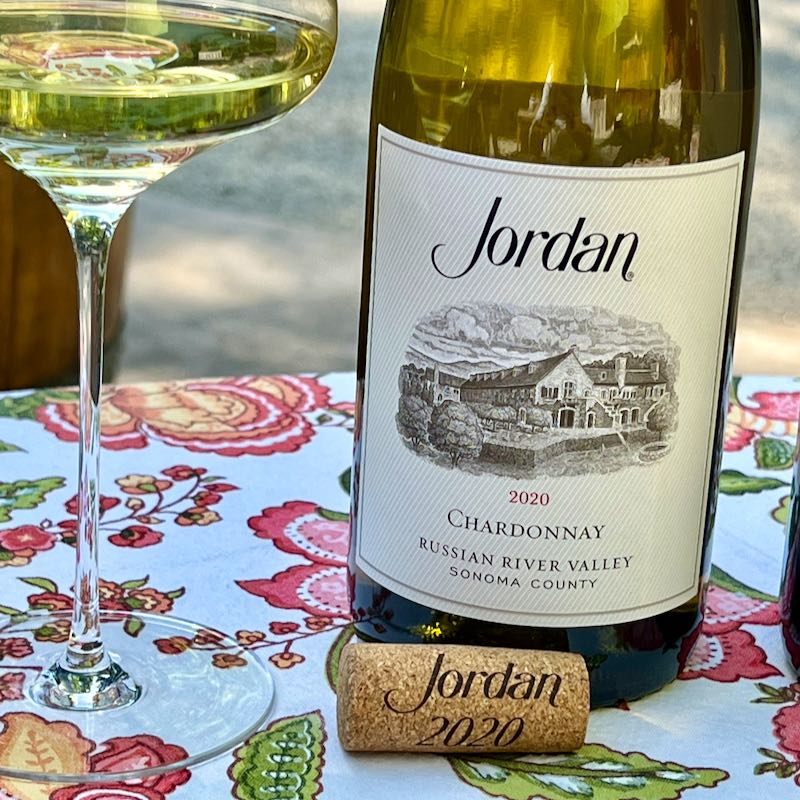 2020 Jordan Chardonnay, Russian River Valley, Sonoma County — medium yellow with generous aromas of struck match followed by citrus and toasty notes in the background. Flavors are citrusy with stony minerality and mouthwatering acidity. The finish is medium+ in length and the body is barely medium. 13.7% abv. SRP $40
This vintage has more nerve and energy than past vintages of Jordan Chardonnay. It is lively, stony and so sippable, but with plenty of complexity. I confess to sipping a glass recently as I prepared halibut poached in tomatoes, carrots, onions and oregano before taking that glass to dinner. What a beautiful pairing. That's the thing about Jordan wines…they love food.
2020 Chardonnay includes 17 vineyard blocks sourced from six growers. Fermentation took place in French oak and stainless steel tanks (46%). Limited bâtonnage (6 weeks) and only partial malolactic fermentation (28%) keep this wine aromatic and lively. The wine aged on the lees for four months and and spent 5 1/2 months aging in new French oak.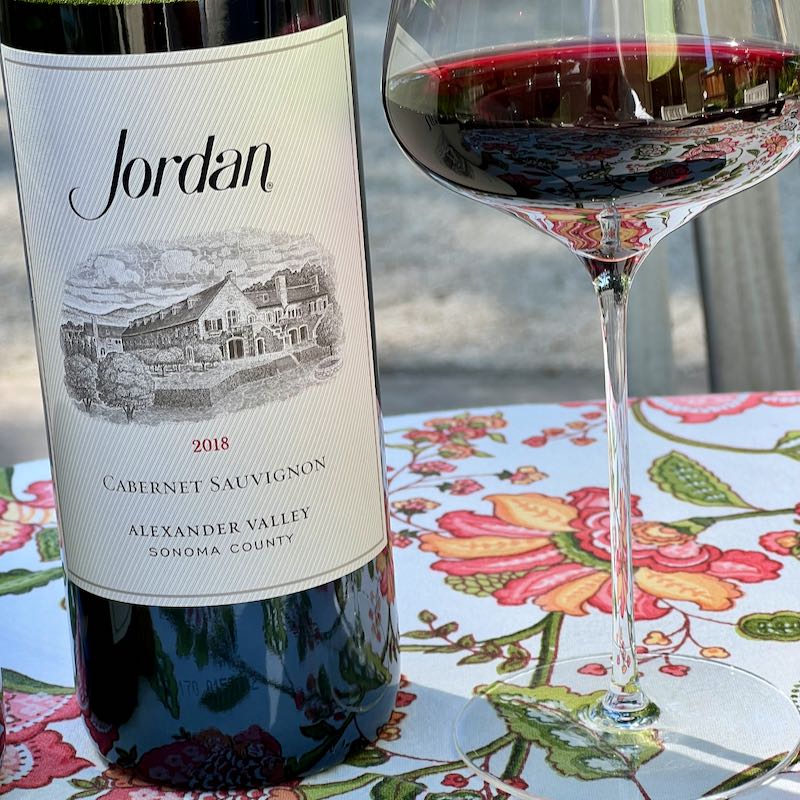 2018 Jordan Cabernet Sauvignon Alexander Valley, Sonoma County — medium ruby with aromas of bright red fruit, leather and hints of cedar. Bright red and dark fruit flavors mingle with herbal hints of roasted jalapeño, cedar, earth and dried tobacco. Tannins are fine and smooth, lingering along with flavors in a medium body and medium-length finish. 13.8% abv. SRP $60.
We particularly enjoyed the relatively lighter style of this Cabernet with its lower alcohol level and smooth tannins. It's the perfect red wine for warming weather. We have enjoyed many vintages of Jordan Cabernet with beef Bourgogne over the years and this vintage would be no exception. For the ultimate high-low pairing consider pairing this elegant Cabernet with a grilled lamb burger.
The 2018 Cabernet Sauvignon is 80% Cabernet Sauvignon, 11% Merlot, 7% Petit Verdot and 2% Malbec sourced from 87% Alexander Valley, 10% Mendocino County, 3% Dry Creek Valley. Oak aging: 100% French oak for 13 months; 35% new and 65% one-year-old barrels.
Congratulations to Jordan Vineyard & Winery on 50 years of winemaking. Well done!
Cheers!