Since 2007 Davis Bynum Winery has been a member of the family of wines owned by Rodney Strong Wine Estates. By the time Davis Bynum sold his winery to Rodney Strong it had a well-established reputation for Pinot Noir and Chardonnay from the Russian River Valley. Today Rodney Strong winemaker Greg Morthole has the responsibility of carrying on Davis Bynum's legacy of quality.
The focus at Davis Bynum continues to be Russian River Valley Pinot Noir and Chardonnay along with Sauvignon Blanc. The range also includes single-vineyard wines. Today we are sipping a selection of mostly single-vineyard wines, which we received as tasting samples.
In reading about Davis Bynum the man, I came across an article in The Press Democrat that details how Mr. Bynum came to leave his profession as a journalist and start his own winery. He is credited with making the Russian River Valley's first vineyard-designated Pinot Noir by putting both the region, yet to be declared an AVA, and Rochioli Vineyard on the bottle. He was a doer and early among those who appreciated the potential of Russian River Valley Pinot Noir. Mr. Bynum passed away in December 2017 at the age of 92.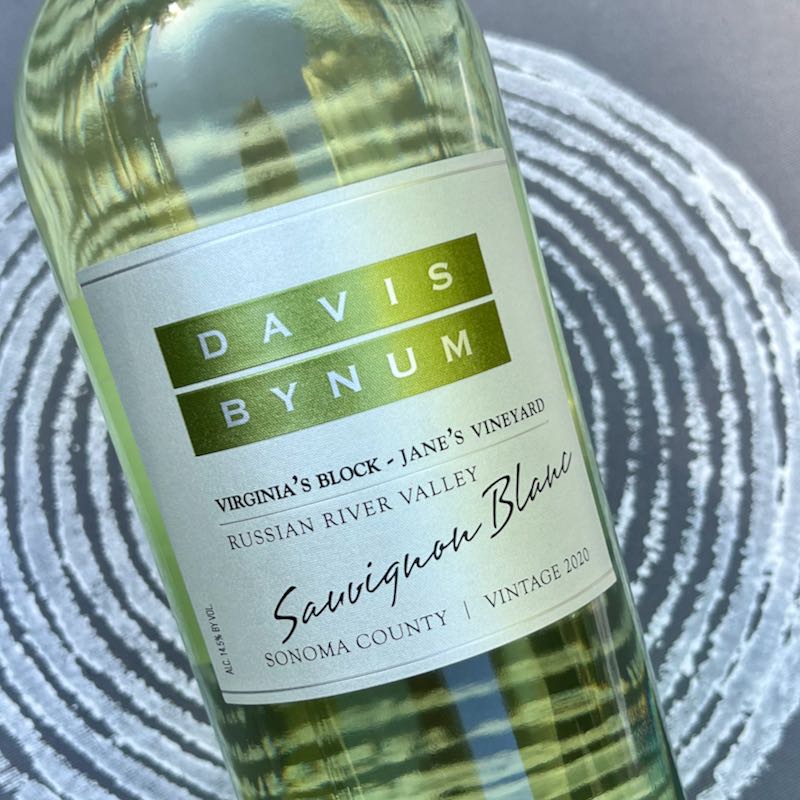 2020 Davis Bynum Virginia's Block Jane's Vineyard Sauvignon Blanc, Russian River Valley, Sonoma County — pale yellow with generous aromas and flavors of cut grass, fresh herbs and guava with citrusy acidity and a citrus pith finish. 14.5% abv. SRP $25
The 132-acre Jane's Vineyard is planted to a variety of Pinot Noir clones and five acres of Sauvignon Blanc named Virginia's Block (after Davis Bynum's second wife.) According to the winery, "This block has stony and clay based soils made of shallow, fast draining Huichica loam. This small area tends to enjoy the very best of the iconic local climate; never too hot during the day, and consistently chilly at night."
The Sauvignon Blanc grapes were lightly pressed and settled overnight before being inoculated with yeast and fermented in a combination of Acacia puncheons, two-year-old French oak barrels and stainless steel drums. The wine did not go through malolactic fermentation. It's lively and perfect for sipping on a warm afternoon.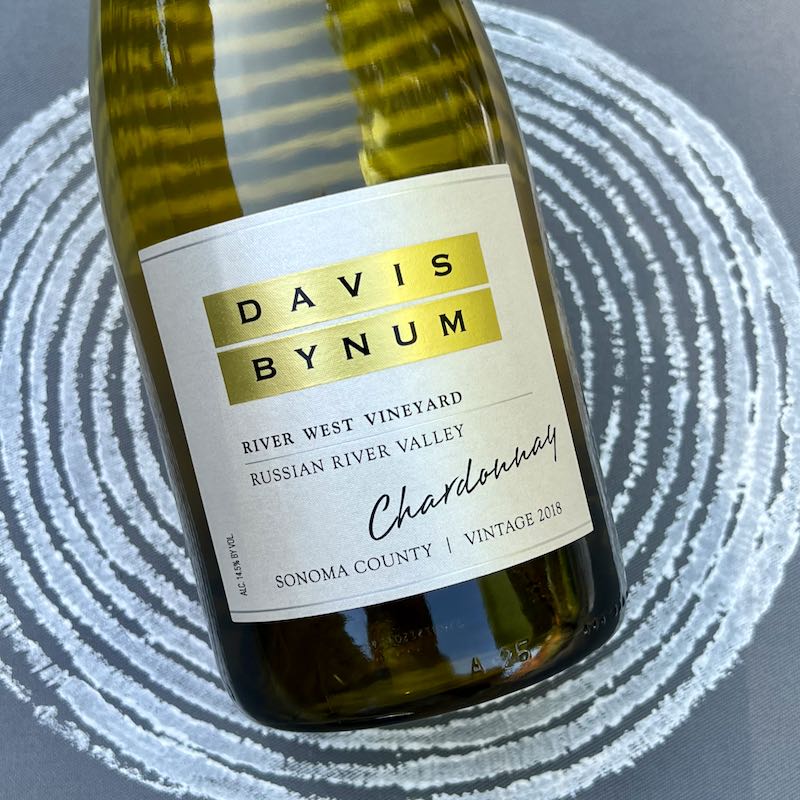 2018 Davis Bynum River West Vineyard Chardonnay, Russian River Valley, Sonoma County — light yellow in the glass with toasty, citrusy aromas that are echoed in the flavor profile. The wine is a bit round in the mouth with bright acidity. Additional flavors of stone fruit and pears develop as the wine warms and spice lingers on the palate. 14.5% abv. SRP $25
River West Vineyard is located in the Middle Reach "neighborhood" of the Russian River Valley and is home to 87 acres of Chardonnay comprised of six clones planted in two soil types.
Chardonnay from this site, a blend of clones 15, 76 and Spring Mountain, yields abundant acidity that is tempered by fermentation in French and Eastern European oak barrels. The wine goes through malolactic fermentation, lees aging and bâttonage. Plenty of acidity and ample fruit flavors supported by oak flavors make this Chardonnay the perfect choice for appetizers or a meal.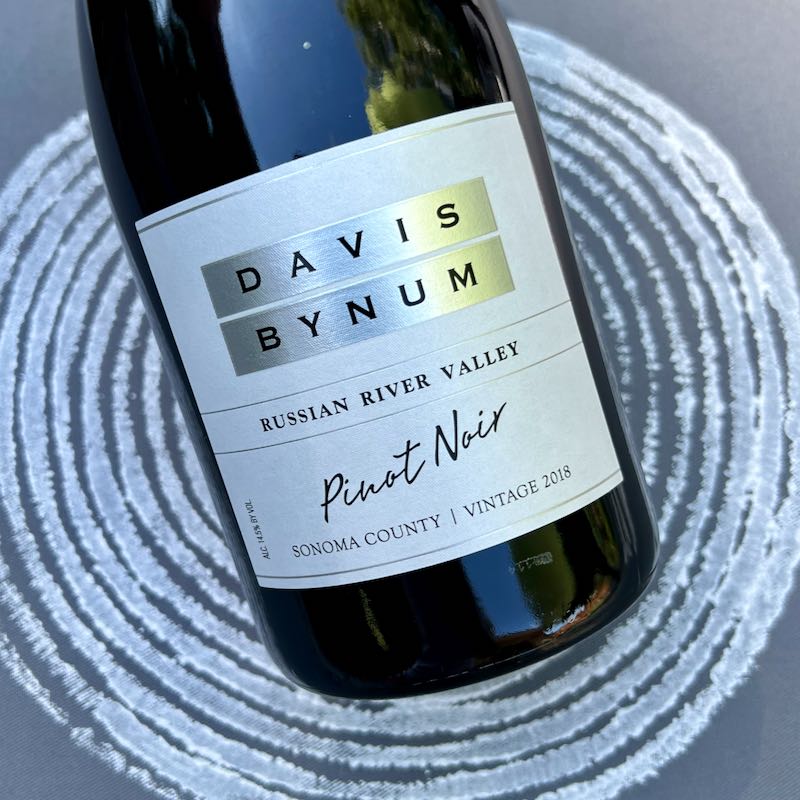 2018 Davis Bynum Pinot Noir, Russian River Valley, Sonoma County — translucent ruby with generous aromas of earth, blackberries and coffee. Flavors follow along with dark cherries and raspberries a bit of smoke, juicy acidity and smooth tannins in a barely medium body. 14.5% abv. SRP $35
This Pinot Noir is sourced from two neighborhoods in the Russian River Valley: the warmer Santa Rosa Plains (Jane's Vineyard) and the cooler Green Valley (Dutton Lorenzo, Dutton Gregori, Dutton Barron Vineyards.) Each vineyard block was vinified separately and aged for 13 months in French and Hungarian oak barrels, 22% new.
Layers of fruit flavor with earthy notes and coffee flavors are complex. Although this Pinot Noir would be delicious now, I would save it for a chilly evening and a fireside meal.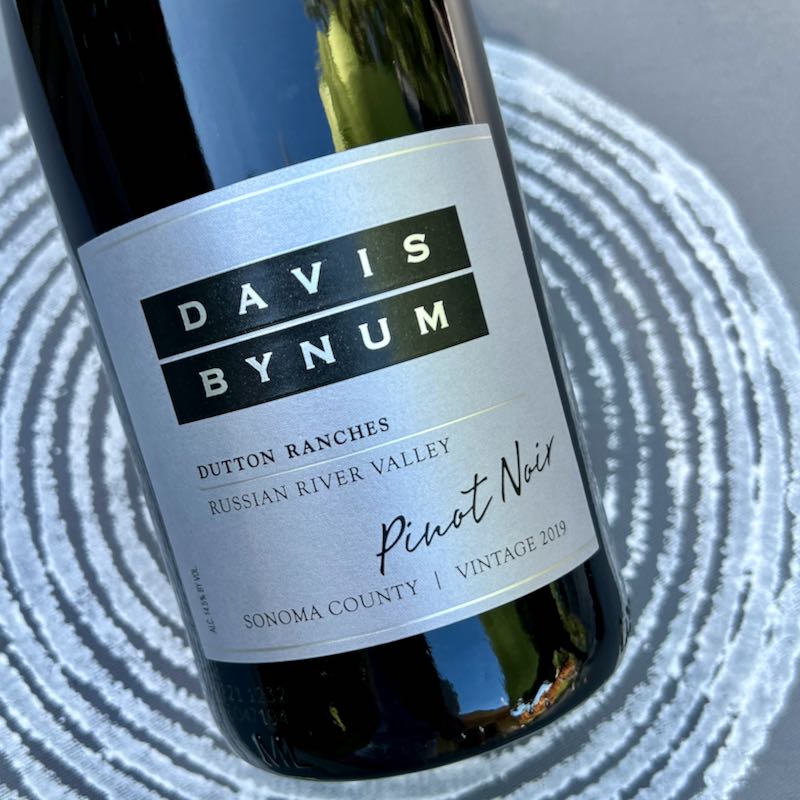 2019 Davis Bynum Dutton Ranches Pinot Noir, Russian River Valley, Sonoma County — translucent ruby with aromas of red fruit and earth. Bright red fruit flavors of raspberries, red cherries, dried cranberries blend with earthy notes, lively acidity and smooth tannins. The body is barely medium and the finish is medium+ in length. 14.5% abv. SRP$55
The Dutton Lorenzo Vineyard located in the Green Valley of Russian River Valley AVA just south of Forestville. This part of the Russian River Valley is consistently cooler and characterized by Goldridge sandy loam soil. Fermentation took place in puncheons followed by aging for 14 months in European oak barrels, 50% new.
Lively red fruit flavors and ample acidity give this Pinot energy. It's delicious slightly chilled and will be a refreshing red wine choice all summer long.
Davis Bynum is just one of several members of the Rodney Strong Wine Estates family owned by Tom Klein. Justin Seidenfeld is Senior Vice President of Winemaking & Winegrowing and winemaker for Rodney Strong Vineyards. Davis Bynum operates as a winery within a winery with Greg Morthole as winemaker. Over the years we have told the story of Rodney Strong Wine Estates several times through tastings of wine from Rodney Strong Vineyards and UPSHOT, another RSV family member. There is a wine for most every palate among these wines.
Cheers!