We have had the good fortune of meeting Alta Colina's father-daughter team of Bob and Maggie Tillman twice. When we first met in early 2020 when Molly Lonborg had just assumed winemaking responsibilities from Bob. It is clear to us from both virtual conversations that they all take winegrowing and winemaking very seriously. It is also clear they take having fun just as seriously.
During our most recent conversation with Bob, Maggie and Molly we had the opportunity to taste three current-release wines, which they sent to us as tasting samples. The wines confirmed the same high standard as when we first tasted them in 2020.
Here's What You Need to Know
Alta Colina is Bob Tillman's retirement project; a project dedicated to Rhone-style wines because Bob has a weak spot for Rhone varieties. He started with dirt, 130 acres of dirt, in 2003. The acreage encompasses two hilltops, which had been cleared for a prior cattle operation, and wild, rolling hills covered with oak trees. Bob is proud to note he didn't need to remove any trees to plant his vineyards.
The estate is located in the Adelaida District of Paso Robles, about 16 miles from the ocean as the crow flies. 31 acres are planted to four red and four white Rhone varieties. Adelaida District is the wettest of Paso's sub-regions, but soils are thin and the vines are still water stressed. The elevation is 1,750 feet above sea level at its highest, which translates to small berries with a high skin-to-flesh ratio resulting in flavorful fruit with abundant tannins. And the hilly property offers varied exposures and slopes, which gives Molly a variety of flavor profiles to blend into the wines.
Syrah is the largest planting, followed by Grenache, Mourvedre, Viognier, Petite Sirah, Marsanne, Grenache Blanc and Roussanne. Molly is a very hands-on winemaker. She tries to get into the vineyard every day. As she puts it, she controls the winemaking process "from berry to bottle."
About one-third of the estate grapes are sold to other wineries and Alta Colina's annual production is about 3,500 cases. Molly was happy (and astonished) when Bob told her there were no fixed production volumes for each of the wines she makes. He told her to just make the best wines their vineyards can give them. And the spirit of experimentation is alive and well at Alta Colina — Pet Nat (pétillant naturel), carbonic Grenache and foot-tredding anyone?
Bob freely admits he didn't know anything about farming when he started, but he did know he wanted to farm organically and has done so from the beginning. He also follows no-till practices in the vineyard. And Bob has embraced technology to help him monitor and reduce water use in the winery and the vineyard.
When asked about organic certification, Bob just rolled his eyes and essentially said no way. He's done with certifications – he had enough of that before retirement and isn't inclined to jump through the hoops. Alta Colina is his project and he will make the rules, thank you very much. He told us all of this while smiling and laughing, of course. The team is close-knit, take their jobs very seriously and have a great time doing so.
Let's Taste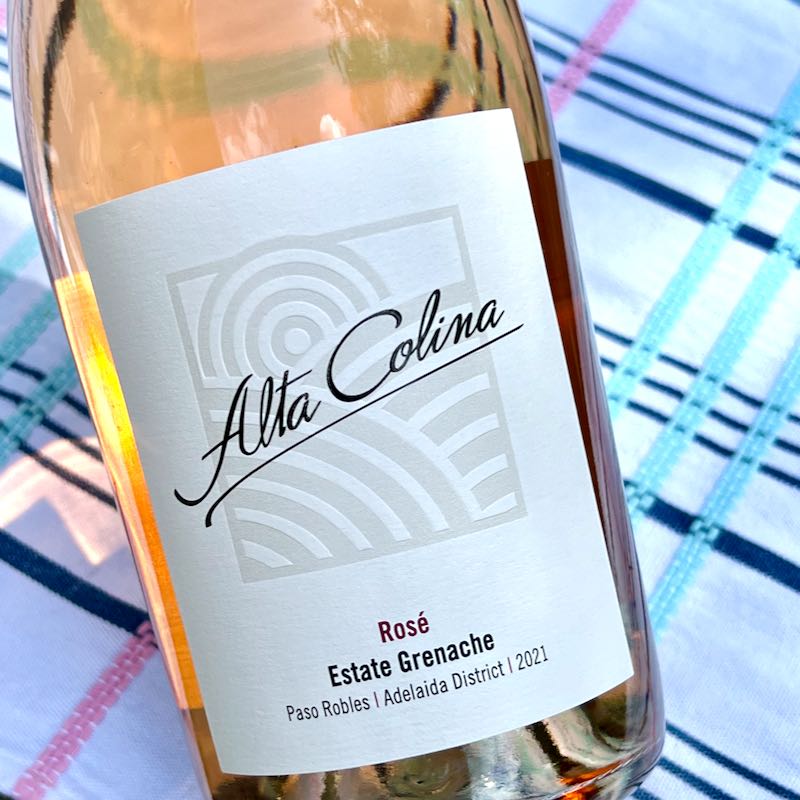 2021 Alta Colina Estate Grenache Rosé, Adelaida District, Paso Robles — delicate coppery pink with generous aromas of roses, citrus and ripe melon. Flavors follow with ripe berries, pears, citrus, melon and roses. Juicy acidity keeps the flavor profile light and provides a clean finish. 13.8% abv. SRP $35
Honestly, the aromatics are so beautiful I almost forgot to taste it. Almost. It is a charmer, tastes dry and has a clean, flavorful finish. 100% Grenache is farmed to make rosé, i.e. it's picked early to preserve acidity making additions during the winemaking process unnecessary. The Grenache was half whole-cluster pressed direct to stainless steel and half foot-trodden with overnight skin contact before going into stainless steel. This rosé is lovely to sip on its own or pair it with the grilled protein of your choice over a bed of lettuce with a blue cheese crumble.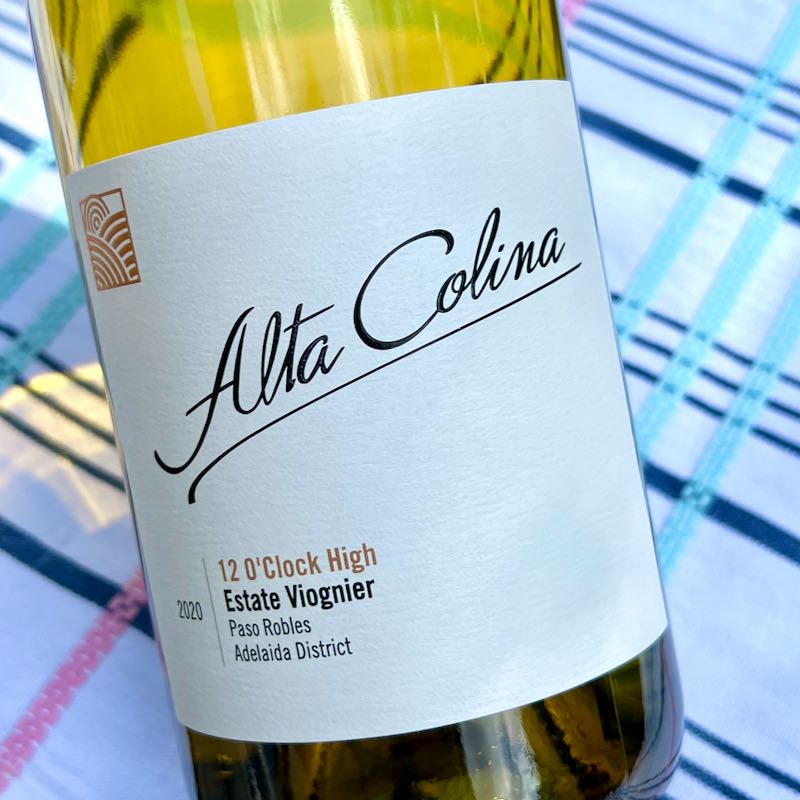 2020 Alta Colina 12 O'clock High Estate Viognier, Adelaida District, Paso Robles — medium yellow with generous aromas of ripe melon, white flowers and citrus. Vanilla and toasty flavors of oak are layered over floral, citrus and melon flavors. The body has a bit of weight and roundness with bright acidity and a very long finish. 14.2% abv. SRP $42
This is a serious Viognier, and 100% Viognier. The oak aging (16 months in barrel) adds complexity without stepping all over the beautiful aromatics of Viognier. The goal with this wine is to make a Viognier with a bit of class and style. Give it some time to unwind itself and prepare a meal of roasted halibut and sautéed chard to enjoy with it. Molly is very proud of this wine from her first vintage at Alta Colina.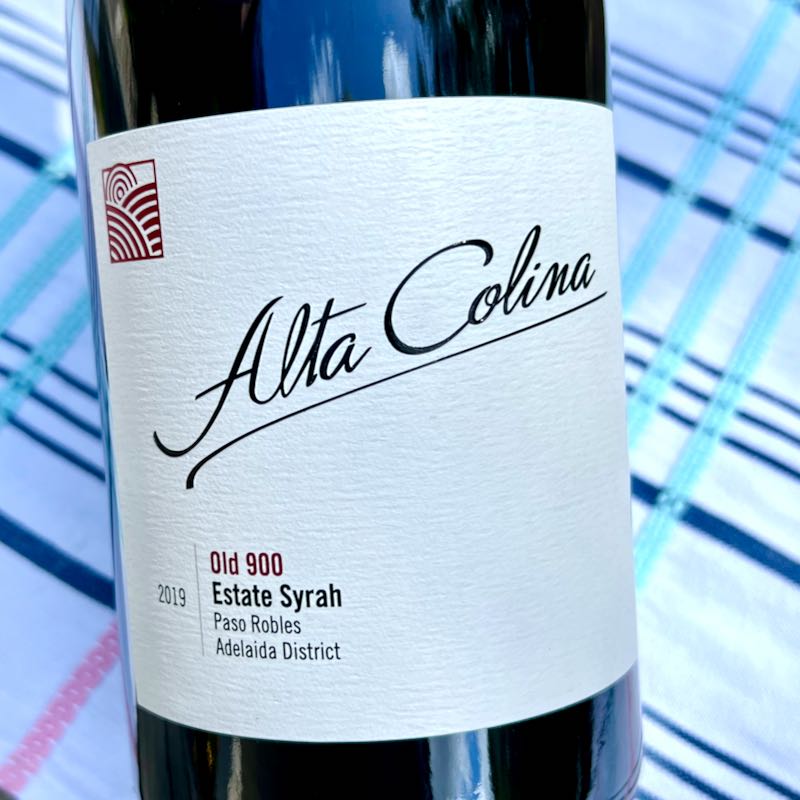 2019 Alta Colina Old 900 Estate Syrah, Adelaida District, Paso Robles — dense ruby with generous aromas of mixed dark berries. Flavors are a fresh combination of dark and red berries with lively acidity, smoke and bacon fat. Vanilla lingers on the finish along with berry flavors. Tannins are drying and substantial, but fine in a moderately long finish. 14.8% abv. SRP $64
Peter said this wine makes him think of a Northern Rhône Syrah. The flavors are complex and layered, but not too ripe. The blend is 90% Syrah, 5% Petite Sirah, 5% Viognier. The Syrah is sourced from the Old 900 vineyard, a north-facing vineyard that is planted entirely to Alban Clone 1 . (If you have the time and interest, check out the about and our farming pages on the Alban Vineyards website or watch this video featuring John Alban on YouTube.) The wine aged for 20-22 months in barrel and one year in bottle before release. Extended aging before release is one of the tools Molly uses to tame those tannins. All Alta Colina wines are held until they are ready to drink. If you're hankering for a grilled ribeye, this is your wine pairing. The abv is a bit higher than we prefer, but the finish is not hot.
All of the wines we received were sealed with natural corks and without wine bottle foils, keeping the packaging simple. That's good from a sustainability perspective; the bottles are real heavyweights, however.
Alta Colina has a tasting room complete with a picturesque outdoor deck. If it's a vineyard stay you're after, consider The Trailer Pond – a collection of five vintage travel trailers located along the edge of a reservoir among the vines. It sounds pretty perfect, especially when you consider the surrounding vines are farmed organically.
Cheers!