Hawk and Horse Vineyards is situated in California's Red Hills Lake County AVA. Seven Lake County AVAs surround Clear Lake, one of the oldest geological lakes in North America. The Mayacamas Mountains lie to the west of Clear Lake and the Vaca Mountains to the east. Complex soils in the AVA were formed by a combination of volcanic and tectonic forces.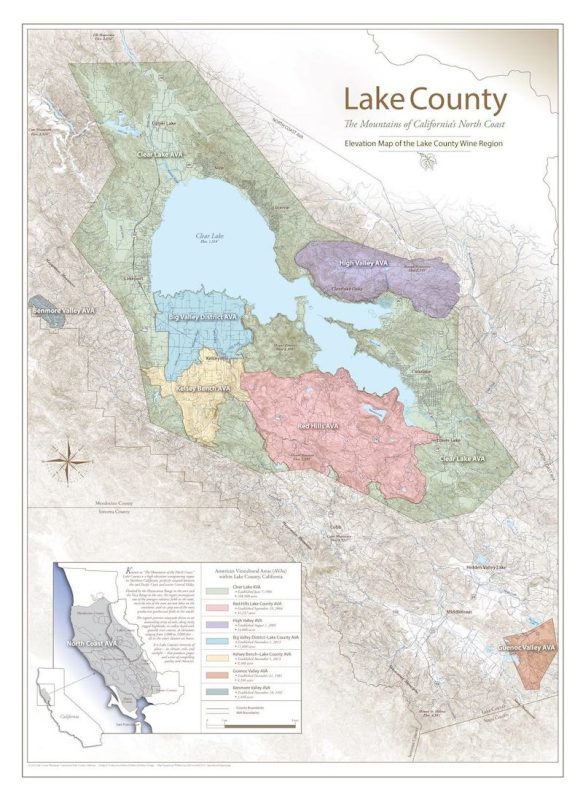 The Red Hills AVA is named for its distinctive red, volcanic soils and rises along the southwest edge of Clear Lake. The surface elevation of Clear Lake is 1,322 feet above sea level and vineyard elevations range between 1,350 to 3,700 feet in the AVA.
The 1,340-acre ranch that is home to Hawk and Horse Vineyards sits at between 1,800 and 2,200 feet above sea level. In addition to only 18 acres of vines, the ranch is home to a few horses and cattle. The name comes from the abundant wildlife on the ranch, notably Red Tailed Hawks, and the horses that are important to the families who own the ranch and vineyard. The winery was founded in 1999 by David Boies, Christopher Boies and Mitch and Tracey Hawkins.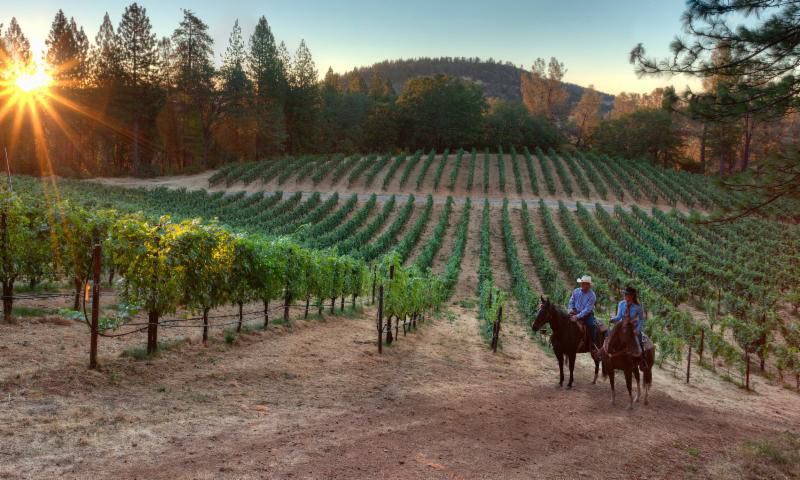 Fifteen acres of Cabernet Sauvignon were planted in 2001 followed by one acre each of Petite Sirah, Cabernet Franc and Petit Verdot in 2007. The winery's first release was their 2004 Cabernet Sauvignon. From the beginning the vineyard has been farmed organically and was certified organic by CCOF in 2004. Biodynamic certification by DEMETER followed in 2008.
We are always most excited to taste biodynamic wines both because they generally have an energy and purity to their flavors (yes, I admit this is a subjective opinion, but we have come to appreciate biodynamic wines by tasting them), and also because we choose to support viticulture that is friendly to the environment and safer for those who work in the vineyard. As a result, when we visit wineries and purchase wines, we primarily look for organic and biodynamic wines. Similarly, when offered sample wines for review, as with these wines, organic and biodynamic wines are always the ones we are most curious to explore.
Let's Taste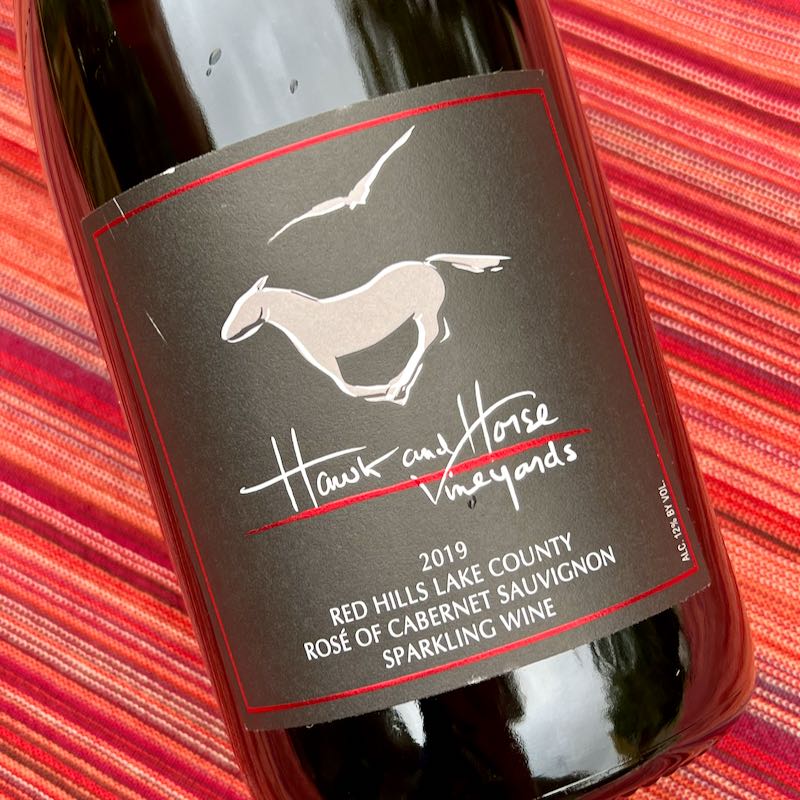 2019 Hawk and Horse Rosé of Cabernet Sauvignon Sparkling Wine, Red Hills Lake County — rose gold with generous bubbles and aromas of black berries and hints of toast. Flavors include raspberries, cherries and blackberries with nice acidity and precise bubbles. The finish is clean and dry. 12.4% abv. SRP$ 60. Only 130 cases made.
The bubbles are as generous as the flavors. It's difficult to sip just one glass because its so flavorful. We appreciate the low alcohol level, the precise bubbles and the clean, fresh finish. 100% Cabernet Sauvignon was fermented in the bottle (as in Champagne). Lovely to sip on its own or with appetizers or a meal.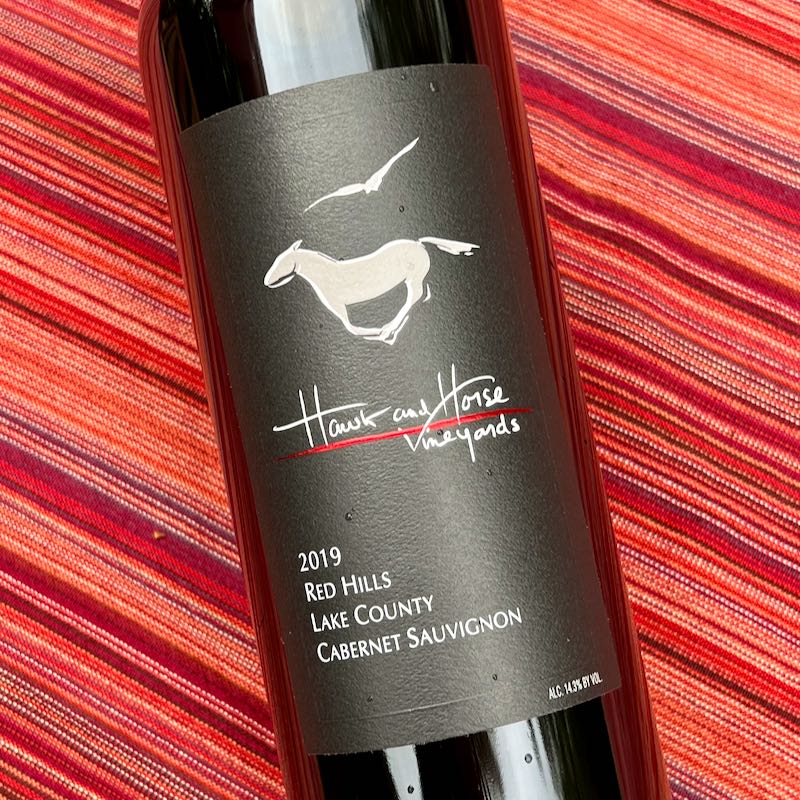 2019 Hawk and Horse Cabernet Sauvignon, Red Hills Lake County — medium ruby with aromas of dried cherries, blackberries, blueberries and dried herbs. Flavors include blackberries, dark cherries, currants, cedar and lingering dried tobacco. Tannins are fine but grippy in a medium body. 14.3% abv. SRP $75. Only 1800 cases made.
Delicious fruit flavors with cedar and dried tobacco taste elegant and complex. Firm, but fine tannins lend texture. This wine just gets better with time in the glass, though it was excellent upon being poured as well. The blend is 98% Cabernet Sauvignon, 2% Petit Verdot with aging in French oak. Pair this Cabernet with roasted pork and root vegetables or beef Bourguignon.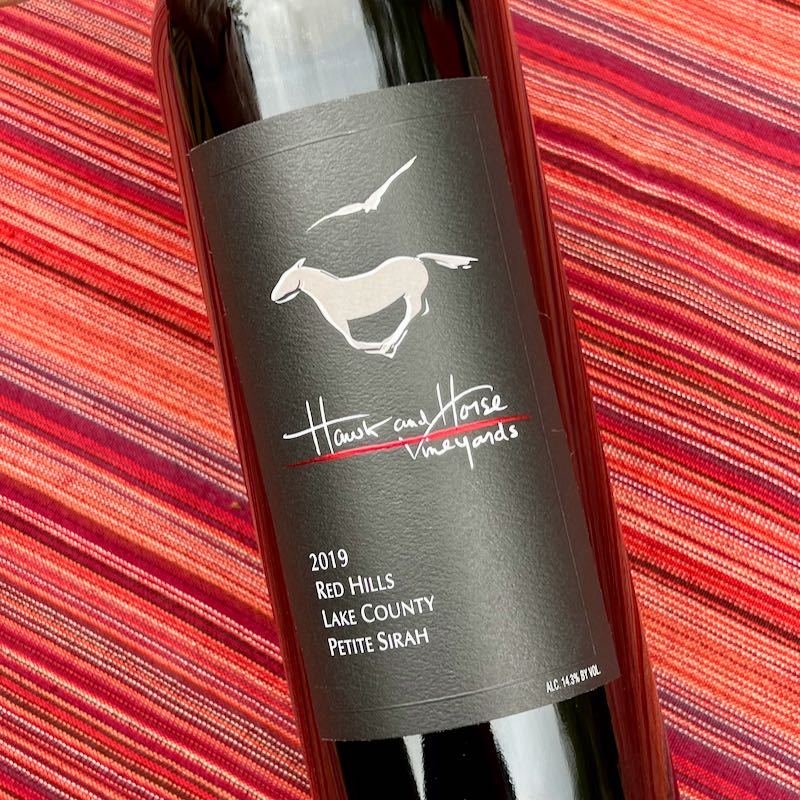 2019 Hawk and Horse Petite Sirah, Red Hills Lake County — dense ruby with mainly dark fruit aromas and baking spice. Flavors include blackberries, blueberries and vanilla. Over time the vanilla flavors dissipate and the lively fruit flavors come forward along with alfalfa hay and cedar. Tannins are gauzy and fine in a medium body. 14.3% abv. SRP $65. Only 260 cases made.
Give this Petite Sirah some time in the glass and you will be rewarded with delightful fruit flavors. It's a charming wine with great structure and depth of flavor. 100% Petite Sirah aged in French oak. Pair this wine with red wine-braised short ribs. Oh, my mouth is watering.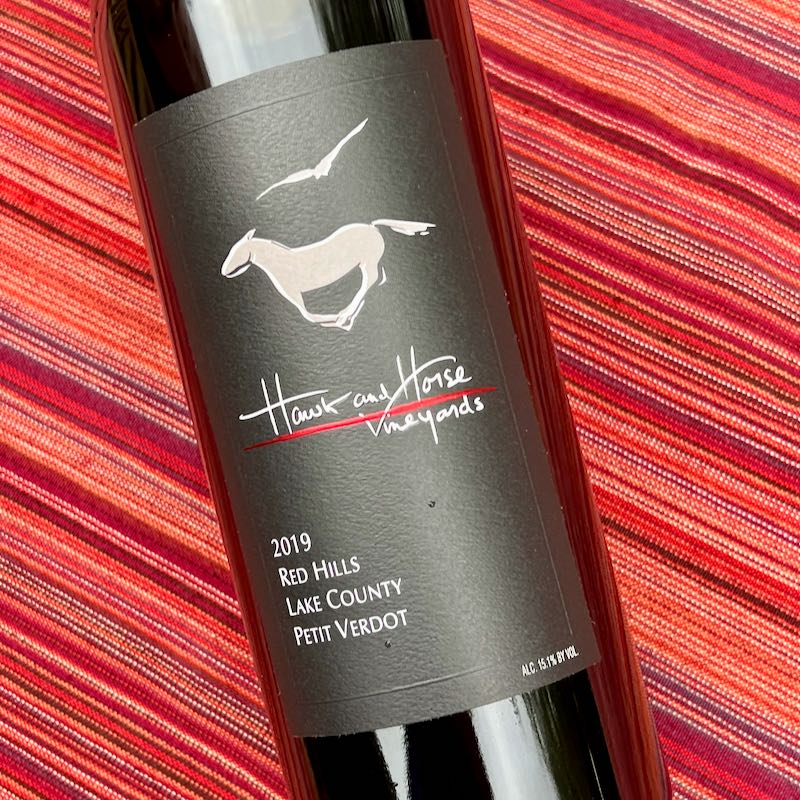 2019 Hawk and Horse Petit Verdot, Red Hills Lake County — dark ruby with violet at the rim. Red fruit and cedar flavors are generous followed by mainly red fruit flavors of very ripe raspberries and plums backed by cedar. Tannins are firm and grippy in a medium body with a warming finish. 15.1 abv. SRP $65. Only 110 cases made.
This wine looks youthful in the glass, but is very pulled together. 100% Petit Verdot aged in French oak. It's the biggest and ripest of the three red wines and just begging to be paired with a grilled steak and baked potato.
All of these wines have lively acidity and plenty of fruit flavor. They are well balanced with oak aging that doesn't interfere with the flavors of the grapes. Tannins are ample but well integrated with the generous flavor profiles. As temperatures cool and we move into fall and winter, these are exactly the red wines you will want to sip with a hearty meal. Begin your evening with a sip of the sparkling rosé.
Something else to love about these wines: ingredient labeling on the bottle. "Ingredients: Organic Cabernet Sauvignon Wine Grapes and sulfites." That's it. Nothing to hide here. I could do without the massively heavy wine bottles, however. More than quality, to me, they indicate a less sustainable choice than lighter bottles.
Our first taste of Hawk and Horse wines was the 2017 vintage. Sadly, no wines could be made in 2018 due to wildfires in Lake County that summer, but this 2019 vintage is delicious. These and other wines are now available for purchase on the Hawk and Horse Vineyards website.
Cheers!