Today we are pleased to share a group of wines we received as tasting samples that are made by Hawk and Horse Vineyards in the Red Hills AVA of Lake County. The Hawk and Horse vineyards are certified organic by CCOF and Demeter-certified Biodynamic, which make them the perfect wines to share on Earth Day.
Meet Hawk and Horse Vineyards
Hawk and Horse Vineyards is located on what was a dilapidated horse farm when David Boies purchased the property in 1982. It had been home to El Roble Grand, California's oldest valley oak tree (estimated to be between 500 and 800 years old) until it was felled by a storm in 1952. Boies had a vineyard in mind when he purchased the property and was drawn to its elevation, red volcanic soils, water sources and the isolated, rugged beauty of the location.
Hawk and Horse is very much a family operation. In 1999 Mitch and Tracey Hawkins assumed the daily management of the property and began planning the vineyard (Boies is Tracey's step-father.) Mitch, who grew up in a ranching family, has become a knowledgeable organic and biodynamic viticulturist and is the vineyard manager. Tracey has a keen interest in horses in addition to background in winemaking and wine marketing. She assists consulting winemaker Richard Peterson, a specialist in volcanic-terroir wines, in the winemaking process. Christopher Boies, who is a partner along with his father in Boies, Schiller & Flexner LLP, is also part of the Hawk & Horse partnership and has an active role in finance, management and winemaking decisions.
Fifteen acres were planted to Cabernet Sauvignon in 2001 and the first vintage was 2004. One acre each of Cabernet Franc, Petite Sirah and Petit Verdot were planted in 2007. The vineyard was certified organic by CCOF in 2004 and Demeter-certified Biodynamic in 2008. The vineyard has only ever been farmed organically or biodynamically. It is a pristine location with chemical-free farming; you can't get better than that.
The 1340-acre ranch sits at between 1800 and 2200 feet above sea level with slopes of 15% to 85%. It is home to horses, Scottish Highland cattle and abundant wildlife. The cattle are an essential part of biodynamic farming and most of the biodynamic preparations used in the vineyard are made on the ranch.
Red Hills AVA
Red Hills AVA is a sub-AVA of the larger Lake County AVA, which is part of California's larger North Coast AVA. According to the Lake County Winegrape Commission, the first vineyards were planted there in the 1870s. The Lake County AVA surrounds Clear Lake and sits between the Mayacamas Mountains and the Vaca Mountains. It was established in 1984 and six sub-AVAs have since been recognized. Lake County AVA is distinguished for its elevation (ranging from 1300 feet to over 3000), abundant sunshine, microclimates and soils.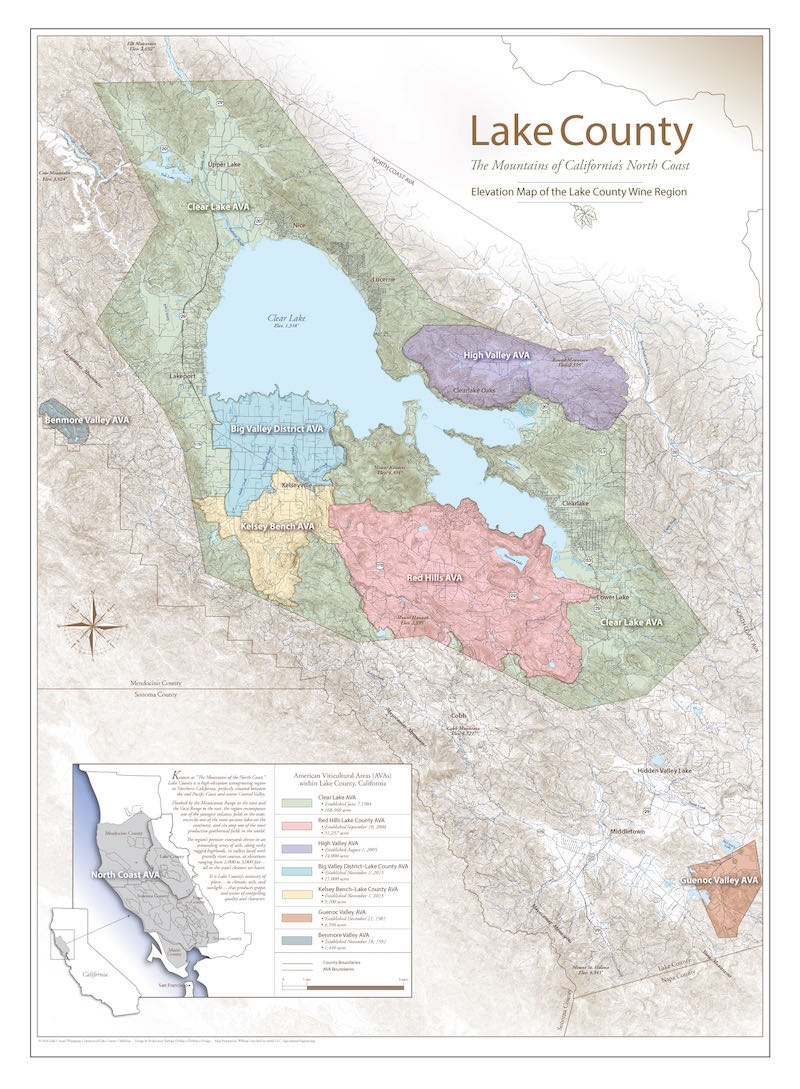 Red Hills AVA is named for the red soils that originate from nearby Mount Konocti. The young volcanic soils are well-drained, rich in black obsidian, quartz crystals and volcanic gravel content. Winters are cold and summers are warm and dry, which reduces pest pressure in the vineyards. Temperatures cool considerably in the afternoon and evening preserving good acidity in wine grapes. This recent Wine Enthusiast webinar provides more background on volcanic wines and the wines of Lake County AVA.
Let's Taste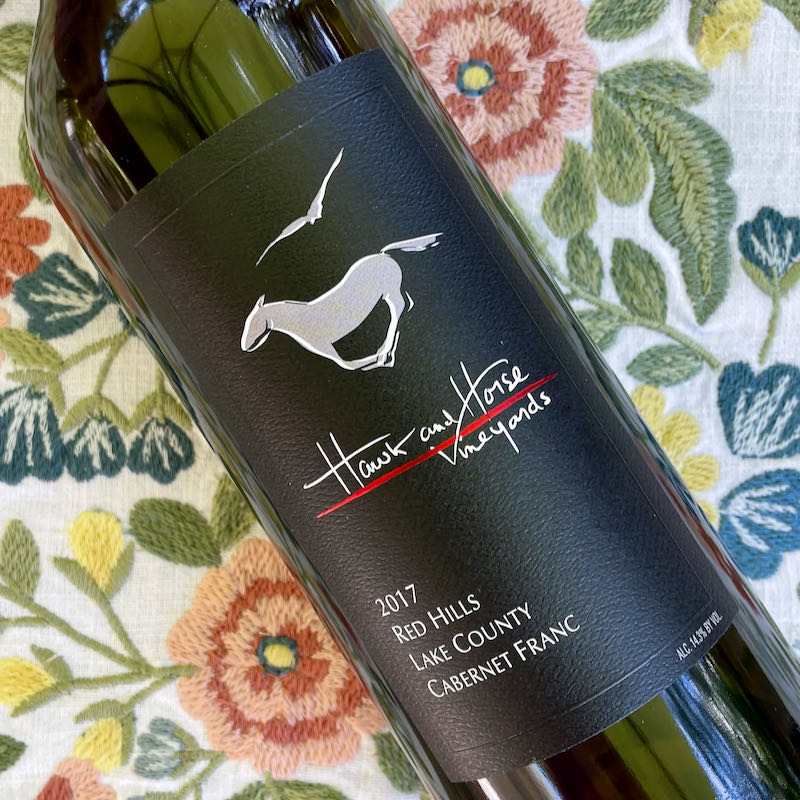 2017 Hawk and Horse Vineyards Cabernet Franc, Red Hills Lake County — light ruby (nearly translucent) with aromas of red fruit, blackberries and flowers. Flavors follow with red and dark fruit, vanilla, cedar, tobacco and coffee. Lively acidity and fine, drying tannins float in a medium body. 150 cases made. 14.3% abv. SRP $65
100% Cabernet Franc comprises this first Cab Franc bottling from Hawk and Horse. Made in 100% French oak, 40% new. It is exciting, complex and light on its feet. The first words out of Peter's mouth when he tasted this wine were, "Boy that's really tasty. I'm going to have to ration myself here."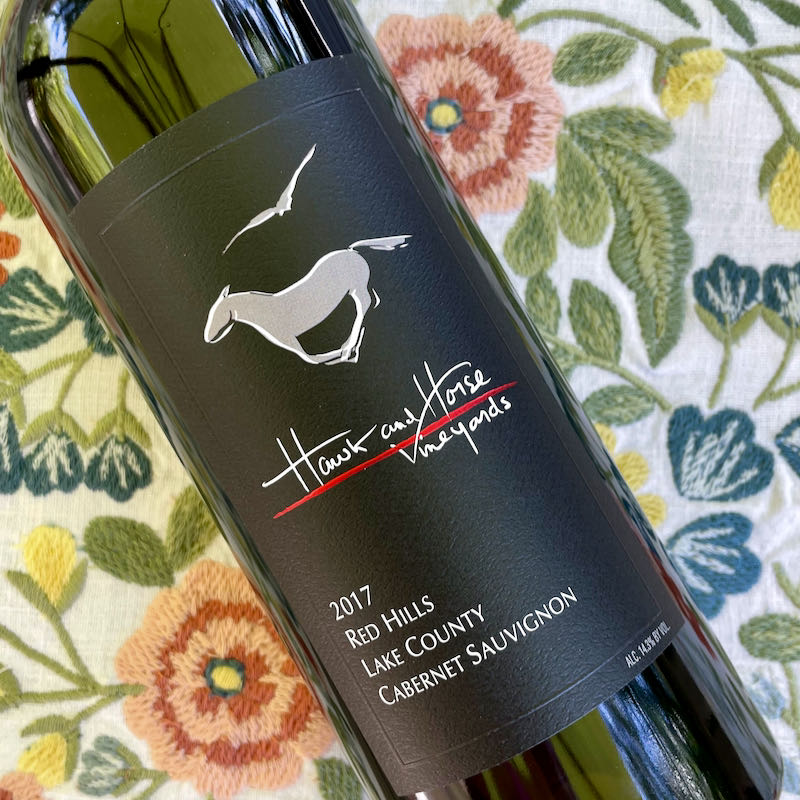 2017 Hawk and Horse Vineyards Cabernet Sauvignon, Red Hills Lake County — light ruby in the glass with aromas of cedar and red fruit. Flavors of blackberries, raspberries, dusty earth are backed by cedar. Bright acidity, drying and gauzy tannins float in a medium body. 1800 cases made. 14.3% abv. SRP $75
Only 2% Petit Verdot was added to the Cabernet. Made in 100% French oak, 80% new. The fruit flavors are pure and bright, supported by substantial but well-integrated tannins. Lovely.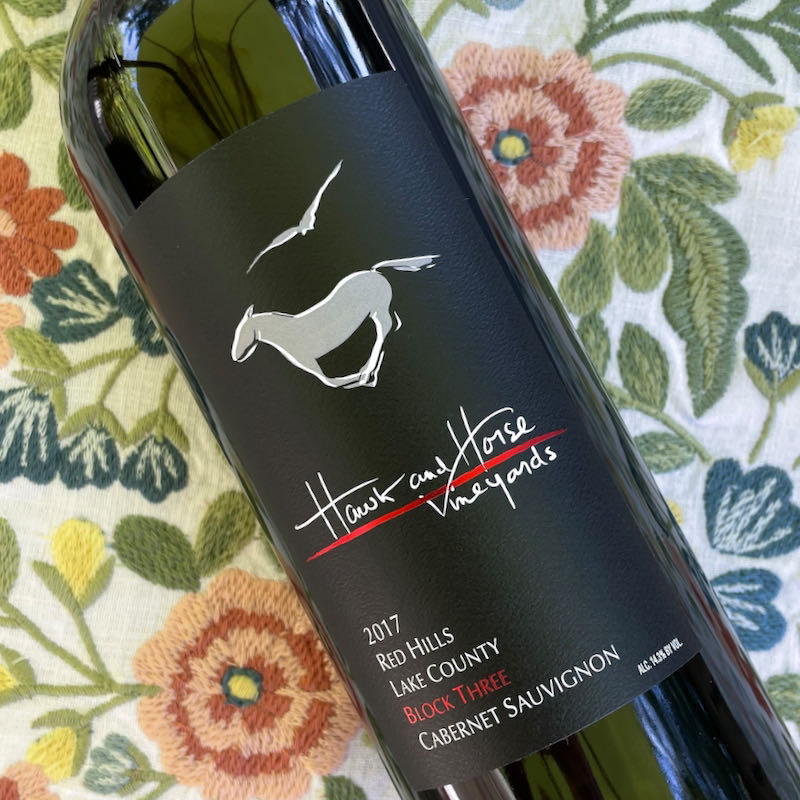 2017 Hawk and Horse Vineyards Block Three Cabernet Sauvignon, Red Hills Lake County — medium ruby in the glass with aromas of raspberries and blackberries. Flavors follow with blackberries, raspberries, a bit of leather and an intriguing thread of slate-like minerality. Lively acidity and drying, gauzy tannins are integrated with the flavors. 150 cases made. 14.3% abv. SRP $60
Flavors and textures are a bit bigger and darker, but still very balanced. The blend is 85% Cabernet Sauvignon, 10% Petit Verdot, 5% Cabernet Franc. Made in 100% French oak.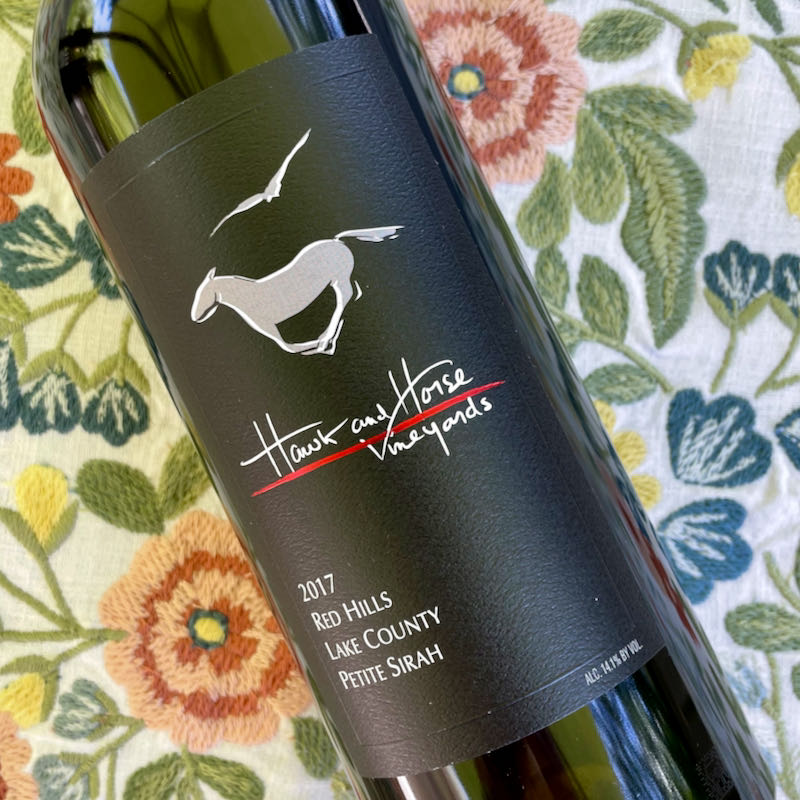 2017 Hawk and Horse Vineyards Petite Sirah, Red Hills Lake County — medium ruby with aromas of dark cherries, blueberries and blackberries. Flavors lead with red cherries, blackberries and blueberries backed by dusty earth and a hint of smoke. Once again, the acidity is lively. Tannins are drying and substantial but integrated with the flavors. 150 cases. 14.1% abv. SRP $65
All Petite Sirah, 100% French oak, 40% new. This is a Petite Sirah with complexity and balance. Definitely not too much of a good thing here, just 100% delicious.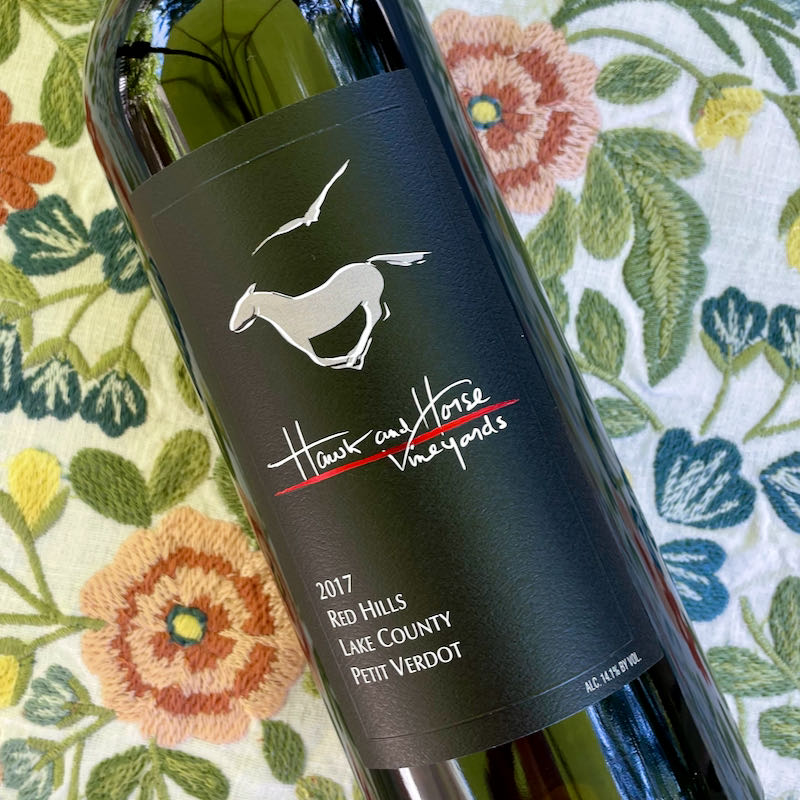 2017 Hawk and Horse Vineyards Petit Verdot, Red Hills Lake County — medium ruby in the glass with aromas of plums and dark fruit. Flavors of boysenberries, black cherries and plums. Once again, substantial, drying tannins in balance with the flavors and supported by lively acidity. 90 cases made. 14.1% abv. SRP $65
The flavor profile is darker and richer, but very balanced and lifted by the acidity. All Petit Verdot made in 100% French oak, 40% new.
These wines share a purity of fruit flavor, balance and lively acidity that make them a pleasure to sip. They are food-friendly wines made with restraint and care. Each one is delicious, but the Cabernet Franc completely charmed us.
I admit it is an unscientific observation, but most biodynamic wines I taste have an energy about them that I particularly enjoy. That energy is a combination of pure fruit expression and acidity that I find very appealing. The Hawk and Horse Vineyards team has harnessed the perfect combination of Biodynamic farming, elevation, volcanic soils and careful winemaking to create wines with that energy. Bravo!
Cheers!