ETTORE is an organic winery located in the Sanel Valley near Hopland in California's Mendocino AVA. The 64-acre estate, with 35 acres of vines, has been certified organic since 2005. Today we are tasting two wines from the 2018 vintage, which we received as tasting samples.
The Sanel Valley lies along the Russian River in the southern part of the Mendocino AVA. ETTORE's estate vineyard lies along bench lands on the western side of the valley that expose the vineyard to morning sun and afternoon shade. Plantings include Pinot Noir, Cabernet Sauvignon, Merlot, Petit Verdot and Chardonnay.
The winemaking team brings international experience to this boutique winery. Ettore Biraghi hails from Varese, Italy, northwest of Milan. Before discovering the Mendocino region, he tended vines and made wines in Switzerland. Sofia Rivier received her formal education as an agronomist at Cuyo National University, Mendoza, Argentina, but before that she learned winemaking at her family's winery also in Mendoza.
Winemaking is described as low intervention and sourced entirely from the estate's organic vineyard. Interestingly, both wines are made using the purovino® technique, which according to the ETTORE website, "adds activated oxygen and ozone to the grapes before crushing." Using the purovino® technique makes the addition of sulfur dioxide unnecessary during winemaking.
Because both wines were made without the addition of sulfur dioxide, using organically-certified grapes, and made in an organically-certified winery, they are labeled Organic Wine. When wine is made using certified organic grapes in a certified organic winery, but with the addition of sulfur dioxide (and up to 100ppm sulfites in the finished wine) the Alcohol and Tobacco Tax and Trade Bureau (TTB) permits the wines to be labeled Made with Organic Grapes.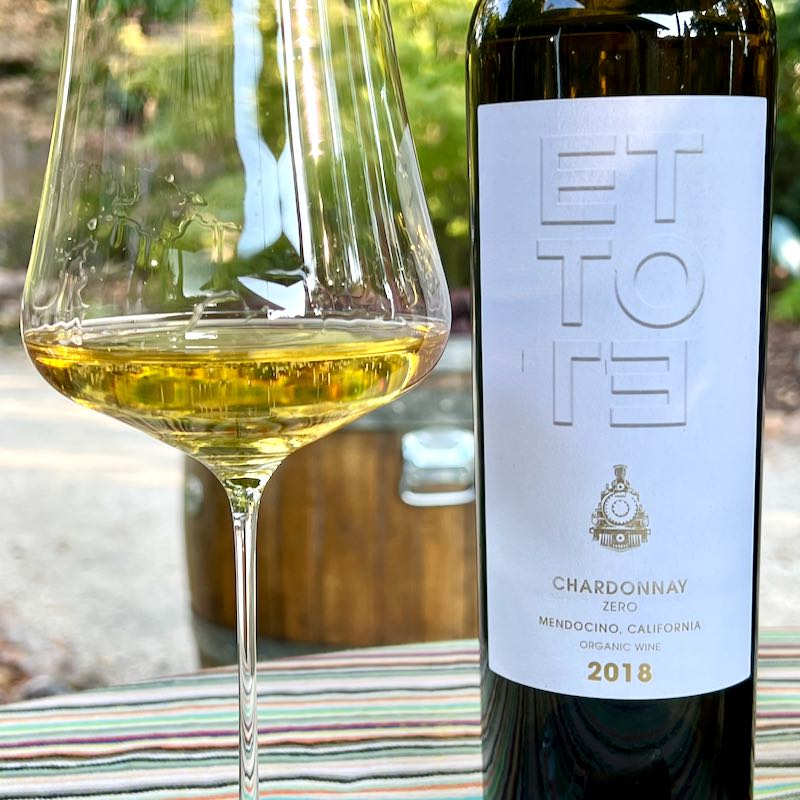 2018 ETTORE Chardonnay Zero, Mendocino, California — light golden color with generous aromas of pineapple and yellow apple. Flavors follow with yellow apple, gravelly minerality and hints of pineapple all supported by nice acidity. The finish is clean with a medium-length and hints of citrus pith. 14% abv.
The flavors are refreshing and lively with plenty of acidity. It's perfect for sipping on a warm afternoon (or even a coolish afternoon, I'm loving the cooler weather) and will accompany a meal nicely.
100% Chardonnay grown on gravelly bench land and loamy soils. 28 year-old vines. Hand picked, vinified in stainless steel, no added sulfites. Only 1,116 bottles made.
2018 ETTORE Merlot Zero, Mendocino, California — medium ruby with delicate aromas of raspberries, blackberries and leather. Flavors lead with cranberries, ripe raspberries and blackberries along with earth and anise. Tannins are very fine and drying. The body is barely medium with a medium-length finish. 12.5% abv.
This relatively light-bodied Merlot is perfect for summertime meals and will pair perfectly with grilled chicken, pizza or pasta regardless of the season. 100% Merlot, hand picked, vinified in stainless steel, no added sulfites. Only 2,364 bottles made.
2019 wines have just become available on the ETTORE website. The 2018 vintage is sold out.
Thanks to Colangelo & Partners for organizing our tasting.
Cheers!