Rodney Strong Vineyards is well known in Sonoma County and is a name recognized by many wine enthusiasts. The Russian River Valley winery has grown and matured along with the Sonoma County wine scene. The portfolio of wines made by Rodney Strong Vineyards now includes UPSHOT wines, which includes a white blend and a red blend. We received both wines as tasting samples.
Rodney Strong Vineyards began as a second career for ballet dancer Rodney Strong upon his retirement from dance. He and his wife moved to Northern California in 1959 and began making wine. They purchased bulk wine, blended it, bottled it and sold it. In 1962 Rodney purchased a vineyard in Windsor, continued making wine and in 1965 planted the first Chardonnay in what would become Chalk Hill AVA.
In 1968 Strong purchased land in the Russian River Valley, planted vineyards (he was among the first to plant Pinot Noir there) and in 1970 built a winery, now home to the Rodney Strong tasting room and lower cellar. And there was at least one more first along the way. In 1974 Rodney Strong released Alexander's Crown, the first single-vineyard Sonoma County Cabernet Sauvignon (10 years before Alexander Valley was designated an AVA.)
Eventually, Rodney Strong stepped back from winemaking, and in 1979 hired Rick Sayre as winemaker. In 1989 Strong sold his winery to Tom Klein and his family. Tom became acquainted with the winery in 1979 through his work as a management consultant and recognized its potential.
The Klein Family invested in winemaking equipment and expanded barrel storage. Quality improved steadily as did the winery's production. In addition to collecting accolades for their wines, Rodney Strong Vineyards installed solar panels, increased sustainable farming practices and in 2009 became the first carbon neutral winery in Sonoma County.
Rodney Strong sustainably farms 14 estate vineyards and produces wines from Sonoma County's top appellations: Alexander Valley, Russian River Valley, Chalk Hill, Dry Creek Valley, Knights Valley, Petaluma Gap, and Sonoma Coast. The Rodney Strong vineyards and winery are both certified sustainable by California Sustainable Winegrowing Alliance (CSWA).
In 2010 Justin Seidenfeld joined Rodney Strong as assistant winemaker and was promoted to Director of Winemaking in 2016. Greg Morthole joined the team in 2005 as Lab Director and was promoted to Winemaker at Davis Bynum in 2010. Both men were mentored by Rick Sayre, now Winemaker Emeritus.
In addition to the Rodney Strong Vineyards Sonoma County, Estate, Reserve and Single Vineyard wines, the portfolio of wines includes UPSHOT, Knotty Vines and ROWEN Wine Co.
The definition of upshot according to Rodney Strong Vineyards:
the final or eventual positive outcome or conclusion of a discussion, action, or series of events.
The UPSHOT wines are a reflection (eventual positive outcome) of winemaker Justin Seidenfeld's talent for blending approachable, complex blends. The usual blending rules are out the window with this range of wines, as you will soon see.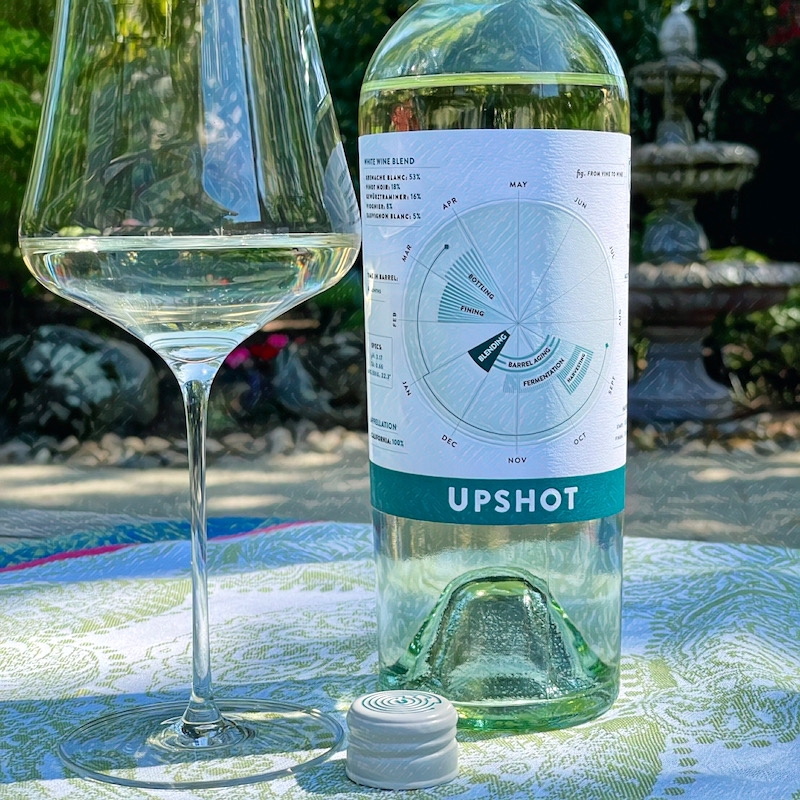 2019 UPSHOT White Blend, California — pale yellow in the glass with generous aromas of yellow peaches, ripe pears and honeysuckle. Flavors begin with stone fruit, citrus and pears with hints of dried grass. Acidity is crisp bringing balance to the fruit flavors. 13% abv. $19
This delightfully sippable wine is a blend of varieties and California appellations. The varietal composition includes: 53% Grenache Blanc, 18% Pinot Noir, 16% Gewürztraminer, 8% Viognier, 5% Sauvignon Blanc. The Pinot Noir is a big surprise. Appellation composition: 53% Paso Robles, 16% Mendocino County, 14% Lake County, 8% Monterey County, 9% Sonoma County.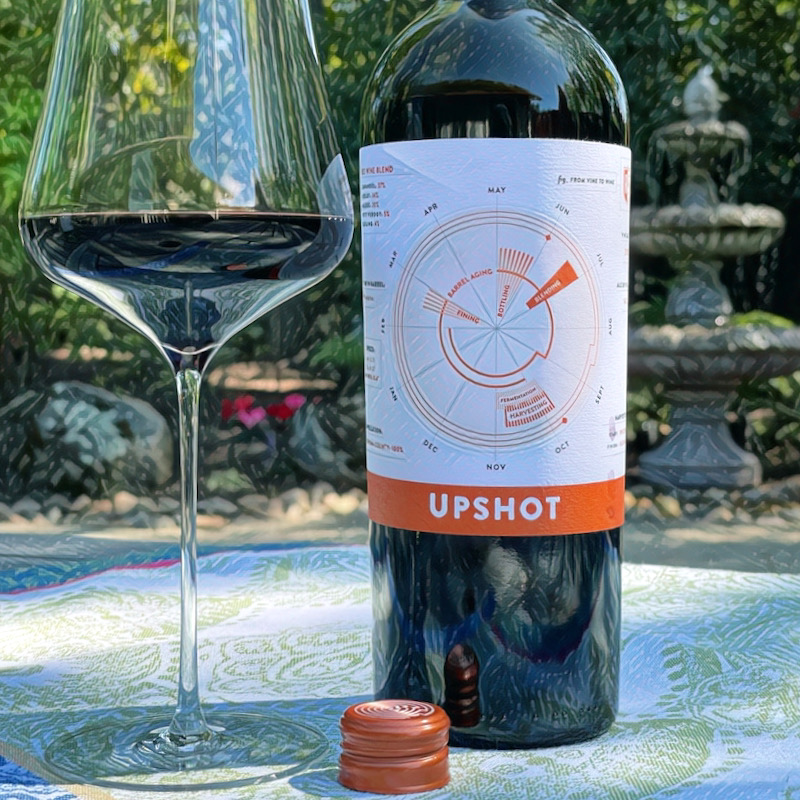 2019 UPSHOT Red Blend, Sonoma County — medium ruby in the glass with aromas of plums, baking spices, ripe blackberries and alfalfa hay. Ripe boysenberry and blackberry flavors combine with blueberry flavors and earthy bramble supported by smooth, drying tannins and bright acidity.14.5% abv. $19
The fruit flavors are very appealing in this lively blend of 37% Zinfandel, 34% Merlot, 20% Malbec, 5% Petit Verdot, 4% Riesling. Once again, there's a surprise here…Riesling. All varieties are sourced from Sonoma County.
These wines are perfect for backyard enjoyment and put me in the mood for warmer weather. Thanks to Rodney Strong Vineyards for the opportunity to share UPSHOT wines with you.
Cheers!