Rodney Strong Vineyards has recently undergone a refresh. The most noticeable change to consumers who visit the winery will be in the remodeled tasting room; to anyone who picks up a bottle of Rodney Strong wine it will be the newly designed wine labels. But less visible changes have been going on behind the scenes for some time in the vineyards and through the winery's sustainability efforts. This work will continue into the future.
Recently Chris O'Gorman, Director of Communications and Justin Seidenfeld, Director of Winemaking sat down with a group of wine media to discuss the behind the scenes efforts and unveil the new labels for Rodney Strong Vineyards. The wines that accompanied the tasting were provided to us as tasting samples.
A Quick History
Rodney Strong Vineyards was established by noted American dancer Rodney Strong over 60 years ago. It was only the 13th bonded winery in Sonoma, where Strong was an early proponent of Chardonnay. He had a hand in establishing both Chalk Hill and Russian River Valley AVAs. In 1974 he created Alexander's Crown, the first single-vineyard Cabernet Sauvignon in Sonoma County. The winery and tasting room are located just south of Healdsburg.
Ownership passed to the Klein family in 1989. Tom Klein combined his business knowledge with his family's multi-generational farming experience in California to expand and improve Rodney Strong Vineyards. RSV farms 11 vineyards in Sonoma County.
Justin Seidenfeld was promoted from Winemaker to Director of Winemaking in 2018 and now oversees the entire winemaking operation. He brought with him experience at Iron Horse Vineyards, Robert Mondavi Winery and various Constellation wineries. Justin is only the fourth Director of Winemaking in the history of Rodney Strong Vineyards and has assembled a team with varied skills and strengths to work with him.
Behind The Scenes Work
It isn't as if Rodney Strong Vineyards has been standing still over the years; nothing could be further from the truth. Over the past 11 years Justin has been working closely with Tom Klein to achieve Tom's sustainability goals. Water conservation has been a focus and as a result water use is down by 50%. If you've taken a winery tour at RSV you've seen the innovative, space-saving, square stainless steel tanks.
According to Justin, in 2003 the Klein family installed what was then the largest solar array in any winery worldwide. That system has recently been modernized and expanded and now produces more than 50% of the winery's energy. As sustainability efforts are improved it is expected to provide an even larger percentage of the winery's energy needs.
Together with Ryan Decker, Director of Vineyard Operations, Viticulturist Daniel Roberts, and a soil scientist, Justin has examined every acre of every vineyard RSV owns and grows. As a result many vineyards are being re-developed to include new technologies, additional varieties, better rootstock, decreased spacing and increased attention to aspect and orientation. As Justin succinctly put it, "We can't make great wine without great grapes."
This multi-year project has resulted in the re-planting of the Alexander's Crown vineyard; the first grapes from that effort just coming into the winery. Efforts are moving on to Rockaway, Brothers and other vineyards in the Chalk Hill and Alexander Valley AVAs. According to Justin, as re-development efforts continue the benefits of those labors will be realized as excellent fruit quality reflective of the site that doesn't require manipulation in the winery; all while maintaining a sufficient yield and keeping sustainability goals in mind. It's exciting times at Rodney Strong Vineyards.
Both the winery and vineyards are certified sustainable by California Sustainable Winegrowing Alliance. In addition, Rodney Strong Vineyards assists grower partners in achieving sustainable certification for their vineyards.
Three years ago Rodney Strong Vineyards undertook market research that included consumers and trade partners to determine both how the brand is perceived and identify their target consumer: younger individuals who are interested in a genuine story, travel and quality (luxury) wines. The labels were re-designed with those consumers in mind.
The tasting room has been remodeled with an emphasis on flighted wines, rather than a "belly up to the bar experience", as Chris O'Gorman, Director of Communications described it. Outdoor tastings and food pairings are available as well.
The New Look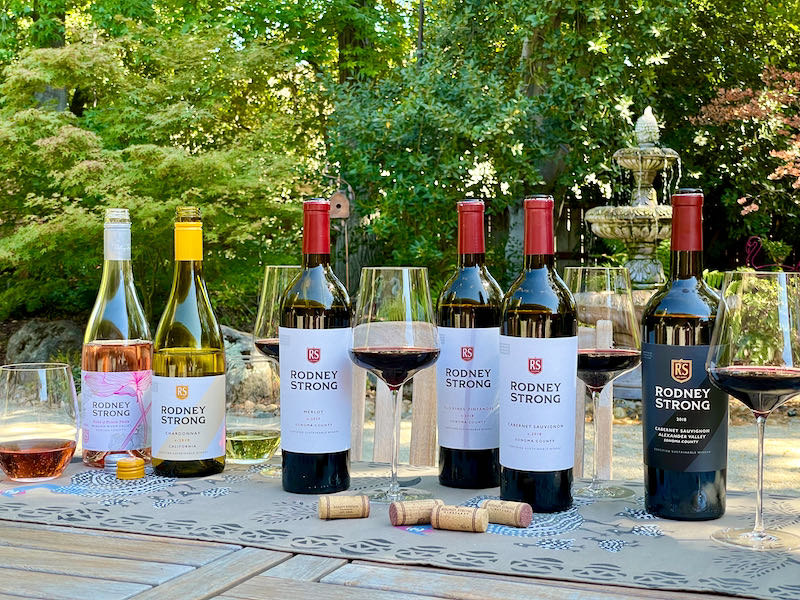 The rosé packaging was the first to be updated. Throughout the rest of the wines white labels are used for wider appellations (California and Sonoma County) and black labeling for appellation-specific wines (Alexander Valley, Russian River Valley for example.) The darker labels are meant to call attention to elevated winemaking in those wines.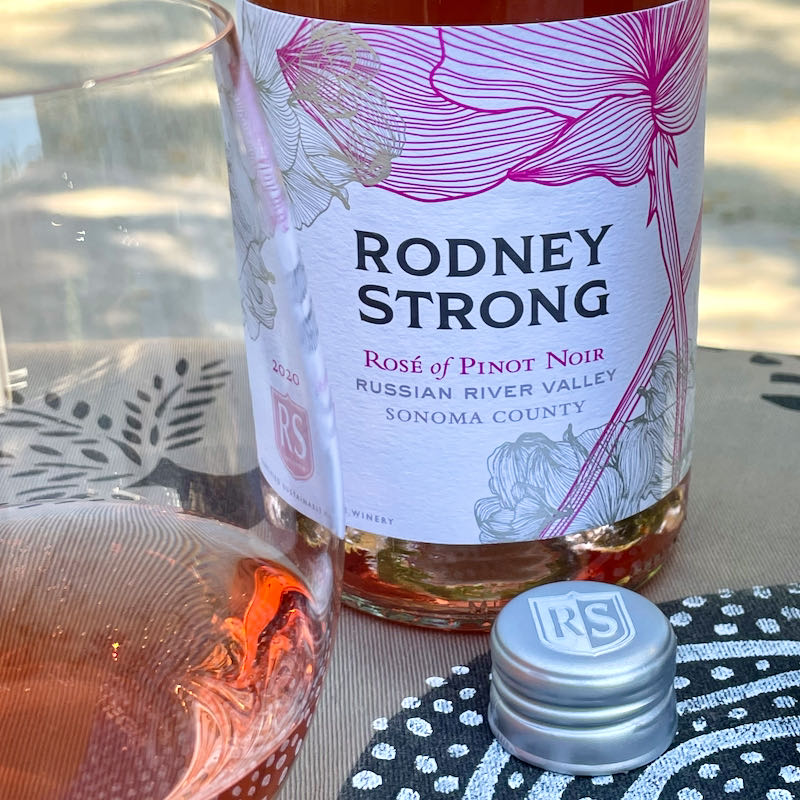 2020 Rodney Strong Rosé of Pinot Noir, Russian River Valley, Sonoma County — bright pink with generous aromas of roses, white flowers and ripe blackberries. Flavors include blackberries, dark cherries, raspberries and earth. Juicy acidity provides a clean finish in this dry rosé. 12% abv. SRP $25
Justin stressed that this in an intentional rosé; it is not a bleed-off of red wine making. Because he times the harvest for a rosé he is able to make a rosé of Pinot Noir with fragrance, flavor and acidity that is balanced. It is fermented to dry so all that flavor is not coming from residual sugar. He keeps his favorite Provençal rosé, Domaines Ott, in mind when making this wildly popular wine.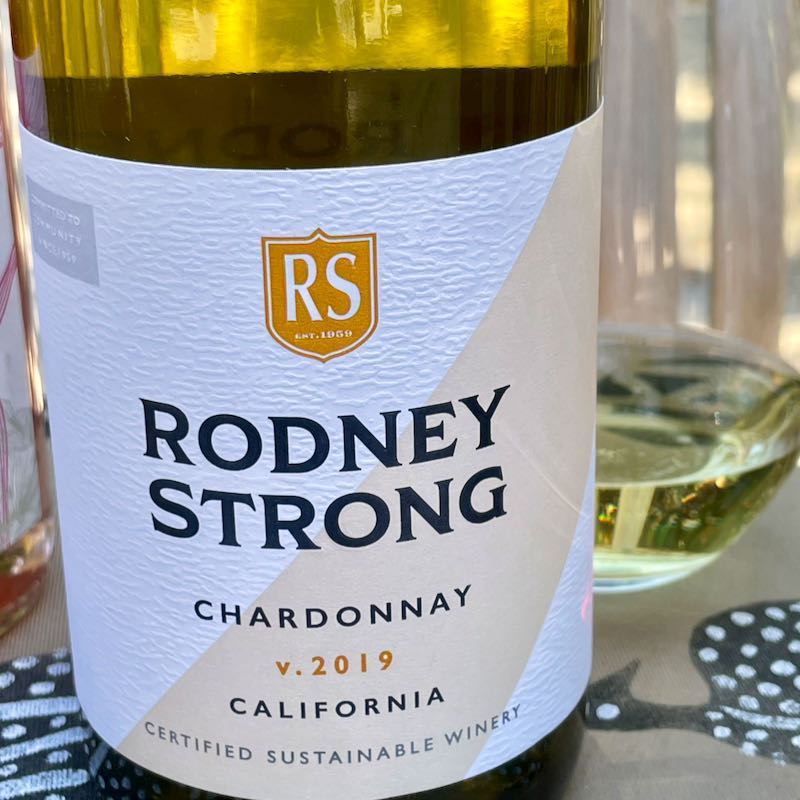 2019 Rodney Strong Chardonnay, California — pale yellow with aromas of toast, vanilla and citrus. Toasty flavors of melons and citrus are supported by good acidity in a medium body with a finish of citrus pith. 13.5% abv. SRP $17
Justin shifted the sourcing of Chardonnay for this bottling away from Sonoma County to a California appellation so he could source entirely from cool-climate sites. In addition to Russian River Valley and Petaluma Gap, grapes are sourced from cool Monterey and Santa Barbara locations.
60% of the Chardonnay is fermented in barrel and the wine goes through malolactic fermentation. The balance is fermented in stainless steel and does not go through ML. The closure has switched to screw cap based on market research.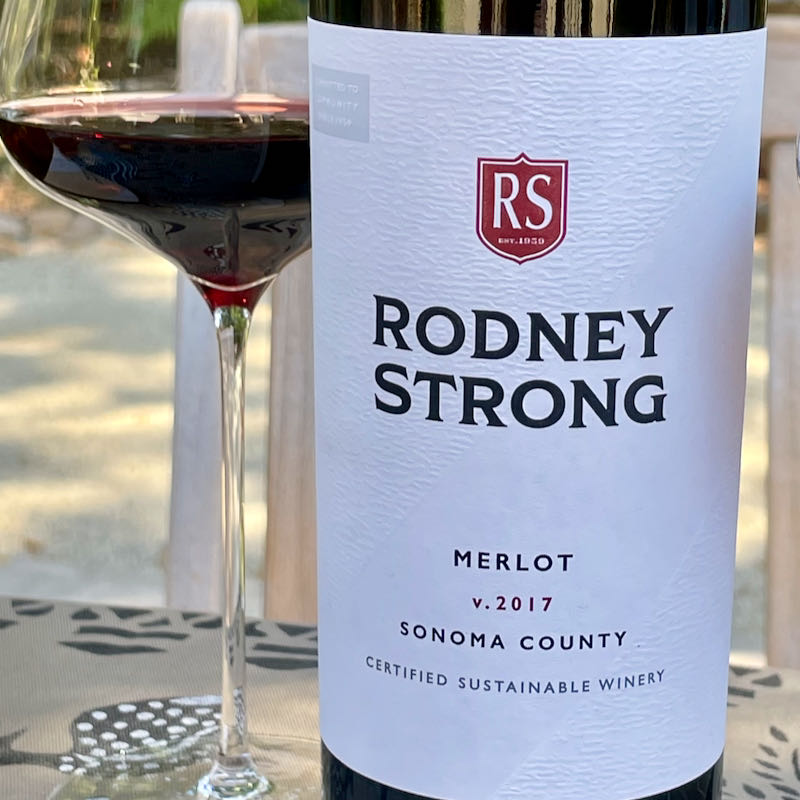 2017 Rodney Strong Merlot, Sonoma County — medium ruby with perfumed aromas of baking spice and dark fruit. Flavors of ripe black berries, dark cherries, baking spice, vanilla and dusty earth are supported by fine, drying tannins with a medium body. 14.5% abv. SRP $20
Merlot is Justin's favorite variety. He has decreased the production of this wine to focus on the best vineyard sites in Knights Valley, Alexander Valley, Dry Creek and Russian River Valley. A splash of Malbec is added and aging takes place in 20% new French oak.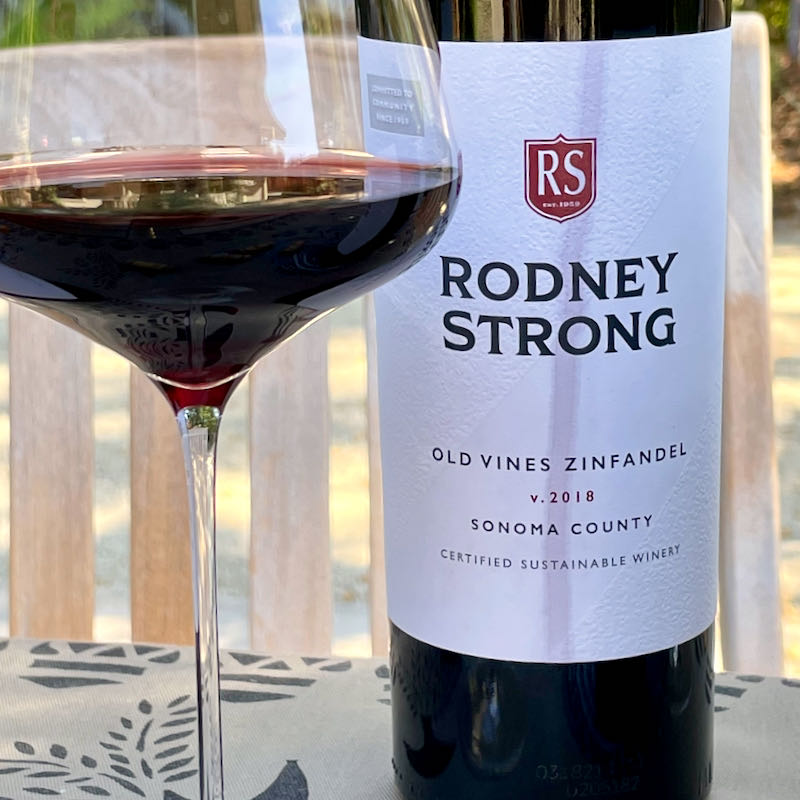 2018 Rodney Strong Old Vines Zinfandel, Sonoma County — medium ruby with generous aromas of ripe boysenberries, blackberries and spice. Flavors include ripe blackberries, black cherries and vanilla. Tannins are fine and drying and ripe fruit flavors and chocolate linger on the palate. 14.5% abv. SRP $25
This wine is new to the Rodney Strong portfolio and is sourced from vineyards planted in 1972 and before. All vineyards are head trained allowing for even ripening of the Zinfandel grapes. Justin described this Zinfandel as a claret in style meaning it's a bit lighter; this is not a high-octane, overripe Zinfandel (thank goodness.) He picks at 24º Brix, ferments at a cool temperatures with native and commercial yeasts. The wine is fermented to dry and aged in mostly French oak.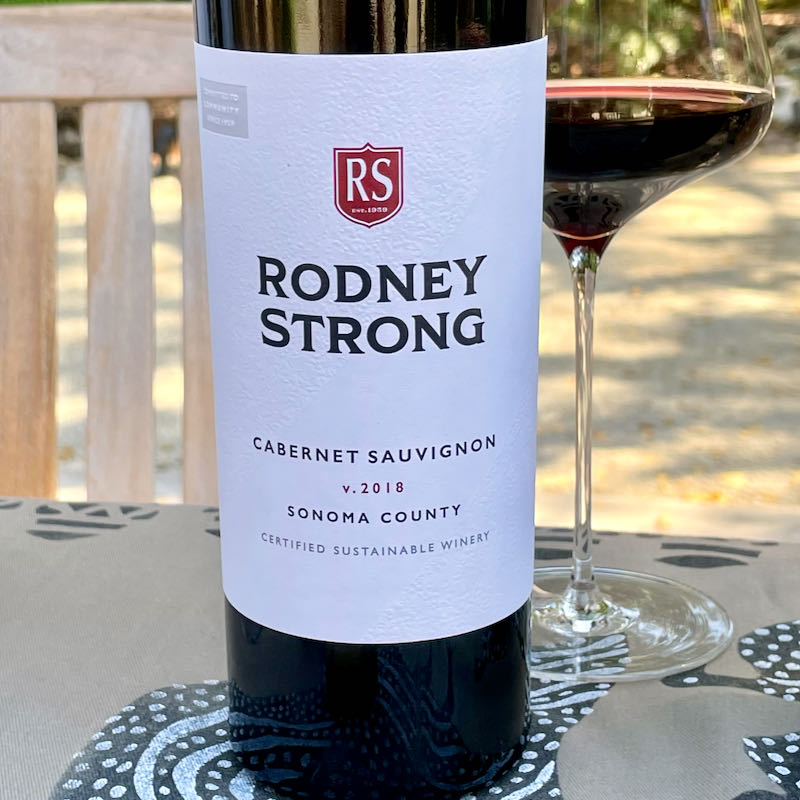 2018 Rodney Strong Cabernet Sauvignon, Sonoma County — medium ruby with subtle aromas of blackberries, dried herbs and dusty earth. Flavors include blackberries, plums, dried herbs, hints of cedar and dusty earth. Tannins are smooth and well integrated. Easy drinking. 14.5% abv. SRP $22
This is Rodney Strong's biggest seller by volume and Justin believes perfect vineyard sites and his classic winemaking style are what make this wine so popular. Aging takes place in 20% new French and American oak. It tastes good now and will age well in the bottle because it's well made.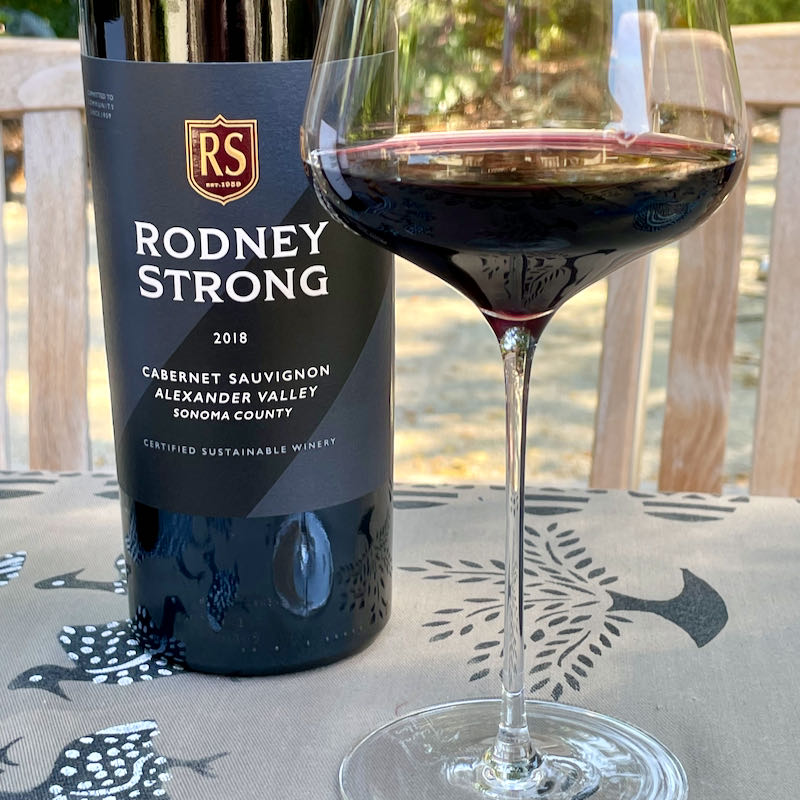 2018 Rodney Strong Cabernet Sauvignon, Alexander Valley, Sonoma County — medium ruby with aromas of cedar, mixed dark berries and plums. Flavors include ripe blackberries, blueberries, crushed flower stems, baking spices and dusty earth. Tannins are drying, with a bit of grip, but well integrated with the flavors. 14.5% abv. SRP $28
Cabernet is sourced from five vineyard sites, three of which are estate vineyards, and all have hillside locations in Alexander Valley. The wine is made from free-run juice only and aged for 24 months in 50% new French oak. There is a bit more complexity and nuance to this Cabernet Sauvignon.
These wines from Rodney Strong are affordable, enjoyable and come with a commitment to sustainability and the wider community through financial support of CORE (Children of Restaurant Employees), José Andrés' World Central Kitchen and support of farmworker housing through the Sonoma County Winegrowers — all good things.
Also part of the Rodney Strong Wine Estates are Knotty Wines, Davis Bynum, Upshot Wines and Rowan Wine Co. Annual case production is about 700,000 cases. Hats off to Rodney Strong for its sustainability initiatives.
Cheers!