Today's Cellar Note includes two varietal wines and a red blend that highlight the large number of grape varieties grown in Santa Barbara County. All are produced by Lucas & Lewellen Vineyards, a winery established and owned by two long-time friends and their families. All three wines, which we received as tasting samples, are sourced from Lucas & Lewellen estate vineyards.
Santa Barbara County is a large wine region with diverse growing conditions. It's transverse valleys allow cool air from the Pacific Ocean funnel inland. The coolest areas are located closest to the ocean and inland areas are warm. Soils are comprised of a complex combination of ocean sediments and river deposits. And the area receives little rainfall. Variability in weather patterns, elevation and soil type means everything from cool-climate loving varieties like Chardonnay and Pinot Noir to warm-climate Rhône varieties thrive in Santa Barbara County.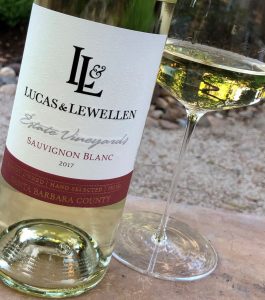 2017 Lucas & Lewellen Vineyards Sauvignon Blanc, Santa Barbara County — light yellow in the glass with aromas and flavors of stone fruit, dry oat hay and dusty gravel. Hints of dried grass mingle with citrusy acidity to make this wine identifiable as Sauvignon Blanc. 13.9% abv. SRP $18
10% Viognier is blended with Sauvignon Blanc harvested from Lucas & Lewellen's Los Alamos Vineyard and the warmer Valley View Vineyard. This Sauvignon Blanc is easy drinking, especially for those of us who prefer a less grassy version of the variety. It's perfect for summer sipping.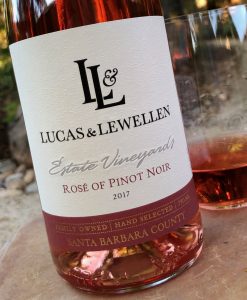 2017 Lucas & Lewellen Vineyards Rosé of Pinot Noir, Santa Barbara County — translucent salmon in the glass with generous aromas of blackberries, berry bramble and mushrooms. The flavors echo the aromas along with rich earthy notes, juicy acidity and lingering black tea flavors. 13.5% abv. SRP $18. 1150 cases produced.
This rosé tastes like I expect a rosé of Pinot Noir to taste — like Pinot Noir. The earthy, berry bramble and blackberry flavors taste delicious and familiar. I was surprised to read that 6% Viognier is blended with the Pinot Noir.
Lucas & Lewellen's cool-climate vineyards, Goodchild and Old Adobe in the Santa Maria Valley, are the source of the Pinot Noir for this rosé.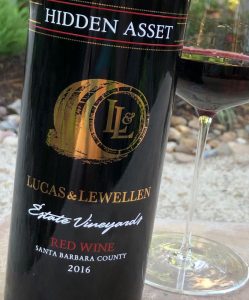 2016 Lucas & Lewellen Vineyards Hidden Asset, Santa Barbara County — medium ruby in the glass with generous aromas of red fruit, crushed flower stems, dried alfalfa and vanilla. Flavors of blueberries, ripe raspberries and tart blackberries are backed by vanilla. Drying tannins are generous, but well integrated with the flavors in this medium-bodied wine. The finish is at least moderate in length. 14.1% abv. SRP $29. 1343 cases produced.
The Los Alamos and Valley View Vineyards are the source of grapes for this delicious red blend of 32.5% Malbec, 30% Merlot, 26% Syrah, 9% Petite Sirah and 2.5% Cabernet Franc. Oak aging: 100% French oak, 21% new, 16 months.
This wine makes a persuasive argument for blended wines. It was especially enjoyable with food and we found ourselves wishing we had used the Coravin™ to sample this wine so we could come back to it in a year or two.
About Lucas & Lewellen
Louis Lucas and Royce Lewellen have longtime connections in Santa Barbara County. Louis Lucas comes from a multi-generational farming background and was one of the first to plant commercial wine grapes in San Luis Obispo and Santa Barbara Counties. It was the early 1970s. A few years earlier Royce Lewellen moved to Solvang and established a law practice. Eventually he became a Superior Court Judge in Santa Maria.
The two met through their civic involvement in Santa Maria and their love of food and wine. A friendship formed through a mutual interest in wine is surely not that uncommon, but actually establishing a winery as a result certainly is.
In 1996 Lucas & Lewellen was established with two of Lucas' existing vineyards and now includes several more. Estate vineyards are located in the Santa Maria Valley, Los Alamos Valley and Santa Ynez Valley.
Santa Maria Valley vineyards (Goodchild and Old Adobe Vineyard) include Pinot Noir and Chardonnay. Los Alamos Vineyard is planted to over 20 Bordeaux, Rhône and Burgundy varieties. Valley View Vineyard in Santa Ynez Valley is planted to Cabernet Sauvignon, Sauvignon Blanc, Syrah, Cabernet Franc, Petit Verdot and Malbec.
In addition to 400 acres of vineyards, Lucas & Lewellen has two tasting rooms in Solvang, a winery in Buellton and two additional wine labels: Toccata and Queen of Hearts. Let's raise a glass to wine and friendship.
Cheers!