Every bottle of wine made by Concannon Vineyard comes with a long family history of winemaking in the Livermore Valley. That history includes the development of three Cabernet Sauvignon clones that are now widely planted in California. Today's Cellar Note offers a taste of Concannon Cabernet Sauvignon, from Paso Robles, and a brief telling of that family history. The wine was provided as a tasting sample and is made in part from the Concannon Clones.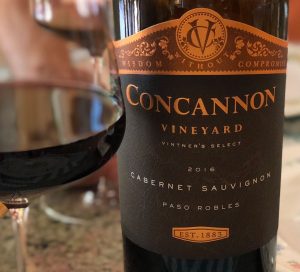 2015 Concannon Vineyard Cabernet Sauvignon, Paso Robles — medium ruby in the glass with aromas of blackberries, ripe raspberries and dusty earth. Flavors of red currants, blackberries and dusty earth are backed by hints of cedar and dried herbs. Tannins are smooth and the body on the light side of medium. The finish is medium in length. 13.0% abv. SRP $18
This is an elegant Cabernet, one that is as easy to sip on its own as to enjoy with a meal. It has nice structure and balance. It's not heavy or dense or overly tannic. It is a Cabernet for warm weather and a meal.
The Paso Robles appellation is the source of grapes for this wine, which was aged for eight months in French and American oak. 7% Petite Verdot and 6% Petite Sirah are blended with the Concannon Vineyard Cabernet Sauvignon.
The Concannon family history in America begins with James Concannon, who in 1883 established a winery in the Livermore Valley. He was among the earliest group of families to establish vineyards for winemaking in the Livermore Valley. Concannon Vineyard describes itself as "America's Oldest, Ongoing Winery Under the Same Family Label and Stewardship Since 1883."
His contemporaries were Charles Wetmore (Cresta Blanca Winery), Carl Wente (Wente Brothers, now Wente Vineyards) and Louis Mel (now Murrieta's Well Estate Vineyards). It was Charles Wetmore who brought cuttings of Cabernet Sauvignon and Sauvignon Blanc from Château Margaux and Château d'Yquem, as well as Chardonnay from Burgundy's Meursault appellation and shared them in the valley.
Much like the second generation of the Wente family who developed the Wente Chardonnay Clone, the third generation of the Concannon family did so with Cabernet Sauvignon. The efforts of Jim Concannon resulted in the development of three Cabernet Sauvignon Clones (7, 8 and 11) that are recognized by UC Davis Foundation Plant Services for their "high yielding, late-maturing qualities."
What is a clone? It is a piece of the mother vine that is either planted directly into the soil or grafted onto a rootstock. It results in grapevines with very much the same qualities as the mother vine. The mother vine is chosen for specific, desirable characteristics.
Don't history and wine make an interesting pairing?
Cheers!