If ever I have heard a story of two wine lovers who made their dream come true, it's that of Karen and John Troisi and their Jean Edwards Cellars. We recently sat down with the busy couple behind Jean Edward Cellars at their new tasting room along Sonoma's Vine Alley. We talked Cabernet Sauvignon, winemaking and their love of dogs as we tasted though their current wines.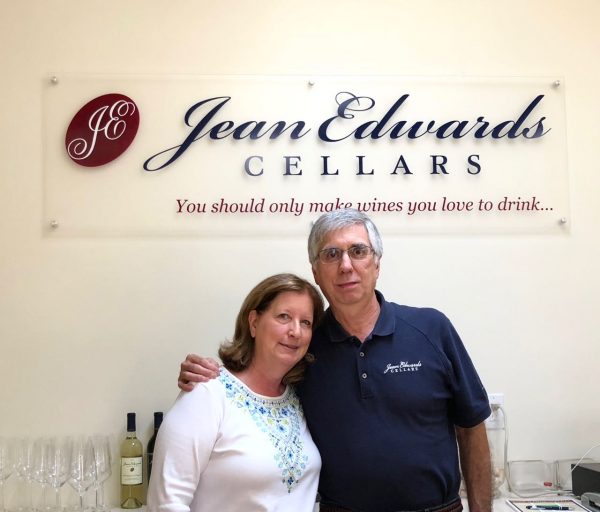 From Wine Tasters to Wine Makers
Karen and John's passion for wine developed over the years with frequent trips to Napa Valley and Sonoma from their home in New Jersey. Over time their preference for wine became clear: it had to be food-friendly, John is a food scientist by profession, and it had to be Cabernet Sauvignon from Napa.
It was during one of those trips in the 1980s, over a sandwich from the Oakville Grocery, that their plan came into focus. They made two decisions that day: to make a Napa Valley Cabernet Sauvignon of their own and to call their winery Jean Edwards Cellars — a combination of both their middle names. That was some power lunch.
At the time both were busy building careers in the corporate world, but they continued to visit Napa and Sonoma frequently. By 1997 they were ready to take the first step toward their goal of having a winery — they began making wine as home winemakers. They purchased Napa Valley Cabernet Sauvignon and had it trucked to a small winery in New Jersey where their winemaking journey began.
They learned with every vintage. "Playing around with wood and making more wine. Before long we had a wall of wine and not enough friends to give it to," noted John. "Or relatives, " added Karen. They knew it was time to either stop making wine or take the next step and establish their commercial winery.
In 2004 they established Jean Edwards Cellars with winemaking in Napa Valley. Through contacts in the valley they found winemaker Kian Tavakoli, who has been their winemaker since the first vintage. Kian has had a successful career in the Napa Valley, with time spent at both Opus One and Clos du Val. He knows the people and the vineyards of Napa Valley. And he has a tremendous palate according to both Karen and John.
That first vintage started with one Cabernet Sauvignon from the Stagecoach Vineyard located on Pritchard Hill. Every vintage they have made a bit more wine: adding Syrah, experimenting with other varieties and Cabernet from different sites. John and Karen built their careers as they built their winery. Having their own wholesale license in New Jersey allow them to selectively place their wines in retail locations and restaurants.
Six years ago both took early retirement from their corporate jobs to focus on Jean Edwards Cellars. Frequent trips between their home in New Jersey and Napa continue as John and Karen work closely with Kian throughout the winemaking process.
Annual production is now about 750 cases. Eight wines, sourced from select Beckstoffer properties, the Stagecoach Vineyard, Spring Mountain and Atlas Peak vineyards, to name a few, are currently being poured at the tasting room. Production will increase to 10 wines with the addition of a Sonoma Coast Chardonnay (as Karen noted the tasting room is, after all, located in Sonoma) and an Atlas Peak Syrah from a special vineyard site familiar to Kian.

In February, Jean Edwards Cellars opened a tasting room on Napa Street in
Vine Alley
just across from Sonoma Square in Sonoma. John and Karen will focus on the tasting room while increasing production modestly and keeping an eye on distribution to select markets and restaurants. They will remain a small-lot winery focused mainly on varietal wines from very special vineyard sites. Above all, they will continue to make wines they love to drink.
Tasting Notes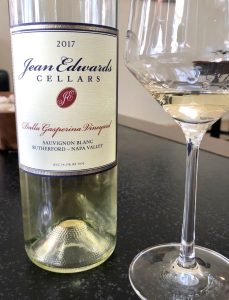 2016 and 2017 Jean Edwards Cellars Sauvignon Blanc, Dalla Gasperina Vineyard, Rutherford — to begin our tasting Karen poured a side-by-side of Sauvignon Blanc from two vintages. The 2016 was rounder, with tropical fruit flavors and citrusy acidity. The 2017, which was bottled just the morning before, is still more linear and acid-driven. It will round out, in Karen's estimation. Both contain just a bit of Sémillon, which is how they like to make their Sauvignon Blanc. Fermentation takes place in stainless steel with aging in neutral French oak with lees stirring. Lovely wines, both.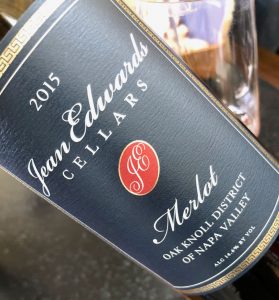 2015 Jean Edwards Cellars Merlot, Oak Knoll District — dark and red fruit, dried herbs and lovely, grippy tannins make this Merlot a wine with depth of flavor and character. 14.6% abv. $58. Cases produced: 80.
The Merlot is sourced from a premium vineyard and prior to this vintage was used as a blending variety. John and Karen found they loved this Merlot so much they decided to make a varietal bottling. Good call. Aging takes place in 75% new French oak and 5% Cabernet Franc is blended into the Merlot.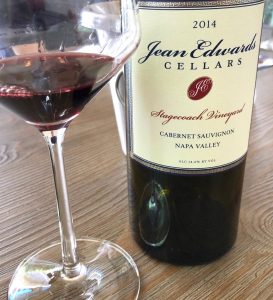 2014 Jean Edwards Cellars Cabernet Sauvignon, Stagecoach Vineyard, Napa Valley — herbaceous with dark fruit and grippy tannins. Medium+ body, though light on its feet. 14.6% abv. $68. Cases produced: 155.
John and Karen call this their dream wine — for several reasons. Not only was it their first commercial wine, the wine they had in mind when they decided to make wine, it was and continues to be sourced from a very special vineyard. Their 2004 vintage was released in 2006 and promptly earned 92 points from Wine Spectator. Yes, I'd say that qualifies as a dream wine and a dream come true!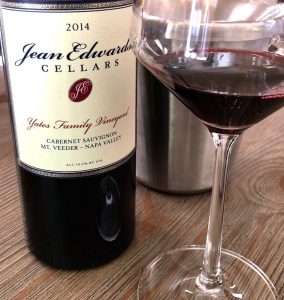 2014 Jean Edwards Cellars Cabernet Sauvignon, Yates Family Vineyard, Mt. Veeder — generous aromas toast and coffee with mostly red fruit, earth, grippy tannins and great acidity. This wine is austere in the best way possible. Not overdone, just delicious and food friendly. 14.2% abv. $75. Cases produced: 75.
I have two stars beside this wine in my notebook. Yeah, I liked it. Just 2% Cabernet Franc was added to the Cabernet Sauvignon. Karen suggests pairing this wine with veal.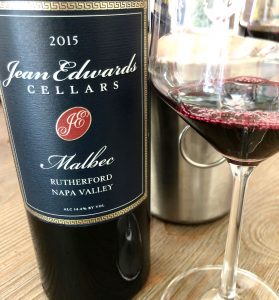 2014 Jean Edwards Cellars Cabernet Sauvignon, Rutherford — dried herbs, red and dark fruit, significant, drying tannins. Medium bodied, but light on its feet. A bit tight. 14.7% abv. $90. Cases produced: 75.
Winemaking from this prestigious vineyard site, which is a connection Kian provided, requires patience. Karen and John talked about how it takes time for this Cabernet to come around. It doesn't show too much before spending 18 months in French oak after which it shows its stuff. Decant this wine and it will provide a lovely partner for a meal. 2% Cabernet Franc and 1% Malbec were added to the blend.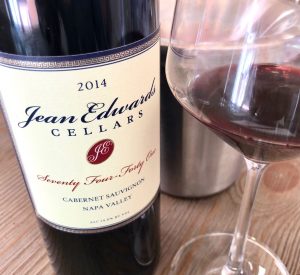 2014 Jean Edwards Cellars Seventy Four-Forty One, Cabernet Sauvignon, Napa Valley — complex dark and red fruit flavors, ripe but not too ripe, medium+ body, great tannins. 14.8% abv. $68. Cases produced: 100.
The name of this wine, Seventy Four-Forty One, comes from the approximate GPS coordinates of Karen and John's home in New Jersey. These two are very clever. This wine is rich and extroverted. It is 100% Cabernet Sauvignon always sourced from three, diverse vineyard sites. Lovely wine. Pair this wine with a grilled rib-eye steak.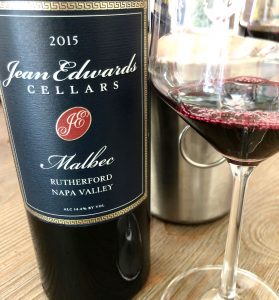 2015 Jean Edwards Cellars Malbec, Rutherford — blue and dark fruit, great acidity, structured tannins. Delicious, complex and juicy. 14.6% abv. $58. Cases produced: 80.
This is an interesting and delicious Malbec with respectful use of oak. It received a star in my notebook as well. Five percent Petit Verdot is blended with the Malbec.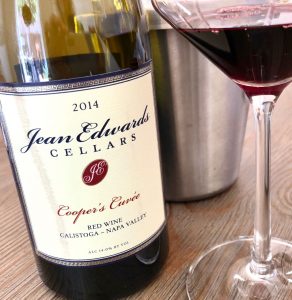 2014 Jean Edwards Cellars Cooper's Cuvée, Calistoga — baking spice, red fruit, dried herbs with well-integrated, drying tannins. 14% abv. $45. Cases produced: 50.
Cooper's Cuvée is named for the Troisi's Labrador retriever, Cooper. They are dog lovers and have had several Labradors in their lives over the years. Trouble, their first Labrador, is pictured on the back label of every Jean Edwards Cellars wine.
With the 2016 vintage Cooper's Cuvée will become a separate label from Jean Edwards Cellars. The vineyard source for the Petite Sirah will change and fun things are in store. Keep an eye on Cooper's website for all of the details.
All of the Jean Edwards Cellars wines are aged in French oak, generally for about 18 to 22 months, with a high proportion of new oak. I remarked how how well-balanced all of the wines were and how well-integrated the oak influence was with the fruit flavors. John attributes this to Kian who has a saying — wood has to respect the fruit. French oak barrels are selected from three cooperages and the wines move among all of them throughout the racking process, never spending too much time in a barrel from one particular cooperage.
We thoroughly enjoyed getting to know Karen and John and tasting their lovely wines. We aren't the only ones who think highly of their wines. Wine Spectator, Wine Advocate an others have given many of their wines 90+ point scores and Wine Spectator included Jean Edwards Cellars on their list of twenty new Cabernet producers to watch.

Drop by the tasting room and taste these wines for yourself. If you are a group of six or more, please let them know before you arrive. The current tasting offers you a choice of any four wines for $25, which is waived with a $65 purchase. Three wine club memberships are available and offer members flexibility in choosing the wines they receive twice yearly. New things will be coming too. You will quickly discover John and Karen are serious about wine, but have a playful sense of humor. And you will be in for a little surprise if you bring your pet with you.
Cheers!