Only a single, short row of Zinfandel remains on the property that follows a bend in the Mokelumne River. The 26-acre vineyard is located in the Mokelumne River sub-AVA of the Lodi appellation on Lodi's East Side. Bob Koth doesn't have the heart to remove the  few vines that stand between more recent plantings and the family home. They've been there for years and make fine Zinfandel. It's just that the focus of Bob and Mary Lou Koth's viticultural efforts has changed to German and Austrian varieties exclusively — over 40 of them. In Lodi.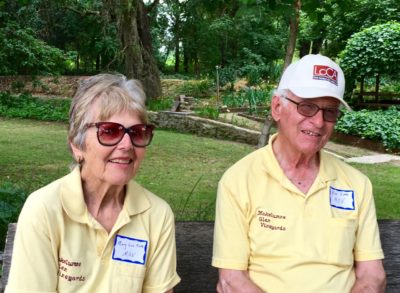 For 11 vintages the Koths made wine under their Mokelumne Glen Vineyards label. Their production included Zinfandel, Pinot Noir, Kerner, Dornfelder and Riesling, among others, made in a variety of styles from dry to sweet. Winemaking ceased with the 2009 vintage and since then the family's focus has been on the vineyards which are now managed by the Koth's son Brett. Over the years the Koths have removed some varieties to make room for new ones and have increased plantings of others. Demand from winemakers for varieties such as Reisling, Bacchus, Kerner, Gewürztraminer, Zweigelt, Blaufränkisch and Dorfelder has been steady. Finally, it seems, others have discovered these uncommon varieties the Koths have enjoyed for years.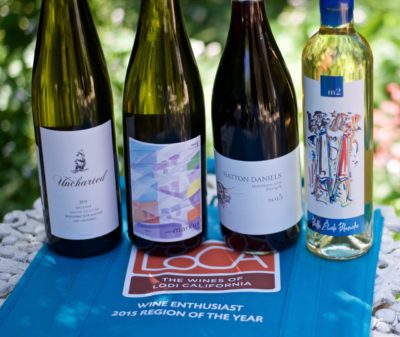 We recently participated in a wine tasting that highlighted the diversity of grape varieties planted at Mokelumne Glen Vineyards. The tasting included four wines each made by a different winemaker. The event was hosted by LoCA, the Lodi Winegrape Commission, and we received the wines as tasting samples. Charles Communications Associates kept all of us organized. Here's what we tasted.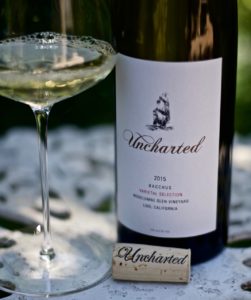 2015 Holman Cellars Uncharted Lodi Bacchus — light yellow in the glass with generous floral, tropical and mineral aromas. Mineral flavors dominate the flavor profile along with citrusy notes and tart pineapple. Brilliant acidity carries into the finish which is relatively long and juicy. 14% abv. SRP $25
To insure maximum color and flavor extraction winemaking began with 3 days of skin contact prior to fermentation in stainless steel. Only 45 cases produced. Small-lot production is the focus of winemaking at Holman Cellars. Jason and his partners are constantly looking for unusual varieties to reward the curious wine drinker. Bacchus definitely falls in the uncharted category.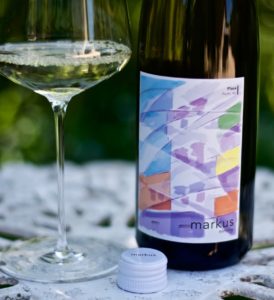 2014 Marcus Wine Co. Nimmo — light yellow in the glass with toasty, baking spice aromas. Complex flavors follow and include dried hay, citrus, hints of coconut and nutmeg. This wine is a bit round and has a long finish. 13.8% abv. $22
Surely this blend is among the most interesting you will find: 71% Kerner, 13% Gewürztraminer, 11% Riesling, 5% Bacchus. And the wine is oak fermented and aged. It is unique in so many ways. We have tasted this wine on several occasions and every time the flavors are a bit different. I love that about this wine — it's always an adventure.
Markus Niggli was inspired to make this wine after tasting a similar wine during a visit to Switzerland, where he was born. The flavors of the oak-aged Kerner blend stuck in his memory and he committed to making a similar wine himself. As luck would have it the Koths had Kerner growing in their Mokelumne Glen Vineyards just across town. Markus produces interesting white wines under his Marcus Wine Co. label as a sub-venture of Borra Vineyards.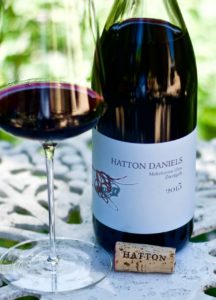 2015 Hatton Daniels Mokelumne Glen Zweigelt — dense ruby-violet color in the glass with generous dark berry and plumy aromas. Blackberry and plum flavors predominate, but with savory back notes and a pop of cedar. Tannins are grippy and the body of the wine is light to medium with a moderate length finish and nice acidity. 11.9% abv. SRP $24
The combination of dark fruit flavors, savory notes and cedar spice make this wine irresistible. Throw in the grippy tannins and lighter body, and it is a winning combination. The perfect summer red wine.
Hatton Daniels strives to make wines that reflect the vintage not a winemaking style. Their approach in the winery is hands off. The Zweigelt was harvested early to preserve natural acidity and the grapes were not destemmed — allowing for partial carbonic maceration. Fermentation proceeded without any additions and malolactic fermentation took place in old oak barrels. No sulphur was added. Just grapes –that's the goal.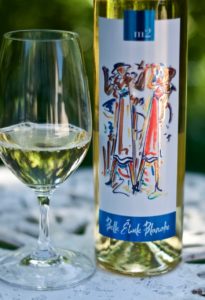 2014 m2 Wines Belle Étoile Blanche — straw color in the glass with generous aromas of pineapple, apricot and minerals. The flavors follow the aromas closely with pineapple and apricot predominating along with a hint of vanilla. The wine has at least a medium weight, nice acidity and a bit of citrus pith on the finish. The acidity nicely balances the sweetness. 13.3% abv. $24
This is another everybody-in-the-pool blend. The 35% Reislaner, 25% Weissburgunder, 20% Riesling, 20% Gewürztraminer blend is a late harvest wine made without fortification. Brix at harvest ranged from 28º to 47º. Fermentation took over 3 months to complete in equal parts neutral French oak and stainless steel. The name of this wine, Belle Étoile Blanche, means beautiful white star. It is a star in my view. This is the first wine made by m2 winemaker Layne Montgomery using Mokelumne Glen Vineyards grapes.
The thing that binds this diverse group of winemakers is their curiosity and interest in working with varieties that are a bit off the beaten path. How nice for those of us who enjoy the hunt for that next new variety. The tasting also serves as a reminder that there is a lot happening in the Lodi wine world in addition to Zinfandel. Thanks for the lovely tasting.
P.S.
Not long after we participated in the online tasting we attended a winemaker's tasting at Mokelumne Glen Vineyards which included a few additional winemakers and their wines. We listened to the winemakers talk about their wines as we sipped the wines over lunch. We finished the afternoon with a walk through the vineyards. A few pictures from that event follow. Thanks to the Koth family for inviting us.
This slideshow requires JavaScript.
Cheers!