Sherry. We rarely drink it, and when we do it is after dinner – not with a meal. So, this month's Wine Pairing Weekend challenge to pair food with Sherry was truly a challenge for us.
Wine Pairing Weekend, #winePW on Twitter, is a group of food and wine-loving bloggers that gather together on the second Saturday of every month to share food and wine pairings centered on a common theme. A different blogger hosts every month and chooses the theme. Jeff, who blogs at foodwineclick, is the host for July. Thanks, Jeff, for pushing us outside our comfort zone this month!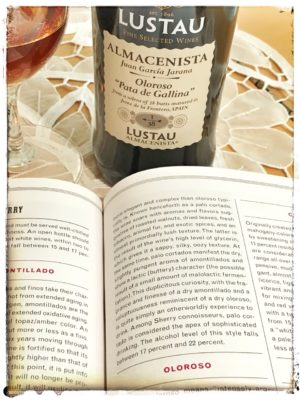 Where to start with Sherry? I chose to open my 2nd edition of Karen MacNeil's The Wine Bible. Karen dedicates 18 pages to the fortified wine made in Spain's Jerez region. Sherry is complex; in terms of how it is made and in terms of the final style. This is the passage that guided my choice of Sherry styles for this pairing:
"…it's important to know that Sherry is not a single entity, but rather seven distinct styles of wine, each of which is extremely individual. At one end of the spectrum are the manzanillas and finos, with their tangy, crisp, green earthiness; in the middle are the amontillados, palo cortados, and olorosos, with their lusty, roasted, nutty flavors; and finally come the creams with their sweet, lush toffee, and fig flavors."
Sherry is a fortified wine with alcohol levels that range between 15 and 22 % abv. Some styles of Sherry last longer after the bottle has been opened than others. I took this into account as I was fairly certain we would not finish a bottle in one or even two sittings. For this reason I excluded Manzanilla and Fino even though a lighter style of Sherry would have been a better match for the warm weather. I also excluded Cream Sherry and Pedro Ximénez because they are sweet. That left Amontillado, Palo Cortado and Oloroso. Oloroso was my final choice, even though alcohol levels range between between 18 and 22% abv. It was this description that influenced my choice, " The word oloroso means 'intensely aromatic' in Spanish, and this style is indeed that."
The Sherry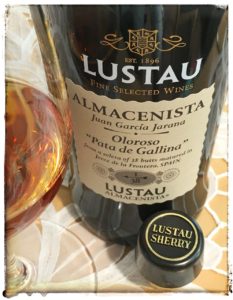 Lustau Almacenista Oloroso "Pata de Gallina" — dark, transparent amber in the glass with intense toasted hazel nut and sharp, earthy aromas. Toasted hazel nut  flavors predominate along with dried fruit, but without the sweetness. Savory and smoky notes work their way into the flavor profile. Juicy acidity and an interesting saltiness combine on the finish. The wine has weight in the mouth but is not round and thick. The finish is very long lasting with a bit of heat. 20% abv
This Oloroso Sherry is a very complex and interesting glass of wine. The predominant flavors are oxidative and nutty due to the wine's extended aging in a solera — a series of old barrels used for aging Sherry. If you like those flavors this wine will make you very happy.
The Food
I consulted the excellent Sherry Wines website for guidance on food pairings with Oloroso Sherry. It wasn't long before I zeroed in on a recipe that included sautéed mushrooms and spinach paired with roasted lamb. The original recipe called for a leg of lamb which, unfortunately, is way too big for two people. I scaled back the recipe by using two leg of lamb steaks instead.
I prepared a paste of salt, rosemary and garlic then spread it on the lamb steaks before oven roasting them. For the mushroom sauté I chopped an onion and sautéed it in olive oil with garlic before adding roughly chopped oyster and shiitake mushrooms, a few tablespoons of Sherry, Soy sauce and fresh spinach. To round out the plating I oven-roasted Yukon Gold potatoes that had been thinly sliced and drizzled with olive oil, salt, pepper and thyme.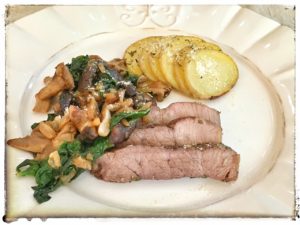 The hit of this meal was the mushroom sauté. It was delicious on its own, with such depth of flavor, and it paired very nicely with the garlicky lamb. Oven-roasted Yukon Gold potatoes are always a hit. The meal was rich and satisfying. One change I might have made is to cook it on the grill or brown the lamb before finishing it in the oven. It needed that extra flavor that browning contributes.
The Pairing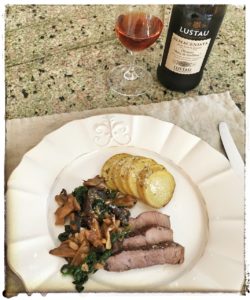 The Oloroso Sherry was delicious with the mushroom sauté. The earthy flavors of both tasted even better together. The lamb and the Sherry pairing was less successful. If the lamb was smothered in the mushroom sauté it worked just fine; otherwise the two fought with each other. I think it was the lack of char on the meat that made the pairing less than ideal.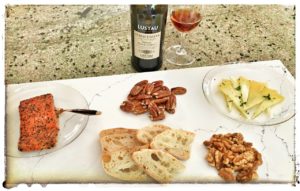 Several nights later we gave our Oloroso Sherry paring a second effort. It was a "grazing evening" — we were eating light. We paired manchego cheese marinaded in olive oil and fresh marjoram (a recipe we first enjoyed at Jordan Vineyard & Winery prepared with estate olive oil, of course), smoked Alaskan sockeye salmon and an assortment of roasted nuts. All winners. The manchego cheese in olive oil and marjoram was outstanding and the sockeye salmon was surprisingly good. I roasted the pecans in olive oil, salt and thyme. The walnuts I roasted in olive oil, salt and brown sugar — even the sweetness worked well with the Oloroso.
What We Learned
The Lustau Almacenista Oloroso Sherry "Pata de Gallina", is deliciously complex and rich. The flavors are satisfying. Here comes the qualifier: on a hot summer day it is not what I want to reach for. The big flavors and high alcohol content are a more appropriate pairing for a chilly winter's evening in front our fireplace — for me. I resolve to give this pairing a second try during winter!
The best food pairing with this Oloroso Sherry has plenty of umami flavors and fat (the mushroom sauté, the manchego cheese and the smoked Alaskan sockeye). Fresh herbs are a nice pairing as well. We found our grazing meal more enjoyable with the Oloroso Sherry than our first pairing.
Even though our initial Sherry pairing was less than stellar I'm not discouraged. There are many Sherry styles left to investigate and perhaps next time paired with a Spanish meal. Maybe an immersion course would be helpful. I've been wanting to visit Jerez anyway!
In the meantime, I look forward to reading about the pairings the rest of the Wine Pairing Weekend bloggers created. I know I will learn a thing or two about Sherry.
We will be chatting about our Sherry and food pairings on Saturday, July 9 at 8 a.m. Pacific Time. You can join the conversation by following #winePW on Twitter. It's always a good time.
Cheers!