Bob Koth knows the exact moment that started him on the path to making wine from German and Austrian grape varieties. He was having lunch with his daughter, Ann Marie, in Mainz, Germany in the early 1990s. Don't ask him what he ate, that's not the memorable part of the story. Ask him about the wine, it was a German Riesling.
As he ordered, he wondered if the wine would be overwhelmed by the flavorful, spicy German food they would be eating. Would it be like what he jokingly refers to as California kool-aid? Well, he was pleasantly surprised. Bob recalled, "One sip informed me I had a lot to learn about Riesling and a lot to learn about German wine."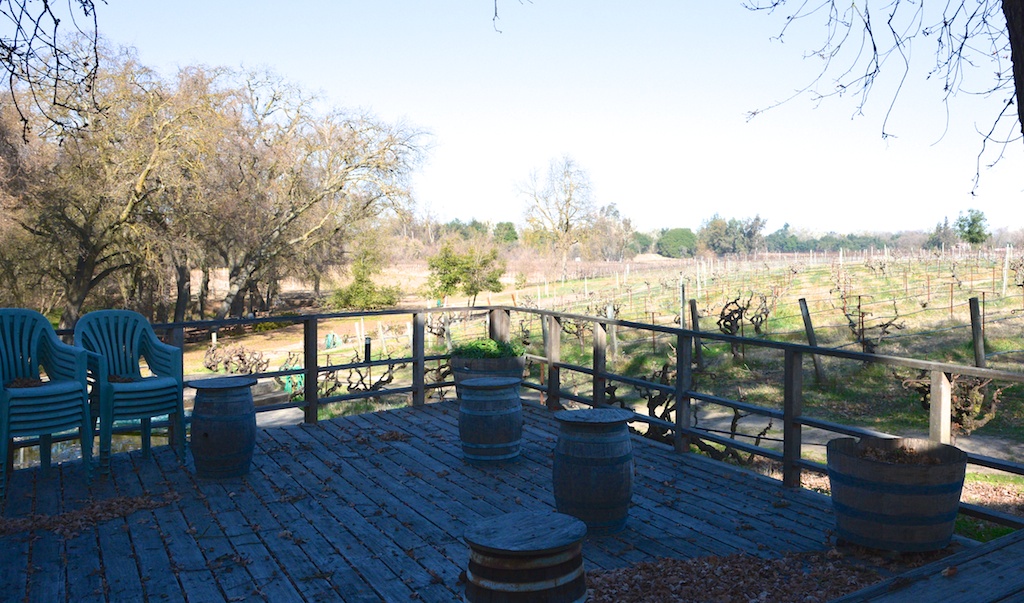 At the time the Koths (Bob and his wife Mary Lou, daughter Ann Marie and son Brett) were living in Lodi on a large property along the Mokelumne River. It was home to Zinfandel and Tokay, some of which had been planted during Prohibition long before the family lived on the property.
Back in the mid 1970s they had added plantings of Zinfandel, small amounts of Chardonnay, Riesling and Cabernet Sauvignon. They even had Pinotage and Grignolino for a while. Never afraid to experiment, the plantings took place over time and along the way Bob learned about viticulture.
Bob describes himself as a curious person with a need to know and learn about things. He studied, he read and he learned how to make wine. He compared notes with other home winemakers in Lodi.
So, with that brilliant glass of German Riesling in the 1990s the seed was planted which would eventually grow into the German Collection (it's actually a combination of German and Austrian varieties). It began with Pinot Gris and Pinot Blanc, which of course became Grauburgunder and Weissburgunder once in the vineyard.
Bob and Mary Lou laugh about that experience. There was a mix-up somewhere. As the vines matured, it became clear the fruit was not consistent with Pinot Gris. They laughingly call it their mystery grape, but are fairly certain it is Pinot Blanc.
In all there are 41 varieties planted at Mokelumne Glen today. Plantings include Zinfandel, Spätburgunder (Pinot Noir), Riesling, Gewürtztraminer, Bacchus, Rieslaner, Dornfelder and Kerner.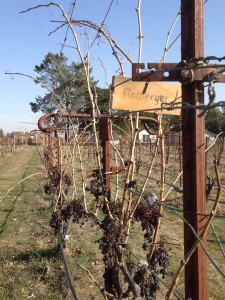 The German Collection includes about 35 varieties. Not a lot of any one variety, vineyard rows contain multiple varieties. Optima, Rotberger, Kanzler, Ehrenfelser, Regent to name just a few, all neatly labeled. The varieties have been grafted over Lemberger vines on 5C  rootstock.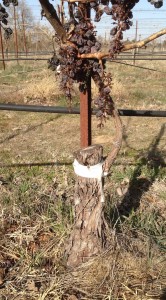 The German Collection vineyard is about to be expanded to a block of Zinfandel near their house. Rather than removing the Zinfandel vines, and planting the German varieties directly in the ground, the Zinfandel will be grafted over with the German varieties. This will save time, and allow a small harvest after the first year.
We visited the vineyard in mid-January. Not a very scenic time of year in the vineyard. For a spectacular look at the varieties that comprise the German Collection in all of their glory, take a look at this post on the LoCA website.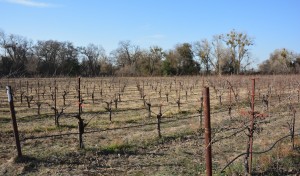 The pruning and trellising used at Mokelumne Glen Vineyards is unique in Lodi. When the Koths began planting a few cool weather varieties, Chardonnay, Riesling and Cabernet Sauvignon, in the mid 70s Bob had no idea how to prune them. He said he developed his technique by dumb luck, but really it was through research and testing.
He looked to what was being done in vineyards along the north coast and discovered they were using cane pruning that allowing canes that would produce next year's crop to be exposed to the sun. Bob indicated that research at the time showed that good sun exposure would produce more high quality fruit the following year.
He describes their trellising as expanded vertical or narrow cross along with cane pruning. Bob allows the canes that will produce next years' crop "to be out growing all over the place, taking in the sun," as he puts it. He said after reading and thinking about the techniques applied in north coast vineyards, it made perfect sense.
Their trellises do have horizontal supports which allows the canopy to protect the fruit from excessive sun. This method of pruning is more time consuming and expensive, but it has worked for them.
Bob's interest in winemaking turned from home winemaking to a commercial venture with Mokelumne Glen Vineyards, they were the 8th bonded winery in Lodi. By 2009 the family needed to step back from winemaking, and 2009 was their final commercial vintage. As winemaking at Mokelumne Glen has tailed off, interest in the German varieties from other commercial winemakers has increased.
Markus Niggli, winemaker at Borra Vineyards in Lodi is Swiss and has an appreciation for the German and Austrian varieties. The Koths have increased plantings of Riesling and Kerner for his use. Brett and Markus and are currently beginning a pruning experiment with Kerner to maximize fruit quality.
Matthew Rorick of Forlorn Hope discovered the German Collection last fall and harvested twice at Mokelumne Glen last year. You can read the details of their harvest in this post.
There has been interest from winemakers in the Santa Rosa area and elsewhere. The Koths are very close to having their entire crop sold for 2014. The vineyard is farmed with as little intervention as possible. Minimal use of fungicides to control powdery mildew is about all they have needed to use. Sulfur use in the field has been unnecessary for ages.
Bob and Brett feel there is great potential for Kerner and Dornfelder in particular. Kerner holds up well in the Lodi climate, they described it as a workhorse. It is capable of producing a wide range of wine styles, from dry to late harvest. Dornfelder produces very dark juice and is used as a blending grape, but the Koths feel its potential as a varietal wine should not be overlooked.
And don't forget about the Riesling. They have great faith in Clone 90, which is among the five Riesling clones currently planted in their vineyard. Bob has his eye on four more Riesling clones he hopes to add soon.
Brett is active in the management of the vineyards at Mokelumne Glen and Bob has hopes that Brett's involvement in the vineyard and winemaking will continue long beyond his own. There were fallow portions of the vineyards when we visited, so there is room for expansion of the vineyard plantings.
Lucky for us the Koths are generous people. After touring the vineyard, we spent time talking vineyards, wine and winemaking while sampling a few of their wines from the final vintage.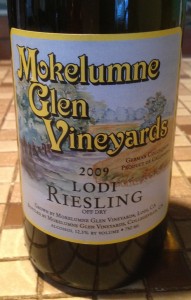 2009 Riesling — delicate aromas and flavors of citrus and minerals with floral back notes. There is a hint of petrol behind the delicate flavors and just a touch of perceived sweetness which is balanced with good acidity. A delicate, flavorful and approachable wine.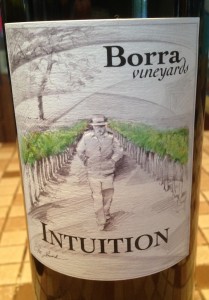 2012 Borra Vineyards Intuition — the Riesling shows through here in the aromas and flavors with peaches and flowers. Flavors and aromas of both fruit and wood aging are in the mix, but this wine is not overly influenced by wood aging. Flavors evolve over time.
This wine is made by Borra Vineyards from Mokelumne Glen Vineyards' fruit. It is a blend of 60% Kerner 20% Riesling 20% Gewurtztraminer.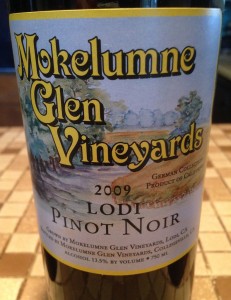 2009 Pinot Noir is expressive of the variety showing cherries and earthy bramble, smoke and a touch coffee flavors. It is medium bodied with good acidity and wood influence from Hungarian oak adding complexity. The 2009 vintage was aged 1/3 in new, 1/3 one year old and 1/3 neutral oak.
By Brett's estimation there is a bit more wood in the Pinot Noir than he likes. Winemakers are endlessly critical of their wines, much like chefs I imagine. To our taste this wine is not overly influenced by wood.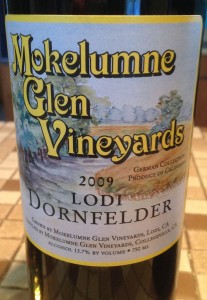 2009 Dornfelder is inky dark ruby in the glass. Dark rich, ripe plums, complex dark fruit flavors with a bit of spice and earth on a backbone of moderate tannins.
The dark fruit flavors are unlike most red vinifera varieties I have tasted. I just don't have the wine vocabulary to describe it other than to say it is unique, and delicious.
This variety can be a challenge for the winemaker, according to Bob. He has learned this over the years by studying, testing and doing. It has been Bob's experience with German-made Dornfelder that flavors vary significantly by vintage and producer. This uncommon variety has unique and complex flavors. If you come across it be sure to taste it.
When we asked about using native yeast for fermentation, Bob indicated he is not a fan of the practice. He prefers to be in control of fermentation by choosing commercial yeast. Whole cluster fermentation is not a technique he favors either. He prefers to minimize the flavor influence of grape stems in his wine production.
Bob's choice for wood aging is Hungarian oak. He prefers Hungarian oak because it does not trample the flavors of the fruit, which he always wants to show in his wines. It just adds subtle flavors in the background. Mostly he would use a combination of new, used and neutral oak to age his red wines. No wood aging on any of the white wines, thank you very much.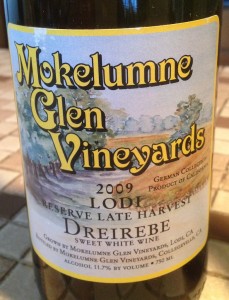 2009 Dreirebe —  The aromas and flavors are an exotic combination of pineapple, peaches and tropical fruit with lingering spice. It is round in the mouth, has perceivable sweetness but good acidity for a clean finish.
This late harvest blend of Gewurtztraminer, Rieslaner and Weissburgunder has always been their best seller. The grapes were harvested in mid to late October and the wine has residual sugar of 14.9g/100ml.
Next we sampled Borra Vineyards Crealto which is the same late harvest blend as the Dreirebe but was made by Markus Niggli and Brett at Borra Vineyards. Here are the details of their winemaking story. Flavors are similar with a lighter body, crisp acidity and an interesting minerality. It too is sweet but has a clean finish.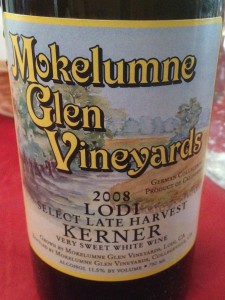 2008 Kerner Select Late Harvest — dark yellow color. Honeyed scents and flavors combine melon, citrus and orange pith. It is distinctly sweet, but has good acidity for a clean finish. Flavors are changing, aging in the very best way possible lending complex, honeyed flavors. Residual sugar is 18.4g/100ml.
The Kerner harvested November 4 – 5 at 39º Brix. Fermentation took place in a jacketed tank so the fermentation could be cool and controlled. Kerner has many faces according to Bob and Brett. It can produce dry, off-dry and up to sweet late harvest wines. That's one of the reasons they like the variety so much.
As Mary Lou correctly pointed out, consumers like a variety of flavors and levels of sweetness. These three wines are similar but distinct and give the consumer that choice. Interesting comparison.
Although the Koths are no longer producing wine commercially, they have library wines dating back to 1977 that include both amateur and commercial bottlings. Their wines appear to be made to age. Brett joked that their Pinot Noir and Zinfandel from 1977 through 1981 might just be about ready now.
Winemaking is clearly in Bob's blood. He did not indicate he intends to make wine again commercially, but I have the impression he has not closed that door. His curiosity and desire to learn are still evident. He is clearly pleased that other commercial winemakers have discovered his German Collection. I can imagine many lengthy conversations between him and those winemakers.
Based on his experience with Dornfelder, Zweigelt, Blaufränkisch, Bacchus and Riesling Bob feels that in the right hands some of these varieties can produce very interesting wines. It is a challenge for the small winemaker, however. Techniques found in a larger commercial winery such as cool, controlled fermentation and good filtration techniques are keys to producing high quality wines — and also difficult for the small producer.
Bob is optimistic about the collection in his vineyard and the ability of other winemakers to shed some light on these unusual varieties. He puts it this way, "There are so many varieties out there that we haven't gotten the chance to work with. My feeling is that out in that field we have a number of treasures we have no idea about."
Bob may not be the one making the wine, but his vineyard has been discovered by a handful of adventuresome winemakers who he is hoping can successfully make and market quality wines from his grapes. He will continue researching, planting and learning about these special German and Austrian varieties.
The take-away message from our visit with the Koths: be an adventuresome wine drinker. Next time you have the opportunity to try a variety you don't know, like Lemberger (Blaufränkisch), Dornfelder or Kerner, take advantage of the opportunity. Figure out if you like the flavors, introduce them to your friends. Don't wait for someone to tell you these varieties are good, get out there and make that discovery for yourself.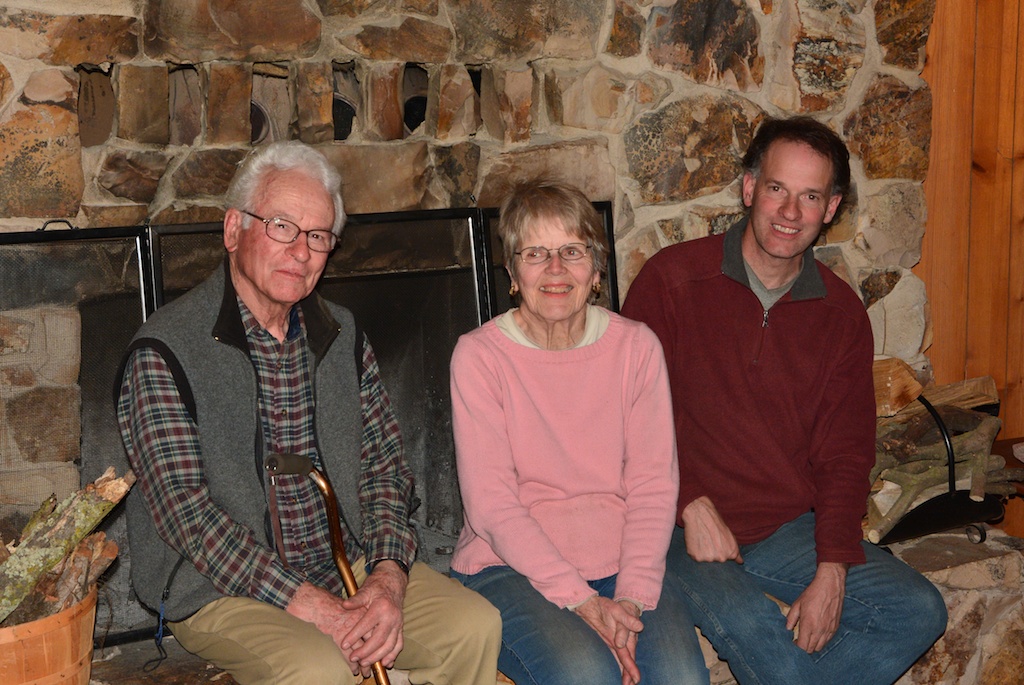 Our thanks to Bob, Mary Lou and Brett for sharing their knowledge and enthusiasm of these special German and Austrian varieties. And of course 'danke' for sharing your delicious wines with us. We are converted.
Cheers!