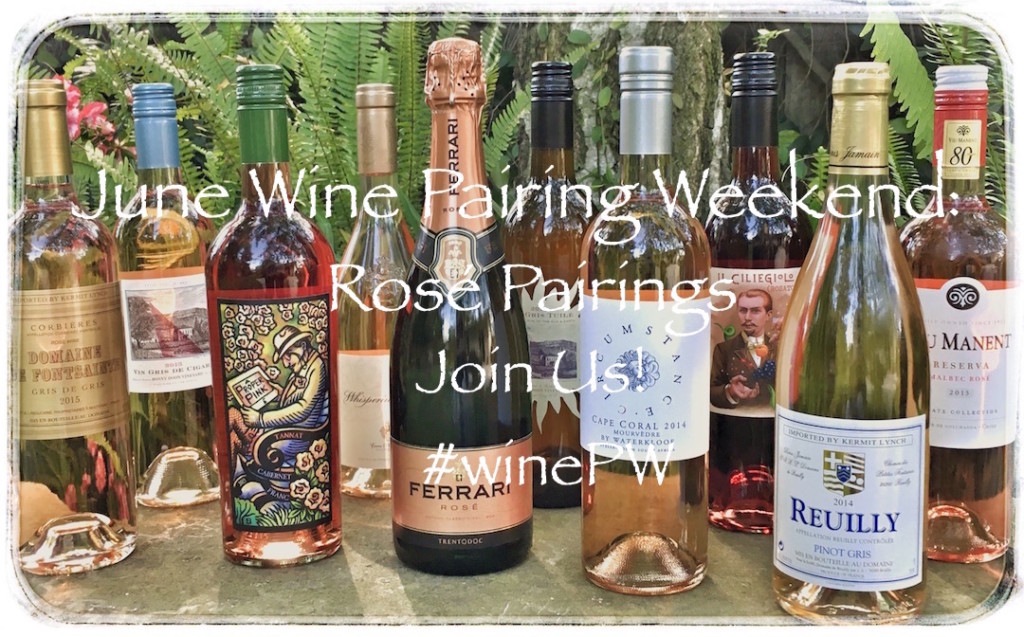 Wine Pairing Weekend is a group of food and wine bloggers that gather together every month to share food and wine pairings. The theme varies every month and is chosen by that month's host. The theme for June is Rosé Pairings.
Our posts will publish early on Saturday, June 11, then we will gather at 11 am Eastern Time (8 am Pacific) on Twitter to chat about the food and wine pairings we prepared. It's loads of fun and you will meet all kinds of interesting people — in addition to gathering wickedly delicious food and wine pairing ideas. Please join the conversation by following #winePW on Twitter.
As usual, we have an interesting list of pairings.
Camilla from Culinary Adventures with Camilla pairs Rose Petal-Strawberry Granita with Luc Belaire Rare Rosé
Cindy from Grape Experiences will share Wine and Dine: Galil Mountain Rose and Mixed Olive Tapenade
Jill from L'occasion is contemplating Provençal Rosé and a Summer Supper
Martin from Enofylz Wine Blog pairs Chicken and Sausage Paella Paired with a Unicorn Rosé
Wendy from A Day in the Life on the Farm prepares a Seafood Boil featuring Domaine Houchart Cotes de Provence Rose 2015 #WinePW
Jade from Tasting Pour shares Labneh (Kefir) Cheescake with Strawberries & Del Rio Rose Jolee
Michelle from Rockin Red Blog will be Kicking Off Summer with National Rosé Day
David from Cooking Chat pairs Grilled Arctic Char with Pineapple Salsa
Lori from Dracaena Wines discusses Are You Impatient? You Could Have Created Rosé
Lauren from The Swirling Dervish considers Where Sicily and Mendoza Meet: Stuffed Roasted Calamari and 2015 Perlita Rosado. June's #winePW Adventure
Meaghan from Un Assaggio shares Cheeky Pairings: Cod Burger + Rosé #WinePW
Gwendolyn from Art Predator travels Around the World With Rose
Pete and I from Pull That Cork pair A Corsican Rosé and Summer Veggie Pizza for #winePW

Our July event will be hosted by Jeff at foodwineclick, who has chosen Pairings with Sherry as the theme.
Cheers!