Almost every month we participate in Wine Pairing Weekend, also known as #winePW on Twitter. Wine Pairing Weekend is a group of bloggers who gather together to create food and wine pairings centered on a common theme. This month the theme is Rosé Pairings and we at Pull That Cork are the hosts.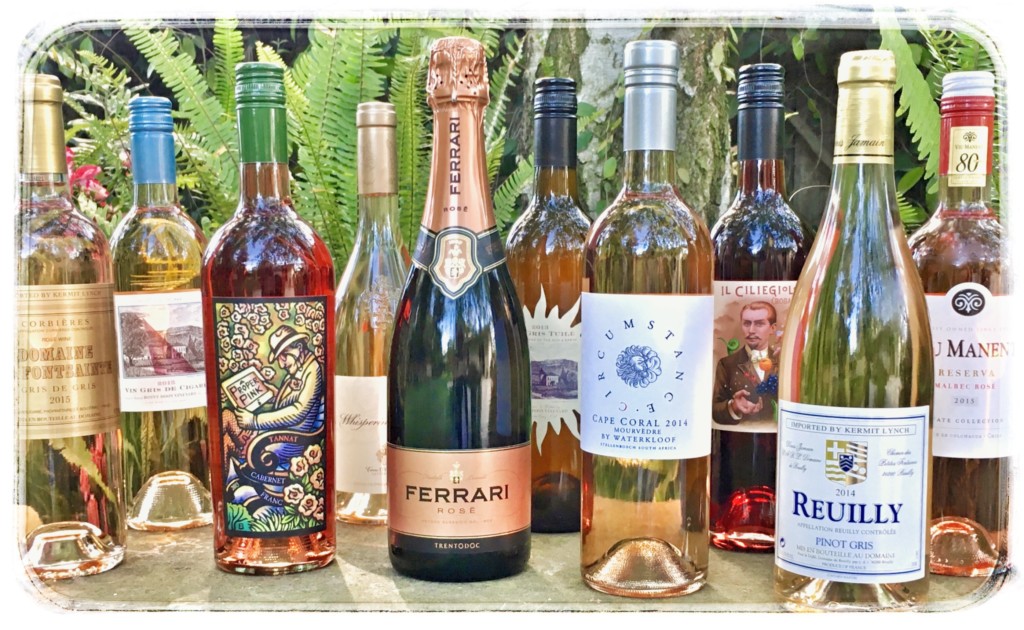 We chose Rosé Pairings as the theme because we love drinking rosé so much. In fact, we drink pink wine year round. Every spring we begin checking local wine shops for the new rosé vintage. We look for our old favorites, but are always willing to consider a new vintner, country of origin or new grape variety. We continue to look for rosé all summer and our stash of rosé always lasts into the holidays, when we drink more sparkling rosé.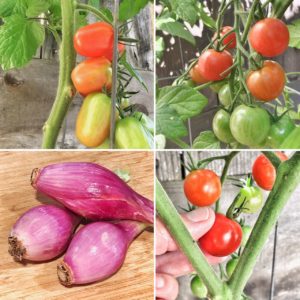 For our rosé and food pairing this month I took inspiration from our local Farmers Market and our own garden. Torpedo onions, zucchini and tomatoes have made their appearance in the last few weeks in the market and we have ripe tomatoes in our garden. So, we put together a zucchini, torpedo onion and tomato pizza.
The rosé pairing came next. We reached for a rosé that represents a new wine region for us — Corsica. We recently attended a rosé tasting locally where we tasted the wine. We liked it, ordered it and it arrived just in time for Wine Pairing Weekend.
How Rosé is Made
There are three main ways to produce a rosé wine and we enjoy rosé made using all of these methods. In all but the last method, rosé is produced from red grapes. It is made in essentially every wine region that grows red wine grapes. The color varies from barely blush to nearly neon pink. The flavors are just as varied.
Saignée describes the process of bleeding off, or draining, juice early in the winemaking process. The bleed off serves two purposes: it concentrates the juice left behind (which can then be made into a more flavorful red wine) and produces a lightly colored juice that is fermented as a rosé. It's kind of a two-for-the-price-of-one method of winemaking.
Short maceration: red grapes are left for a relatively short time on the skins, just enough time to impart the desired color and flavor to the juice. In the case of the maceration method, the grapes are harvested with the production of rosé in mind. The grapes may be whole cluster pressed, de-stemmed, or not, before crushing.
The final method is the blending of a two base wines, one red and one white, as in the production of  Champagne and other sparkling wines made using the traditional method where the second fermentation takes place in the bottle.
The Food
Several months ago I made pizza dough from scratch for the first time. It was both a wonderful and distressing experience. Wonderful because the dough was surprisingly easy to make and the result was so delicious. Distressing because the result was so delicious that we are inclined to eat too much of it!
The Martha Stewart recipe has a very short list of ingredients: flour, yeast, water, salt, sugar and olive oil. It goes together in nothing flat and takes less than two hours to rise. I cut the recipe in half which makes just enough dough for one pizza.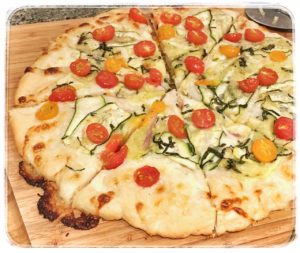 We generally use fresh mozzarella on our pizza and do not use tomato sauce. In this case we sliced the green and yellow zucchini into thin ribbons using our mandoline then tossed them with olive oil, black pepper, sliced torpedo onions and basil. I layered this mixture over the fresh mozzarella and added sliced red and yellow cherry tomatoes. The tomatoes and basil came from our garden.
Simple, fresh and very flavorful. The dough was yeasty and the vegetables were bursting with flavor. The basil added nice background notes and the tomatoes were sweet and fruity. There is nothing like vine-ripened tomatoes.
The Wine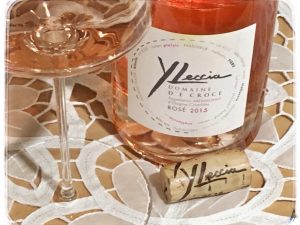 2015 Yves Leccia Domaine d'E Croce Rosé — pale salmon in the glass with generous berry and white flower aromas. Raspberry and blackberry flavors combine with a squeeze of citrus zest and bright acidity that will engage your salivary glands. There are hints of dusty stone and mineral flavors in the background. The finish is very long and refreshing. 13.5% abv.
I like this wine as much on this second tasting as I did when I first tasted it over a month ago. It is one of the most flavorful rosés I've tasted in some time. It is lovely on its own and because it is so flavorful and well-balanced it's a great food wine too. Consider roasted chicken or fish; charcuterie and cheese would pair nicely.
This rosé is a saignée of 60% Niellucciu, 40% Grenache. Fermentation and aging takes place in stainless steel and the wine does not go through malolactic fermentation. Niellucciu is the Corsican spelling (you will also see it spelled Nielluccio) and the variety is known elsewhere as Sangiovese. A familiar friend.
This rosé is made by Yves Leccia in the Patrimonio AOP in the north of Corsica. Corsica lies in the western Mediterranean less than 100 miles south of France and about 80 miles west of Tuscany. The island of Sardinia lies not far off the southern coast of Corsica.
The climate is mostly sunny and dry, but the island is very mountainous which allows for varied mesoclimates. The wine's importer, Kermit Lynch Wine Merchant, offers a succinct description of Leccia's winemaking philosophy:
Originally working alongside his sister, he decided to branch off on his own in 2004 and focus on the single terroir he felt was the top in Patrimonio. This terroir, "E Croce," sits on a thin chalk soil above a thick bedrock of pure schist, facing the gulf of St. Florent. Yves is a firm believer in the idea that if you want something done right you need to do it yourself, and thus he tends to his vines alone and works the cellar by himself as well. He keeps his yields low, knows when to harvest, and knows how to let E Croce express itself in the wines. Not a single bottle comes out of the domaine that isn't meticulously looked after from start to finish.
And, as a bonus for me because organic viticulture is so important to me, the vineyards have been in certified organic conversion since 2013 with full certification by Ecocert expected in 2016.
The Pairing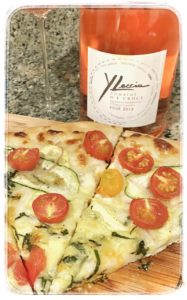 Fresh. Delicious. Satisfying. I should add simple to that list of descriptions, it is perhaps this pairing's most important quality. When I am able to open a lovely bottle of wine, gather fresh ingredients and put them together in an uncomplicated way with such a delicious result I am a happy person.
The rest of the Wine Pairing Weekend bloggers have created some delicious pairings of their own. Happy reading!
Camilla from Culinary Adventures with Camilla pairs Rose Petal-Strawberry Granita with Luc Belaire Rare Rosé
Cindy from Grape Experiences will share Wine and Dine: Galil Mountain Rose and Mixed Olive Tapenade
Jill from L'occasion is contemplating Provençal Rosé and a Summer Supper
Martin from Enofylz Wine Blog pairs Chicken and Sausage Paella Paired with a Unicorn Rosé
Wendy from A Day in the Life on the Farm prepares a Seafood Boil featuring Domaine Houchart Cotes de Provence Rose 2015 #WinePW
Jade from Tasting Pour shares Labneh (Kefir) Cheescake with Strawberries & Del Rio Rose Jolee
Michelle from Rockin Red Blog will be Celebrating National Rosé Day with #WinePW
David from Cooking Chat pairs Grilled Arctic Char with Pineapple Salsa
Lori from Dracaena Wines discusses Are You Impatient? You Could Have Created Rosé
Lauren from The Swirling Dervish considers Where Sicily and Mendoza Meet: Stuffed Roasted Calamari and 2015 Perlita Rosado. June's #winePW Adventure
Meaghan from Un Assaggio shares Cheeky Pairings: Cod Burger + Rosé #WinePW
Gwendolyn from Wine Predator travels Around the World With Rose
We will gather at 8 a.m. Pacific Time, Saturday, July 11 on Twitter to chat about the food and wine pairings we prepared. Please consider joining the conversation by following #winePW.
Our July event will be hosted by Jeff at foodwineclick, who has chosen Pairings with Sherry as the theme.
Cheers!