The Lodi AVA is practically in our backyard, so being the winelovers that we are you might think we have tasted pretty much everything Lodi has to offer. We've tasted quite a few Lodi wines, but until recently The Lucas Winery was not among them. I'm happy to say we have corrected that omission.

My interest in organic viticulture is what drew us to The Lucas Winery. I learned through the Lodi Winegrape Commission (LoCA) that only a handful of vineyards in Lodi are being farmed organically and that The Lucas Winery is among them. Recently, we sat down with David Lucas and Heather Pyle-Lucas at their winery to talk viticulture, winemaking, and lots of other interesting topics – like surfing and wine tasting in Sicily. Over the years I'd heard words like restrained and elegant used to describe the wines from The Lucas Winery. Now I understand why.
How They Got Here from There
Winemaking at Lucas has covered a wide arc since David began making wine as a home winemaker in 1978. He, like many other early Lodi winemakers, learned to make wine by doing. Fermentation started without the use of commercial yeast. If he was lucky, fermentation proceeded. If instead he was left with a stuck fermentation (or just plain awful wine), he would dump the grape juice in the vineyard. As David put it, "The wine went back to the vineyard." The wine that made it to barrel was finished in used brandy barrels – because that's what he could get.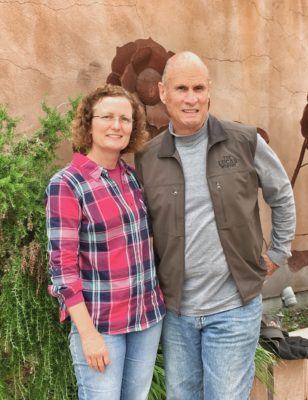 Today, winemaking at The Lucas Winery is very different. It is the culmination of what David and Heather have learned independently and together. Both credit the Mondavi family with an invaluable influence on not only their winemaking, but winemaking in the Lodi region and California as a whole. And, it was through their employment with the Mondavi family that the two met.
David's responsibilities in grower relations for Mondavi's Woodbridge Winery in the early 1980s introduced him to vineyard practices like weak shoot removal and verasion thinning. The Mondavis learned these vineyard techniques from European winemakers during their travels to European wine regions. They recognized the importance of these techniques in producing quality fruit and then implemented them in the vineyards in California. The Mondavis were the first to pay growers a premium for following these practices.
Heather's winemaking experience with the Mondavi family began a few years later at the Robert Mondavi Winery in Napa Valley. In addition to her winemaking responsibilities at the Mondavi winery, she was involved in the Opus One project (Robert Mondavi and Baron Philippe Rothschild's joint venture in Napa). This is where she and David met.
For a time, Heather tended a couple of acres of Cabernet Sauvignon she owned in the Napa Valley. This was her first hands-on experience farming organically, and she discovered that grapes are a very resilient crop that could be farmed organically without too much additional expense.
Both Heather and David traveled to Europe with the Mondavis to visit vineyards and taste wine. In addition to what they learned from the Mondavis, their winemaking today is influenced by the great wines they tasted in Bordeaux and Burgundy and what they learned in the vineyards and wine cellars of those regions.
In The Vineyard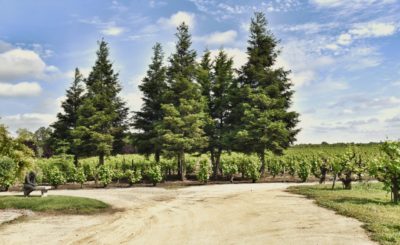 A total of 18 acres of Zinfandel comprise the Lucas vineyards today. 15 acres are farmed according to Lodi Rules for Sustainable farming and are certified as such. Some of the fruit is sold, and the rest is the source for their C'T'Z'N Zinfandel. The vineyard is beautifully tended.
The real star of the show is the appropriately named ZinStar vineyard, planted in 1933. The 3-acre Zinfandel vineyard is located directly behind the Lucas's home and winery and is the vineyard that is farmed organically. It is also CCOF-certified.
Heather and David literally live with this beautiful, head-trained, own-rooted vineyard. They are aware of every change that takes place in the vineyard and this, I learned, is possibly the most important aspect of organic farming — constant monitoring followed by rapid intervention if a potential problem is identified.
David and Heather don't farm organically because they have any illusion of saving the world. As Heather put it, "We thought it would be good fun and informative and decided to take the journey to see what we could learn."
Turns out they have learned quite a lot. With the assistance of a Pest Control Advisor they identify and monitor mites and mealy bugs, both pests in the vineyard. They have learned through experience early intervention is essential to successfully control these pests through the use of predator mites and six spotted thrips. Predator mites are grown by a CCOF-certified insectary on bean plants. A mite-laden bean plant is placed in every grape vine and the bug battles begin.
Cover crops are an important part of soil enrichment and are routinely planted between the rows of vines. Beans, vetch, oats and triticale have been effective. Cover crops are either mowed or disked into the ground in spring and weeds between the vines are controlled using a string trimmer. Organic certification prohibits the use of the herbicide Roundup (Glyphosate) in the vineyard, so it looks a little messy, but there is an upside to the messiness. The vineyard has developed a healthy population of the predatory six spotted thrips … naturally.
Aside from organic practices, the vineyard practices they learned from their European travels with the Mondavis are implemented to produce fruit with uniform ripeness. In April or May weak shoot removal begins, to remove fruit that is behind in development and will never catch up. This also opens the vine to sunlight which enhances flavor development in the grapes as they grow.
When the grapes begin to change color from green to black, verasion thinning takes place. Any cluster that is 50% green or more is removed. This insures uniform ripeness at harvest. "When you get done doing that, you do not want to look in the vineyard," David observed referring to the fruit lying on the ground. As much as 30 to 40% of the crop may be thinned. He believes verasion thinning is more important than anything they do in the winery to produce quality wine.
Verasion thinning is a practice they follow with their Chardonnay as well, which is sourced from two local growers David describe as, "passionate growers willing to do what it takes to showcase Lodi Chardonnay." It is a bit of a challenge to train the crew to manage verasion thinning with all green grapes. The thinning must be done by feel rather than color difference, but the results have been successful in these Chardonnay vineyards according to David.
Winemaking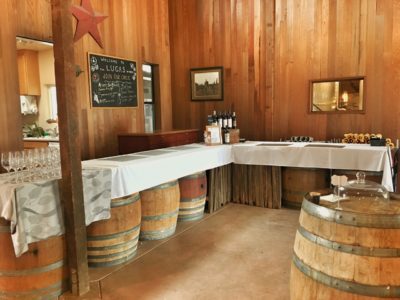 By the early 2000s both Heather and David had left the Mondavi fold to focus their attention on the Lodi vineyard where David originally began making wine. The tasting room is now located in a restored tractor barn that was, according to David, once in such bad shape that, "A bird could go in one side and out the other without knowing it was in a barn." Wood from a 60,000-gallon redwood wine tank built before prohibition was used to reconstruct the inside of the tasting room.
Adjacent to the tasting room is the Grand Chai (pronounced shay), the barrel room. All barrels are organized on one level, lying on their sides on a bed of gravel. The arrangement is a result of Heather's experience at both the Robert Mondavi Winery and Opus One, as well as their travels to Bordeaux. David is proud to say theirs is the only Grand Chai used to produce Zinfandel.
Barrel aging is an important aspect of winemaking that not only clarifies the wine, but develops flavor, texture and character in the wine. It's important for ageability too. The wine is racked once or twice per year. Racking involves pumping the wine from barrel to tank and rinsing each barrel before returning the wine back to barrel.
The choice of oak used for aging is a crucial one, and it is one that is made with the vineyard in mind at The Lucas Winery. Over the years David and Heather have experimented with American and Hungarian oak. They believe French oak is more supple and less aggressive than American oak and a better choice for their ZinStar vineyard and their style of winemaking, which is less ripe.
Because the Zinfandel made at The Lucas Vineyard is a single vineyard wine, the choice of wood is even more crucial according to David, who noted they never use Mega Purple or blend their Zinfandel with Petite Sirah or Syrah to augment color and flavor. Heather and David are always looking to reflect what David called, "the footprint of the vineyard" in their wines.
Wood aging takes place in a combination of new and used French oak. New French oak barrels are first used to ferment The Lucas Winery Chardonnay. That barrel fermentation is generally complete by the time the Zinfandel is ready to be moved from the fermenters to barrel, at which time a portion of the Zinfandel goes into the new barrels, first, second, third, fourth and sometimes fifth-use barrels.
Total wine production at The Lucas Winery varies by vintage. In vintages like 2015, when the vineyards were struck by a hail storm that damaged one-third of the crop, production is down significantly. 1500 to 3000 cases per year is the average production, which includes Estate Chardonnay, C'T'Z'N Zinfandel, ZinStar Zinfandel, C'T'Z'N Rosé and Late Harvest Zinfandel.
Did Someone Say Wine?
We tasted several vintages of the Chardonnay and ZinStar Zinfandel, along with the C'T'Z'N Rosé and Late Harvest Zinfandel. Several things impressed us about The Lucas Winery wines. Balance. Restraint. Ageability.
The Lucas Winery 2013 Estate Chardonnay is the current release. To David and Heather this wine still tastes very young. They would prefer to be pouring their 2012 vintage, but it's gone. To us the 2013 is acid-driven, bright, fresh and fruity with wonderful weight and texture. We had the opportunity to taste the 2000 Chardonnay which is moving toward gold in color and exhibits concentrated flavors including nuts, spice and cedar flavors that I described as extraordinary in my notebook. This wine is not at all tired. A lovely wine.
We tasted three vintages of the ZinStar Zinfandel and the wines demonstrated vintage variation as well as its potential to age. The 2012 ZinStar Zinfandel is lighter in color, elegant in flavor with bright acidity and smooth tannins. This Zinfandel a wine that would be lovely to sip on a warm afternoon. It is restrained but not simple. In contrast, the 2013 ZinStar Zinfandel is darker in color and exhibits a combination of red and dark fruit flavors, along with earth and spice. Once again, bright acidity makes this a juicy, enjoyable wine that would pair with all kinds of food. This is the kind of vintage variation that can be demonstrated when the winemaker doesn't fiddle with the wine. It is exactly the point of winemaking at The Lucas Winery.
Who ages Zinfandel? Not many folks, I'm guessing. Heather and David do. Their 2003 ZinStar Zinfandel is ruby-garnet in the glass with concentrated dark fruit flavors, leather, earth and smooth tannins. Nice acidity remains and the evolution of flavor was a pleasure to taste. The color is still surprisingly youthful. David is convinced this wine has another 20 years to go. I wouldn't bet against it.
Now, Go Visit
David proudly told us the story of his first wine taster at the winery … a man who was out collecting aluminum cans along Davis Road. With equal pride David noted that he was the first to charge a tasting fee in Lodi, a decision he says some still criticize, and he was the first to bottle a vineyard-designated wine in Lodi.  Heather and David both believe the Lodi appellation has great potential to produce world-class wine and are happy that it is becoming known for more than commodity wines. They are proud to be part of that movement.
Above all, they are having fun doing what they do. Both loved the busy time they spent working for the Mondavis and recognize what a great learning experience it was. But as Heather put it, "We are where we want to be now." How many of us can say that?
You will find tasting room hours on The Lucas Winery website along with information about their wine and educational events at the winery.
Cheers!