Wine, of course, cannot literally run through your veins, but the phrase certainly applies in a figurative sense to the current generations of the Scotto family. They trace winemaking back to the 1880s when Salvatore Dominic Scotto made wine for his family in Ischia, Italy. When, at the turn of the 20th Century, the family came to the United States and settled in Brooklyn they continued making wine. Similarly, when the family's final move brought them to California in the 1960s, winemaking continued. Scotto Cellars was established in 2004.
Today, this ambitions family has winemaking facilities in the Napa Valley, Amador County and Lodi. Each winery produces a unique portfolio of wines from their own vineyard sources. The range of wines stretches from value brands priced at about $10 to their high-end offering at $50. Something to match everyone's taste and pocketbook.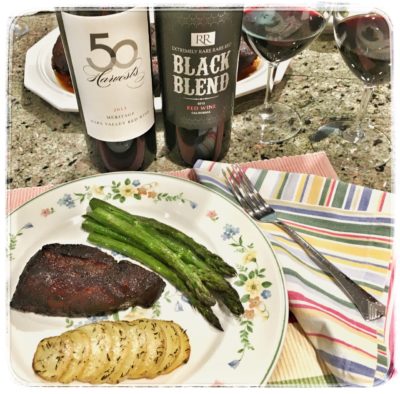 Scotto Cellars recently sent us two red blends as tasting samples that fit exactly at either end of their production spectrum, one priced at $9.99 and the other $50. When we received the samples Pete and I discussed whether we should taste them together or separately. Maybe it wouldn't be fair to the $9.99 wine to taste it with the $50 wine. We decided to prepare a meal and taste the two wines together, resolving to judge each wine independently. In addition to the difference in price, the two wines are made from grapes sourced from different regions in California and are blends of different varieties from two vintages.
2012 Extremely Rare Black Blend — medium ruby color in the glass with generous blackberry, blueberry and plum aromas. The flavors echo the dark fruit aromas with backnotes of dried alfalfa. Tannins are smooth and well-integrated. The finish is medium in length. 13.5% abv. $9.99
Fruit flavors shine through in the Extremely Rare Black Blend, which still shows a very youthful color. The wine is a blend of Old Vine Zinfandel from Lodi along with Petite Sirah and Syrah from Lake and Amador Counties. Each variety was fermented separately in stainless steel and aged for 9 to 12 months in a combination of new and second-use French oak.
Suggested food pairings from the Scottos include pasta, grilled foods, lamb and wild game. They even suggest dark chocolate desserts. The Black Blend certainly paired nicely with our meal of smoked country-style pork ribs, roasted potatoes and asparagus. It is a pleasant, fruit-forward red wine that will appeal to wine drinkers who are not fond of tannic red wines. A good choice for weeknight dining.
50 Harvests 2013 Meritage, Napa Valley — medium ruby-garnet color in the glass. Complex aromas of damp earth support dark fruit aromas and a suggestion of mint. Flavors of plums, blackberries and black cherries are supported by delicate cedar spice and nice acidity. Firm, drying tannins give this medium-bodied wine structure and provide a long finish. 14.7% abv. $50
The tannin structure defines this wine but does not overpower the earthy dark fruit flavors. The 50 Harvests is a beautiful food wine. It paired well with our smoked country-style pork ribs, standing toe-to-toe with the rich flavors of the pork. Our pairing was perhaps a bit low-brow for this elegant wine, but the pairing was really delicious. The price puts this wine in the special occasion category for most wine drinkers, but the flavors will not disappoint.
The  50 Harvests 2013 Napa Valley Meritage is composed of 75% Cabernet Sauvignon, 13% Merlot, 12% Cabernet Franc all sourced from Napa's Oak Knoll District. Each variety was fermented and aged separately. 20 months of French Oak aging was followed by 4 months of bottle aging prior to release.
The 2013 50 Harvests was made by winemakers Mitch Cosentino and Paul Scotto at the family's Steele Canyon Cellars facility in Napa. The 50 Harvests label commemorates the 50th harvest since the family moved to California in 1963.
Whether at the $10 price point or $50 price point, blending is the name of the game for the winemaking team at Scotto Cellars. Thanks to the Scotto family for sending us this interesting comparison of your winemaking styles.
Cheers!