Our homework for the April Wine Pairing Weekend (#winePW) was to choose our favorite springtime flavor, then pair a wine with it. What a delicious assignment, courtesy of Wendy Klik. You can find the details on Wendy's blog, A Day in the Life on the Farm.
I chose my inspiration for this food and wine pairing from a stroll through our Farmer's Market. During the winter, I don't visit the Farmer's Market as regularly as I do during the rest of the year. Our market is open only on Sundays during the winter and the number of vendors is somewhat reduced, so I took this opportunity to return to the Farmer's Market to see what was available.
Winter greens were everywhere, along with cruciferous vegetables, beets and other root vegetables. All of these vegetables looked delicious, but didn't cry out spring time to me. What did shout spring time to me was my favorite spring delicacy … peas. I was so happy to spot several farmers selling those fat, green pea pods. I knew immediately that was my spring flavor. I found the best looking selection of peas then sorted through a large pile of the green lovelies, choosing the fattest pods, all the while thinking about how I might prepare them.
Mushrooms, I thought, would make a nice pairing with spring peas. Usually there is a farmer who sells a wonderful assortment of mushrooms along with his fruits and vegetables, but unfortunately he was not at the market. Instead, I looked to one of our locally-owned grocery stores and found a very nice selection of fresh shiitake and oyster mushrooms.
Remembering a recipe for creamy pasta with morels and peas that I have, I also picked-up a package of dried morels, some shallots, dried pasta and heavy cream. I knew something delicious would be the result.
So, what wine to pair with a creamy pasta dish including sautéed mushrooms, cream and fresh peas? The rich, fattiness of the cream suggests a crisp white wine would be a natural pairing. In fact, a blog post I read over a year ago suggesting just that pairing was the inspiration for this pasta dish.
We decided to go in a different direction with our choice of wine, however. Mushrooms and Pinot Noir are always a natural pairing for us, and as we were having a friend over for dinner that prefers red wine to white wine, we decided to go with a Pinot Noir.
The Food
This pasta dish is a snap to prepare. (Insert snap pea joke here!) The most tedious part was shelling the peas, always a labor of love that results in green thumbnails. Next, I started heating water to cook the pasta.
In the mean time I soaked several of the dried morels in hot water (I later filtered and reserved the water to add to the sauce), rough chopped the fresh mushrooms and diced the shallots.
I quickly blanched the shelled peas, then cooled them in an ice bath to stop them cooking. I love spring peas just barely cooked so the flavors are still fresh and the texture a bit firm.
Next I sautéed the shallots in butter just until they were translucent. Finally, I added the chopped fresh shiitake and oyster mushrooms along with the morels which had been drained and chopped. After a quick sauté and a bit of salt and pepper, I added heavy cream and the reserved morel soaking liquid stirring well to combine all of the ingredients.
The last few ingredients included the drained pasta and a generous grating of Parmigiano-Reggiano. I just heated the mixture through, checked the seasoning again and then at the very end stirred in the peas.
This satisfying, rich dish has the earthy flavors of mushrooms punctuated with little explosions of pea flavor. The sautéed shallot flavors in the background and the richness of the heavy cream complete the dish. It's comfort food at its very best.
Recently, we purchased several Willamette Valley Pinot Noirs, as well as Chardonnay and Pinot Gris, from Westrey Wine Company in McMinnville, Oregon. We had been introduced to Westrey wines via an online wine tasting that included Westrey's Willamette Valley Reserve Chardonnay, which we subsequently wrote about. We were so impressed with that brilliant Chardonnay that we were curious to try some of Amy Wesselman and David Autrey's other wines.
We ordered three Pinot Noirs from Westrey, and decided to open the oldest one of the three to accompany our mushroom and spring pea pasta. We decanted the bottle an hour prior to dinner.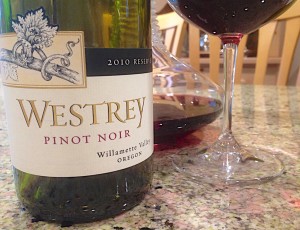 2010 Westrey Willamette Valley Reserve Pinot Noir — translucent ruby-garnet in the glass with earthy, cedar, berry-bramble aromas. Very complex flavors of cherries and cranberries combine with earthy brambles. Spice flavors include black pepper, cedar and cigar box. The tannins are very smooth, accompanied by nice acidity for a moderately long finish with both flavor and tannins. The combination of complex flavors and a relatively light body is a combination I find irresistible in a red wine. ABV 13.4%
This Reserve wine is a blend of Pinot Noir from three vineyards; 40% La Cantera, 20% Buckhaven and 40% Oracle (from four separate lots). Each lot was fermented separately with both indigenous and commercial yeast from Burgundy. After fermenting to dryness, then pressing, the wine was moved to barrels where malolactic fermentation was completed. Aging in 30% new wood and 10% one-year old, with 60% coming from neutral wood insures the fruit character of this wine shines through.
Amy and David own the Oracle vineyard, which is located in the Dundee Hills AVA. The vineyard has an interesting history that you should definitely read about.
The Pairing
The relatively light body and complex flavors of the Westrey Willamette Valley Reserve Pinot Noir paired beautifully with the mushroomy, creamy goodness of the pasta and the bright acidity balanced the richness of the cream very nicely. The little explosions of green pea goodness were sweet and flavorful. If I were going to modify this recipe at all, it would be to add more peas. They are so delicious, I don't think it would be possible to have too many. No modification to the Pinot Noir necessary!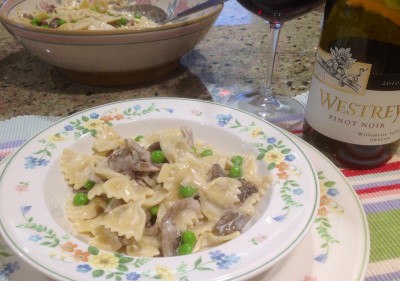 The left-over pasta made a yummy lunch the next day and the Westrey Reserve Pinot Noir held over beautifully until that evening, even gaining in complexity. We look forward to opening the two remaining bottles of Westrey Pinot Noir. Even though David told us they will age well for several years, it is unlikely we will have the discipline to age them.
Just take a look at what this wonderful group came up with to meet Wendy's challenge to them.  We may never find ourselves in this dilemma again!!
Spring Pea Risotto with Picpoul de Pinet by Curious Cuisiniere
Spring-Kissed Seafood Chowder with Pelerin 2011 Les Tournesols by Cooking Adventures with Camilla
Wine and Dine: Las Lilas Vinho Verde 2013 and Chilled Cucumber with Mint Soup by Grape Experiences.
Red Wine with Asparagus and Mushrooms by Cooking Chat
Spring Hopes: Asparagus and Rosé by Food Wine Click
Leap into Spring with Pasta Primavera by Vino Travels
Spring Fling with Greek Pizza and Wine by Confessions of a Culinary Diva
Spring Flavors with Hungarian Pinot Grigio by A Day in the Life on the Farm
Welcoming Spring with #WinePW by Rockin Red Blog
Winter's Hill Pinot Blanc and Warm Arugula, Bacon and Asparagus Salad by Tasting Pour
Roasted Halibut with Potatoes and Lemon and a Tablas Creek Cotes de Tablas by Enofylz Wine Blog
Beets and Wine Pairing by Girls Gotta Drink
Grab a cup of coffee and join us for a Twitter chat on Saturday morning April 11 at 8 PST when we will be talking spring time flavors. Follow #winePW and join the conversation.
Thanks for joining us for the 11th edition of #winePW. Please join us again next month when our host is Christy from Confessions of a Culinary Diva. Christy is challenging us to come up with Wine Pairings with Mexican Cuisine. Should be fun.
Cheers!