When Markus Niggli talks about his wines, you need to be prepared to pay close attention. He will recite harvest dates, º Brix, pH and TA levels so quickly it will make your head spin. He loves making wine and taking about wine.
Markus is making some wonderfully complex, unique and always-changing white wines for his Markus Wine Co., a subventure of Borra Vineyards, while continuing to make all of the delicious white and red wines for Borra Vineyards.
His winemaking point of view is informed by his European heritage. Markus grew up in Switzerland. He travels to Europe regularly, tasting wine as he goes; always curious, always thinking about how he can translate the flavors he tastes in the wines that he makes.
One such wine tasting experience years ago in Switzerland inspired his first Markus Wine Co. bottling last year. The wine was a Kerner, aged in oak. At the time Markus thought if he could ever find Kerner grapes, he would love to make a similar wine.
As luck would have it, Lodi is home to Kerner, and many other German and Austrian varieties — at Mokelumne Glen Vineyards. Markus has been working with Bob and Mary Lou Koth for several years now and last year Markus debuted his 2013 Nimmo, a Kerner, Gewürztraminer, Riesling and Bacchus blend aged in oak. A very unique wine made to bottle age.
Markus recently released three white wines under his Markus Wine Co. label and one under the Borra Vineyards label — all of which we were fortunate to taste.
Before we dive into the wines, just a bit about the Markus Wine Co. labels. They all tell a story of place…hometown, inspiration, collaboration. The label designs represent a collaboration between Markus and the artists. The front labels are designd by University of the Pacific Visual Arts students, Sheng Moua and Anneka Weinert, along with Michael E. Leonard, Visiting Lecturer at Pacific. The artists have translated Markus' inspiration for making these wines into the images you see on the bottles.
The back labels document all of the wine production details and specifications. No detail escapes Markus' notice, and so all of those details are there on the back label for the interested wine lover to devour. Markus puts considerable thought into what goes on the bottle as well as what goes into the bottle.
New release white wines: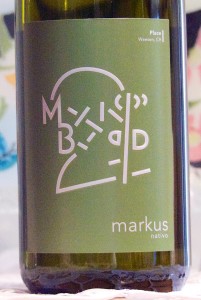 2014 Marcus Wine Co. Nativo — pale yellow in the glass with aromas and flavors of melon and tropical fruit. You'll notice a bit of sweetness, and some weight in the mouth that is balanced with nice acidity for a clean finish. ABV 13.1%. 120 cases produced. $18.99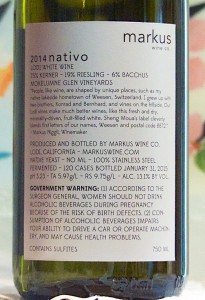 This 75% Kerner, 19% Riesling, 6% Bacchus blend is stainless steel fermented using native yeast. The label, referred to as the zip code label, includes the postal code for Markus' hometown of Weesen, Switzerland as well as the first initial of Markus' name and both of his brothers. Label design by student Sheng Moua.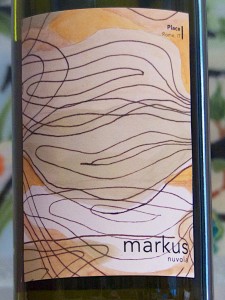 2014 Markus Wine Co. Nuvola — light yellow in the glass with aromas and flavors of ripe peaches combined with allspice and white pepper. The finish is zesty and juicy with a lingering minerality. The combination of flavors in this 100% Gewürztraminer are completely unique and will keep you savoring this wine, thinking about the combination of flavors. ABV13.2%. 75 cases produced. $18.99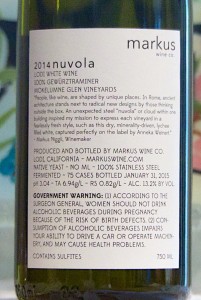 Once again, native yeast fermentation using stainless steel vessels transforms this 100% Gewürztraminer with minimal intervention in the winery.
Nuvola translates to cloud and represents the inspiration for this wine that Markus drew from viewing modern artwork in Rome. The label was created by student Anneka Weinert who translated Markus' inspiration into this beautiful design.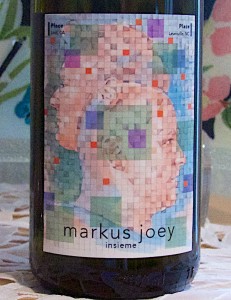 2014 Markus Joey Insieme — very light yellow in the glass with generous aromas of white flowers and tropical fruit. Floral and tropical fruit flavors are similar to the aromas and very long lasting. The wine has a bit of weight to it and a clean citrus-pith finish. ABV 12.8%. 65 cases produced. $18.99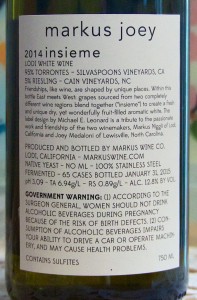 This blend of 95% Torrontes and 5% Riesling is a collaboration between friends and winemakers. The Torrontes is local, from the Silvaspoons Vineyard in the Alta Mesa AVA of Lodi, the Riesling is harvested from the Cain Vineyards in North Carolina.
This wine represents the first Markus Wine Co. collaboration between the winemakers. Insieme translates to together and represents the blending of two grape varieties and the efforts of both winemakers.
If you study the wine's front label you will see Markus looking westward and Joey Medaloni of Lewisville, North Carolina looking eastward.  The label was created by Michael E. Leonard.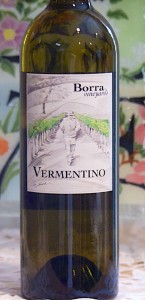 2014 Borra Vineyards Vermentino — light yellow in the glass with delicate aromatics. The flavors are a bit tropical with lean minerality and juicy acidity. Delicate and refreshing at the same time. ABV 12.8%. 65 cases produced. $22.
This bottling is a first for Borra Vineyards, resulting from the first harvest of Vermentino from Borra's Gill Creek Ranch located in the Clements Hills AVA southeast of Lodi.
This 100% Vermentino bottling was fermented in stainless steel, but to mix things up a bit, it was aged in American oak for 4 months. If it's a hit with customers, you will see it in future vintages.
Once again a nice group of wines from Markus Wine Co. and Borra Vineyards … and just in time for summer. These wines are perfect for a warm afternoon and will take you into the evening, pairing well with salads, creamy pasta dishes or mild cheese and charcuterie. We are happy to have sampled them.
From the Borra Vineyards website:
Address:
1301 E. Armstrong Road
Lodi, California 95242
Phone: 209-368-2446
Fax: 209-369-5116
info@borravineyards.com
Tasting Room
Open Friday-Monday
Noon to 5:00 p.m.
And by Appointment
(Click here for directions)
Tasting Fee is $5 per person and includes a souvenir wine glass. For groups of 8 or more please call ahead for reservations.
Cheers!