We spent Tuesday evenings during November learning about and tasting Chardonnay from the Willamette Valley in Oregon. The tastings were organized by Protocol Wine Studio and took place via Twitter. Each evening during the #WineStudio program we tasted and tweeted Chardonnay with the winemakers. In all, we tasted eight Chardonnays, all provided as tasting samples, and came away with a new appreciation for the variety and the region.
The final evening of the November #WineStudio program featured Westrey Wine Company's 2012 Reserve Willamette Valley Chardonnay, and we were joined by Amy Wesselman who together with her husband, David Autrey, shares winemaking duties at their winery.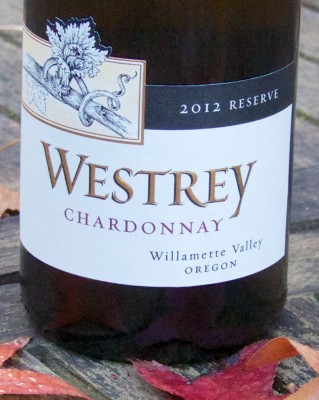 The story of the evening was the Oracle Vineyard located in the Dundee Hills AVA. Early in Amy and David's winemaking career they purchased fruit from the own-rooted vineyard planted in 1977 which included Draper selection Chardonnay (cuttings from the Lett vineyard), Pommard clone Pinot Noir and Pinot Gris. This was during the mid 1990s and they loved the fruit this vineyard produced.
Then, the vineyard's owner failed to maintain the vineyard for a period of time. David and Amy were offered the property, but couldn't make the purchase happen. It was eventually sold to a non-vineyardist who was advised to remove the vines because the own-rooted vines were susceptible to phylloxera. Sadly, that's what happened.
After several years Amy and David had the opportunity once again to purchase the property. Knowing the site was a proven one, but also that the vines had been removed, they decided to purchase the 50-acre parcel in 2000. Much to their surprise in the spring the vineyard showed some green growth. With meticulous care and pruning they succeeded in bringing the vineyard back to life.
So, now David and Amy appear to have the best of both worlds. A new vineyard, if you will, pruned and trellised as they prefer but growing on an old, deeply anchored root system. According to them, "The original planting benefits from their massive 40-year-old root structure and yield grapes of truly exceptional balance and length."
In addition to the original 7-acre planting, David and Amy have increased plantings to 23 acres, with an additional 3-acres planned for this spring.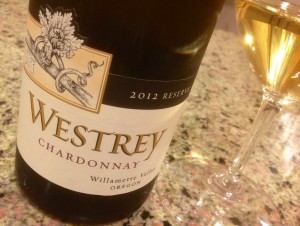 2012 Westrey Reserve Willamette Valley Chardonnay —  medium yellow in the glass with delicate crisp pear aromas. This wine is deceptively complex. Flavors are dominated by a dry, stony minerality and balanced with subtle apple flavors and bracing acidity. A pop of cedar flavor add to the complexity and the wine is mouth filling but light at the same time. 13.5 % ABV. Only 142 cases and 4 cases of magnums produced. $32.
If I had to use only one word to describe this wine it would be addictive. The combination of dry, dusty minerality, subtle fruit flavors and bracing acidity kept me sipping this wine. Flavors change over time as the wine warms in the glass. It's a wine I want to spend time just sipping and thinking about…how to describe what I'm tasting?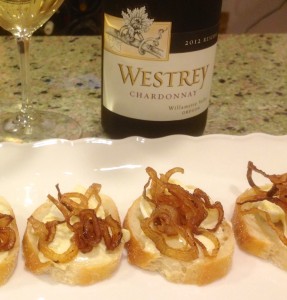 Food really is not necessary with this wine, but it was a brilliant partner with everything we tasted along with it. Creamy Fromager d'Affinois (a French double-creme soft cheese made from cow's milk) with crispy shallots on a baguette provided a nice savory creaminess to match the acidity of the Chardonnay.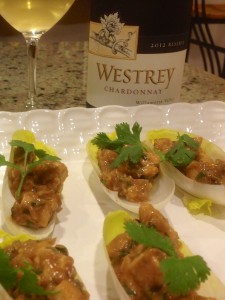 The creamy coconut milk, peanut, ginger and garlic flavors of Thai peanut chicken salad in endive leaves tasted even more complex along with the Westrey Chardonnay, yet the minerality and fruit flavors of the wine were not overwhelmed by the bold flavors of the chicken salad. Somehow, both tasted better and more lively together.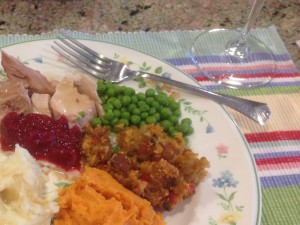 We opened the Westrey Reserve Willamette Valley Chardonnay on Tuesday evening for the tasting. It held up nicely on Wednesday and Thursday evenings as well. Friday evening we enjoyed it with our second Thanksgiving dinner (grilled turkey, andouille sausage and corn bread dressing). This delicate but flavorful Chardonnay stood toe-to-toe with these bold flavors. I loved the combination of flavors and felt sad as I savored the last of the wine in my glass, but at the same time thankful for the opportunity to taste this special wine. Once again, an outstanding example of Chardonnay made in the Willamette Valley.
So, next time we are visiting the Willamette Valley, we will be focusing not only on Pinot Noir, which is what usually draws us to this wine region, but on Chardonnay as well. This series of tastings has opened our eyes and our palates to just how good Chardonnay from the Willamette Valley can be. This group of winemakers have shown a deft hand with wood aging and created wines of elegance with great fruit flavor and refreshing acidity.


Thank you to Protocol Wine Studio for finding these amazing winemakers and wines. It was truly and educational wine experience.
Thanks also to Amy Wesselman for sharing your knowledge and enthusiasm of winemaking with us. Brilliant Chardonnay. Thank you for sharing your wine with us.
December means bubbles for Protocol Wine Studio and #WineStudio on Tuesday evenings. Join in the fun by following the #WineStudio hashtag Tuesday evenings on Twitter and learn about sparkling wine from Italy, Spain and Hungary through out the month. Here are the details.
Cheers!