I know from lots of experience that cheese and wine are a match made in heaven. Beer and cheese I don't have much experience pairing because I don't often drink beer. Until recently I had zero experience pairing cheese and non-alcoholic wine or beer because, to be honest, I had never tried non-alcoholic beer or wine. I know I should have tried both by now, but just haven't.
Happily, not long ago we received an invitation to participate in an online tasting of four cheeses paired with two non-alcoholic wines and two non-alcoholic beers. We received all as tasting samples and the pairings were illuminating.
Beehive Cheese
You gotta hand it to two guys with zero cheesemaking experience who learn the process in eight days and go on to market a cheese that wins a cheese award pretty much right out of the gate. That's the story of Tim Welsh and Pat Ford, who learned cheesemaking at the Western Dairy Center at Utah State University and in the process developed an original recipe cheddar cheese. They established Beehive Cheese in 2005 in Ogden, Utah and never looked back. It was Tim's idea to rub a wheel of their cheddar cheese with espresso grounds and lavender. That cheese, Barely Buzzed, won 1st place Flavored Cheese at the American Cheese Society competition in 2007 and the awards have continued to come for Beehive's cheeses.
Beehive Cheese is now 18 years old. Tim's son Britton is President of Beehive and Oliver Ford is in charge of Sales and Marketing; both Britton and Oliver joined the tasting. Beehive Cheese offers a wide lineup of rubbed-rind cheddar cheeses in addition to their Promontory cheese (the mother cheese).
Beehive Cheese remains family owned and operated and the company earned its B Corp certification earlier this year; an achievement that Britton is particularly proud of, as he should be.
Sovi
Sovi was established by Julia Littauer, Certified Sommelier and Alex Littauer, DipWSET, a husband and wife team, so they understand and appreciate wine. Sovi is real wine that has had the alcohol removed (less than .5% abv remains) using vacuum distillation, a process that removes alcohol at a lower temperature. And although some aromas are removed in the distillation process, vacuum distillation allows more aromas to remain due to the lower temperature.
Julia and Alex source their grapes from a single vineyard in the Clarksburg AVA in California that is sustainably grown without herbicides. They have learned through experimentation which grape varieties retain their wine qualities best under vacuum distillation. The Sovi wines we tasted contain grape juice concentrate, but no added flavors. Their lineup of wines includes still and sparkling wines available in can and bottle.
Athletic Brewing Co.
Athletic Brewing Co.'s story is not unlike that of Beehive Cheese. Bill Shufelt, who had no experience making beer (let alone non-alcoholic beer) didn't let that lack of experience hold him back. He found brewer, John Walker, and together they developed a proprietary process for making delicious, non-alcoholic (less that .5% abv remains) beer and founded Athletic Brewing Co. The rest, as they say, is history.
Just like Beehive Cheese, Athletic Brewing Co. is a Certified B Corp. Athletic Brewing makes there wide lineup of NA beer in Milford, CT and San Diego, CA. The two NA beers we tasted contain water, organic Vienna malt, malted barley, oats, wheat, hops and yeast.
Let's Taste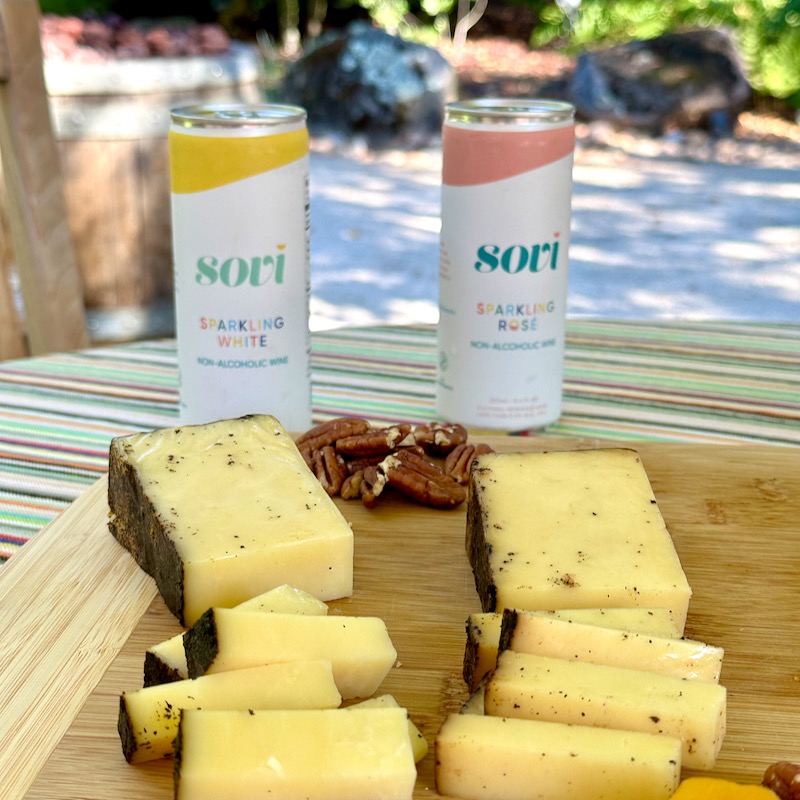 Sovi Sparkling White is a blend of Chenin Blanc, Pinot Gris and Gewürztraminer that pours a medium yellow with generous bubbles. Oat hay aromas are followed by flavors of tart pears and citrus with mouth filling bubbles and a tart finish.
Beehive Cheese Teahive is rubbed with Earl Gray tea. The texture is smooth and slightly soft with creamy, toasty flavors along with an herbal note from the Earl Gray tea.
Sovi Sparkling Rosé is a blend of Pinot Noir and Tempranillo that pours a bright raspberry color with generous bubbles. Red fruit aromas are followed by flavors of tart raspberries and cranberries with a tart finish.
Beehive Cheese Barely Buzzed, as you already know, is rubbed with ground espresso and lavender. The earthy espresso flavors nicely balance the lavender and keep it from tasting too floral. The flavors are a delicious combination with the creamy cheddar cheese flavors.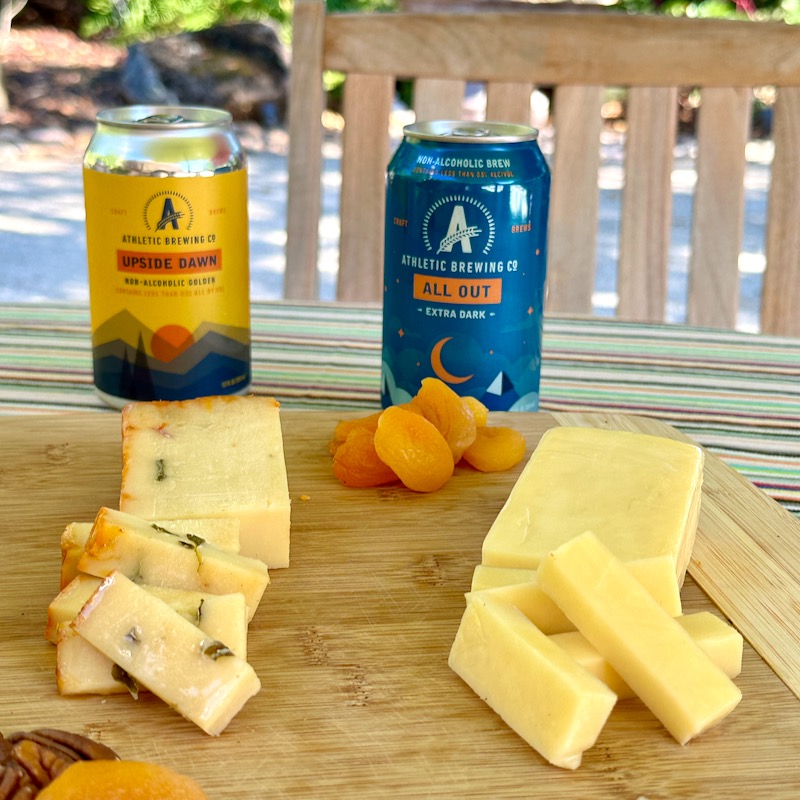 Athletic Brewing Co. Upside Dawn Golden pours medium golden with lots of bubbles. Flavors are a clean, fresh blend of citrus, earth and wheat with a creamy mouth feel.
Beehive Cheese Red Butte Hatch Chile gets its earthy, only slightly hot, kick from the Hatch chiles and a bit of coriander in the rub adds interest. Once again, the flavors combine perfectly with the cheddar flavors.
Athletic Brewing Co. All Out Extra Dark pours chocolaty dark with lots of bubbles. Aromas of blackstrap molasses give way to flavors of toasted oats and dark malty flavors with lots of body and weight in the mouth.
Beehive Cheese Promontory is rich, nutty and creamy and is a bit soft to the touch in the center. Promontory's flavors are addictively rich and delicious on their own and that richness makes it the perfect base cheese for all the rubbed cheeses we tasted.
The non-alcoholic wine and beer in this tasting paired very well with the Beehive cheeses. We mixed and matched the pairings in this tasting and they all tasted delicious. The Sovi non-alcoholic sparkling wines do taste different than alcoholic sparkling wines because they are so tart, but they work by themselves and with food. The Athletic Brewing non-alcoholic beers tasted more like alcoholic beers, though as I said, I don't drink as much beer as wine.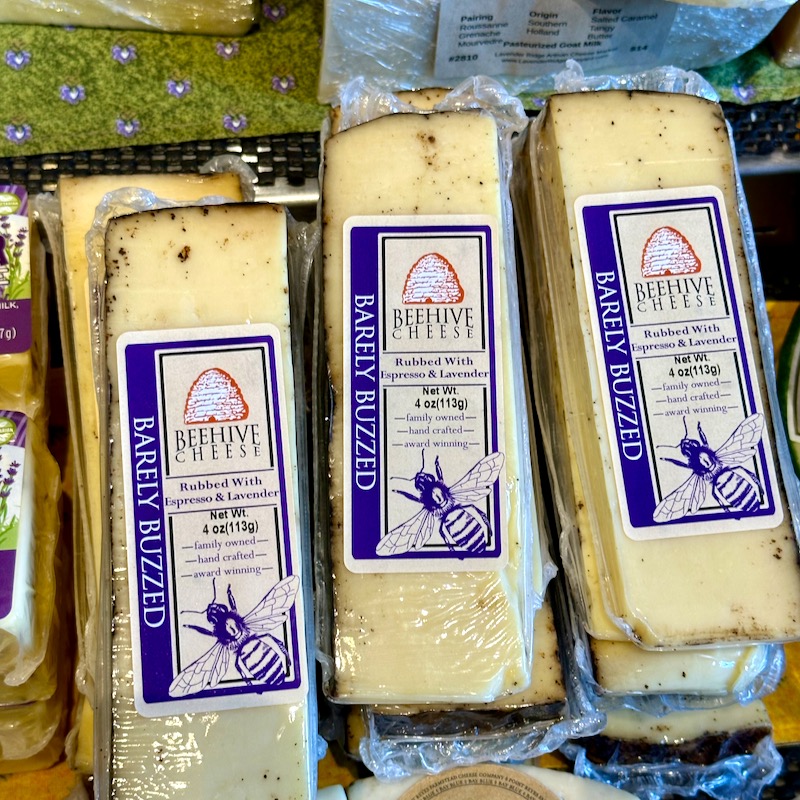 Thanks to &co. pr for organizing our tasting, broadening our non-alcoholic beverage horizons and introducing us to Beehive Cheese. Just a couple of days after this tasting I walked into a winery with a nice selection of cheeses that included Beehive Barely Buzzed!
Cheers! (I almost typed Cheese!)