Avignonesi is situated in the hills of Tuscany on the edge of Montepulciano near Cortona. Vino Nobile di Montepulciano is their flagship wine and while they are Sangiovese specialists, and dedicated to the variety, they are also looking to native grape varieties as a hedge against climate change. Their organic and biodynamic practices in the vineyard are carried into the wine cellar. All of this is happening under the ownership of Virginie Saverys who is also dedicated to making a social impact benefiting Avignonesi's workers and the wider community.
I became acquainted with Avignonesi during a conversation and tasting with Xiaowen DU, Marketing Manager and Assistant Winemaker for Avignonesi. As we talked we tasted four single-vineyard Sangioveses, which were provided as tasting samples. The view of Avignonesi's vineyards over Xiaowen's shoulder transported me to Tuscany.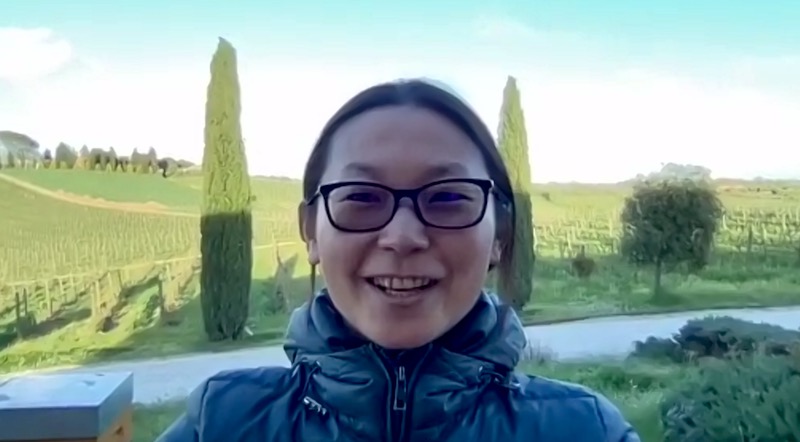 An Introduction to Avignonesi
Virginie Saverys' journey to winery ownership began when she visited Tuscany and fell in love with the place and its wines. In 2007 she purchased 20% of Avignonesi (established in 1974) and in 2009 the two brothers who owned the winery sold it to her. Virginie Saverys came to winery ownership as a wine consumer, not as a winemaker, but she spent two years in Bordeaux immersed in vineyards and winemaking to prepare herself for ownership. Her background is in the law and, according to Xiaowen, Virginie brings her lawyerly attention to every detail to Avignonesi.
Also applied to Avignonesi is Virginie's desire to eliminate herbicides and pesticides from the vineyard and the wine cellar. Avignonesi's vineyards were certified organic in 2016 and certified biodynamic in 2019. Fermentations use naturally-occurring yeasts and Avignonesi's wines are also vegan. Xiaowen told me that tastings of past vintages by the Avignonesi staff reflect wines that have become fresher and more alive. And in the vineyard the vines have become more resilient – an important quality with increasingly extreme weather.
Saverys' commitment to staff and community is as strong as her commitment to the land. Avignonesi earned B-Corp certification in 2022 and provides English lessons to the children of workers and the community in the hope of increasing local employment opportunities for them as adults. Employees also receive a daily bonus that can be used to grocery shop.
As we tasted through the wines, all 100% Sangiovese, I learned attention to detail is present at every step. Approximately 247 acres of the total 432 acres planted to vines are planted to Sangiovese. Each Sangiovese vineyard is divided into approximately 3.7-acre plots that are harvested separately and vinified separately! These small lots allow the individual character of Sangiovese to be appreciated and for vintage variation to show.
New projects at Avignonesi include La Stella, The Star, a vineyard project adjacent to the hospitality center, Le Capezzine. The recently replanted vineyard is imagined as a poly-culture: a mixed planting of grape vines and native plants to attract beneficial insects and animals. The project will test whether diversity affects the flavors of the wine.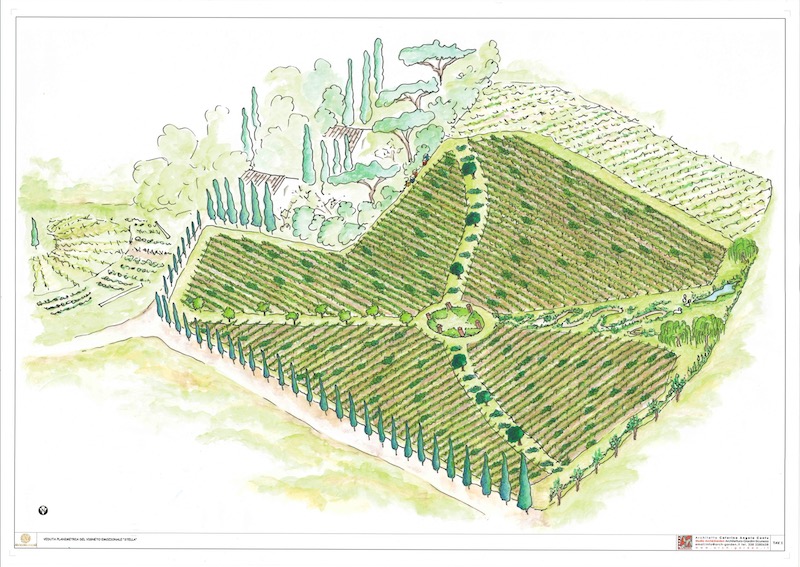 Native grape varieties are also being evaluated as a hedge against climate change and increasingly unpredictable weather. One such variety, the rare Orpicchio, keeps its acidity at maturity even in very warm weather. It fell out of favor locally for its low yield – it has very large seeds and very thick skins according to Xiaowen. Look for these wines, under Avignonesi's Da-Di label. Da-Di means "Mother Earth" in Chinese and was chosen as the name for this project because of its meaning and because it is easy to say for speakers of many languages. Both the Sangiovese and Bianco are partially whole-cluster and fermented in amphorae.
The Single Vineyard Project and the 2018 Vintage
Over time, the small-lot vinification has shown not only vintage variation and the individual character of individual plots, but some constant characteristics as well. This small-lot vinification is the foundation of Avignonesi's Vino Nobile di Montepulciano production. Avignonesi's best vineyards are part of the single-vineyard project and only a small amount of wine for this project is made from each vineyard.
The 2018 vintage had average rainfall. Spring was hot with rain followed by a hot, windy summer. Autumn was one of the best, according to Xiaowen, due to the large diurnal shift in temperatures that allowed good sugar to accumulate in the grapes while maintaining their acidity. It short 2018 is a very good vintage.
La Tonda
La Tonda means round and describes the layout of the vineyard. This special vineyard is next to Le Capezzine. It was planted in 1990 as a research project to understand how the density of planting affects Sangiovese. The center is planted densely with wider planting toward the outside. The findings: density is good for Sangiovese and promotes competition between the vines. The catch: with climate change, this competition might be counterproductive in dry vintages.
The vineyard is only 1.7 acres in size and its soil has more in common with the adjacent Cortona DOC than the rest of Montepulciano. La Tonda's soil is clay on top of sand and is not as old as the soils in the other three vineyards in this tasting. Also, the soil is not maritime in origin, as are the soils in the other three vineyards, though it has a limestone component along with significant organic matter. Vines struggle less in this vineyard to put down roots. The wine is aged only 14 months in barriques and tonneaux, shorter than for the other wines in this tasting, and is a lighter, fresher style than Avignonesi's Vino Nobile di Montepulciano, thus the IGT classification.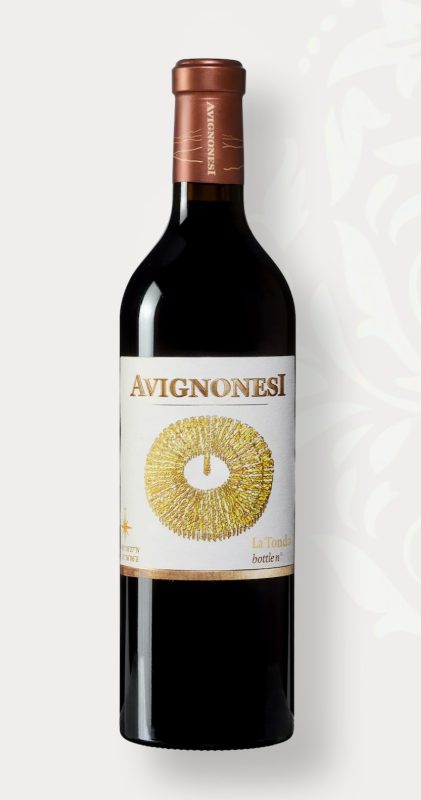 2018 Avignonesi La Tonda, Toscana IGT Sangiovese — aromas and flavors of red cherries, strawberries and slate with fine tannins and lively acidity. Fruit flavors are very fresh and lively. 13.5% abv. Available at the winery only. 1760 bottles made.
Oceano
The soil in the Oceano vineyard is the densest of all Avignonesi's vineyards. Avignonesi used the dense, blue clay from this vineyard to make amphorae for their amphora project. Dense clay makes the vines work very had to put down roots, but as clay dries it cracks, which helps the vines roots penetrate the soil. The Sangiovese is trained in the alberello system (bush vines), unique to this vineyard, which gives the vines the strength to lay down deep roots and provides even light exposure resulting in even ripening.
The vineyard covers rolling hills and with the alberello vines it gives the appearance of ocean waves, hence the name. The wine aged for 21 months in large oak casks. Sangiovese from Oceano always makes a powerful wine, according to Xiaowen, that some tasters compare to Brunello.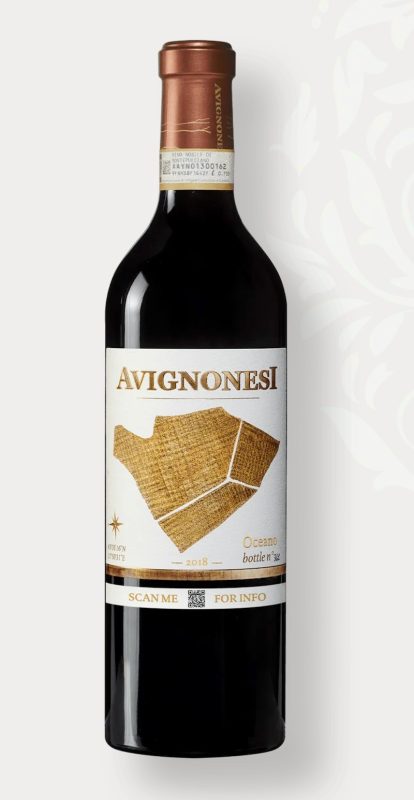 2018 Avignonesi Oceano, Vino Nobile di Montepulciano DOCG — light ruby-garnet with aromas of red fruit and cocoa. Flavors include dark cherries, red fruit, cedar, earth and leather in a medium+ body with bright acidity and fine, but very drying tannins. 14% abv. Only 562 bottles made.
La Banditella
One of Avignonesi's coolest vineyards, it is long and narrow, 9.8 acres in size, with a northern exposure open to cooling breezes. Soils are calcareous and have less clay than Oceano with more silt, sand and alluvial rocks. Vines struggle less here to put down roots. La Banditella is one of the last vineyards to be picked due to its cooler location and the cordon-trained vines typically yield about 14.5% abv. The wine aged for 18 months in botti.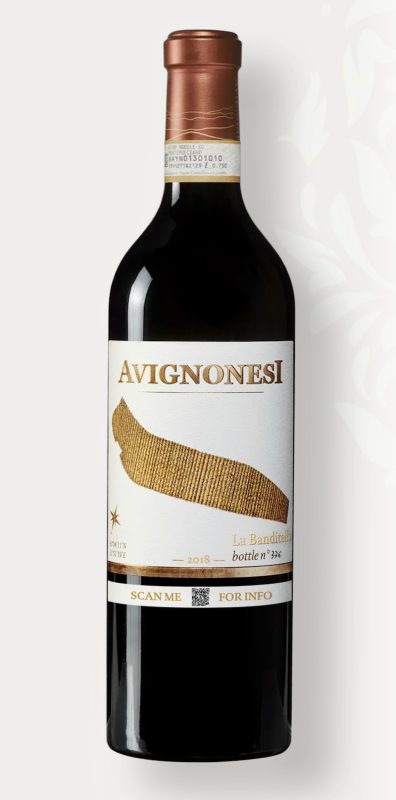 2018 Avignonesi La Banditella, Vino Nobile di Montepulciano DOCG — light ruby-garnet with aromas of red cherries, spice and earth. Flavors include the bright red fruit of red cherries, dark berries, earth and a bit of leather with notable, bright acidity. Tannins are firm and drying in a medium body. 14.5% abv. Only 551 bottles made.
Le Badelle
The soil in La Badelle is similar to Oceano, but with less clay and low organic matter, and the soil is deeper. This vineyard sits at the highest elevation of the group, and was planted in 2000. Its elevation and aspect allow the vineyard to receive wind from 360 degrees, so even in warm weather the winds have a cooling effect. This 13-acre vineyard is harvested the earliest of the group. The wine aged for 21 months in large oak barrels.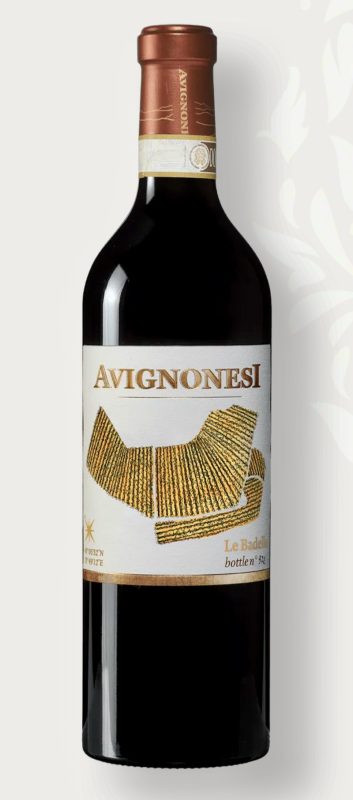 2018 Avignonesi Le Badelle, Vino Nobile di Montepulciano DOCG — ruby-garnet with aromas of dried red and dark fruit. Flavors include red fruit along with a significant dark fruit component, plums, dark cherries and dried fig. Tannins are fine, but firm in a medium body. 14% abv. Only 562 bottles made.
These are wines of balance and elegance. La Tonda is made in a fresh and bright way that makes it very appealing. We loved La Banditella for its fresh fruit and bright acidity. Oceano brings a bit more weight in the mouth and La Badelle tasted a bit more evolved. Each wine has its own charms.
***
I am so impressed to learn about the level of Avignonesi's meaningful commitment to the land through their organic and biodynamic certifications, their B-Corp certification and their tangible commitment to staff and the wider community. I am happy to support such winery, especially when their wines are made in a style I appreciate: elegant, balanced and fresh. A number of tasting options are available at Le Capezzine, the hospitality center in the vineyards. You will find details on the Avignonesi website.
Thanks to Xiaowen for such a personal tasting experience and to Group Gordon for organizing our tasting.
Cheers!