This third group of wines curated by Sheila Donohue on her website VeroVino, and sent to us as tasting samples, is a treasure trove of unusual grape varieties and lesser-known (at least to us) wine regions in northern Italy. As usual, these VeroVino wines are made by small producers using sustainable or organic practices in their vineyard and cellar. I found myself reaching for one of my favorite wine books and returning to an excellent Italian wine website to learn about these interesting varieties and regions.
Sandro de Bruno and Durella
The story of Sandro de Bruno is set near Verona in the area of Soave and the Lessini Mountains where the soils are volcanic. Sandro de Bruno is the work of Sandro Tasoniero and his wife Marina Ferraretto. They employ sustainable and organic practices in the vineyard in order to make wines that reflect their unique terroir. Their vineyards are located on the slopes of Mount Calvarina at elevations up to 1968 feet above sea level.
Durella is a thick skinned white grape known for its high acidity and delicate flavors, according to Ian d'Agata in Native Wine Grapes of Italy. And Durella may have originated in the Lessini Mountains. Today, Durella is grown mainly in Veneto between Verona and Vicenza, as well as in Tuscany and Lombardy.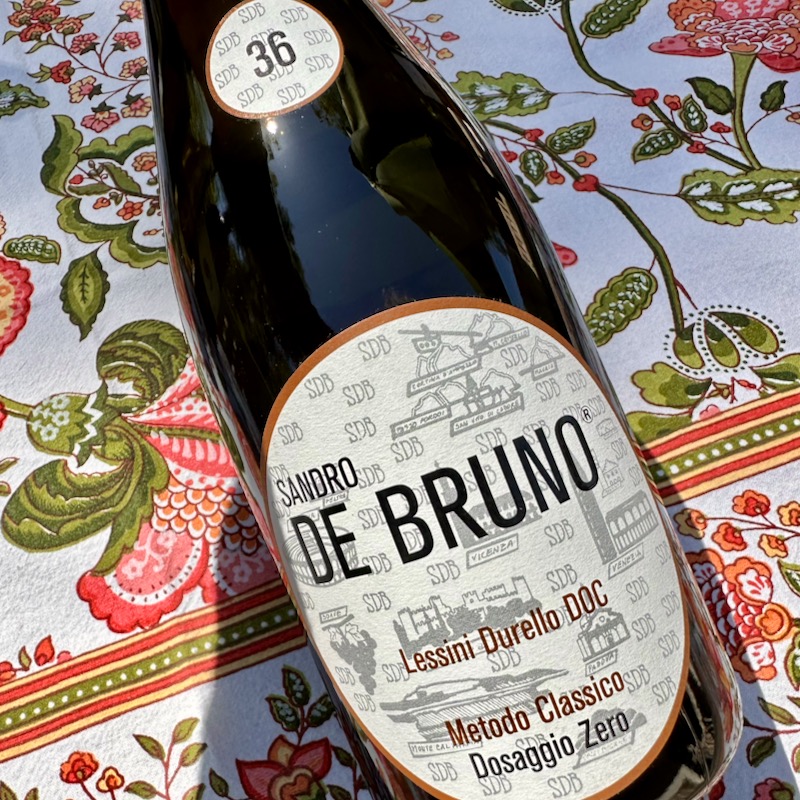 2016 Sandro de Bruno 36 Metodo Classico Dosaggio Zero, Lessini Durello DOC — medium yellow with very vigorous, long-lasting bubbles. Aromas include ripe pear, stony minerals, white flowers, hints of pineapple and brioche. Bright flavors include stone fruit, stony minerality and citrusy acidity. The mouth-filling bubbles create a creamy mouth feel and the acidity provides a clean finish. $34.99
The flavors are delicate but not simple and the creamy texture of the wine is very appealing. This delightful sparkling wine, made using the traditional method, is a blend of Durella and Pinot Bianco. By law Lessini Durello DOC wines must be at least 85% Durella. The wine spent 36 months on the lees in the bottle before disgorgement. No sugar was added on disgorgement, therefore zero dosage.
You will also find a Sandro de Bruno Metodo Classico aged for 60 months on the Vero website ($41.99).
Zanon and Boschera
Eros Zanon tends his vineyards on the steep slopes near Valdobbiadene, which I associate with the Glera grape variety and high-quality Prosecco. But, in addition to Glera, Eros' vineyard is also planted to Boschera. I had never heard of Boschera before being introduced to Zanon Boschera and had to turn to the "Little-Known Native and Traditional Grape Varieties" section of Native Wine Grapes of Italy to find it.
According to d'Agata, Boschera is medium to thick skinned, a vigorous grower and yields stone fruit and floral aromas. It is mainly planted in the area of Colli de Conegliano DOCG, which surrounds Conegliano Valdobbiadene DOCG. That's Eros Zanon's neighborhood. According to VeroVino, only 7 hectares (just over 17 acres) of Boschera exists.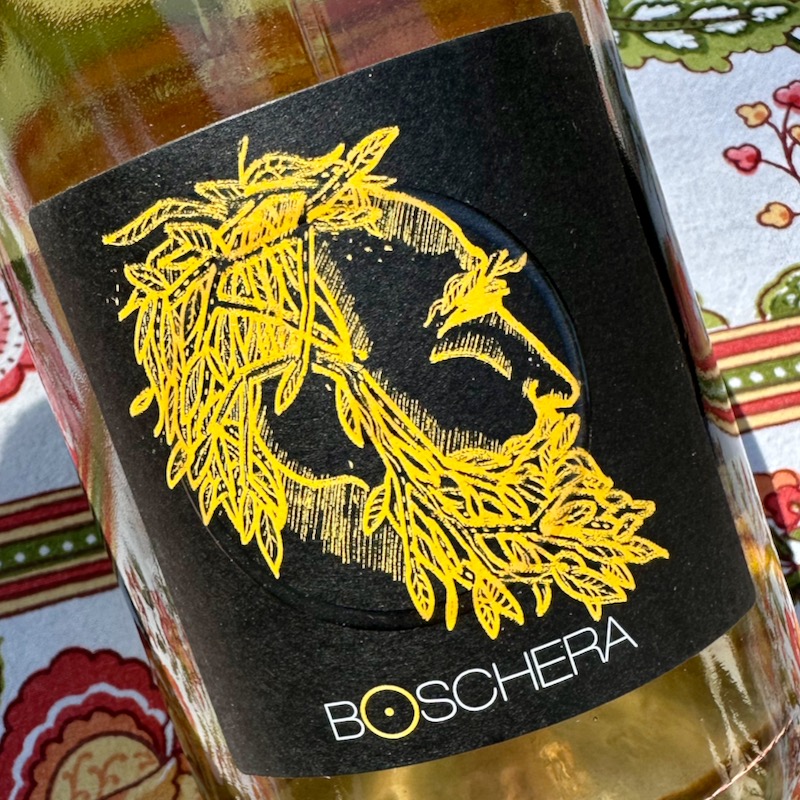 2018 Zanon Boschera Colli Trevigiani IGT — dark yellow with small, persistent bubbles. Initial aromas of sautéed pea tendrils give way to aromas of oat hay followed by citrusy lemon-lime, crushed gravel flavors, and earthiness without sweetness. Citrusy acidity provides a clean, juicy finish. 11.4% abv. $31.99
The flavors are very unfamiliar and interesting. 100% Boschera grapes had skin contact for two days, then were fermented with natural yeasts, and bottled before fermentation was complete. Fermentation finished in the bottle, producing those tiny bubbles, and the lees were not disgorged. Don't be afraid of the sediment (it will settle out), it is intended to be there. And open the crown-capped bottle with caution. We chilled the bottle well, but nearly had a dent in the ceiling from a plastic insert under the crown cap that shot out upon opening it.
Antonella Piatti and Erbaluce
Erbaluce is native to the area around Caluso north of Turin at the foot of the Italian Alps. d'Agata recalls a legend of how the grape got its name, "Legend has it that the fairy Albaluce blessed the townspeople of Caluso with Erbaluce as her gift, hence the variety's name." The thick-skinned white variety is apparently a challenge to grow due to disease susceptibility, early budding making it sensitive to spring frost and low yields. But, somehow, Antonella Piatti has managed to not only grow Erbaluce successfully, but to grow it organically in this northern part of Piedmont. And her vineyard is certified organic by ICEA.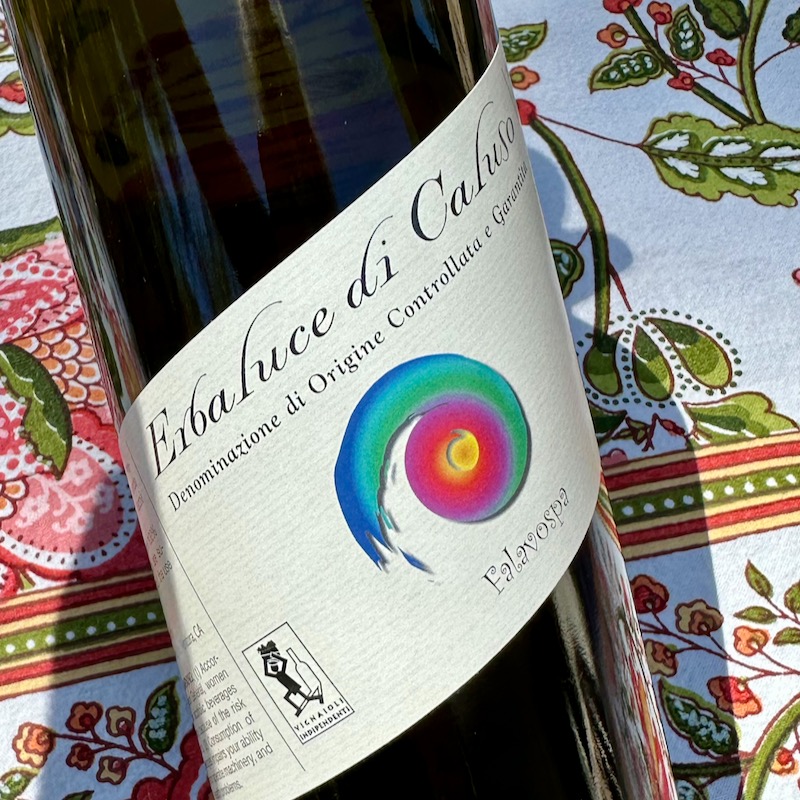 Antonella Piatti Falavospa Erbaluce di Caluso DOCG — light yellow with generous aromas of white flowers, ripe peaches and wet slate. Flavors follow with stone fruit, white flowers and a citrus pith finish. Citrusy acidity provides a clean, juicy finish and the flavors last a long time. 13.% abv. $23.99
What a pretty wine. It's absolutely lovely with delicate but complex flavors and so well balanced.
Vigna Petrussa and Schioppettino
Ian d'Agata dedicates just over three pages to Schioppettino, a variety that has had a comeback after being out of favor in the 1970s. He fell in love with the variety in university and has collected it since. He identifies Prepotto and Albana, two nearby towns with perfect growing conditions for Schioppettino. Where do you think Vigna Petrussa is located? Yes, in the small village of Albana di Prepotto in the northeastern corner of Italy in Friuli Colli Orientali near the Slovenian border.
He describes Schioppettino as producing large bunches of large berries, being susceptible to irregular fruit set (and therefore unpredictable yields), and a late ripener, not optimal in wet fall weather. But the payoff comes in the glass, where Schioppettino can make elegant, perfumed red wines.
Vigna Petrussa is a third-generation, women-owned winery. Hilde Petrussa assumed responsibility for the winery from her mother in 1995 and is the winemaker. And Hilde's daughter Francesca works with her at Vigna Petrussa.
Sustainable farming practices and biodiversity are important to the women of Vigna Petrussa and the winery is certified by SQNPI, CSQA and WBA.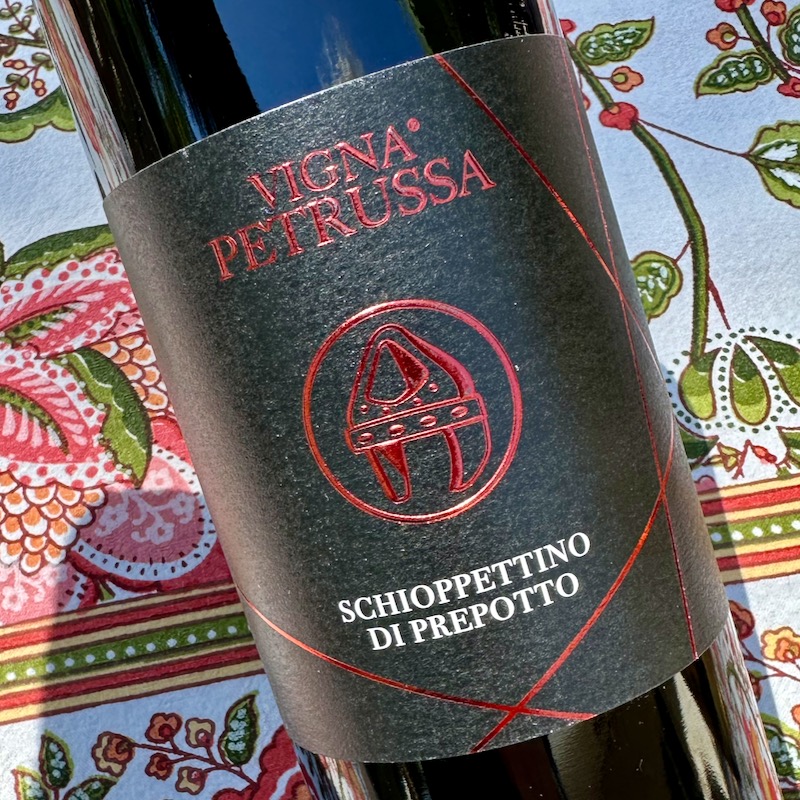 2019 Vigna Petrussa Schioppettino di Prepotto Friuli Colli Orientali DOC — translucent ruby with complex aromas of spicy peppercorn, red raspberries, cranberries and smoky earth. Bright red fruit flavors include red raspberries and pomegranates along with peppery spice, slate and earth in a barely medium body with a long finish. Tannins are very fine and slightly drying. 13.5% abv. $37.99
This wine begins its seduction with its delicate color, then continues with its gorgeous aromas and flavors. It has my favored combination of spice, red fruit, relatively light body and fine tannins. 100% Schioppettino was hand harvested, fermented with natural yeasts and aged for 24 months in oak barrels.
Vero stocks a wide selection of Hilde's wines, which have earned numerous awards worldwide. The Vero website does an excellent job of summarizing those awards. Sheila is proud to be the first to import Vigna Petrussa wines into the US is 2019.
Aldo Clerico and Nebbiolo
You can take the boy out of Barolo, but you can't take Barolo out of the boy. Aldo Clerico was born and grew up in Barolo. After university he went to work as an accountant, but eventually returned to his family's vineyard in Monforte d'Alba to make wine, but not before gaining valuable winemaking experience elsewhere in Monforte d'Alba. Today he and his wife, Valentina tend the family vineyards. Valentina is from the Coterno family, well known in the region. Aldo is the third generation of his family to tend the vines and thanks to his and Valentina's family heritage they are able to own vineyards in such a prestigious region.
Aldo Clerico's production is small, about 40,000 bottles, and they have no intention of becoming larger. They make a range of wines from easy drinking Dolcetto to Barbera d'Alba and the Barolos that require 10-15 years to reach their peak. In between is his Langhe Nebbiolo, which Aldo calls a baby Barolo. As you will notice in the link below, Vero stocks a wide selection of Aldo Clerico wines.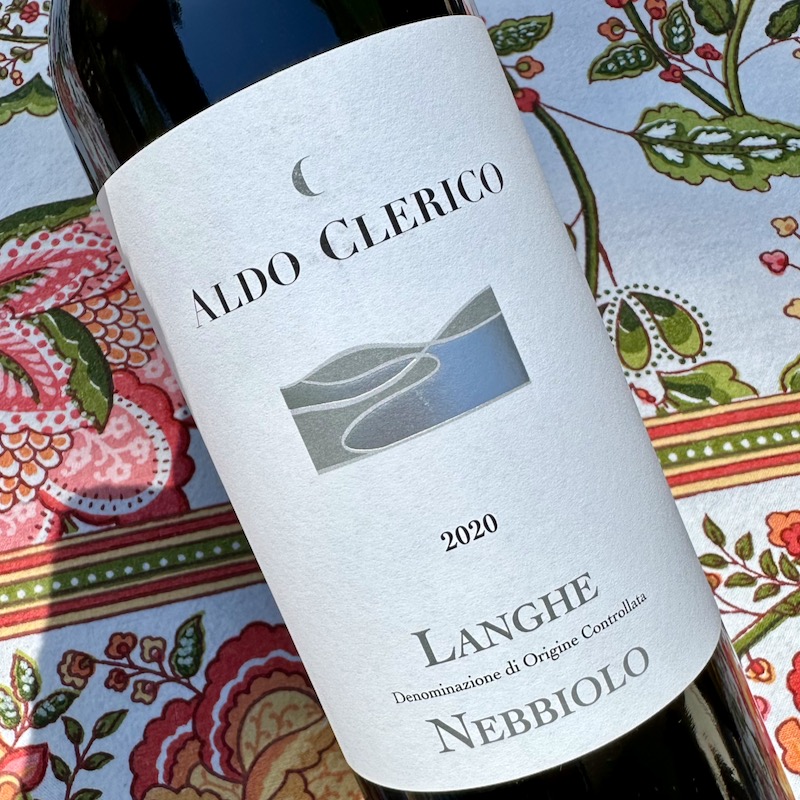 2020 Aldo Clerico Nebbiolo, Langhe DOC — translucent ruby-garnet with complex aromas of roses, red raspberries, red cherries and dusty earth. Flavors include raspberries, pomegranates, dark berries, cedar, leather and earth in a barely medium body. Tannins are very gauzy and the finish is very long. 14.5% abv. $25.99
It would be very easy to get lost in the complex aromas of this wine and forget to taste it, but you will be greatly rewarded upon your first taste. Nebbiolo is sourced from Aldo's younger vineyards, fermented using natural yeasts and aged for one year in wood. It is a lovely food wine with plenty of structure, but also is very approachable. Aldo recommends decanting the wine for one hour (three hours for his Barolo wines.) Aldo farms using minimal inputs in the vineyard and according to the lunar cycle. He bottles according to the moon too, hence the moon on the wine bottle labels.
I didn't have to turn to the little-known section of Native Wine Grapes of Italy to find the over nine pages d'Agata dedicates to Nebbiolo. The short version: Nebbiolo is grown in Piedmont, Lombardy and Valle d'Aosta and is Italy's greatest native grape variety, but isn't grown extensively in Italy outside of these regions. Its best-known versions are Barolo and Barbaresco. Nebbiolo's story gets complicated with discussions of intravarietal variability, clonal variation and massal selections. The short-short version: Nebbiolo wines are not dark in color and turn garnet sooner than most red wines, but it has excellent acidity and tannins with great aging potential.
Wow, that was quite a trip and no passport needed. Italy is the region Sheila is most familiar with and where she has a home. But she has curated wine from other regions as well, we tasted Vero wines from Spain & Portugal and Austria & Czech Republic that equally impressed us. The Vero website is chock full of information about all of the producers Sheila imports. There are blog articles and interesting producer discussions on VeroTalks. I hope you will take some time to look through the Vero website. If you are a curious wine drinker you will find the wines interesting.
Cheers!