Last week we introduced you to wine merchant Sheila Donohue and her website VeroVino. This week we begin tasting the wines she sent to us as tasting samples. Sheila was the first to import many of these wines into the US and all have several things in common: small production, family winemakers following organic, biodynamic or low-intervention practices in the vineyard and wine cellar. Today we will meet two winemakers and taste their wine.
Michi Lorenz: Austria
I recently sat in on a discussion with Austrian winemaker, Michi Lorenz hosted by Vero as I sipped Michi's Halo Sauvignon Blanc. Michi Lorenz is an artistic guy, he was a musician before he became a winemaker, and he applies his artistic talents to growing grapes and making wine in Southern Styria. He tends 16 hectares inherited from his family, whose history dates back to 1524 on the estate.
Michi has converted to organic and biodynamic in the vineyard and is certified; he told us that he can see and feel the difference in the vineyard. He told us he is growing, "the best grapes I've ever had in my hands." There is no denying that it takes more work to farm using organic and biodynamic principles, but he noted, "If you live with your vineyard, it works."
The vineyards are spread over several hillsides at different elevations, 1300 to 1900 feet above sea level, and exposures. Soils are comprised of grey, black and red schist. In general, Michi harvests his grapes later than others in the region to allow for maximum flavor and complexity in the grapes. He also makes three passes through the vineyards in general. Sauvignon Blanc is his focus, but quite a few varieties are planted in his vineyards (too many if you ask him.)
VeroVino currently carries four of Michi's wines. All are fermented with natural yeasts. The 2020 and 2021 Klassic Sauvignon Blanc ($27.99) is fermented in stainless steel and is a fresh, straight-forward style meant for sipping or light meals. The Schist Happens Sauvignon Blanc ($31.99) is where all versions of Michi's Sauvignon Blanc come together. It is a blend of four vintages (from his solera-system) and sourced from all Sauvignon Blanc vineyards (nine vineyard sites in total.) The wine is made with skin contact, some neutral oak and some stainless steel before blending. Now you understand the name. Zweigelt Klassik is aged in stainless steel and oak. ($25.99)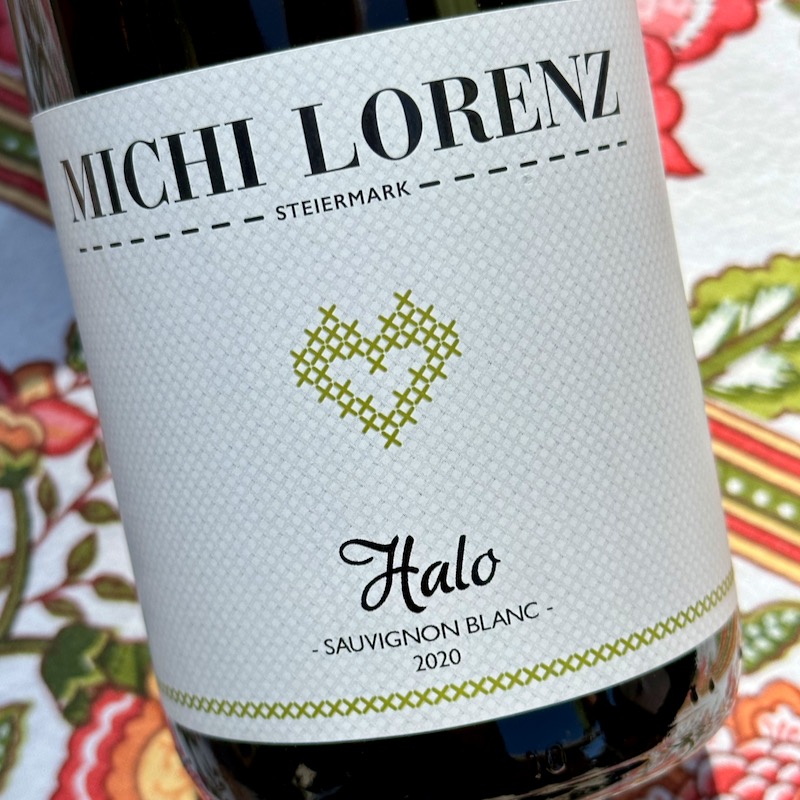 2020 Michi Lorenz Halo Sauvignon Blanc, Steiermark, Austria — slightly cloudy golden yellow with aromas of struck match, dried hay, smoke. Flavors are complex with dried hay, grapefruit, stony minerality, umami, floral and spicy components. Acidity is bright and fresh, the finish is very long with a saline aspect and the wine has a bit of texture as well.  12% abv. $62.99
Halo is sourced from one of the estate's best vineyards. At the top of the hill is the village's church, which looks like it has a halo when the sun is behind it.
Halo is the most complex and intriguing Sauvignon Blanc I have tasted. Michi's wines are not industrial wines, they reflect the place and the winemaker. Expect them to change in the glass over time and to age well (he feels the 2020 Halo is still too young.) As he told us, "I like that the wine lives in the glass." He thinks the wine drinker should connect with the wine and that there should be a game between the drinker and the wine. Game on!
Thaya: Czech Republic
If you've not tasted wine from the Czech Republic, then welcome to the club. If you are a curious wine drinker then Czech Republic should be on your list of wines to taste. Sheila is the first to import Thaya wines in the US!
Thaya Winery is situated in Havraníky, a municipality and village near Podyjí National Park, close to the Czech border with Austria. The winery takes its name from nearby Thaya River. The largest wine regions in the Czech Republic are located in this southeastern corner of the country.
Sheila recently spoke with Thaya winemaker Jakub Smrčka during a VeroTalk. Jakub began making wine with his grandfather on a very small scale before college. After graduation he worked for a very large-scale winery before choosing Thaya so he could focus on smaller, less industrial winemaking. According to a Vero Blog post, Jake was recently named best winemaker in the Czech Republic.
Vineyards are located in five nearby villages, some are located within the National Park, and they are farmed organically. The Thaya River and the large national park have a cooling influence on the climate in the immediate area. Because of the cool growing conditions the wines have bright acidity, even the red wines. Two soil types are common in the vineyards: granite soils that produce mineral and spice components a loess that gives a more aromatic, fruity character. Farming follows organic principles and fermentations use mostly natural yeast.
Vero carries a big selection of white and red wines from Thaya. White wines include Chardonnay ($19.99), Moravian Muscat Late Harvest ($19.99), Muller Thurgau ($19.99), Sauvignon Blanc ($25.99). Blaufrankisch Rosé (19.99) leads into the red wines: Blaufrankisch ($28.99), Saint Laurent ($28.99) and Zweigelt ($28.99).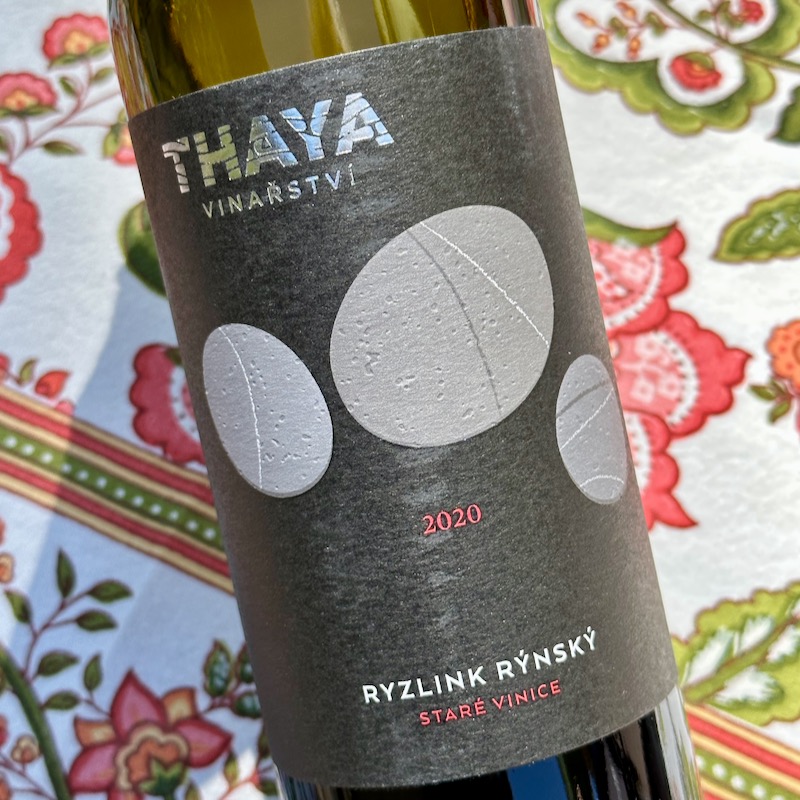 2020 Thaya Ryzlink Rynsky (Dry Riesling), Czech Republic — pale yellow with generous aromas of petrol and stone fruit. Flavors lead with pineapple, gravelly minerality and stone fruit with bracing, citrusy acidity with a bit of roundness. The juicy finish is very long with fruit and minerality. Lots of fruit flavor, but tastes dry. 13% abv. $25.99
Lovely, bright, complex and juicy Riesling with generous aromas and complex flavors. This is Jakub's favorite variety and I can see why. It is grown in granite soils.
I hope you will take some time to explore the Vero website and get to know both of these winemakers and their wines. Next up from our Vero selection: Portugal and Spain.
Cheers!