Most of us are very satisfied to visit Napa Valley to taste wine and enjoy good food, but for a subset of wine enthusiasts a visit to Napa Valley leads them to make wine in Napa Valley. Husband and wife, Brian and Miki Cunat, found themselves at just such a crossroads after visiting Napa Valley and wine regions around the world. In 2007 Brian and Miki partnered with Brian's brother, John, to purchase a 50-acre property in the Oak Knoll District of Napa Valley.
The property was meant as an investment, but before long the Cunat family hired a vineyard manager to plant Merlot, Petit Verdot, Malbec, Syrah, Chardonnay, Sauvignon Blanc and Viognier. By 2014 the family completed a modern 150,000-gallon winery and tasting room. Today, a winemaking team in place and Materra | Cunat Family Vineyards is well established.
Materra | Cunat Family Vineyards remains very much a family operation. Financial and other support continues from members of the Cunat family. Miki and Brian's younger daughter is involved in the design of wine bottle labels and other materials. Their older daughter, Neena, a photographer and videographer beyond the work she does for the winery, is married to Harry Heitz (yes, that Heitz family), Materra | Cunat Family Vineyards' general manager.
A quick look at Materra | Cunat Family Vineyards' current release wines includes white wines, a rosé, and red wines sourced in Oak Knoll District, Diamond Mountain District and the wider Napa Valley. Among the wines are several that are made to pair with Japanese cuisine made by Miki Cunat with the winery's winemaker, Chelsea Barrett (yes, that Barrett family), that reflect Miki's Japanese heritage.
We received four Materra | Cunat Family Vineyards wines as tasting samples to give us a taste of both the Japanese-inspired wines and Oak Knoll District wines.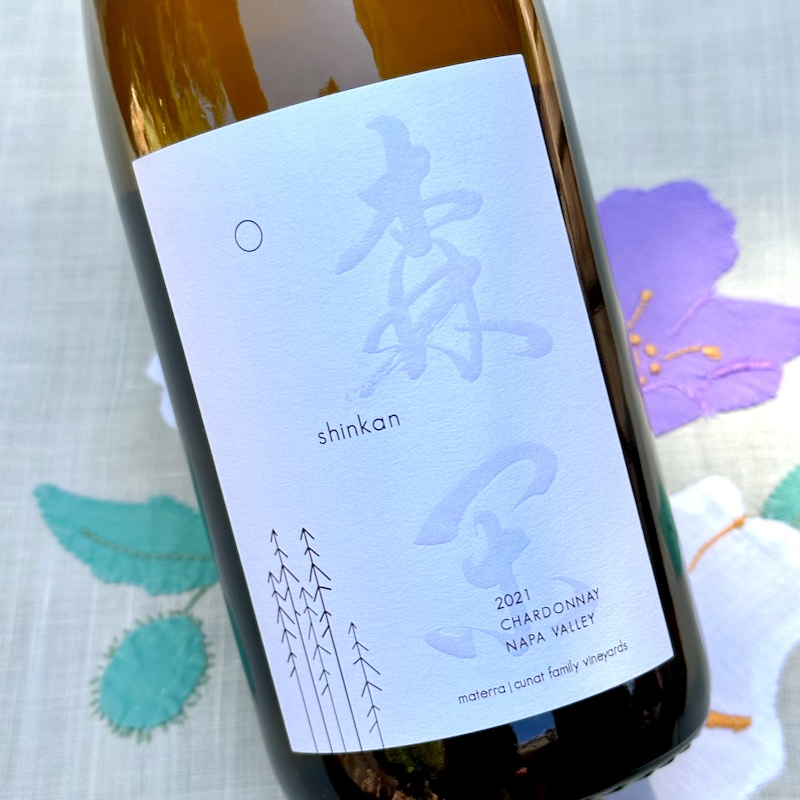 2021 Materra | Cunat Family Vineyards Shinkan Chardonnay, Napa Valley — light golden with generous aromas of ripe pears and stone fruit. Stone fruit flavors combine with citrus and pear flavors. Generous flavors are supported by juicy acidity and are a bit round. 13.9% abv. 446 cases made. SRP $27
Shinkan is 100% Chardonnay aged in 75% stainless steel drums, 5% new French oak, 20% neutral barrels for 6 months allowing for a great appreciation of Chardonnay's flavors. Shinkan means quiet forest in Japanese.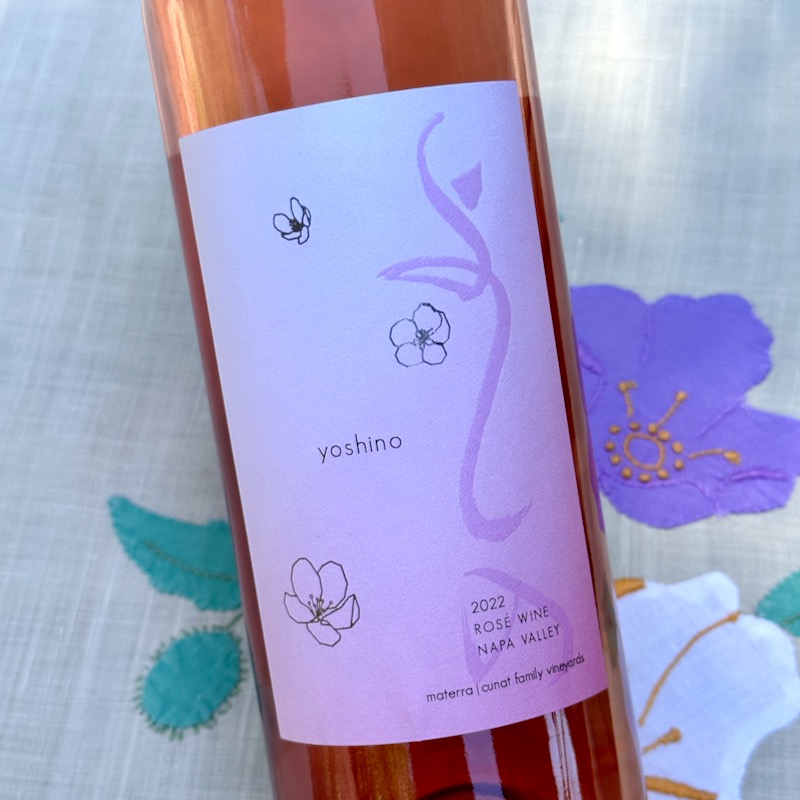 2022 Materra | Cunat Family Vineyards Yoshino Rosé, Napa Valley — salmon-blush with aromas of flowers and mixed berries. Generous blackberry, strawberry and raspberry flavors combine with citrusy acidity for a long, dry, juicy finish. 13.5% abv. 392 cases made. SRP $27
Yoshino, named for the mountain in Japan famous for its cherry blossoms, is made using 100% Malbec sourced from estate vineyards.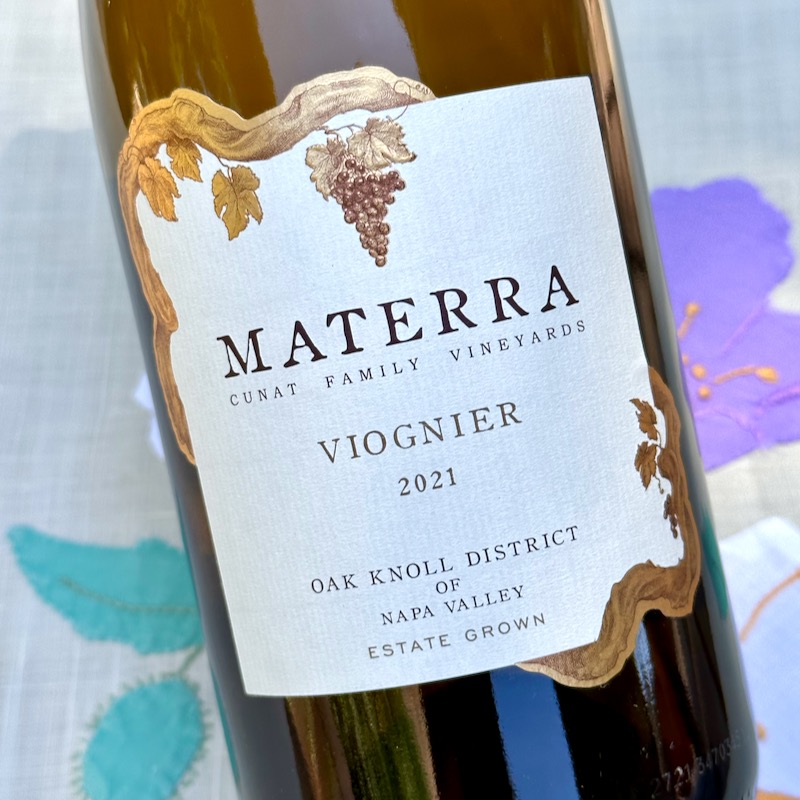 2021 Materra | Cunat Family Vineyards Viognier Estate Grown, Oak Knoll District of Napa Valley — light golden with clean citrus and mineral aromas. Citrusy flavors with hints of white flowers are supported by juicy, citrusy acidity. The wine has a bit of roundness with a long finish. 14.2% abv. 386 cases made. SRP $34
100% Viognier is estate grown, fermented in neutral French oak and aged 6 for months. It has a lovely richness.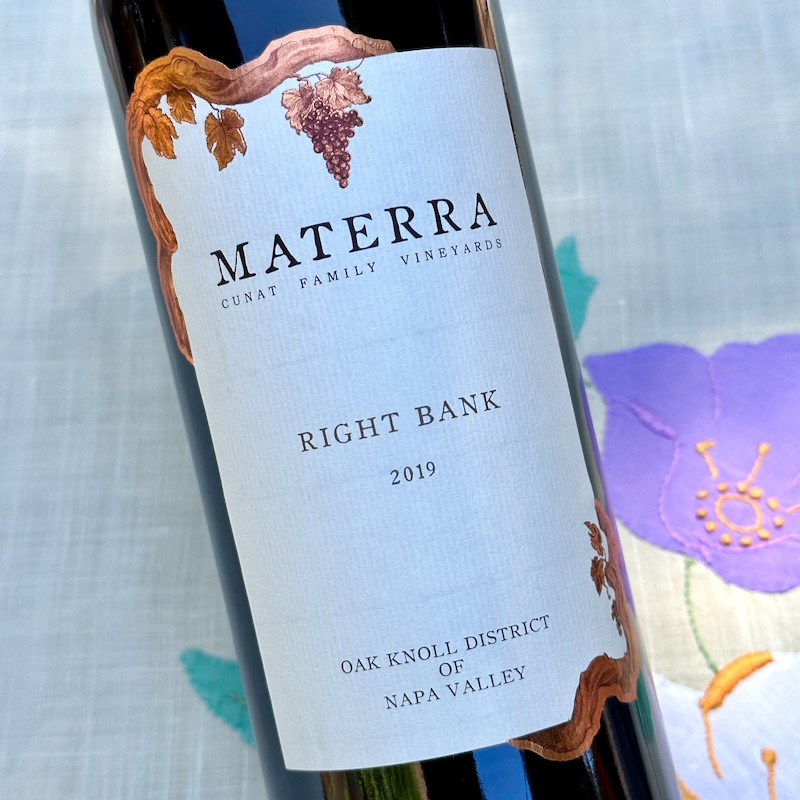 2019 Materra | Cunat Family Vineyards Right Bank, Oak Knoll District of Napa Valley — medium ruby with generous aromas of ripe plums, blackberries and dusty earth. Flavors include berry and plum flavors with hints of dried herbs and dusty earth. Tannins are smooth in a medium body with pleasing fruit flavors. 14.8% abv. 600 cases made. SRP $60
Given this wine's name you might guess it is a Merlot-dominant blend of 91% Merlot, 8% Cabernet Franc, 1% Cabernet Sauvignon. It was aged in 40% new French oak for 19 months.
These wines are balanced, fresh and show a deft hand in the use of oak; they are perfect for sipping on their own, but will pair beautifully with a variety of meals.
Materra roughly translates to Mother Earth. With sustainability in mind, the Oak Knoll estate vineyards are dry farmed except during extreme drought. Water is saved in the winery through the use of self-pumpover tanks that eliminate the need for cleaning hoses. Solar power is generated on-site. Materra is certified Napa Green (2017), Fish Friendly Farming Certified (2021), and MCE Deep Green 100% Renewal Energy (2022). Current annual production is about 7000 cases.
A number of wine tasting experiences may be booked on the Materra | Cunat Family Vineyards website including a tasting featuring a Japanese Tasting Flight.
Thanks to &co. pr for introducing us to Materra | Cunat Family Vineyards and organizing our tasting.
Cheers!