Who isn't ready for a little sunshine after the wet, unpredictable winter most of us have experienced? If the weather still isn't sunny where you live, maybe look for a little sunshine in your wine glass. Rías Baixas Albariño is at your service. Today we're tasting three such sunny wines that were sent to us as tasting samples.
Hello Rías Baixas
Rías Baixas (Denominación de Origen (DO) Rías Baixas) is a wine region located in Spain's northwest corner within the autonomous region of Galicia. This corner of Spain is called Green Spain because generous rainfall keeps the countryside verdant. The Atlantic Ocean's moderating influence keeps temperatures cool, but there is plenty of sunshine to ripen Albariño, a thick-skinned white grape variety that thrives in this cooler climate.
Robinson, Harding and Vouillamoz, in Wine Grapes, document Albariño's origin as northeast Portugal, where the variety is called Alvarinho, or just over the border in Galicia. It is considered one of the oldest varieties in this corner of the Iberian Peninsula.
DO Rías Baixas, as it is known today, was established in 1980 as La Denominación Específica Albariño. After Spain joined the European Union, the name was changed to DO Rías Baixas in 1988. Rías Baixas initially consisted of three sub-regions: Val do Salnés, Condado do Tea and O Rosal. Soutomaior and Ribeira do Ulla were added as sub-regions in 1996 and 2000, respectively.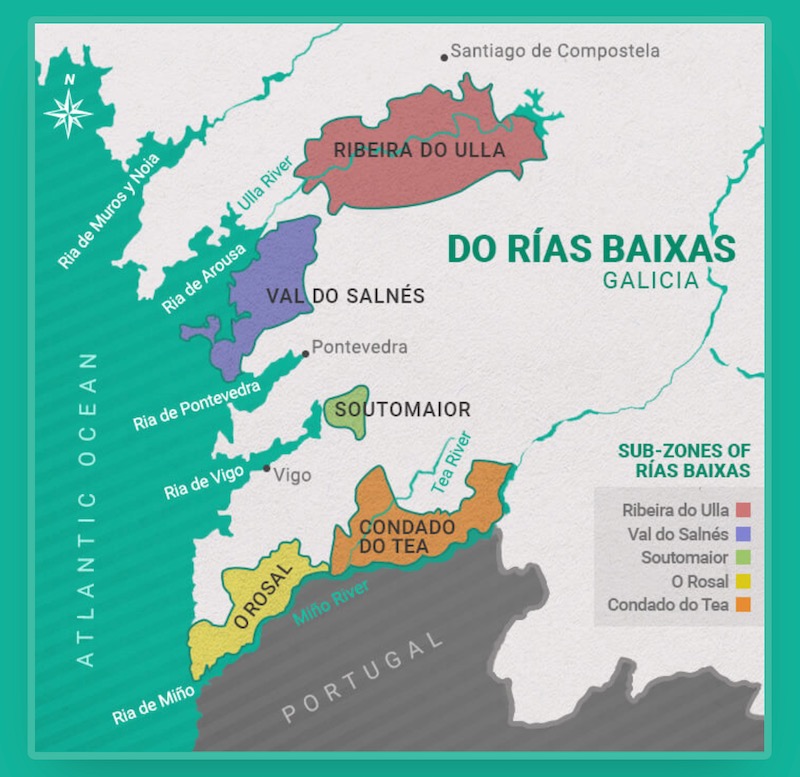 In Rías Baixas, Albariño accounts for more than 90% of all plantings, although 12 grape varieties are allowed in the region. Some varieties you may see blended with Albariño include: Treixadura, Loureiro, Caiño Blanco, Torrontes and Godello. Red grapes are also authorized in Rías Baixas, though they represent only 1% percentage of total production. A very small amount of sparkling Albariño is also made.
According to the Denominación de Origen Rías Baixas Consejo Regulador only 179 wineries are established in the region. More than 10,000 acres are planted to vines, but that acreage is divided into 22,832 vineyards making many of the plots very small.
Let's Taste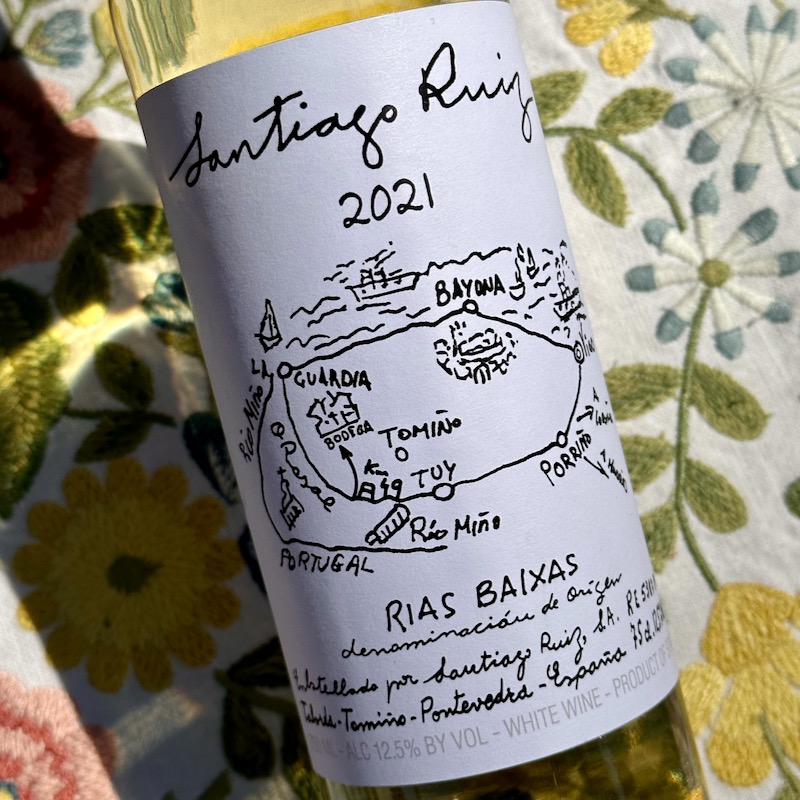 2021 Santiago Ruiz, Rías Baixas — light yellow with generous aromas of flowers and baking spice with crushed gravel. Flavors of white flowers, ripe melons and citrus have background notes of baking spice and are supported by juicy acidity. 12.5% abv. $22.99
Albariño (74%) is blended with Loureiro (10%), Godello (7%), Treixadura (5%) and Caino Blanco (4%), from the estate vineyard located in the O Rosal sub-zone. Each variety is vinified separately in stainless steel before blending.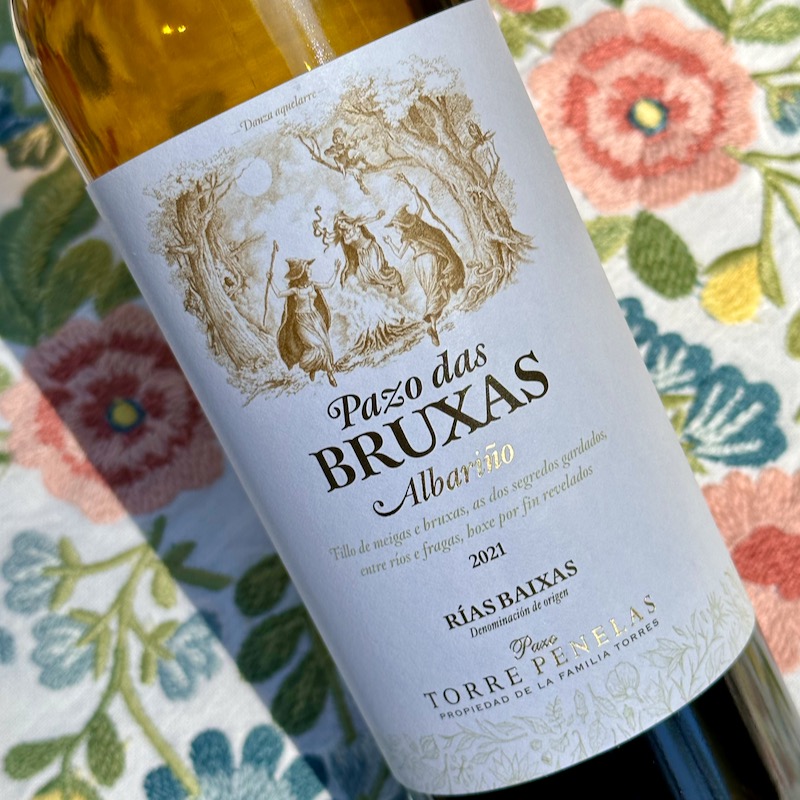 2021 Familia Torres Pazo das Bruxas Albarino, Rías Baixas — light yellow with generous aromas of ripe pineapple and pears. Flavors combine citrus and pears with notable acidity and a round mouthfeel. 12.5% abv. $21.99
100% Albariño vinified in stainless steel. Lovely sipping.
There is an interesting folk tale behind the dancing witches on the wine label:
"In country houses amidst enchanted woods and vineyards, Galician bruxas (witches) conjured up spirits through magic and dance. And so the sap rose through the vines, endowing them with strength and vigor, like the Albariño vines that give birth to this wine."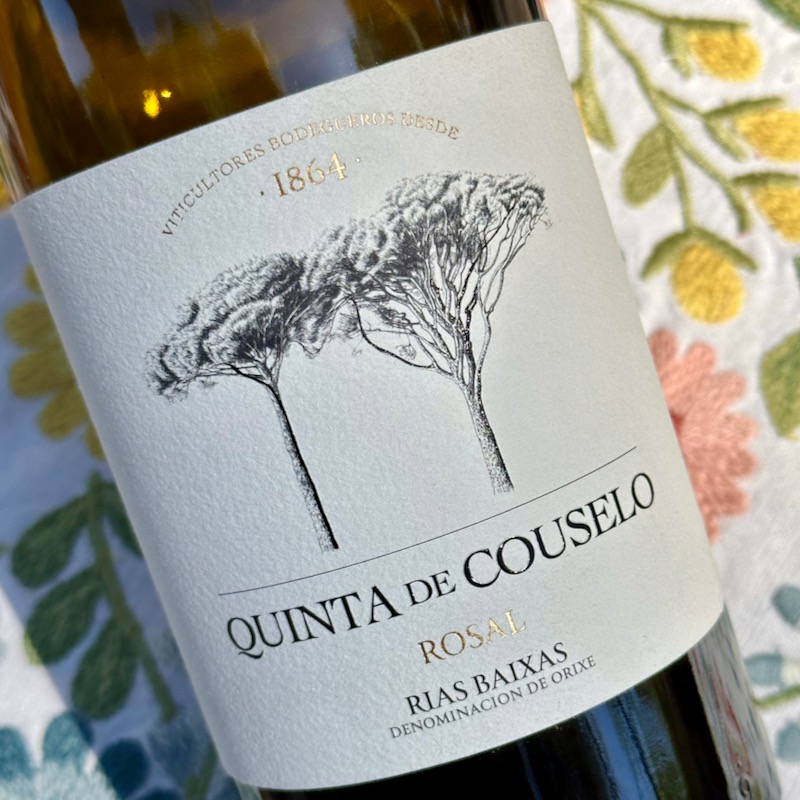 2021 Quinta de Couselo, Rosal Rías Baixas — light yellow with aromas of citrus, baking spice, crushed gravel and melon. Flavors follow with citrus, crushed gravel and melon with juicy acidity. 13% abv. SRP $21
Albarino (90%) is blended with Caiño Blanco (5%), and Loureiro (5%). Grapes were sourced from the estate vineyard, where vine growing dates back to the time of Cistercian monks, and other vineyards farmed by Quinta Couselo also located in the O Rosal sub-region. The wine was vinified in stainless steel with 6 months of lees aging. Love the combination of fruit and spice flavors.
These wines are easy sipping on their own and will pair with seafood, appetizers, salads and soups. Their complex flavors, lively acidity and modest alcohol make them very food friendly.
Thanks to Gregory+Vine for organizing our tasting and providing background information.
Cheers!