If you have had any introduction to wines from Uruguay it's likely been Tannat, Uruguay's flagship variety. I remember them for their firm tannins and complex, ripe fruit flavors. It makes sense that in a country where cows outnumber residents 4:1, and where grilling meat is a fine art (Uruguayans eat the most meat per capita anywhere in the world), a tannic red wine would be so popular.
Recently I had the opportunity to sit in on a discussion of Uruguayan wines that included a tasting of nine wines, provided to us as tasting samples, that went beyond Tannat. The discussion was moderated by South American wine expert, Joaquin Hidalgo, and Martina Litta from Uruguay Wine.
A Sense of Place
Uruguay is located south of Brazil and east Argentina. Colonia del Sacramento lies just a quick ferry ride across the Rio de la Plata (the estuary of the Paraná and Uruguay Rivers) from Buenos Aires. Uruguay's capital city, Montevideo, is a two-hour drive south along the coast from Colonia del Sacramento.
The Charrúa and Guaraní indigenous communities inhabited the land when the Spanish colonialists arrived. Uruguay takes its name from the Guaraní word meaning "river of the painted birds." Some 450 species of birds inhabit Uruguay.
The Spanish first brought wine grapes to the region in the 18th century. Subsequently, French and Basque immigrants brought wine grapes to Uruguay in mid-19th century. Two notable plantings of European varieties occurred in the late 1800s. Pasqual Harriague planted 490+ acres near Salto about 1860 and planted the first Tannat in 1871. Tannat is sometimes referred to as Harriague in Uruguay. Francisco Vidiela planted a vineyard to European varieties near Montevideo in 1870.
Vineyard acreage expanded significantly until the military dictatorship that controlled Uruguay from 1973 to 1985 destroyed the local market. Post-dictatorship, wineries were quick to organize themselves and focused on quality wines. Preferential Quality Wine (Vinos de Calidad Preferente, VCP) was established in 1993; look for VCP on Uruguayan wine labels.
Secondly, wineries decided as a group to place the focus on Tannat, a variety that adapted beautifully to the soils and maritime climate of Uruguay. Today, 164 wineries are active in Uruguay and most are small and family owned. More than 12,000 acres are planted to vines.
Beyond Tannat, look for Cabernet Sauvignon, Merlot, Syrah, Pinot Noir, Cabernet Franc and Marselan. White varieties include: Chardonnay, Sauvignon Blanc, Albariño and Viognier.
Uruguay's climate is heavily influenced by the Atlantic Ocean and makes it very different from the arid conditions in Argentina and much of Chile. A cooler, maritime climate and clay-based soils, with pockets of calcareous soils, opens the door to many red and white grape varieties in addition to Tannat.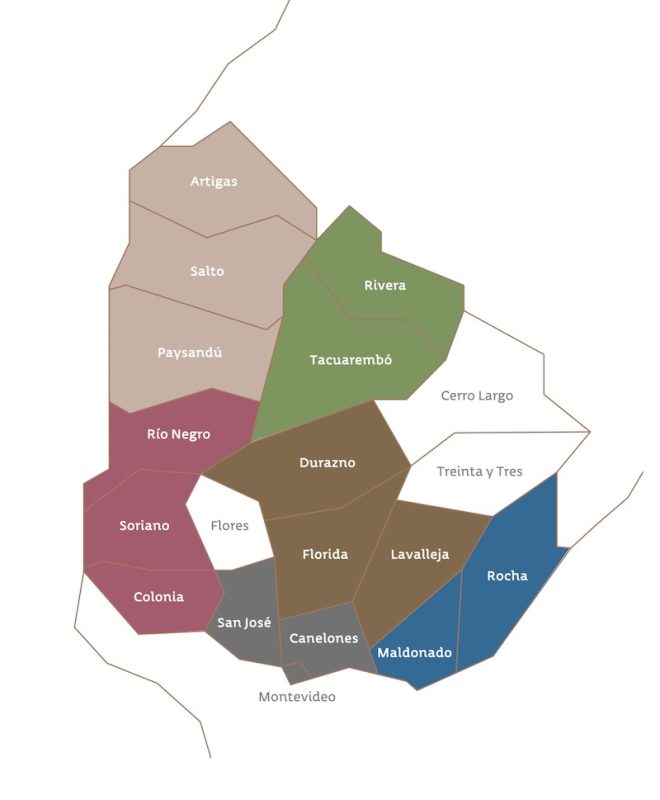 The major growing regions lie along Uruguay's ocean coastline, the Rio de la Plata and the Uruguay River. Click the link in the caption above to view the interactive map. The northern part of Uruguay is hotter and receives more rain than the southern part along the coast; still the southern regions receive as much as 39 inches yearly. White varieties are mostly planted along the coastline, red varieties in the warmer northern regions and Tannat is planted everywhere because it thrives everywhere according to Joaquin.
You would be correct to draw a comparison between the growing conditions in Bordeaux and Uruguay. Both are heavily influenced by the ocean and well as an estuary and rivers. Both have clay-based soils and receive a fair amount of rain. So, it shouldn't be surprising that so many Bordeaux varieties thrive in Uruguay.
A Taste of Place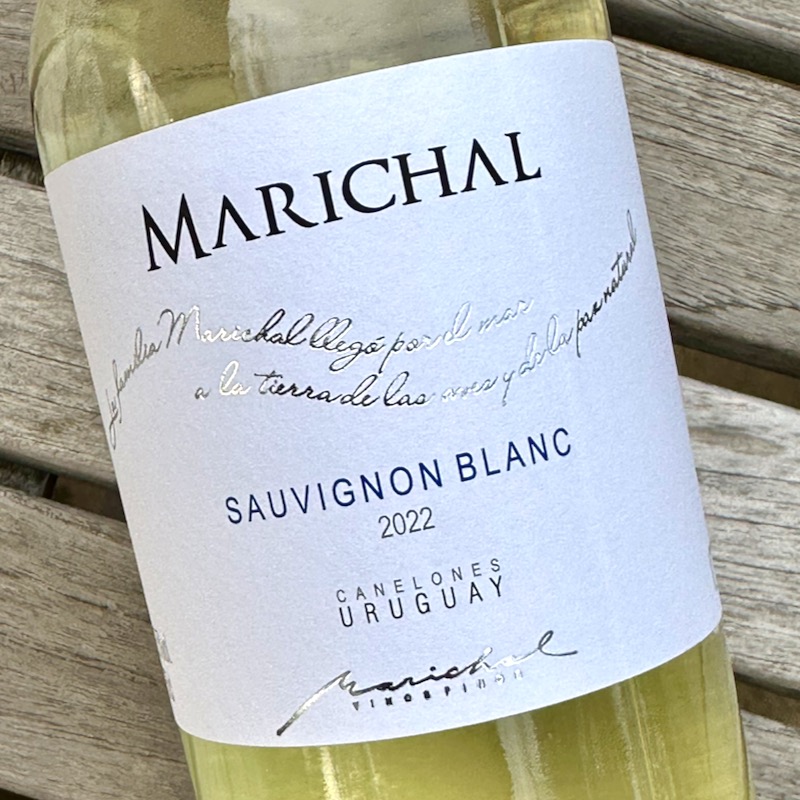 2022 Marichal Sauvignon Blanc, Canelones, Uruguay — pale yellow with generous aromas of cut grass and tart guava. Flavors include citrus, guava and stony minerality supported by juicy acidity. 12.7% abv. SRP $14
100% Sauvignon Blanc is grown 15 miles from Rio de la Plata. Juan Andres Marichal, the fourth generation of his family to grow and make the wine, told us this wine is fermented in concrete tanks. Aromas announce this wine as Sauvignon Blanc, but flavors are not so tart and very complex. Delicious sipping.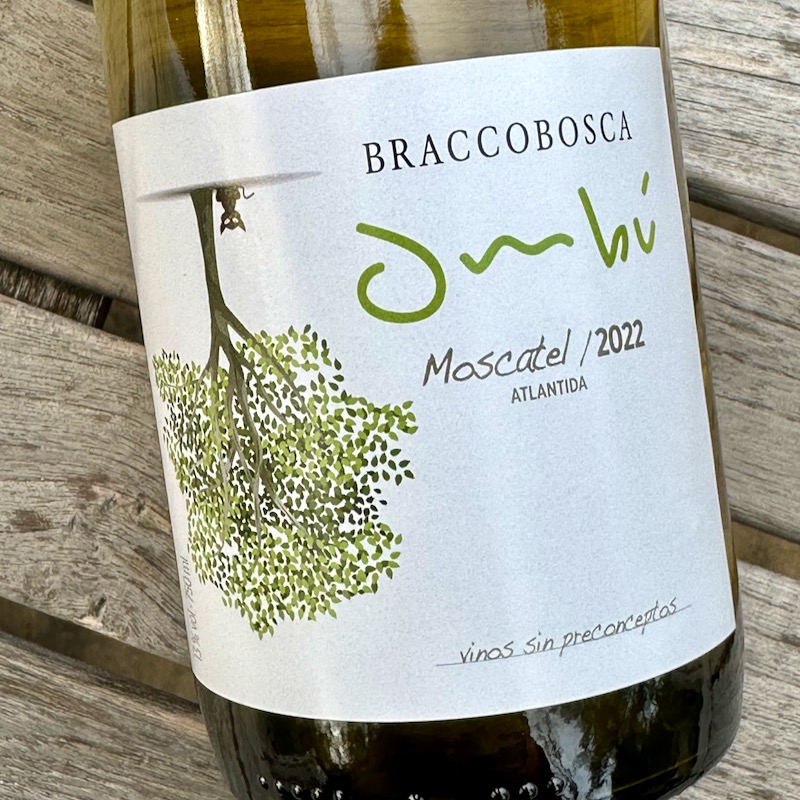 2022 Bracco Bosca Ombú Moscatel, Atlantida, Canelones, Uruguay — light yellow with generous aromas of orange blossoms. Flavors follow with a floral component, citrus, ripe melon and ripe stone fruit with good acidity and a clean finish. There is a perception of sweetness, maybe just the ripe fruit flavors, and a bit of weight on the palate. 13% abv. SRP $16
This is a taste of something different: a dry Moscatel, the first to be made in Uruguay according to Fabiana Bracco. Noting that Moscatel was the first variety introduced by the Jesuits, Fabiana hopes this is a wine that blends heritage and innovation to give you a unique taste of her vineyard, located less than 5 miles from the ocean. And the Moscatel vines are more than 40 years old. Very interesting and delicious wine.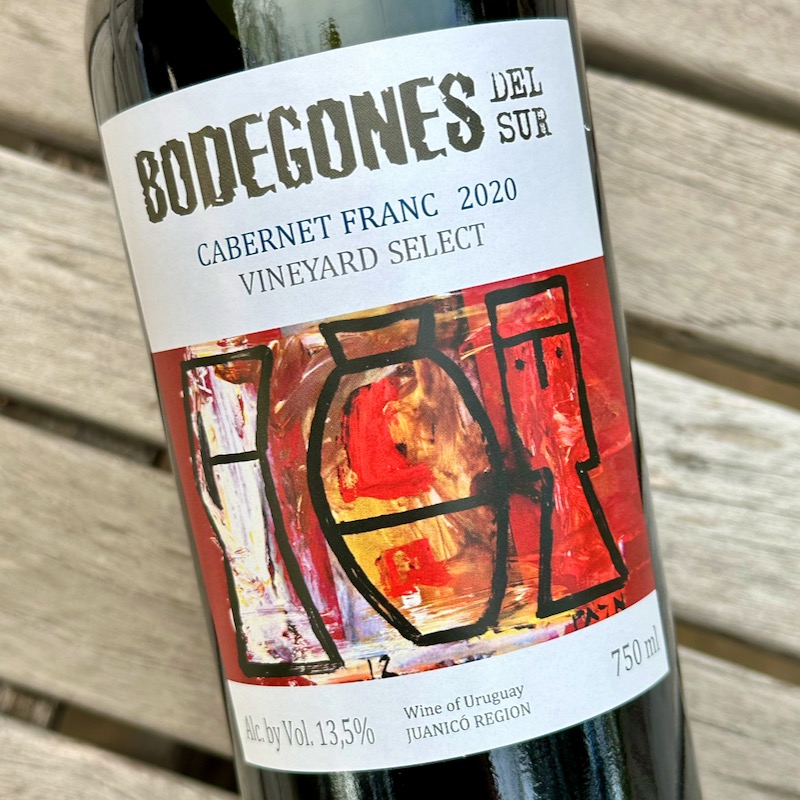 2020 Bodegones del Sur Vineyards Select Cabernet Franc, Juanicó, Uruguay — dark ruby with generous aromas of blackberries, crushed flower stems and leather. Flavors include a mix of juicy blackberries, black cherries and raspberries with notes of dried herbs and leather. Tannins are fine and drying in a medium body. 13.5% abv. SRP $20
Cabernet Franc is grown in the western part of the Montevideo region less than 20 miles from the coast. Soils are vertical schist with low fertility, making the vines work hard to grow and make fruit. Winemaking is described as minimal with 30% of the wine aged in American and French oak. Love this Cab Franc!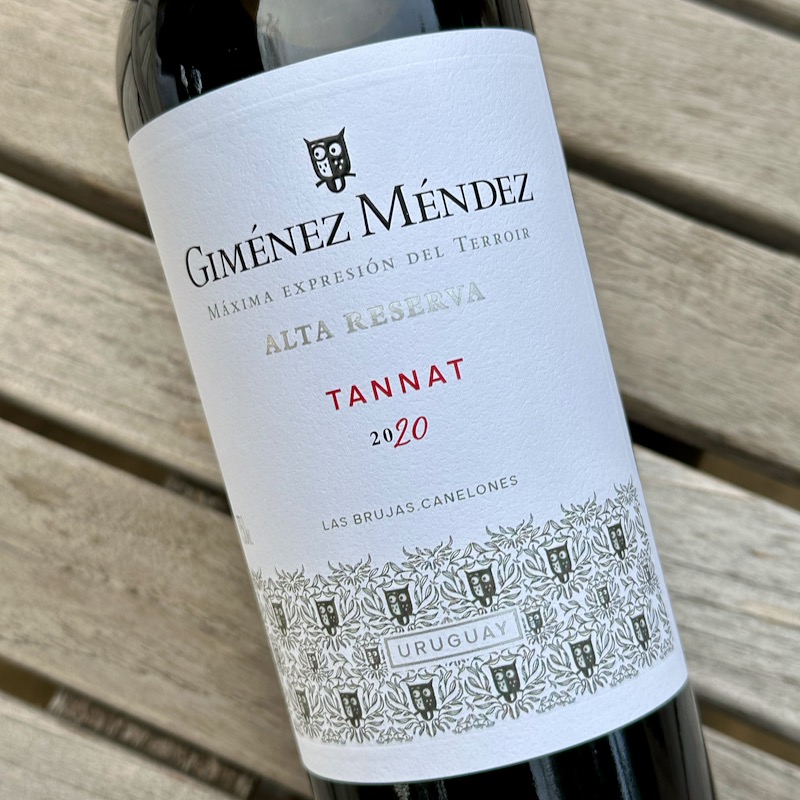 2020 Giménez Méndez Alta Reserva Tannat, Las Brujas, Canelones, Uruguay — dark ruby with aromas of ripe plums, blackberries and hints of licorice. Flavors include blackberries, alfalfa hay and earth. Tannins are grippy in a medium body with a juicy finish. 14% abv. SRP $18
The Alta Reserva Tannat is 100% Tannat that is a blend of parcels to achieve the reserve flavor profile. Aged for 9 months in American and French oak. Fresh flavors and delicious complexity.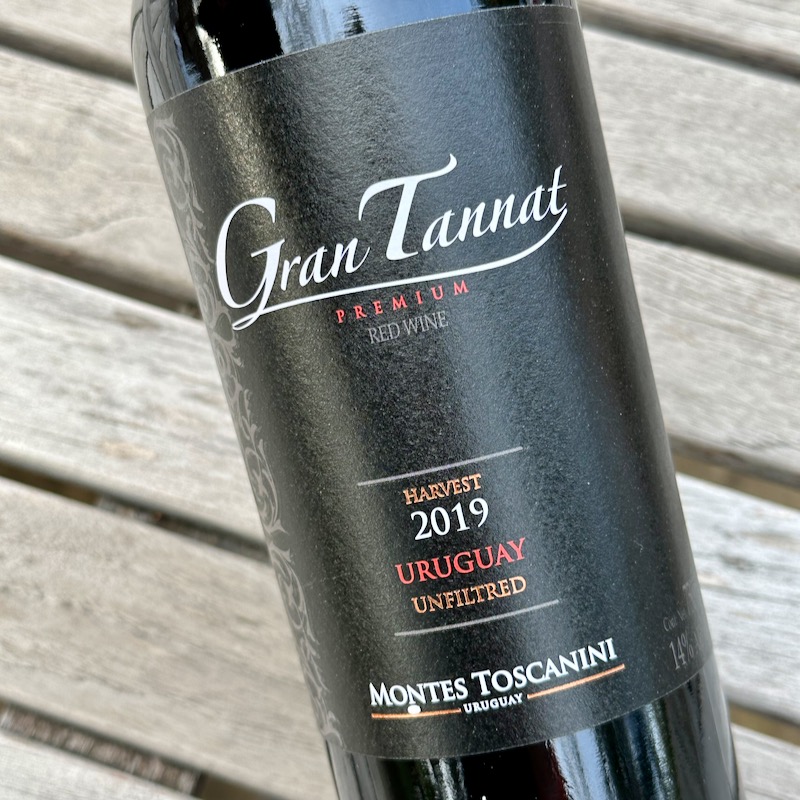 2019 Montes Toscanini Gran Tannat, Uruguay — dark ruby color with aromas of ripe mixed berries with cedar in the background. Flavors of blackberries, are complex and concentrated with notes of alfalfa hay supported by notable acidity. Tannins are grippy in a medium body. 14% abv. SRP $59
Montes Toscanini is a family winery in the hands of the fourth generation of the family. The winery is located in the Canelones region. The Gran Tannat (100% Tannat) is the winery's icon wine and is only made in outstanding vintages. It is a selection of the best lots of Tannat fermented in concrete vats and aged in American oak for 18 months. Lovely complexity and balance.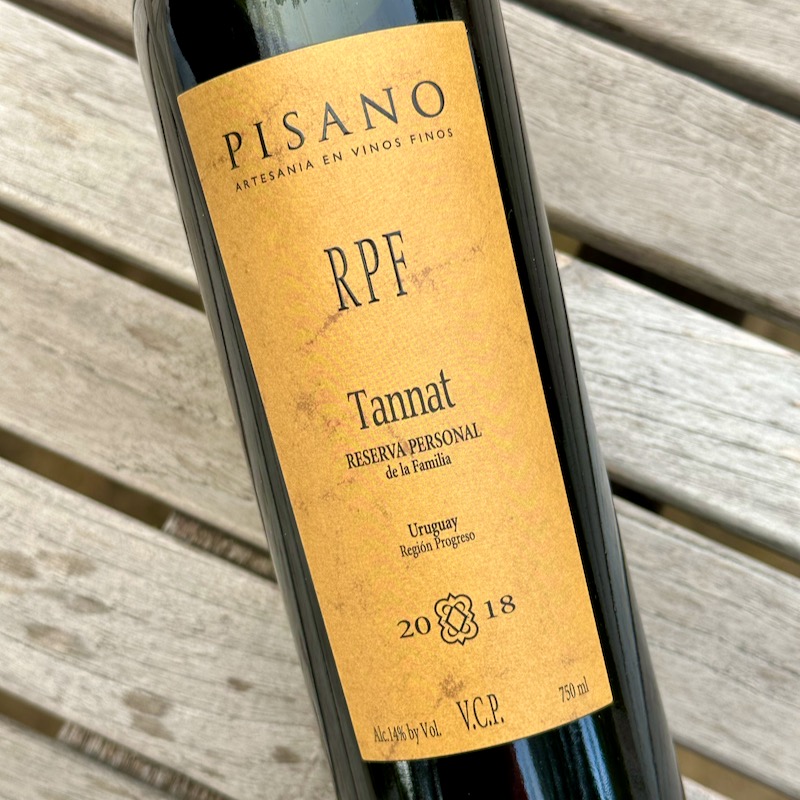 2018 Pisano RPF Reserva Personal de la Familia Tannat, Progreso, Uruguay — dark ruby with red fruit aromas including cherries and ripe pomegranates with dried herbs in the background. Flavors lead with ripe plums and blackberries with crushed flower stems and a juicy finish. Tannins are grippy in a medium body. 14% abv. SRP $24
The RPF bottling was originally made as a bottling of the very best lots of Tannat for the family's consumption. RPF Tannat has become Pisano's most prestigious and popular bottling.
100% Tannat is grown in clay and calcarious soils in the department of Canelones with vineyards only 15 miles from both the ocean and Rio de la Plata. Daniel Pisano described the growing conditions as, "Burgundy soils with a Bordeaux climate." The wine is aged for 10 to 12 months in French oak. Delicious, complex, balanced Tannat.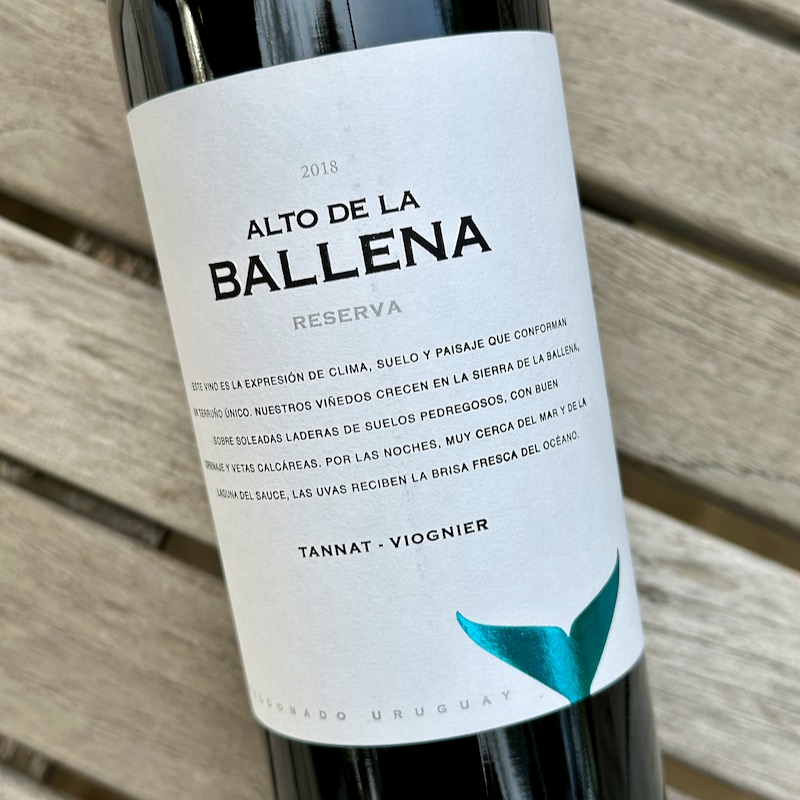 2018 Alto de la Ballena Tannat-Viognier, Maldonado, Uruguay — dark ruby with generous aromas of ripe blackberries and raspberries. Bright flavors of blackberries, boysenberries and dark cherries include background notes of cedar and baking spice. Acidity is notable with a juicy finish and grippy tannins in a medium body. 14% abv. SRP $24
Alto de la Ballena is located 9 miles from the ocean. 20 acres of Merlot, Tannat, Cabernet Franc, Syrah, Viognier and Godello are planted in granite and schist soils with some limestone.
This Tannat-Viognier blend has become the (possibly unintended) flagship wine of Alto de la Ballena. It was first made as a blend before the Syrah vines, planted to make a traditional Côte-Rotie blend with Viognier, produced fruit. Paula Pivel, who founded the winery with her husband Alvaro Lorenzo, told us the blend is made as a co-ferment of Tannat and Viognier (15%) with aging in American oak. The freshness of the cool, ocean influences are reflected in the flavors of this delightful blend.
2019 Bouza Monte Vide Eu Tempranillo-Merlot-Tannat, Montevideo, Uruguay — dark ruby with very concentrated dark fruit aromas. Concentrated flavors include berries, plums and currants with coffee beans in the background. Hints of baking spice lingers in the background. Tannins are grippy in a medium+ body with a juicy finish. 13.5% abv. SRP $67
Bodega Bouza was established by Juan and Eliza Bouza and is a family operation. The family farms five vineyards, totaling almost 110 acres, in various parts of Uruguay. Three vineyards are located in the southern part of the country and two are in the east near the ocean. The winemaker, Eduardo Boido, is highly regarded. The blend of 50% Tannat, 30% Merlot, 20% Tempranillo is aged in both French and American oak. The concentrated and complex flavor profile is lifted by the bright acidity.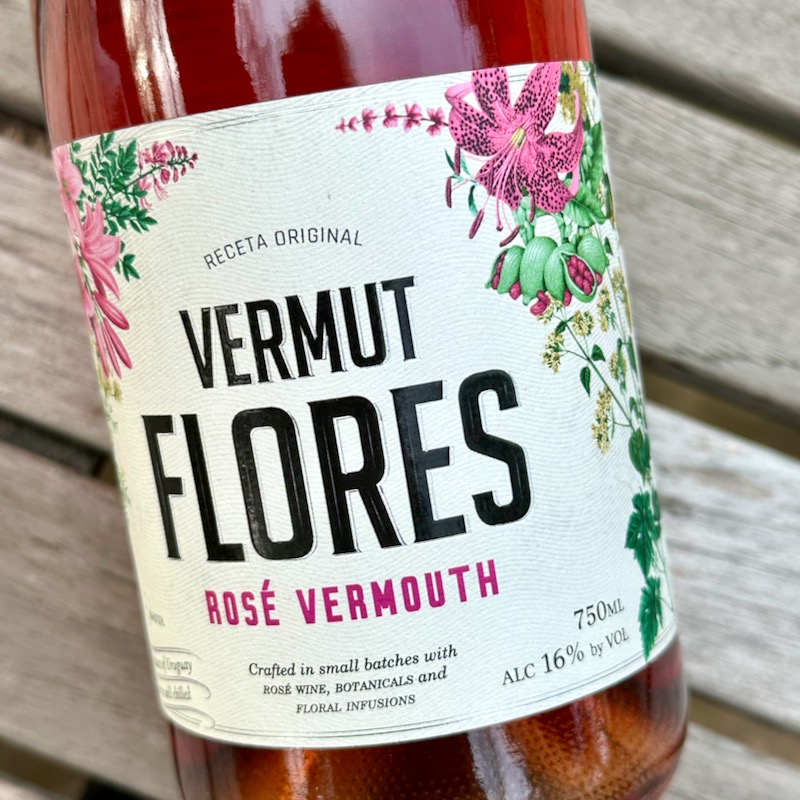 Basta Spirit Vermut Flores Rosé, Uruguay — medium copper with generous aromas of bitter botanicals, cinnamon and roses. Flavors follow with botanical flavors that are a combination of bitter and sweet along with cinnamon. 16% abv. SRP $16
Made using a Tannat rosé, the wine is infused with 27 botanicals including "roots, barks, herbs, fruit and of course flowers such as rose, chamomile and elderflower." Best enjoyed over ice with a slice of lemon, orange or a few olives. This is such a surprising and delicious rosé. And talk about having fun with wine!
Before We Leave Uruguay
Uruguay has made many strides since the end of the dictatorship in 1985. It is the second smallest country in South American by area, with a population of only 3.4 million people, and has the second highest GDP per capita. It has the fastest internet access in South America, the highest literacy rate (98.7%) and one of the highest life expectancies. It is a democratic and inclusive society.
The wine industry in Uruguay is dominated by small, family farms and wineries; many are in the hands of the third and fourth generation of the family. Only a few big players are in the Uruguay wine market. More than 50% of the harvest is completed by hand the the winemaking style is a blend of European tradition and New World innovation.
The wines in this group are refined, with excellent balance and acidity. Alcohol levels are modest and oak aging is used to soften tannins, not dominate the wines. The production in Uruguay is not huge, but these wines are exported to more than 50 countries, so you should be able to find them near you. Begin with Tannat, but go back to explore the other interesting varieties made by these dedicated Uruguayan families.
For more information about Uruguayan wines, be sure to check out the INAVI's (Instituto Nacional de Vitivinicultura) Uruguay Wine website. And, for all things wine in South America, consult the excellent South America Wine Guide.
Thanks to Creative Palate Communications for organizing our tasting and providing detailed background information on Uruguay and the wines.
Cheers!