This tasting will not take us to Siena's picturesque hill town of Montepulciano to sip the region's Vino Nobile wines, where Sangiovese is the star, nor will it include a taste of Pecorino cheese. Instead, we are heading slightly off the beaten path to Abruzzo, located to the south and on Italy's east coast, to taste Abruzzo wine made using local grape varieties: Pecorino and Montepulciano. We received these wines as tasting samples.
Abruzzo – The Region And Its Wines
The Apennine Mountains are the dominant feature of the Abruzzo region along with picturesque valleys that rise up from the Adriatic Sea. The valleys are planted to a variety of crops including grapes, olives, fruit and wheat. Livestock grown in the region include pigs and sheep, which have historically been herded between valley and mountain pastures. This fact of sheepherding in the region will figure into the wine story later.
Italian Wine Central, an excellent reference for Italian wines and regions, gives this thumbnail sketch of Abruzzo:
Abruzzo is located halfway down the Italian peninsula, across the Apennine range east of Rome. Its capital is L'Aquila and its largest city is Pescara. In the wine world, Abruzzo is best known as the home of the Montepulciano grape. It has two DOCGs, seven DOCs (see map on this page), and eight IGPs.
Per Italian Wine Central 58% of wine production is red. Grape varieties include Chardonnay, Cococciola, Merlot, Montepulciano, Passerina, Pecorino, Sangiovese and Trebbiano.
Pecorino
Pecorino is a light-skinned grape prized for its high acidity and grown mainly in Abruzzo and Marche, but also beyond. It originated in the area, but fell out of favor because of its low productivity. Ian D'Agata, in his comprehensive book, Native Wine Grapes of Italy, goes on to note Pecorino's road back to prominence began in Marche and then Abruzzo in the 1980s. Pecorino can make wines with fresh, floral notes.
This grape has the same name as the sheep's milk cheese. As the story goes, shepherds (and probably the sheep) ate these grapes as they moved through Marche and Abruzzo valleys in search of grazing.
Montepulciano
Ian D'Agata notes that Montepulciano's origin may be up for debate, but its presence was first documented in Sulmona (Abruzzo) in 1792. Montepulciano is late ripening, has high levels of anthocyanins giving it a dark color and makes wine with lots of flavor and firm structure.
Let's Taste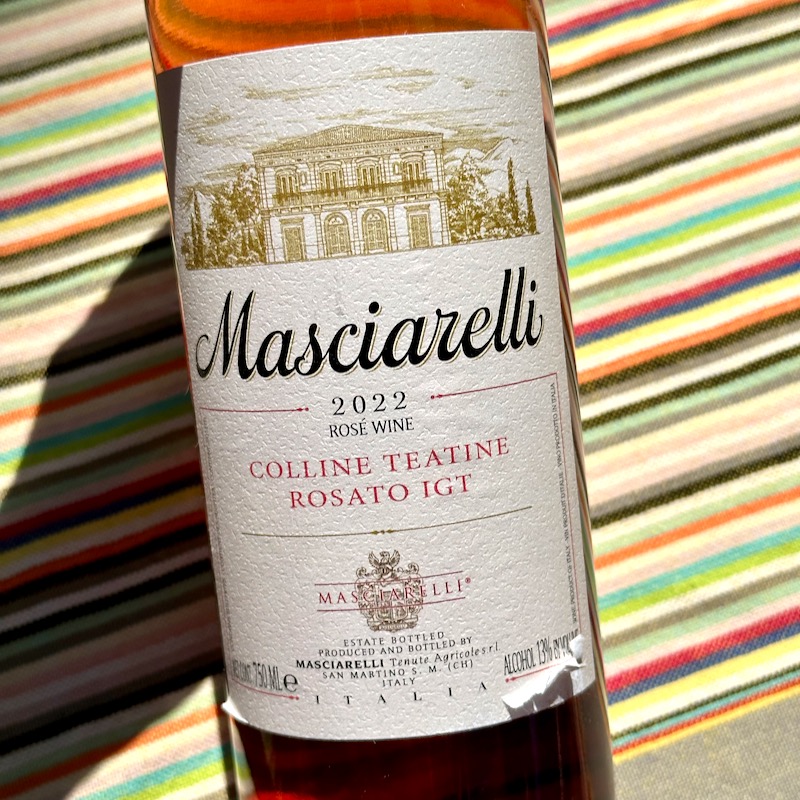 2022 Masciarelli Rosato, Colline Teatine IGT — bright raspberry color with generous aromas of strawberries, cherries and raspberries. Flavors are a bright mixture of red berries with citrusy acidity and a clean, flavorful finish. 13% abv. SRP $14
100% Montepulciano d'Abruzzo is pressed without skin contact and fermented in stainless steel tanks under controlled temperature.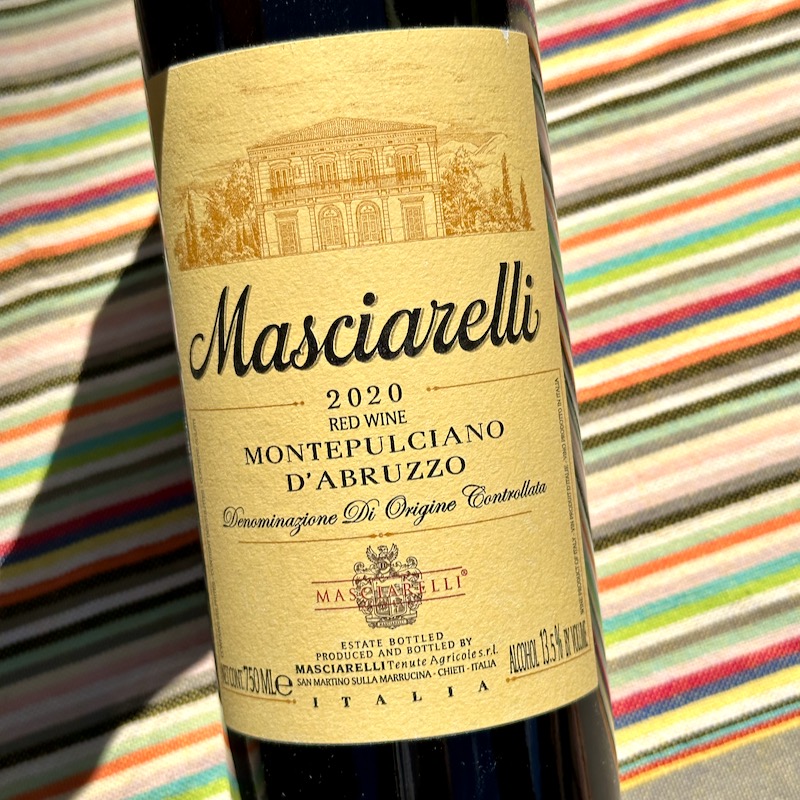 2020 Masciarelli Montepulciano d'Abruzzo, Montepulciano D'Abruzzo DOC — light ruby with generous aromas of red cherries, earth and strawberries. Flavors include cherries, boysenberries and a dusty, earthy component with fine drying tannins in a medium body. 13.5% abv. SRP $15
100% Montepulciano d'Abruzzo was fermented and aged in stainless steel tanks.
Masciarelli is the only Abruzzo producer with vineyards located in all four provinces (Chieti, Pescara, Teramo, l'Aquila) and all wines are sourced entirely from estate vineyards.
These two wines, from Masciarelli's Linea Classica bottling, are drink-now wines made without the use of oak. Also part of the Masciarelli portfolio: Villa Gemma, Marina Cvetić and Marina Cvetić ISKRA a reserve, single-vineyard Montepulciano d'Abruzzo from Teramo.
Thanks to Creative Palate Communications for organizing our tasting of Masciarelli wines.
2018 Cantina Rapino Gira Pecorino, Terre di Chieti IGT — slightly cloudy and light golden with aromas of bruised apples and pineapple. Flavors include pineapple guava, apples and dried herbs with good acidity. There is a surprising amount of texture and some tannins that make this a very interesting, contemplative glass of wine. 12.5% abv.
This Pecorino is sourced from a single vineyard and is unfiltered, per notes on the back of the wine bottle. Notes on the winery's website indicate the wine was fermented in stainless steel with no indication of skin contact, though the wine taste like a skin-contact white wine to me. Interesting wine.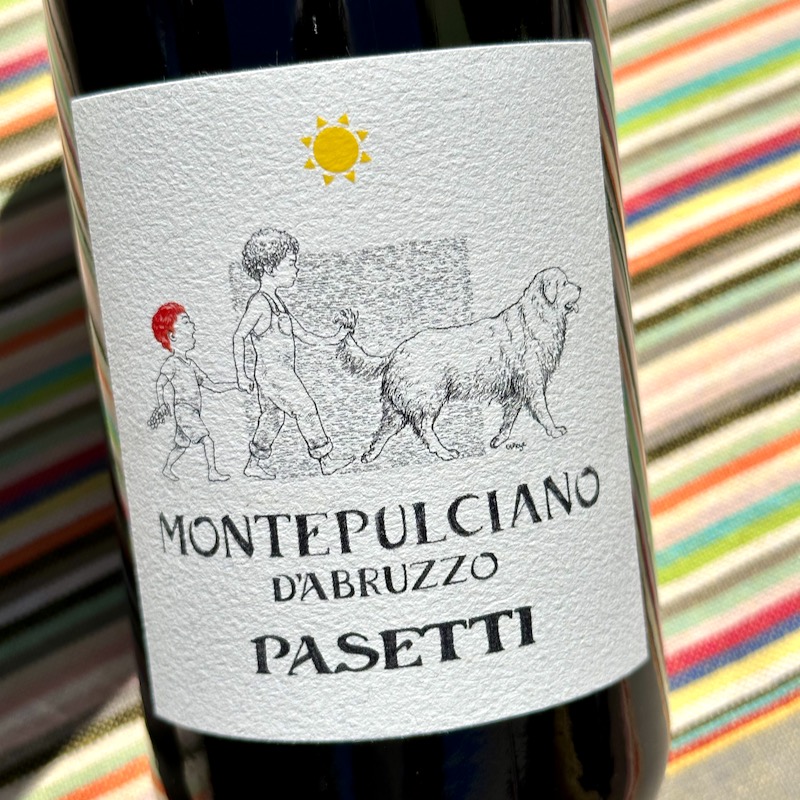 2020 Pasetti Montepulciano d'Abruzzo, Montepulciano d'Abruzzo DOC — medium ruby with generous aromas of blackberries, tobacco and slate. Flavors include blackberries, earth, cedar and tobacco. Lively acidity keeps the flavors bright and lightens the body. Tannins are fine and drying. 14.5% abv.
There are ample dark fruit aromas and flavors, but somehow the wine seems lighter thanks to that delightful acidity. Delicious.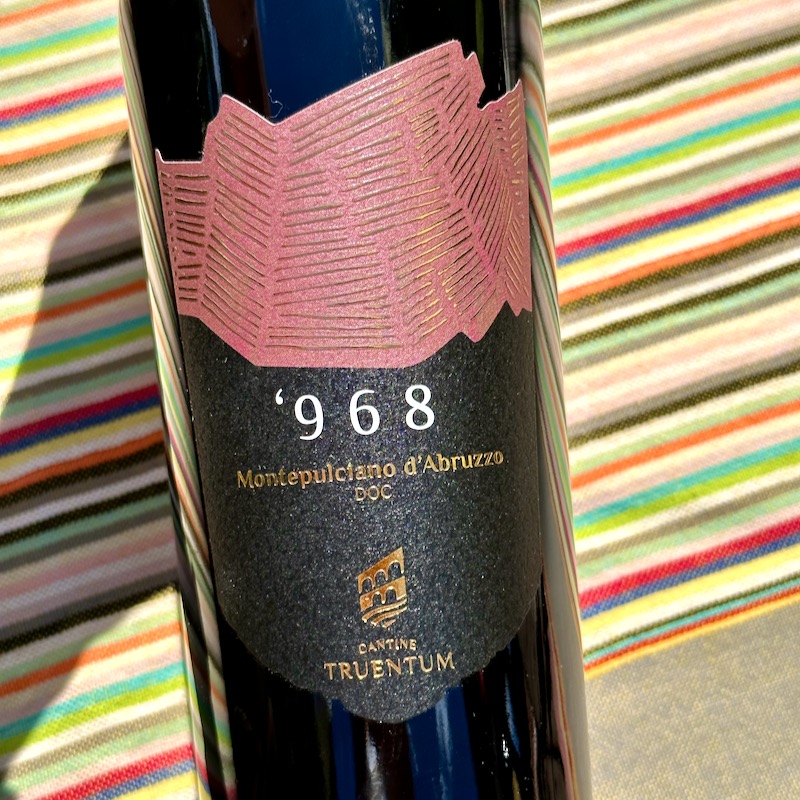 2020 Cantine Truentum '968 Montepulciano d'Abruzzo, Montepulciano d' Abruzzo DOC — medium ruby with aromas of blackberries, dried herbs and dusty earth. Flavors of blackberries, boysenberries, cherries combine with vanilla and lively acidity. Tannins are drying and well integrated with the flavors in a medium body. 14.5% abv.
Lots of red and dark fruit flavor and well balanced.
Thanks to Colangelo & Partners for a taste of Cantina Rapino, Pasetti and Cantine Truentum.
Cheers!