One of the many lessons I learned during weekly wine tastings at a local wine shop is that there are many very expensive bottles of wine that taste really good, especially from Napa Valley. It isn't particularly difficult to find those wines, but what takes a bit more effort is to find those really good wines for less money. What I have learned from tasting several vintages of Smith-Madrone wines is that they are really good and affordable. We received these wines as tasting samples.
Stuart and Charles Smith are the proprietors of Smith-Madrone Vineyards & Winery, located on the slopes of Spring Mountain above Napa Valley. The winery name combine the Smiths' name with the madrone tree, the predominant tree on the 200-acre ranch. The property had been planted to vines in an earlier century, but by the time Stu purchased the property, and founded Smith-Madrone in 1971, little evidence of that prior effort remained. Today, two rows of 120-year-old Picholine olive trees stand majestically as a reminder of the property's history.
Stu began developing the vineyard in 1972; Charlie joined the effort shortly thereafter. The first planting included Chardonnay, Riesling, Cabernet Sauvignon and Pinot Noir. Ultimately, the Pinot Noir was grafted over to Chardonnay. Cabernet Franc and Merlot have also been planted and the original 20-acre planting now stands at 34 acres.
The hillside site, at elevations between 1,300 and 2,000 feet above sea level, provides a variety of elevations, slopes and exposures. Riesling is planted with an eastern exposure, Cabernet Sauvignon prefers southern and western exposures across flat stretches of the vineyard and the coolest, north-facing slopes are reserved for Chardonnay.
The vineyard is dry farmed, with drip irrigation used only to establish young vines. As a result, vines must put down deep roots in search of water, resulting in a naturally-controlled yield producing small berries with a high skin-to-juice ratio.
Stu manages the vineyards and Charlie makes the wine in the stone winery the brothers built from stones and lumber harvested from the property. Over the years Stu and Charlie have done it all at this bucolic, mountainside location, including fight a wildfire that threatened the vineyard and winery.
The Smiths' winemaking style is unapologetically Old World. You won't find them following fads or chasing wine scores. The fact that they make Riesling in Napa might be the first hint that they make the wines they love, not those consumers have been trained to expect. Once you taste their wines, you will discover you can trust their approach in the vineyard and the wine cellar. All wines are sourced entirely from estate vineyards.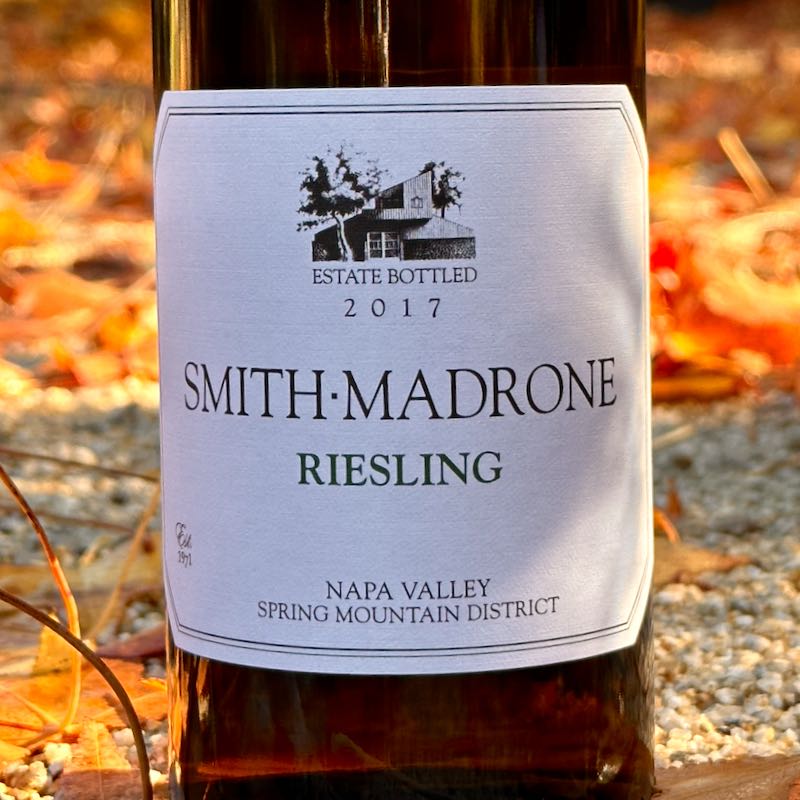 2017 Smith-Madrone Riesling, Spring Mountain District, Napa Valley — medium yellow with generous aromas of beeswax, petrol, apricots and citrus. Flavors include apricots, stone fruit and citrus supported by juicy acidity. The flavors linger on the palate with a bit of roundness for a very long, clean finish. 12.9% abv. SRP $34
What would I pair with this wine? Well, first, you don't really need food, but this wine deserves to be paired with a meal. Farfalle with Pistachio Cream Sauce, my favorite creamy pasta, would be perfect.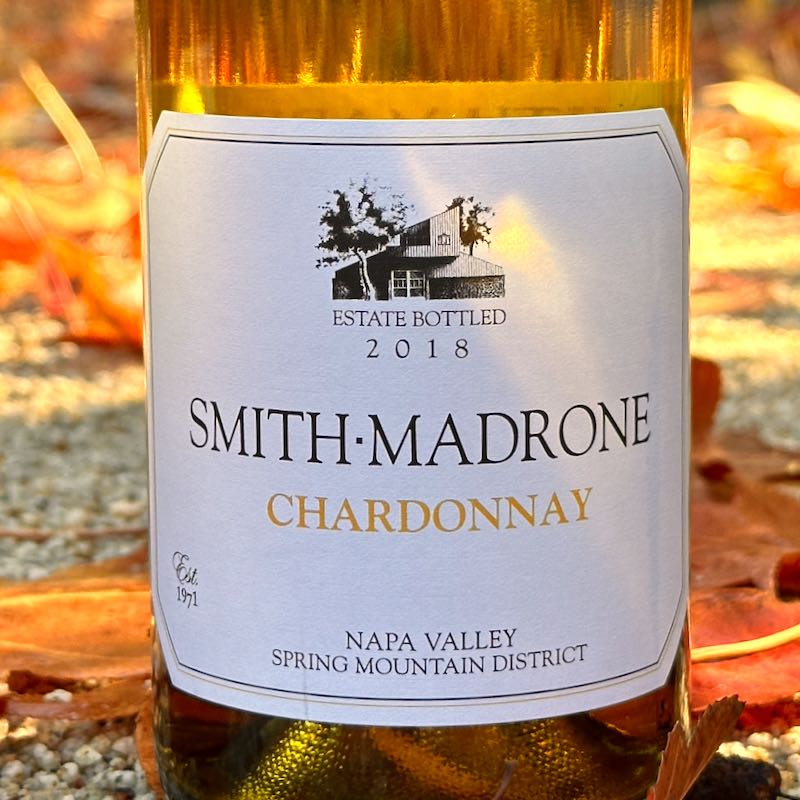 2018 Smith-Madrone Chardonnay, Spring Mountain District, Napa Valley — light golden with generous aromas of toast, citrus and melon. Flavors are citrusy with melon and toasty oak in a round, medium body with notable acidity. The finish is round and clean and very long. 14.5% abv. SRP $45
This is a Chardonnay to respect for its balance and nuanced flavors. Yes, it is fermented and aged in oak, but in the right hands this is a good thing. It has many years ahead of it, but it's delicious now. Pair it with Halibut with Swiss Chard and Ginger Cream Sauce.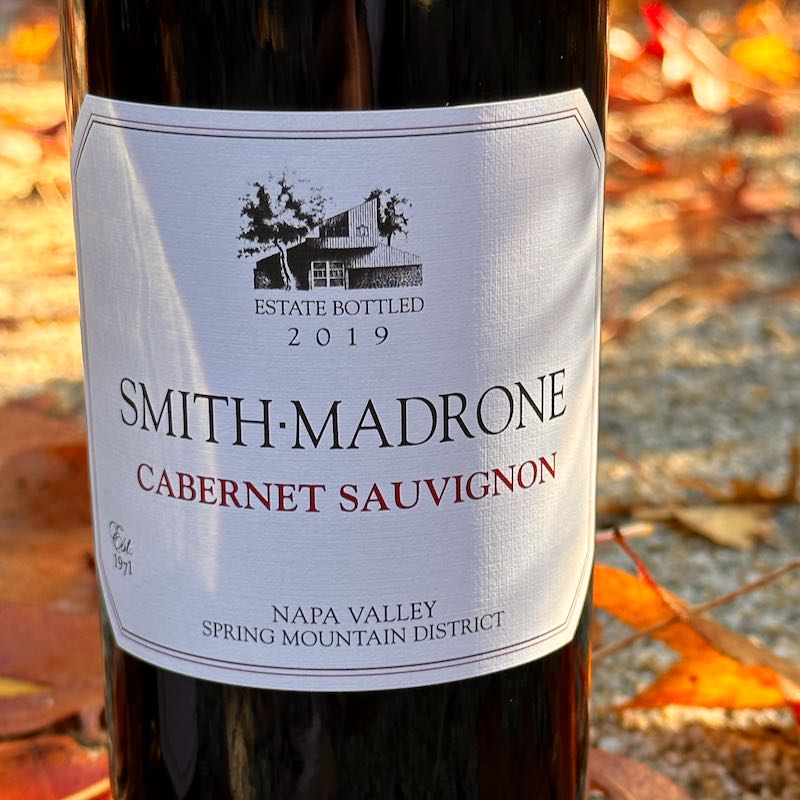 2019 Smith-Madrone Cabernet Sauvignon, Spring Mountain District, Napa Valley — dark ruby with generous aromas of dark and red fruit, dried thyme and hints of roasted green pepper. Flavors include blackberries, raspberries, black currants and earth with hints of dried tomato leaf, tobacco and cedar. Ample acidity enhances the lively fruit flavors. Tannins are firm but fine in a medium body with a moderately-long finish. 14.3% abv. SRP $65
Elegant, layered flavors with integrated tannins make this Cabernet one to sip and savor. The 2019 blend includes 5% Merlot and 12% Cabernet Franc aged for 18 months in 55% new French oak. Beef Wellington anyone?
Should you be one who is inclined to throw a bit of cash at a bottle of Cabernet Sauvignon (not that there's anything wrong with that), Stu and Charlie have you covered. Their Cook's Flat Reserve is a bottling of the best barrels from the best lots and is made only in the best vintages. It's a winner. Wines are available for purchase on the winery website.
Cheers!