Stuart Smith knew he needed to look to the mountains of Napa Valley, not the valley floor, to find a site that would allow him to make the elegant, balanced, acid-driven wines he enjoyed drinking. He found what he was looking for in a 200-acre property on Spring Mountain. The property had been home to a small vineyard in the 1880s, but by the time Stu purchased the property in 1971 the forest had reclaimed the acreage. He took back only a portion of that forest to establish Smith-Madrone Vineyards & Winery.
Replanting a Mountainside Vineyard
The first plantings included 5 acres each of (Johannisberg) Riesling, Chardonnay, Pinot Noir and Cabernet Sauvignon. His brother Charles joined the effort in 1973 and in 1974 the brothers built the winery building themselves. During a recent Zoom conference with a group of wine writers, Stu told us that he always wanted to be in the mountains, but, of mountain viticulture he said, "It's just a lot of work and there's no easy way of doing it." Clearly, hard work has never deterred the Smith brothers.
Stu and Charles have learned many things in the nearly 50 years they've been working their Spring Mountain District vineyard. Pinot Noir is no longer among the varieties planted, it's just not right for the site. Erosion control is essential in mountainside vineyards and gone are the days of discing between vine rows in favor of site appropriate, year-round cover crops and no-till practices.
Erosion control is now so effective that row orientation needn't closely follow hillside contours. It is possible to orient rows down a hillside, except on the steepest parts, to capture the desired sun exposure. Canopy management and by extension trellis design have been a focus to protect grapes from sun damage while promoting even ripening.
Cabernet Franc and Merlot have been added over time, and 2019 marked the first harvest of Petit Verdot. Additional Cabernet Franc will be planted in 2021 with an eye toward making a varietal Cabernet Franc. Phylloxera infested the vineyard near the end of the 1990s and two blocks remain to be replanted. Learning and adaptation continue.
With the exception of Riesling, French oak is used in winemaking. The Smiths prefer oak from the forests of Tronçais, Nevers and Allier because it is slow growing and tighter grained, which means the oak influence is less obvious in the wine.
In general, they pick earlier than their neighbors on Spring Mountain. Harvest generally begins with Chardonnay, then Riesling (though it may overlap with Chardonnay), followed by Merlot, Cabernet Sauvignon and Cabernet Franc. Some later blocks of Cabernet Sauvignon may follow and sometimes Cabernet Franc comes last. The Smiths' experience with Petit Verdot is just beginning.
Officially, Stu is managing partner and enologist, Charles is winemaker and Stu's son Sam is assistant winemaker. Smith-Madrone is very much a family winery. Annual production is about 3000 cases and the Smith-Madrone name combines the family name with the Madrone tree, a common tree on the hillside estate.
The Wine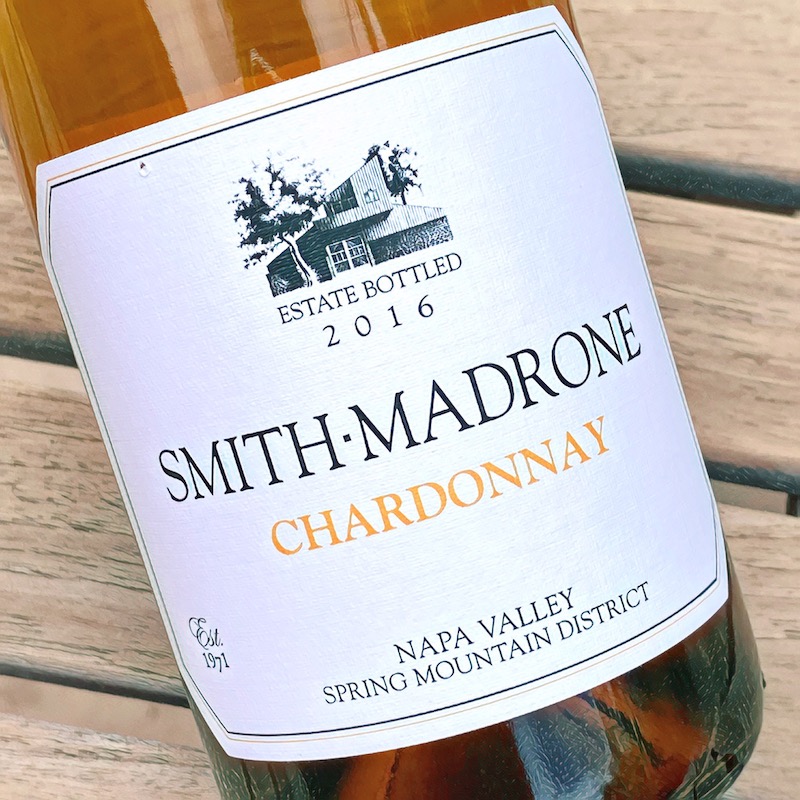 2016 Smith-Madrone Chardonnay, Spring Mountain District, Napa Valley — golden yellow in the glass with aromas of citrus, cedar and toast. Generous flavors of pear, crisp apple, and citrus blend with notes of cedar and are supported by bright, juicy acidity. The wine is a bit round with a very long finish. 14.4% abv. $40
Fermentation begins in stainless steel to preserve the fruit flavors of mountain Chardonnay. Part way through the wine is chilled to slow fermentation it is moved to barrels to complete fermentation. This vintage was fermented in 80% new French oak, but 100% new French oak is used in some vintages. It is always inoculated for malolactic fermentation, but the Smiths don't test for its completion. And the wine benefits from lees stirring.
With all of that winemaking, this Chardonnay has generous fruit flavors, roundness in the mouth and juicy acidity. If you are looking for a fat, buttery Chardonnay you will be disappointed.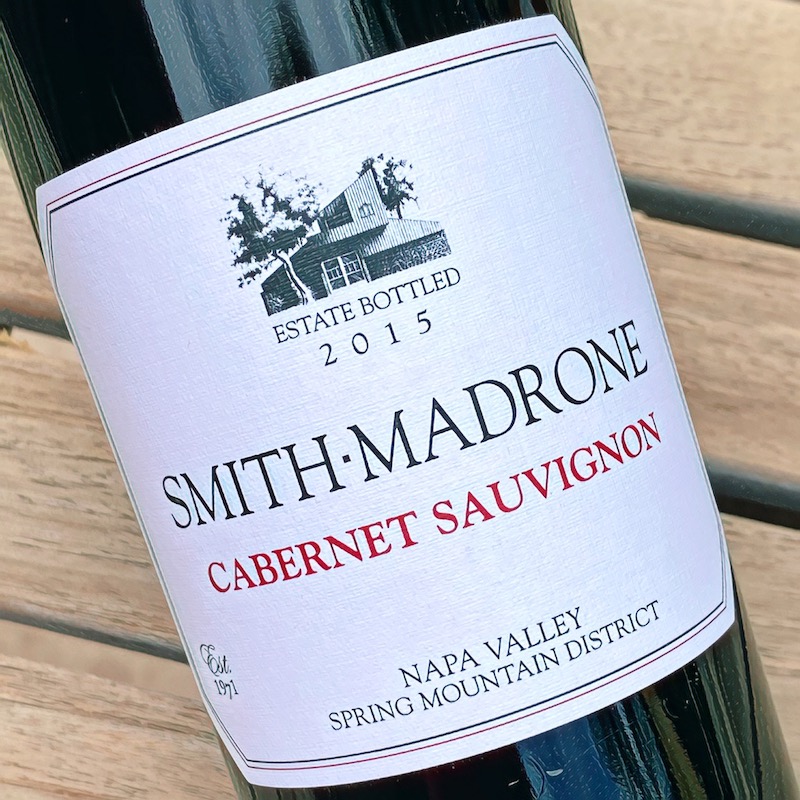 2015 Smith-Madrone Cabernet Sauvignon, Spring Mountain District, Napa Valley — light ruby in the glass with complex aromas that include dark fruit and dried tobacco leaf. Layers of flavor begin with red fruit, then dark fruit, leather, dusty earth and tobacco. Tannins are a bit grippy, but well integrated. The wine is medium bodied with a long finish. 14.3% abv. $52
This Cabernet is light on its feet, with very good complexity and bright acidity. It's elegant, balance and leaves me wanting another sip.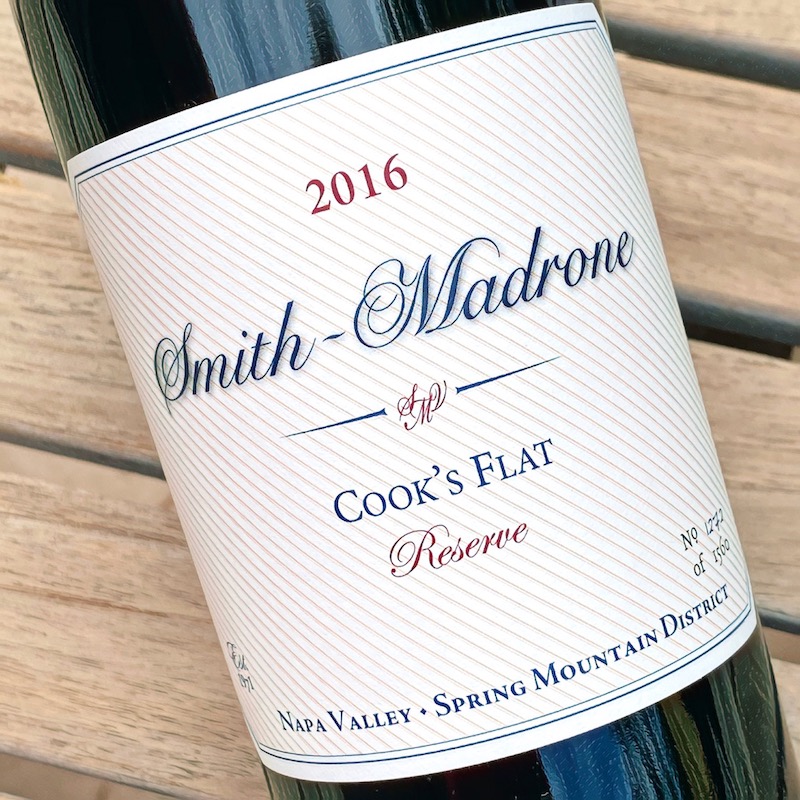 2016 Smith-Madrone Cook's Flat Reserve, Spring Mountain District, Napa Valley — medium ruby in the glass with generous aromas of red and dark fruit, dried tobacco leaf and dusty earth. Flavors are darker, but still with a bright red fruit character, along with cigar box and earth. Medium in weight with more texture and well-integrated tannins and a very long finish. 14.3% abv. Current release vintage is $225
The Cook's Flat Reserve represents the best barrels from the best lots and is made only in the best vintages. The proprietary blend varies by vintage and is made using 100% new French oak.
Cook's Flat is the name used by locals at the time to identify the 8-acre vineyard originally planted by George Cook in the early 1880s. This vineyard location was replanted by Stu in 1972.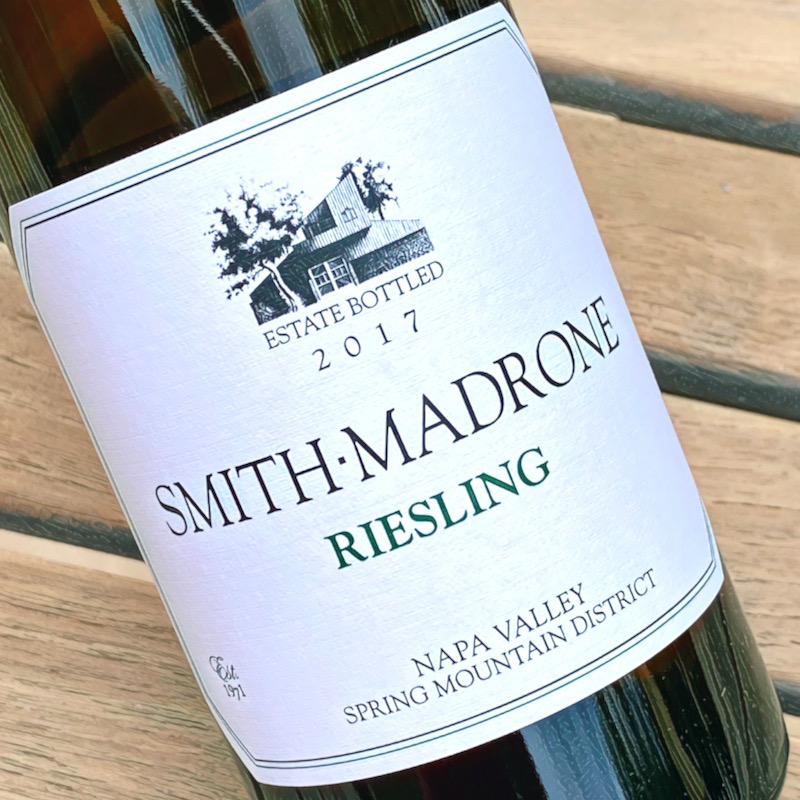 2017 Smith-Madrone Riesling, Spring Mountain District, Napa Valley — medium yellow in the glass with generous aromas of stone fruit, dried pineapple and a hint of petrol. Complex flavors of white peach, pineapple guava, stony minerality and bright acidity. The flavors taste like fruit, but the wine doesn't taste sweet. The finish is very long. 12.9% abv. $34
Even over-refrigerated this wine has amazing aromatics. Winemaking takes place in all stainless steel to preserve the gorgeous fruit aromas and flavors of Riesling. It is a pure expression of the variety that will age well for 30 years. In Stu's view the rewards for aging Smith-Madrone Riesling are worth the wait.
Stu told us that not only does he especially appreciate white wine, but that Riesling might be his favorite. "Riesling is something we have done very well from the beginning," Stu said, because he and Charles take is so seriously. In fact, they won the German Wine Division of the Wine Olympics in 1979, an accomplishment Stu remains very proud of. The only down side is that Riesling is so hard to sell.
Interestingly we tasted the Riesling after the red wines. I was amazed at how well this bright, complex Riesling followed the heavier, complex Cabernet-based wines, and that was the point. Complex, intense flavors are truly hallmarks of this Riesling's character.
Every one of these wines has a brilliant vein of acidity running through it that keeps the wine exciting. Nothing sticks out in these wines and they do exhibit an Old World style of winemaking.
The goal at Smith-Madrone has always been to be a European-style estate that grows all their own grapes and strives to capture the nuances terroir and Mother Nature provide every vintage. No two vintages will be the same, but the wines will always be balanced, elegant and complex.
See the Smith-Madrone website to purchase wines online and to arrange a visit when tastings resume after being closed temporarily due to the COVID-19 pandemic. We visited in 2016 and found the mountainside vineyards to be one of the prettiest we have visited.
Cheers!