Honestly, I have to wonder if the fine folks at Domaine Bousquet ever sleep. The family-owned winery located in the Gualtallary sub-zone of Tupungato in Mendoza's Uco Valley, has been organic from its very beginning in the late 1990s. Their wines are certified organic and they have earned a number of certifications reflective of their commitment to sustainability and the community around them — not the least of which is their anticipated B Corp Certification. And now, in addition to the very broad portfolio of wines they make under the Domaine Bousquet label, they have released Alavida Malbec – an organic and kosher wine. We received this wine as a tasting sample.
Over the years we have had the good fortune to meet Anne Bousquet and taste many vintages of excellent Domaine Bousquet wines. We have told their story many times and now we can add to it the story of Alavida, inspired by Argentina's rich diversity and the multi-cultural diversity of Anne Bousquet and her husband Labid al Ameri's own family.
What makes a wine kosher, you might wonder (I certainly did.) The process begins as usual at Domaine Bousquet: with the highest quality organic grapes. From there all the inputs must be kosher and the wine must be made by a sabbath-observant Jewish team under the supervision of a rabbi.
Domaine Bousquet assembled several Jewish teams to do all of the hands-on work, but they were directed by winemaker Rodrigo Serrano who gave instructions and observed. If a non-Jewish person touched the wine at any point it would no longer be considered kosher. So even Rodrigo was not allowed to touch the wine to sample it; that had to be done by a Jewish team member at Rodrigo's instruction.
In the end the Jewish team, who were experienced winemakers but had never worked to the exacting standard required in organic winemaking, were very impressed with their wine.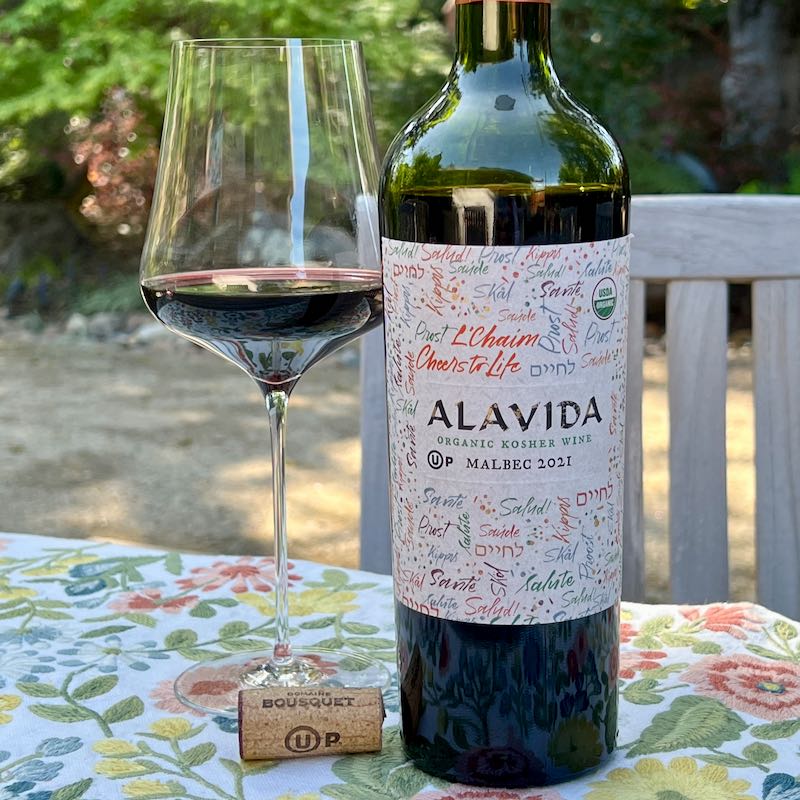 2021 Alavida Malbec, Tupungato, Mendoza, Argentina — inky purple with generous aromas of blueberry pie. Flavors follow with primarily blueberries and ripe blackberries backed by oat hay and supported by lively acidity. Tannins are fine and drying. The finish is medium in length. 14.5% abv. SRP $19
Alavida takes its name from the Spanish, "a la vida", to life! This wine is full of life with its bright fruit flavors. It is made with 100% organic Malbec and no sulfur was added during winemaking (necessary for USDA Organic Certification.) According to the technical notes: "90% of the juice is in contact with used oak to retain the purity of fruit, and 10% is in contact with new oak." Alavida is easy sipping and will pair perfectly with anything from roasted chicken to pork chops or grilled skirt steak.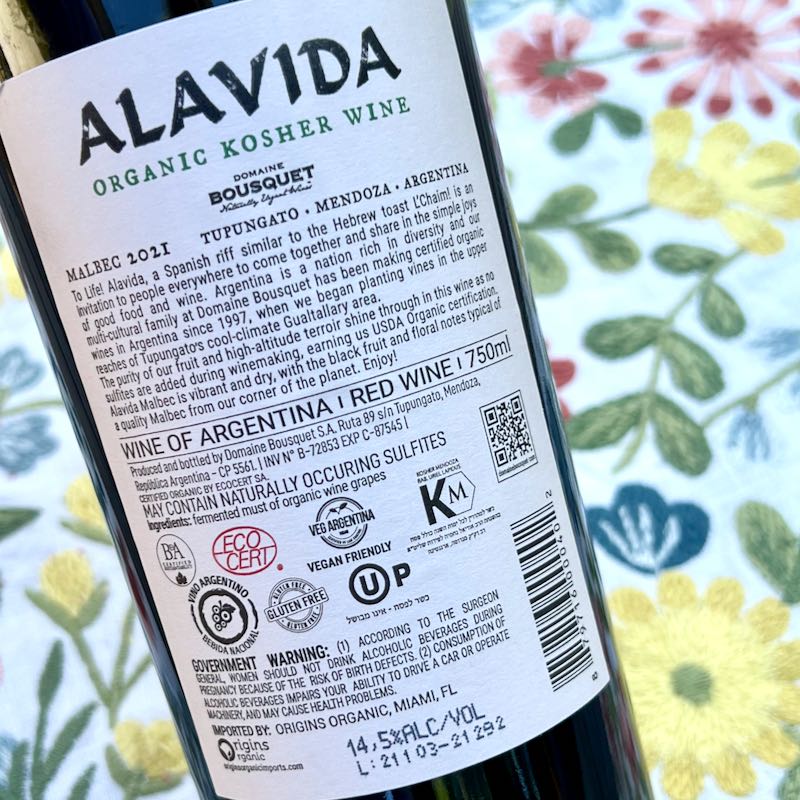 Alavida is imported by Origins Organic Imports, an organic wine importer based in Miami owned by Labid al Ameri and Anne Bousquet (see what I mean about the never sleeping thing?) The pair state on the Origins Organic website, "Our vision is to become the largest importer of organic wines in the U.S., known as a reference for wines with a strong price-to-quality ratio and sourced from around the world, in addition to those produced by Domaine Bousquet." I have no doubt they will succeed.
For a personal account of Anne's hard work since becoming a part of Domaine Bousquet, see this account in Wine Spectator. It is very moving.
Thanks to Creative Palate Communications for organizing our tasting.
Cheers!