Champagne Widows is a new novel set in Reims during the Napoleonic Wars written by Rebecca Rosenberg. Rebecca enjoys telling the stories of interesting women throughout history. She has three published novels to her credit and two more coming soon. We received Champagne Widows for review.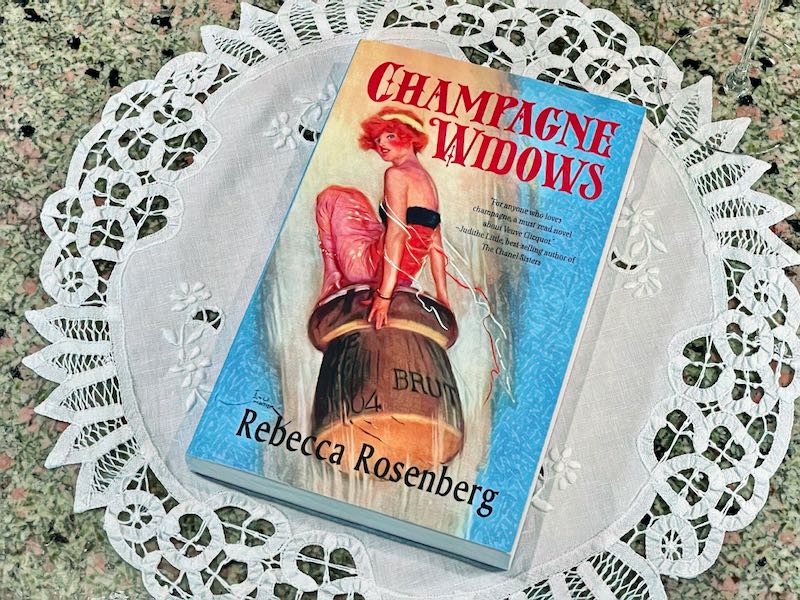 Champagne Widows is the story of a young, capable, independent-minded woman living in a time when such traits were not appreciated in women. In fact, they were a hinderance in every way. The book's main character, Barbe-Nicole Ponsardin, isn't interested in being married off to whomever her overbearing mother chooses for her; she knows whom she wants to marry. She is absolutely unwilling to give up chocolate croissants to watch her figure as her mother constantly advises. And Barbe-Nicole is different in one other important way: she has inherited Le Nez from her great-grandfather, Nicolas Ruinart.
We meet Barbe-Nicole as a young woman shortly before her grandmother's death. Her grandmother also inherited Le Nez, the extremely sensitive sense of smell that made Nicolas Ruinart a renowned champagne maker. Unfortunately, Le Nez was a curse for Barbe-Nicole's grandmother and Barbe-Nicole's mother considers it a curse for her daughter as well.
Shortly before her death, Barbe-Nicole's grandmother tells her the story of her great-grandfather's extraordinary sense of smell and confirms that Barbe-Nicole too has inherited the gift. She gives Barbe-Nicole her great-grandfather's gold tastevin and implores her to carry on Le Nez. Barbe-Nicole grants her grandmother's final wishes and soon inherits her grandmother's vineyards.
The story is told against the backdrop of the Napoleonic Wars and brings to life the tremendous impact the wars had on the French people. With large numbers of men conscripted by Napoleon to fight his wars, the work of tending the vines, harvesting and making wine fell to the women, many of whom became widows. The men who returned from war were forever changed by it.
Barbe-Nicole marries François Clicquot, the man she loves, not one of the many suitors her mother has chosen; together they start a winery. She proves herself a capable winemaker, but when she is widowed she is faced with no good choices to continue making wine on her own. Unfavorable marriage law makes it impossible for her to maintain control of her winery (and the vineyards she inherited from her grandmother) and remarry without loosing control of both to her husband. And economic ruin caused by Napoleons continuing wars makes selling her champagne next to impossible.
As Widow Clicquot (Veuve Clicquot) she must work harder and become more resourceful to succeed. Barbe-Nicole is forced to take on an undesirable partner. She resorts to risky and illegal methods to sell her champagne that are only possible because of a man who remains loyal to her. She has a head for business and a talent for winemaking. She is loving and has a sense of humor. She is a character you can't help but root for. 
Champagne Widows is historical fiction. It includes many colorful characters, opulent settings, war, disease, heartbreak and triumph. It imagines interactions between Barbe-Nicole's family and Napoleon Bonaparte. It introduces you to the smells and working of the underground wine cellars of Reims. It is Rebecca Rosenberg's imagination of the struggles the woman, Veuve Clicquot, endured to establish the Champagne House, Veuve Clicquot. Having just watched Bridgerton I couldn't help but draw comparisons between the two stories set in a similar time period, but in a different location and with a heroine willing to roll up her sleeves and do the hard work of making champagne herself.
Champagne Widows is now available for purchase from Amazon, Barnes&Noble, and GoodReads among others. It is the perfect accompaniment to a glass of champagne, of course!
Cheers!