A glass of wine can be so many things. Wine can simply be a libation to quench your thirst, or it can be celebratory, or it can accompany a meal and go unnoticed. If you're really fortunate a glass of wine will make you take note because of its style, its background story or the opportunity to learn about a wine region that is new to you. A glass of wine from Stone Castle Vineyards and Winery in Kosovo's Rahovec Valley is just that sort of wine. We recently tasted six wines made by Stone Castle, which we received as tasting samples, and this is their story.
Recently Independent
Kosovo lies in the Balkans and is surrounded by Montenegro and Albania to its west, Serbia to its north and east, and North Macedonia to its south. The landlocked country has a population of nearly 1.8 million.
Kosovo's history is not easy to tell because it has been unsettled for a very long time. Its recent past has been very violent and before that it suffered under communist rule as part of Serbia in the former Yugoslavia.
Kosovo broke away from Serbia during the Kosovo War of 1998-1999. On February 17th, 2008 Kosovo self-declared its independence and is formally known as the Republic of Kosovo. It is recognized by many countries around the world, and a majority of United Nations and European Union members.
Building On Kosovo's Winemaking History
A recent paper that explores Kosovo's wine industry states that winemaking in the region dates back at least 2,000 years as evidenced by archeological finds in the region. Albanian writers in the 1630s make note of grape growing and winemaking in Kosovo.
The region's winemaking efforts have suffered many challenges over the years including Ottoman rule for 500 years, wars, phylloxera and the emphasis on quantity winemaking over quality during the years of communist rule.
The paper goes on to note the importance of the introduction in 1923 of American rootstock to combat phylloxera and the expansion of vineyard plantings that followed. By 1990 about 9,000 hectares of vineyards were planted in Kosovo with 4,000 hectares in Rahovec. German and former Yugoslavian experts studied the climate and soils to select the best sites to plant vineyards.
By 2001 only a little over 3,400 hectares of vineyards remained in all of Kosovo due to the fall of Yugoslavia, war and the loss of foreign markets due to the Serbian embargo. With privatization beginning in 2006 investment grew and vineyards were replanted and wineries revitalized. The paper's author estimates that by 2015 there were about 3,220 hectares of vineyards in Kosovo. He estimates the current vineyard plantings in Rahovec to be about 2,243 hectares.
Rebuilding A Winery
Stone Castle Vineyards and Winery has risen from the upheaval in Kosovo because of the investment of Albanian American Rrustem Gecaj and his family. Rrustem Gecaj left Yugoslavia in 1974 to escape communism. He first moved to Italy, then Canada before immigrating to the US in 1976 and becoming a US citizen. He worked hard, raised his family, invested wisely and never lost sight of his dream of rebuilding what was lost in Kosovo. He first purchased property in Kosovo in 2002 and then in 2006, when privatization of state-owned wineries was allowed, he purchased the winery. 
The winery was originally built in 1953 and was a large, state-owned winery in the Rahovec Valley, in the southwestern part of Kosovo. As Rrustem Gecaj rebuilt the winery he took into account Kosovo's architectural heritage and designed the winery to look like a traditional kulla, or stone fortress, common in the region. He chose Stone Castle Vineyards and Winery as the name of his winery.
A significant financial investment was required to bring the winery up to current winemaking standards and experts have been consulted during the process. But, the winery's two winemakers, Fejzullah Berisha and Rahmon Kabashi have been with the winery for 35 and 45 years respectively. The Gecaj family has expressed a commitment to employing Kosovars, and the winery has 250 full-time employees and as many as 700 seasonal workers.
Estate vineyards, situated at 350 to 520 meters above sea level, have been revitalized and new vineyards planted. Total acreage has increased to 5,552 (2,246 hectares) with 1,500 acres (607 hectares) planted to vines making Stone Castle the largest grower in Kosovo. Twenty grape varieties are planted in the estate vineyards, among them Cabernet Sauvignon, Chardonnay, Merlot and Shiraz — the first planted in Kosovo. Also among the varieties planted is Vranç, also known as Vranaç and Vraneç, which is an important indigenous variety in parts of the Balkans.
Clay over limestone soils and rolling hills provide varied growing conditions well suited to wine grapes and many other crops grown in the Rahovec Valley. The weather is generally hot in summer and very cold in winter. Ample rainfall means the vines can be farmed without irrigation.
Let's Taste
All Stone Castle wines are estate grown. Organic viticultural practices have been introduced in some of the estate vineyards and the practicality of applying organic principles to all of the vineyards is being evaluated. Sustainable practices are being introduced and a Kosher certification is in the works.
Rrustem's son Avdi moved back to Kosovo to oversee the development of the winery in 2016. He now spends 6 months a year in Kosovo and his brother, Avni, manages imports, sales and distribution of the family's wines from New York.
2018 Stone Castle Reserve Chardonnay, Rahovec Valley, Kosovo — light golden with generous aromas of peaches, apricots and ripe Meyer lemons. Stone fruit flavors blend with citrus zest, juicy acidity and a bit of roundness. The finish is medium+ in length. 4,500 cases made. 13.5% abv. SRP$24
Chardonnay was hand harvested from two estate vineyards and fermented in stainless steel. The wine then spent 6 months in oak barrels. This Chardonnay has nice complexity and an appealing flavor profile with ample acidity.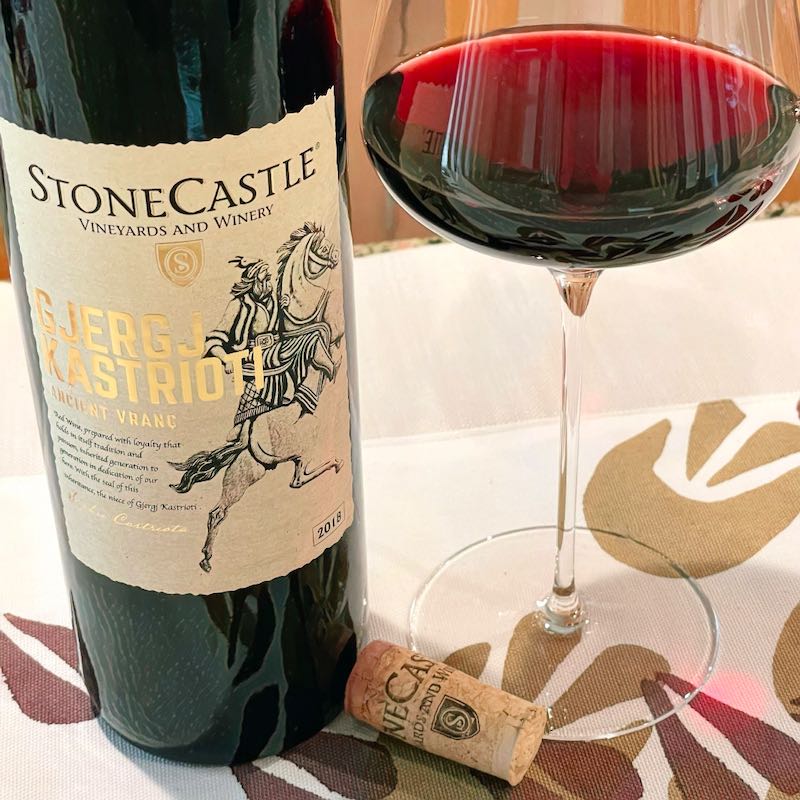 2018 Stone Castle Ancient Vranç Gjergj Kastrioti, Rahovec Valley, Kosovo — medium ruby with bright red fruit aromas including raspberries and cranberries. The flavors follow with cranberries and tart raspberries with notes of dried tobacco in the background. The wine is just medium bodied with with drying tannins and lively acidity. 3,900 cases made. 13.5% abv. SRP $16
Vranç was hand harvested from the estate's Lisdrevish vineyard. Fermentation took place in stainless steel followed by aging in Hungarian oak barrels for nine months. This 100% Vranç (Vranaç) has an appealing flavor profile combined with a relatively light body for a red wine that I find irresistible.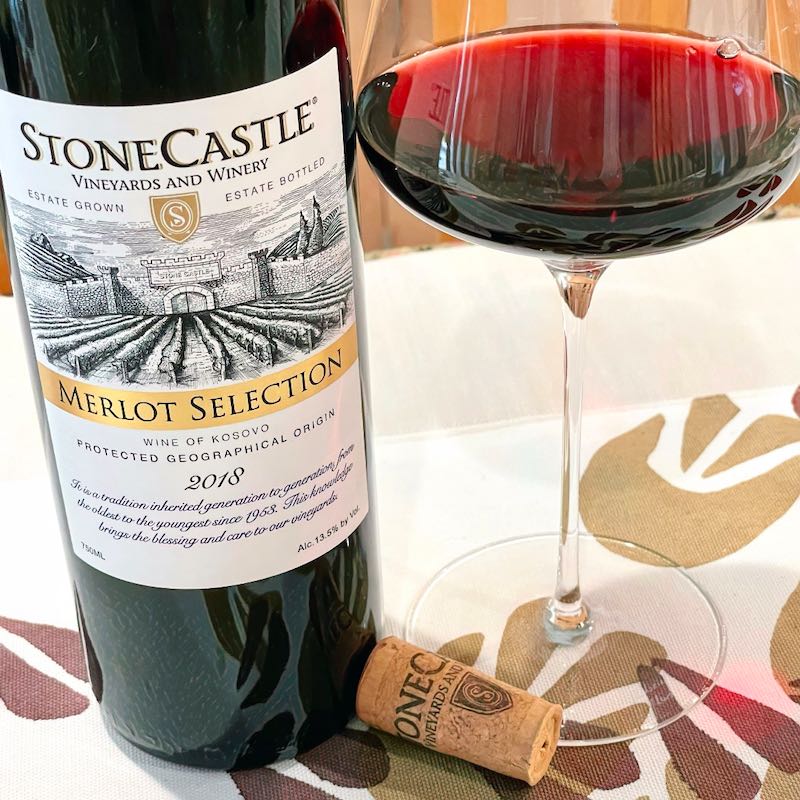 2018 Stone Castle Merlot Selection, Rahovec Valley, Kosovo — medium ruby in the glass with aromas of red fruit and earth that follow into the flavor profile. Tannins are somewhat drying in a medium body. 3,400 cases made. 13.5% abv. SRP$ 16
100% Merlot was hand picked from the Fushe-Zoqisht vineyard located in a sunny position at an elevation of 450 meters. Fermentation took place in stainless steel with aging in French oak barrels for 16 months. This is a lighter style of Merlot than many and will appeal to those red wine drinkers who prefer a lighter style of red wine.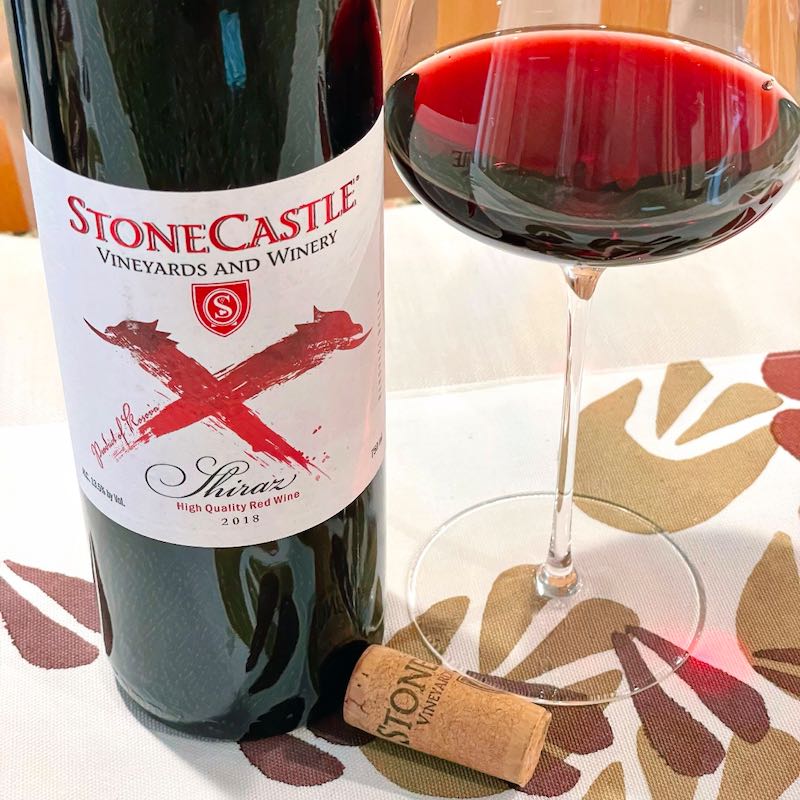 2018 Stone Castle Shiraz, Rahovec Valley, Kosovo — medium ruby with aromas of roasted coffee beans and mixed red fruit. Flavors include raspberries, blackberries, red cherries with dried tobacco and hints of smoke in the background. Tannins are drying in a medium body. 3,400 cases made. 13.5% abv. SRP $16
100% Shiraz was hand harvested from the estate's Izbishte vineyard. Fermentation took place in stainless steel with aging in American and Hungarian oak for 12 months.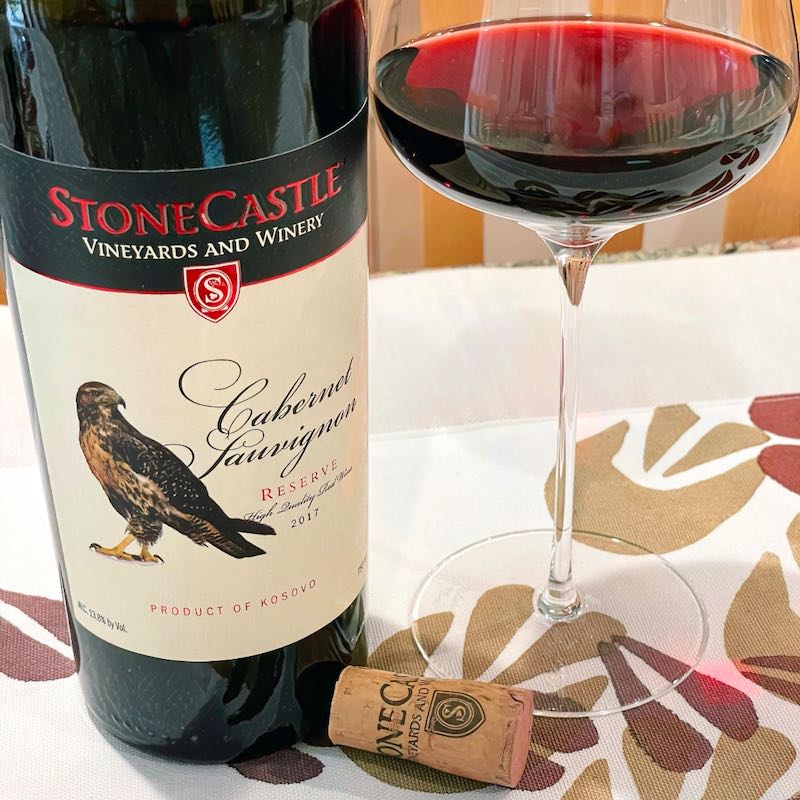 2017 Stone Castle Reserve Cabernet Sauvignon, Rahovec Valley, Kosovo — medium ruby with generous aromas of cedar, blackberries and raspberries. Crisp red fruit flavors include red plums, blackberries and cranberries with lively acidity. Tannins are gauzy in a medium body with a medium-length finish. 6,100 cases made. 13.8% abv. SRP $24
100% Cabernet is hand picked from the estate's Nashpall vineyard located in a sunny location. Stainless steel fermentation was followed by 12 months aging in French oak barrels. Once again, this is a lighter style of Cabernet with very appealing flavors and lively acidity.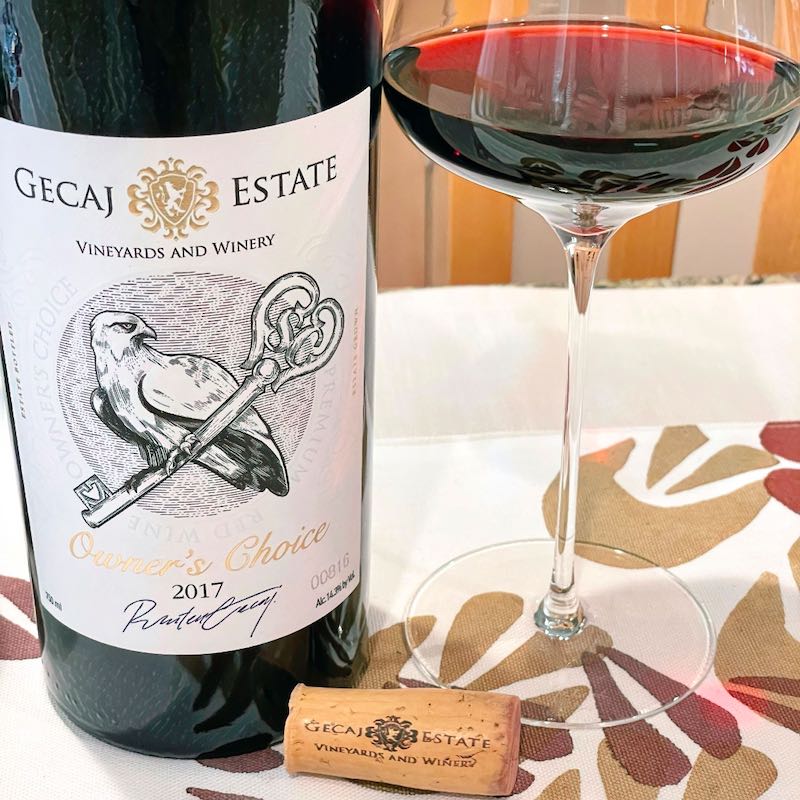 2017 Stone Castle Gecaj Estate Owner's Choice, Rahovec Valley, Kosovo — medium ruby with generous aromas of red and dark fruit with notes of cedar and earth. Flavors include blackberries, raspberries, blueberries, forest floor and baking spices supported by drying tannins in a medium body. Lively acidity keeps the complex flavors tasting fresh. 3,300 cases made. 14.3% abv. SRP $80
This blend of equal amounts of Cabernet Sauvignon and Merlot is the most complex wine of the group and has the most body. Both varieties are harvested from the Izbishte vineyard, situated such that it receives long hours of sunshine. Once again, fermentation takes place in stainless steel, but aging in American and Hungarian oak is extended to 24 months.
We were pleasantly surprised by the quality of these wines. All have a nice lift provided by red fruit flavors and lively acidity. They are balanced and the red wines are on the lighter side, which I appreciate. The prices on all except for the Estate Owner's Choice are so affordable they are perfect for weeknight meals. The Vranç was the most charming in the group to me and Peter found the Estate Owner's Choice suited his palate best. 
These wines are distributed in the US and have found a presence in US restaurants as well. They are also exported to other Balkan countries, Germany, Switzerland and Africa.
Thanks to Stone Castle Vineyards and Winery for providing the wines and Folsom + Associates for organizing our tasting. We appreciate the opportunity to not only taste these interesting wines, but to learn more about Kosovo's past and the hard work of Rrustem Gecaj and his family in reimagining Stone Castle Vineyards and Winery.
Cheers!