Franciacorta is a small wine region that lies in northern Italy's Lombardia (Lombardy) region. Only sparkling wines made here using the traditional method, metodo classico, may be called Franciacorta. Chardonnay, Pinot Nero (Pinot Noir) and Pinot Bianco are the main grape varieties. Erbamat, an indigenous white variety with naturally high acidity levels, has also been approved recently. Why should you know about Franciacorta? Because the wines are very high quality, reasonably priced and many of the vineyards are farmed organically.
Our first introduction to Franciacorta came early this year, when I attended an online presentation about the region. We tasted three wines during that discussion and we recently received three more tasting samples to further explore the flavors of Franciacorta. Let's take a quick look at the region and then taste.
The Consorzio Franciacorta traces the name of the region to 1277. During the Middle Ages monks set about developing and revitalizing the area's farmland. In exchange for this effort the monasteries were allowed a tax exemption or francae curtes (courts free of tax). Francae curtes became Franzacurta and eventually Franciacorta.
Franciacorta describes the growing area, how the wine is made and the wine itself. The area is comprised of about 77 square miles, just under 50,000 acres, along the southern shore of Lake Iseo in the heart of Lombardy. Soils are very complex here and about 7,660 acres are planted to vines. 62% of vineyards are certified organic and hand harvesting is required. Franciacorta was first designated a DOC (Denominazione di Origine Controllata) in 1967 and promoted to DOCG (Denominazione di Origine Controllata e Garantita) in 1995.
Still wines are made and blended, then bottled with sugar and yeast, and sealed with a crown cap. The yeast and sugar addition kicks off the second fermentation in the bottle creating all those lively bubbles. Wines must be aged in the bottle a minimum of 18 months.
At disgorgement a bit of the base wine and a bit of sugar (the dosage) are added to replace the lost volume, and the bottle is closed with a cork held in place by a wire cage. Each bottle also carries the official Franciacorta DOCG label and the disgorgement date. The flavors of Franciacorta are a combination of place, the grape varieties used in the base wine, the length of aging, and the amount of dosage.
Let's Taste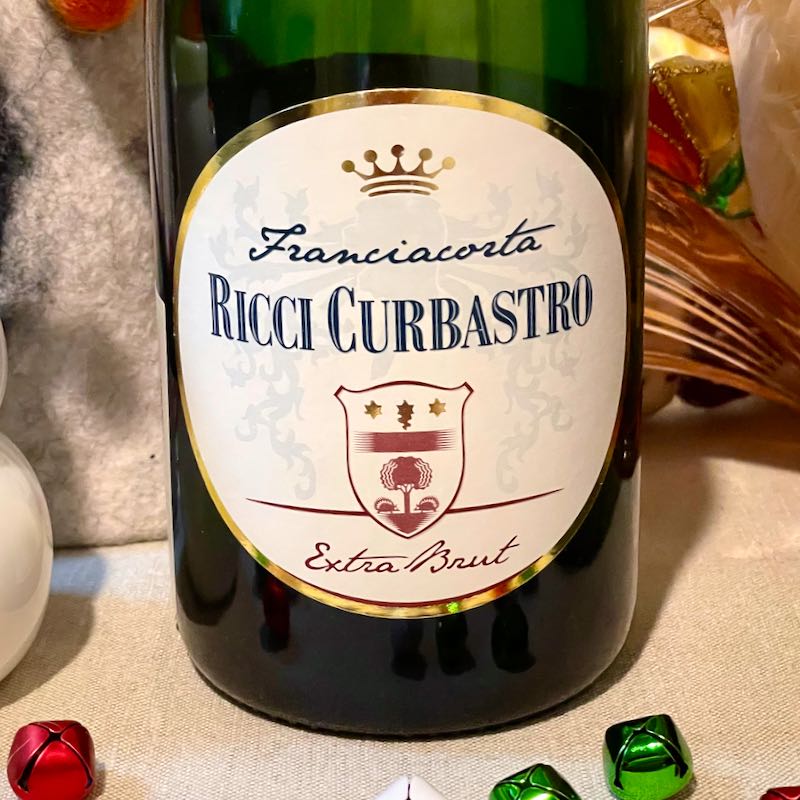 2014 Ricci Curbastro Extra Brut, Franciacorta DOCG — light yellow with generous, small bubbles. Aromas include toasted almonds and citrus. Flavors begin with toasted almonds, then pears with citrusy acidity and mouth-filling bubbles. Toasty flavors linger on the finish which is very fresh and clean. 12.5% abv. Online $34.99
Chardonnay and Pinot Noir were fermented in stainless steel and 20% oak barrels. The 50/50 blend of Chardonnay and Pinot Noir then completed the second fermentation and aged in the bottle for at least 42 months. At disgorgement the dosage is only 2g/l. The Ricci Curbastro Extra Brut is only made as a vintage wine according to the technical sheet.
Ricci Curbastro winery is certified sustainable by SOPD Equalitas. In addition, the winery began its organic conversion in 2015 and in 2018 had its first harvest of organic grapes. You can find the winery's sustainability reports and organic certification on their website.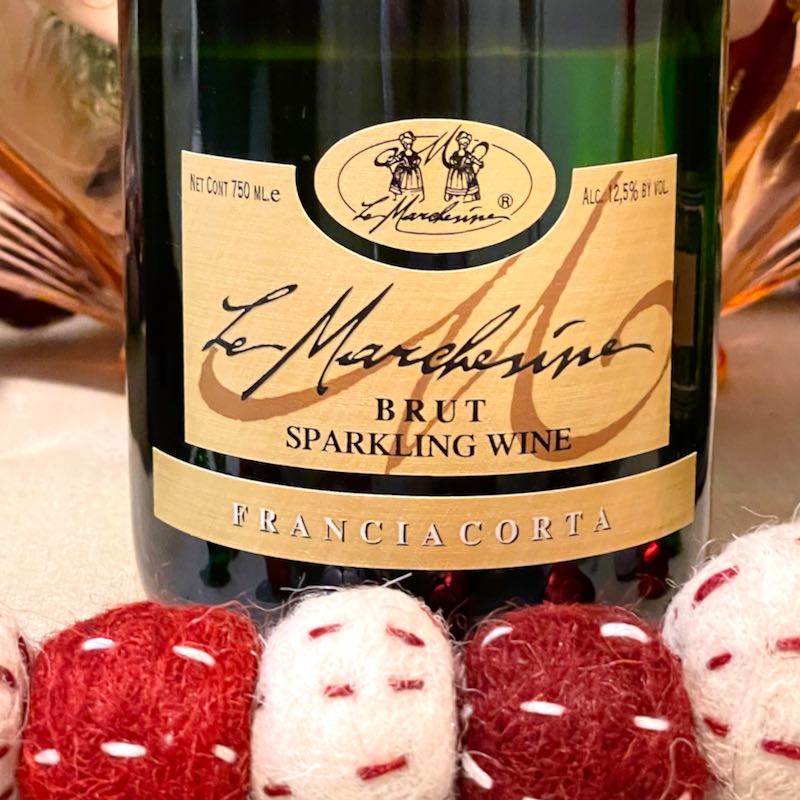 Le Marchesine Brut NV, Franciacorta DOCG — light yellow with generous, small bubbles. Aromas include white flowers and ripe pears. Complex flavors are a combination of marzipan, ripe pears, toast with mouth-filling bubbles and nice acidity. 12.5% abv. Online price approximately $29.
The base wines, comprised of Chardonnay, Pinot Bianco and Pinot Nero, were fermented using indigenous yeast. After the second fermentation was induced, the wine aged for a minimum of 24 months in the bottle.
According to Lyra Fine Wine Imports ,the US importer, Le Marchesine is a small family-owned winery. The winery website notes estate vineyards have grown from three to 47 hectares (116 acres) and the annual production is now about 450,000 bottles (37,500 cases.)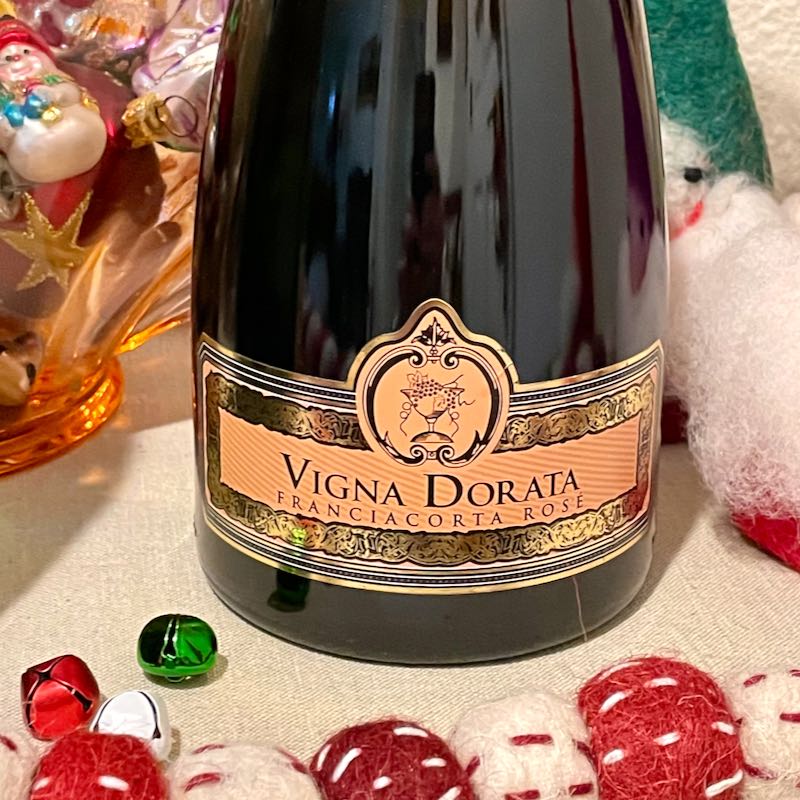 Vigna Dorata Brut Rosé NV, Franciacorta DOCG — pale salmon in the glass with generous, small bubbles. Aromas include toast and blackberry pie. Flavors follow with toasty pastry, blackberry compote, earth and citrus. The bubbles are mouth filling and the wine has a clean finish with lingering berry and pastry flavors. 13% abv. Online price approximately $26.
The blend of the base wine is Pinot Nero and Chardonnay. The Rosé ages for between 24 and 36 months in the bottle depending on the vintage. Dosage at disgorgement is approximately 7g/l. The wine is released after three months resting in the cellar.
According to the winery website, before Vigna Dorata was a winery it was a family farm growing a variety of crops. In 1980 the family planted Chardonnay and Pinot Nero and focused on making Franciacorta with an emphasis on terroir. The Vigna Dorata brand was established in 1995.
'Tis the season for a glass of bubbly. Franciacorta might be just the wine you are looking for. They're delicious, made for a meal and affordably priced.
Thanks to Napa Valley Wine Academy for this second taste of Franciacorta.